Whether you love curry or haven't tried it yet, these Chicken Meatballs in Spicy Curry Sauce are amazing!
There are some things I see over and over on Instagram – I don't know if it's a trending dish, or what but last week I must have seen at least a couple dozen curry dishes that looked so good.
While I don't mind ground turkey breast, I much prefer ground chicken. But it's hard for me to find ground chicken BREAST at my local store, which is free. I can find ground chicken, but truth be told, it looks gross to me, like they just scooped up all the leftover chicken parts and said "let's call that ground chicken!"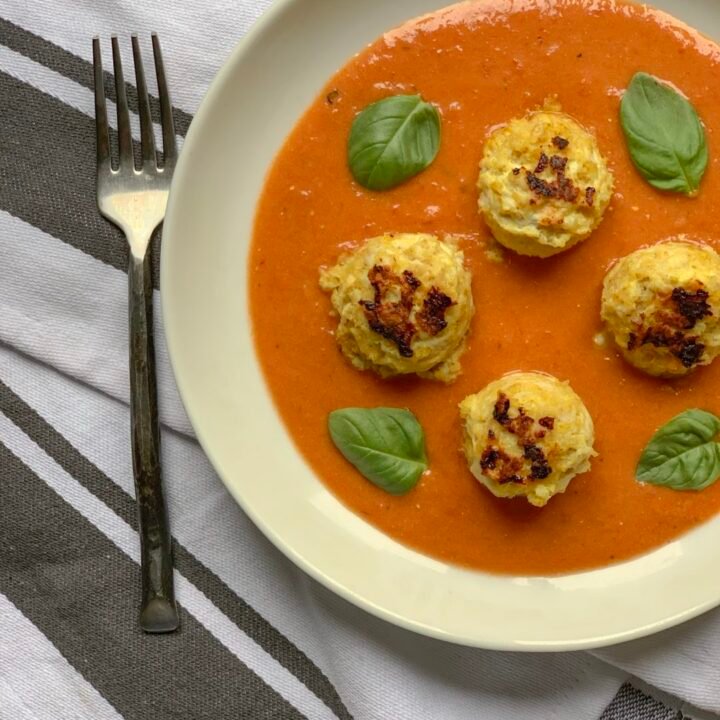 Chicken Meatballs in Spicy Curry Sauce
Spicy, light, and comforting! Serve alone, with rice, or with naan for the perfect meal.
Ingredients
1 pound ground chicken
1 egg
1/2 cup panko bread crumbs
2 teaspoons minced garlic
1 tablespoon fresh ginger, chopped finely
1 teaspoon hot curry powder
1/2 teaspoon tumeric
1/2 teaspoon white pepper
1/2 teaspoon cayenne pepper
For the sauce:
14 ounce canned tomatoes (doesn't matter if crushed, whole, because they will be pureed)
1/3 cup light coconut milk
1/2 teaspoon salt
1/2 teaspoon tumeric
1/2 teaspoon cayenne
1/2 teaspoon white pepper
1/2 teaspoon salt
1/2 teaspoon curry powder (I used hot, so adjust to taste)
1 teaspoon cornstarch
2 tablespoons tomato paste
1/4 cup Greek yogurt
Instructions
1. In a food processor, add the chicken breasts and pulse, just until it's coarse like ground chicken you'd buy in the store.
2. Add that to a large bowl. Add the egg, panko bread crumbs, ginger, curry powder, tumeric, white pepper, cayenne pepper and mix just until combined.
3. I used a melon baller - each meatball was a little over an ounce - I got 16 meat balls out of this recipe.
4. I heated a cast iron skillet with avocado oil spray, and cooked the meatballs with the lid on for about 3 minutes the first side, flipped, then 2 minutes more. Remove immediately. I was making these as a meal prep so I slightly undercooked them. If you were making these for dinner, I'd add another minute after the first flip.
5. While the meatballs are cooking, rinse out the food processor. Add all the sauce ingredients, from the canned tomatoes to the chobani, and blend the sauce for 3 minutes. You want a really smooth sauce.
6. Once the meatballs are removed, add the sauce the same skillet and cook over medium low heat for about 10 minutes, until the corn starch starts to thicken the sauce.
7. Serve with rice, naan, or just eat the balls and sauce by themselves.
Notes
To check the points for your WW plan, please click here!
Nutrition Information:
Yield:

4
Serving Size:

1
Amount Per Serving:
Calories:

343
Total Fat:

16g
Saturated Fat:

5g
Trans Fat:

0g
Unsaturated Fat:

9g
Cholesterol:

169mg
Sodium:

857mg
Carbohydrates:

18g
Fiber:

4g
Sugar:

5g
Protein:

33g
If you have a food processor though, you can grind your own. So much cheaper too! When I can find ground chicken breast in my store its $7.99! I used the chicken I got off the meat bin – 2 1/2 pounds for $2.41. Nice.
I used my melon baller to scoop out the chicken balls. The chicken balls are almost zero points each. The bread crumbs are the only points, 6 – but I got 16 balls out of this recipe. So, if you want to know, each ball is .37 points – or let's say three for one point, shall we?
I love how the tumeric "colored" these meatballs. So much flavor is packed into these balls. If you don't use white pepper in cooking, give it a try – it has a much milder pepper flavor, while still tasting like pepper, if that makes any sense?
This sauce though. Seriously, I need to figure out how it would be appropriate to just drink that like soup!
I only had basil to garnish over the weekend when I put this together, but chopped cilantro would be awesome too.
I am having this for lunch again today, and can't wait!
We got to see our son Andrew yesterday! Ha – yes, we have taken Andrew under our wing and my sister and I call ourselves his Chicago Mommas. It's always so good to see him, put money in his jar and he's trying out for the Voice in Chicago in June! I can hardly wait – he has such a bright future!
Yesterday was the perfect weather day in Chicago – 70 degrees, no wind. We got to see the bridges rise for the tall boats to go through. The new part of the Riverwalk will be open soon, with more restaurant kiosks. It's going to be a fun summer!
I served my chicken meatballs with curry with a cup of brown rice and chopped fresh spinach. So delicious!
On my way home from work is when I usually reply back to social media comments – on Instagram alone I average about 300 a day. I've stopped responding to just smiley faces, but around dinner time is the time when people reach out to me for help in their kitchen.
But my Instagram app wasn't working. I could receive notifications and see them, but if I tried to open the app or the notification it would just kick me out. What the what? I was without Instagram for nearly 3 hours. I know, I barely survived!
So I hung outside, it was a gorgeous night to eat outside, and ate this 10 point chicken quesadilla. And then when Hannah and Jacob came home, Hannah fixed my Instagram. Whew!
The sauce on the side is just Taco Bell fire sauce mixed with Chobani. If you haven't tried Trader Joe's lite mozzarella, it's worth the $3.99 a package – look at all that melty goodness!!
I packed my bathing suit and hope to go swimming at hot tub after work today. I've come to the realization that I may have to become a morning exercise person – my blood sugar will always be okay – in fact my blood sugar rises when I exercise in the morning so I have to take insulin before I work out.
I'll have to figure that out. 😀
Happy Thursday friends -make it a great day, and don't eat like an asshole.
And make this dish – promise it will become a favorite in your house. If you're looking for homemade, easy naan bread to pair this with, check out my recipe here!