Hit "Jump to Recipe" for the Apple Cider Salsa. So good!
Hooray for Cooking Club! Cannot believe its the beginning of season FOUR for us. It's still the original 8. We went back and forth to pick a date to make sure everyone could make it. Cheers!
Um, you may notice that my glass is empty, but my heart was full. Still going strong with #dryseptember – even though Donna (our hostess!) had both champagne AND my favorite sauvignon blanc. 😀 #goals
Such a cute tablescape – and I had to send Hannah a video of that coffee nook, because she and I would be all about a coffee nook – someday!
I didn't grab a single recipe – but I definitely want to recreate this queso fundido that Catherine brought. She mixed manchego cheese and queso fresco I think? The result is a chewy, deliciousness with chorizo sprinkled in between – served in a warm tortilla, this was amazeballs.
I knew pork carnitas were on the main menu, so I ate half a tortilla – so good. I seriously could eat that as a meal.
And MaryBeth had me at goat cheese! She made crusty garlic bread for dipping and mixed a bottle of Rao's marinara sauce with goat cheese and baked that in a cast iron skillet. Um, Mary Beth, you can use any leftovers and crack eggs in there and make it breakfast! Just sayin' 😀 Again, another dish I could totally eat as a meal all by itself.
I brought chips and salsa – not just any salsa, but an autumnal one – apple cider salsa! It's slightly sweet, bright, with a vinegary kick from the apple cider vinegar – recipe is below. 😀
Tina made her black bean soup in the cutest bowls that I want to steal every time she brings them. She is an amazing cook (as is everyone!) – you can check out her blog and her recipe for the black bean soup here. So delish!
Our founder Courtney made a delicious slaw with homemade buttermilk dressing, the perfect accompaniment to the pork carnitas.
Julie made these mouth watering pork carintas. I am definitely getting the details on this recipe – pork shoulder that's chopped into two inch chunks, slow cooked for a couple hours with whole oranges, lime and cinnamon stick. The dish gets finished off under the broiler to get those lovely charred bites. So good. I haven't even had breakfast yet this morning, but my mouth is watering.
And Lindsay kept apologizing for this dessert before it was even sliced – she didn't think it would set up, but these homemade twix bars were insulin worthy! Homemade shortbread, drizzled with caramel sauce and chocolate. #yesplease
It was a lovely night and so nice to catch up with everyone. Thanks again Donna for hosting at your house!
Some might remember that I took my roommates apple picking, and well, I still have apples to use up! I still need to make apple butter, but when I was home on Monday, I thought, why not add apples to salsa? And to make it even easier, I decided to use canned tomatoes to make this salsa – game changer because this literally came together in about two minutes. Tops.
I decided to switch out lime for the acid in this salsa and subbed in apple cider vinegar – I puffy heart vinegar, so this was right up my alley.
I had a bunch of baby peppers that needed to be used up, so those got thrown in the pool too.
It looks so much like my baja fresh salsa, but it has a slightly sweet flavor from the honeycrisp apple, and that twang of the apple cider vinegar and even though my canned tomatoes had jalapenos in them, it wasn't spicy enough for me, so I added a whole jalapeno. Definitely start with 1/4 of a jalapeno if you kick it up – you can always add more.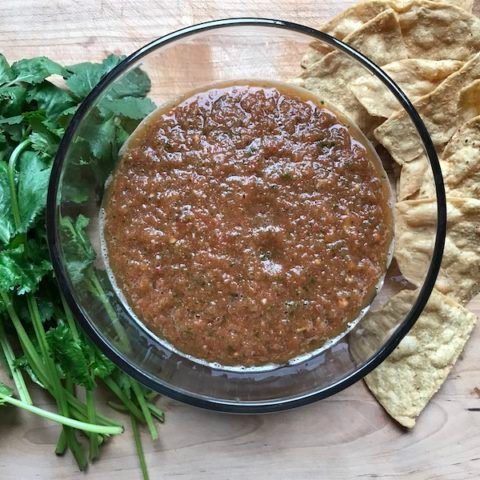 Apple Cider Salsa
Additional Time:
7 minutes
Show of hands how many people go apple picking and buy 10 pounds of apples?! This apple cider salsa screams fall and is ZERO points on all plans (- so add the tortilla chips!) UPDATE: This is 1 WW point since I am on the diabetic plan and have to count points for fruit.
Ingredients
2 cans (15 ounces) diced tomatoes with jalapenos
2 cans (15 ounces) petite diced tomatoes **
1 jalapeno (start with 1/4 and add more to taste)
1 cup chopped bell peppers, any color
3 tablespoons minced garlic
1 cup cilantro
2 tablespoons apple cider vinegar
1/2 teaspoon salt
2 honeycrisp apples, cored, keep skin on, chopped
Instructions
1. Throw everything in a blender and taste to add more jalapeno or salt if needed.
** if you want a chunky salsa, leave the petite tomatoes out and stir them in at the end.
Nutrition Information:
Yield:

8
Serving Size:

1
Amount Per Serving:
Calories:

67
Total Fat:

2g
Saturated Fat:

0g
Trans Fat:

0g
Unsaturated Fat:

1g
Cholesterol:

0mg
Sodium:

209mg
Carbohydrates:

13g
Fiber:

3g
Sugar:

7g
Protein:

1g
Next time I made a pork chop I am going to drizzle this salsa over the top. #yum
It was a great beginning to season four of Cooking Club!
Happy Thursday my friends – make it a great day!