With these cold temps it's hard not to think about comfort food. I posted the process of making this dish on my Instagram story yesterday and I had lots of people tell me that it wasn't the chicken and dumplings they grew up heating. I guess it depends on where you live!
What are chicken and dumplings?
"Southern" dumplings I am told is torn dough that's placed into the chicken gravy, others said that their chicken and dumplings was more like a chicken noodle soup. All I know was that this was delicious – and that I made the dumplings out of my skinny pizza dough. I know! The magical dough!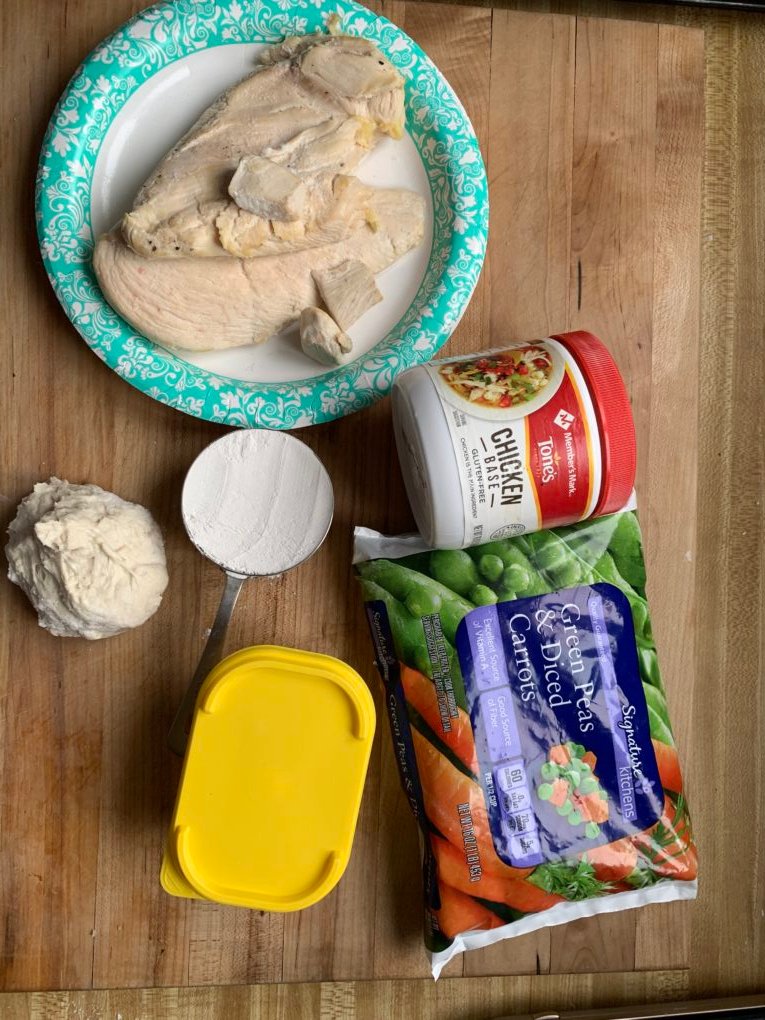 This could easily be made with rotisserie chicken, or leftover chicken. I had chicken breasts so I poached them for 10 minutes – not quite done, but done enough so that I could shred it. I used a tablespoon of I Can't Believe Its Not Butter (1 point) to saute the peas and carrots that I defrosted before making the sauce.
If you aren't using jarred chicken broth – please give it a try. That chicken base cost $3.99 at my local grocery store and makes 56 cups of broth – the box that you buy is only 4 cups for $1.99!
After I sauted the carrots and peas for just a minute or two, I added 1/2 cup of self-rising flour (5 points) and cooked that for a minute, then slowly added the chicken broth. My chicken broth is 5 calories a cup, so I don't count that shit.
Add the broth just one cup at a time, until it gets thick again, then add the next cup of broth. The only seasoning I used was Dak's brand Italian Blast – which had crushed red pepper and tons of flavor. Feel free to use thyme or whatever seasonings you like.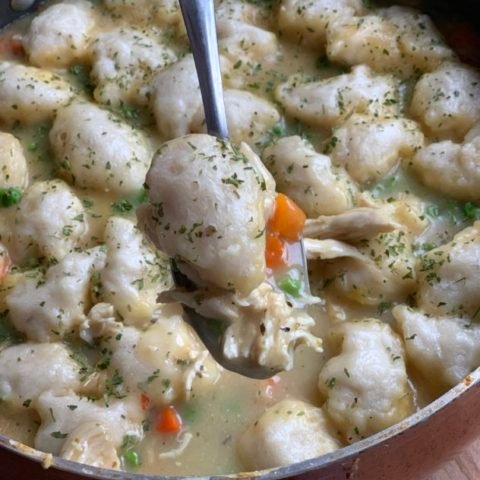 Chicken and Dumplings
Yet another way to use up leftover skinny pizza dough - chicken and dumplings! These portions are huge, filling and oh so comforting.
Ingredients
Ingredients
1 pound cooked chicken breast, shredded or chopped
4 cups chicken broth
1/2 cup self-rising flour (regular flour is fine - just add another point to the whole dish)
1 16 ounce bag frozen peas and carrots, defrosted (it only takes about 20 minutes on the counter)
1 tablespoon I Can't Believe It's Not Butter
2 teaspoons Italian seasoning
1 teaspoon onion powder
salt and pepper to taste
8 ounces skinny pizza dough
2 teaspoons dried parsley, for garnish
2 teaspoons dried parsley, for garnish
Instructions
Melt the butter in a large skillet. Add the peas and carrots and cook for 1 minute. Add the flour and coat the veggies in the flour mixture. Slowly add the chicken broth, 1 cup at a time, to the veggie mixture. Once combined and the sauce is thick again, add in the cooked chicken and seasoning.
Bring the stove top up to medium high, wet your hands and you'll be able to pinch off the dough and place on top of the chicken mixture. Top with a lid and cook for 8 minutes. Remove from heat and sprinkle the top of the chicken and dumplings with the dried parsley.
Nutrition Information:
Yield:

4
Serving Size:

1
Amount Per Serving:
Calories:

471
Total Fat:

10g
Saturated Fat:

2g
Trans Fat:

0g
Unsaturated Fat:

6g
Cholesterol:

101mg
Sodium:

1878mg
Carbohydrates:

50g
Fiber:

5g
Sugar:

7g
Protein:

45g
After incorporating all the broth, I added back the chicken at the end. Then I wet my hands and pulled 8 ounces of skinny pizza dough and pinched off pieces to place on top the chicken mixture. I turned the heat to medium high, then put a lid on the pan, and cooked the dumplings for 8 minutes.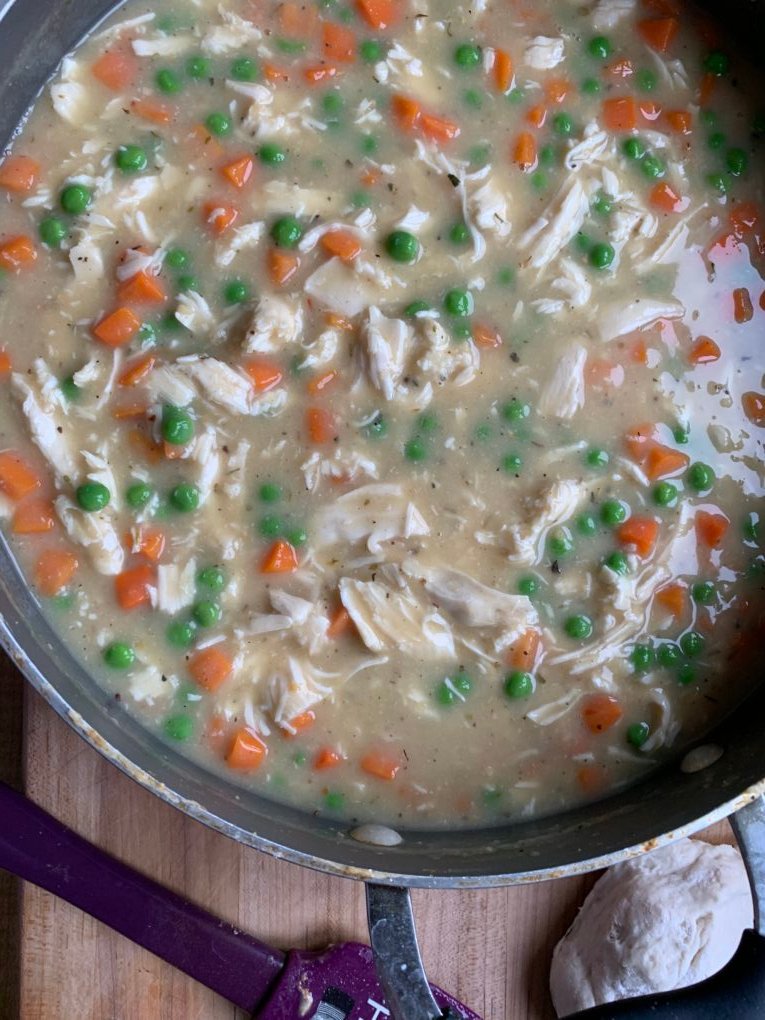 How do you make dumplings?
So easy, just place the pizza dough on top of the chicken mixture, put a lid on it. That's it!
OMG, looks at that puffy goodness! I contemplated putting it under the broiler to get some color, but my pan wouldn't have gone in the oven (should have used cast iron!), but the dumplings were fully cooked – had a bit of crust on the top, and soft and gooey on the bottom. #swoon
I just sprinkled with dried parsley and called it a day.
The best part is that when I put all the points together this WHOLE PAN is only 14 points! 1 for the butter, 5 for the flour and 8 for the pizza dough. So 1/4 of the pan (which is the amount in the bowl to the side) is only 3.5 points. Holy balls. (note – see the breakdown of points in the recipe card below since this recipe was made after the last WW change to three plans)
This is comfort food at its finest – perfectly cooked chicken, gravy, veggies, and dumplings?! But guess what. When Jacob came home he asked "who is that for?" I told him he was welcome to have it for dinner. After he finished his first bowl and asked for seconds, Hannah said "can I have some?"
What? Hannah eating chicken – mind you, the chicken was shredded pretty fine, but she ate it – the dumplings being her favorite part. I can't remember the last time we all ate the same meal.
This is so easy and perfect for a weeknight dinner – I mean, you do always have skinny pizza dough in the fridge, right?! Plan on making a double batch of dough this weekend, you can thank me later.
I had the best two days at home. Spending time in my kitchen, doing cooking stories, answering cooking questions on Instagram. I was living my best life!
And now it's back to work. To my desk. Where there is no kitchen. But luckily it's already Friday, so I won't have to wait too long to get back into my kitchen.
Happy Friday friends – make it a great day!!