Hannah and I want to take shots of this carrot top and cilantro pesto – so good!
This Boston Beef Roast with Carrot Top and Cilantro Pesto is great any time of year. Perfect for your backyard BBQ.
My beef was labeled "Boston Beef Roast." I am assuming that it's the shoulder of the beef, but I am not really sure. In any event, I had two choices. Go fast and furious and treat it like a steak or go low and slow to break up all the connective tissue in this cut of beef. I decided to do the latter. I am also the firm believer that you should sear your meat first while your coals are hot, then move it to the indirect (cold) part of the grill.
I used my best beef marinade which I marinated overnight, and switched it to my Lodge cast iron skillet for the remainder of the grill time.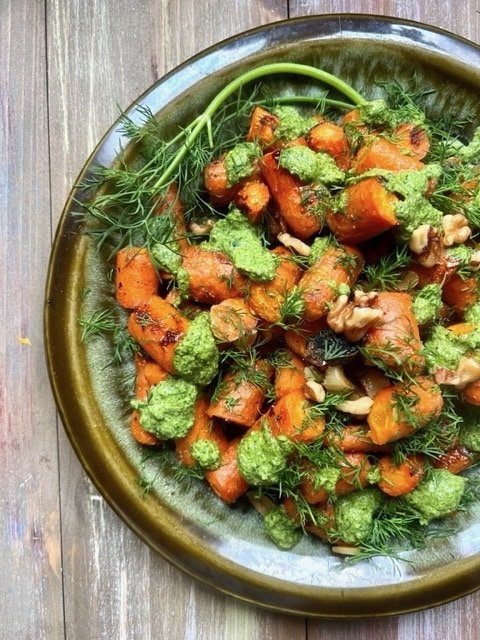 Carrot Top and Cilantro Pesto
You need to buy the carrots with tops (greens) for this recipe. Promise these will not only be the best carrots you eat, but also makes a killer pesto. Perfect for any BBQ!
Ingredients
1 cup carrot top greens, blanched
1 cup cilantro
3 tablespoons olive oil
1 tablespoon walnuts (or any nut will work)
2 garlic cloves
juice of 1/2 lemon (or to taste)
zest of one lemon
salt to taste
1 pinch crushed red pepper
Instructions
Bring a pot of water to a boil and drop the carrot greens and cook for 1 minute. Drain and add all ingredients to a food processor or high speed blender, adding a tablespoon or two of water to get the consistency to your liking. Serve over grilled beef.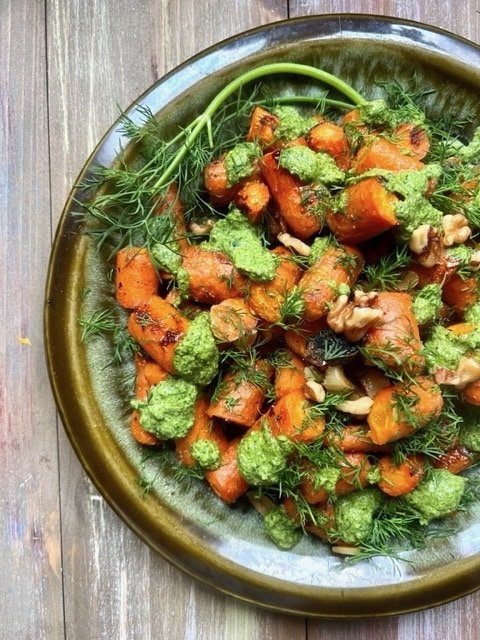 Maple Mustard Roasted Carrots
These simple, yet delicious roasted carrots will be the hit at your next get together. Perfect for the holidays! Highly recommend using the carrot top pesto on top - so good!
Ingredients
2 pounds carrots, peeled and sliced in 2-3 inch pieces
1 tablespoon grape seed oil
1 tablespoon maple syrup
1 tablespoon Dijon mustard
1 teaspoon dried coriander
1/2 teaspoon salt
1/2 teaspoon cracked black pepper
1 teaspoon crushed red pepper (or to taste)
2 tablespoon fresh dill
1/4 cup chopped walnuts
Instructions
Heat oven to 425. Lightly spray with avocado oil spray.
Add the carrots to the pan. Mix the oil, maple syrup, mustard, coriander, salt, pepper and crushed red pepper. Toss to coat and bake for 20 minutes, or until fork tender.
Remove from oven and sprinkle with the fresh dill and chopped walnuts.
Highly recommend drizzling the carrot top pesto over these carrots!
Nutrition Information:
Yield:

6
Serving Size:

1
Amount Per Serving:
Calories:

119
Total Fat:

6g
Saturated Fat:

1g
Trans Fat:

0g
Unsaturated Fat:

5g
Cholesterol:

0mg
Sodium:

332mg
Carbohydrates:

16g
Fiber:

5g
Sugar:

8g
Protein:

2g
I charred the carrots and then added them to the cast iron skillet to cook in the beef juice and marinade. These were delicious! I kept my grill temperature around 225-250 and grilled the meat to an internal temperature of 190, then let it rest 30 minutes before slicing.
The beef took two hours to cook. Once the coals were hot, I put the meat on at 3:45 and it was done by 5:45. Invest in a meat thermometer – it doesn't have to be fancy, I think mine cost $8 after my remote thermometer stopped working. You'll have perfect meat every time. And see how juicy the beef is? If I were to cut into it immediately, all those juices would be on my cutting board – you have to let the meat rest to redistribute the delicious juice.
If you are looking for more carrot recipes, check out this carrot and sweet potato mash – it's delish!