Cherry tomato basil soup is not only delicious, but healthy! While I don't like eating cherry tomatoes by themselves, they are perfect for this soup. I am kicking myself for not trying this method sooner. You could also use roma tomatoes if cherry tomatoes are no longer in season.
A week ago Sunday the farmers market was torrential rain for a solid hour. As luck would have it, one of the vendors (Gray Farms) who sells vegetables was giving away some of his stuff that he didn't sell due to the weather, and he gave me and Alberto cherry tomatoes. Sadly, Alberto works a second job after the farmers market and told me that I could have his container. Score!
The only problem with that? I don't like cherry tomatoes. Well, let me clarify that, I don't like to pop cherry tomatoes into my mouth – the inside texture just grosses me out too much. But guess what I do love? Tomato basil soup! This soup is so simple, could be ready in about 15-20 minutes, because I cheat and use pasta sauce in the soup. I had a jar of Classico garlic pasta sauce in my fridge that needed to be used up, and it was the perfect addition to this soup.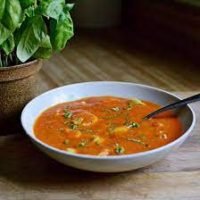 Cherry Tomato Soup
Yield:
2 servings (two cups)
A quick way to make tomato soup - use cherry tomatoes! They cook up really quick and are so delicious.
Ingredients
3 cups cherry tomatoes, stems removed
1 teaspoon olive oil
1 tablespoon minced garlic
1 cup pasta sauce
1 cup vegetable broth (or chicken broth)
1 tablespoon chopped basil (optional)
2 teaspoons crushed red pepper
pinch of salt
pinch of cracked pepper
Instructions
Place tomatoes in an oven safe dish. Spray with avocado oil spray, salt and pepper and roast at 400 degrees in your air fryer for 15 minutes.
Add the roasted tomatoes to a blender, add remaining ingredients and blend for 5 minutes. This will ensure that there are no tomato skins and you are left with a creamy silky smooth tomato soup.
Optional: to make it more of a meal, you an add cheese tortellini to the soup.
Nutrition Information:
Yield:

2
Serving Size:

1
Amount Per Serving:
Calories:

186
Total Fat:

10g
Saturated Fat:

1g
Trans Fat:

0g
Unsaturated Fat:

7g
Cholesterol:

5mg
Sodium:

1117mg
Carbohydrates:

22g
Fiber:

6g
Sugar:

13g
Protein:

5g
This was delicious! Creamy, smooth, so fresh tasting. I licked the bowl clean!
************
My friends Alison and Cameron started raising chickens, and when I crashed their house the night before last, they gave me four of their fresh eggs.
These are actually the size of medium eggs. The shell is a bit tougher than store bought eggs. Check out that yolk color!
Since it was a market day, I had a big breakfast – two eggs (4) two pieces of light breakfast sausage (2) three ounces of potatoes (4) and fresh fruit. A new food find for me, which I used to cook the potatoes with. Have you heard of it, or used it before? Worked perfect to get a nice crisp edge on the potatoes.
And even though I had a long day ahead of me, I still got out for a quick 30 minute walk before getting ready.
Remember I told you that the weather was supposed to be low 80s yesterday for the market? Nope – it got up to 93 degrees and the sun was shining so there weren't as many people at the market. Still sold $850 in 4 hours though, so not too bad. The morning market that is an hour longer only made $400! I made a flour tortilla/ham/cheese wrap for my lunch, with cherries as big as my head. I also had some Smart popcorn to snack on in the car.
I scored on the $1 rack with tomatoes.
I don't really have a recipe for my marinara sauce because it really depends on the tomatoes. Some are sweet, some our tart, so I just have to adjust as I go along. It always starts with a bit of olive oil, minced garlic and a 6 ounce can of tomato paste that I cook down for about 10 minutes. This really adds a depth of flavor. I also always add an ounce of chopped pepperoni to this part as well. A little bit of fat renders out of the pepperoni that gives the sauce a nice extra kick. Then I may or may not add a pinch of sugar at the end to round it out.
It made so much, I'll probably have to freeze some of it. It made for a quick dinner! I had this pasta in the freezer – 8 smart points for 1 cup (or 3.5 ounces frozen). It was a generous portion, and because my sauce is basically no points, even with the added zucchini, my dinner was still 8 points. So good!
The ravioli was perfectly seasoned, and with the fresh chopped basil on top, basically a party in my mouth. I am trying to figure out a way that I can have that marinara for my breakfast it's that good!
Another market day – I am working with my favorite kid Edmundo – the one that is super clean, nice and actually wears pants that fit him so I don't have to see his ass when he bends over to get a veggie burger out of the cooler like my other co-worker
I still have time to get my walking shoes on – the weather calls for 30% chance of rain around 6-7 p.m. tonight – that's our dinner rush hour, so I hope the 70% applies to where we are and it doesn't rain.
Hope you have a great day – one day closer to Friyay! Make it a great day! If you like it spicy, check out this spicy tomato soup.