Thanks for all your sweet comments yesterday on my transformation Tuesday! I have to tell you, just seeing that comparison photo has given me even more inspiration to keep doing what I am doing. Making this a lifestyle and not a diet. Truth be told though, it doesn't really "taste" like a diet. I haven't really been counting calories – I only put stuff into calorie count to see how many grams of protein I have, and it usually works out that most of my meals are around the 500 mark. Because I am eating more calories per meal, it keeps me fuller longer and I am noticing that the licks and bites are nearly non-existent.
I had to do a Sam's Club for work stuff before work. By the time I sat down at my desk to eat it was nearly 9:45 and I was hangry! I made a strawberry parfait and had a hash of 3 ounces of potato, egg whites, baby spinach, deli ham and cheese. After taking this picture, I sat at my desk and had to do some things right off the bat, so I started with the parfait. I realized I didn't heat up my hash enough, and told myself when I got through the bunch of letters I'd go reheat it. But guess what? 30 minutes later I wasn't hungry enough to eat it, so that's going to be breakfast for today.
I ended up walking for 40 minutes outside – even though it was super windy and cold, but I went with it. Every time my Mom sees a picture like that of me, she hints that maybe I should trim my bangs.
Nearly half of the walk my hair looked like this!
Lunch was steak fajitas in lettuce wraps with quinoa, sautéed bell peppers, topped with my baja fresh salsa (I forgot the cheese!) and zucchini and tangerine on the side. I quickly realized after the first couple of bites that it's nearly impossible to eat lettuce wraps at your desk – way too messy, so I ate it knife and fork.
We had a birthday celebration at our office, and I was in charge of the treats. I got apple pie, brownie bites and strawberries with whip cream. While I could easily have determined the brownie bites and apple pie as insulin worthy, I stuck with the strawberries and cream. Non-scale victory!
I went to the gym and did 25 minutes of strength training, then planned on doing hill intervals for a 5k. I found this shirt at Goodwill and even though it's probably meant for a 7th grader, I wore it to the gym.
My blood sugar before working out was 250 – right where I want it to be. However, just as I was hitting the two mile mark, I could feel my blood sugar dropping like a stone. I got off, checked it and it was 59. Fuck. So on my way out of the gym I grabbed a banana and Kind bar and yelled to the front desk "can you put this on my tab!" and ate the banana all the way to the car, then ate the bar on the drive home. Sometimes it really sucks to have the sugars.
It was just me and Hannah for dinner last night and we decided on stir fry. While hers was sans pork, I made mine peppered pork. I am writing this recipe as if it were for two people with pork.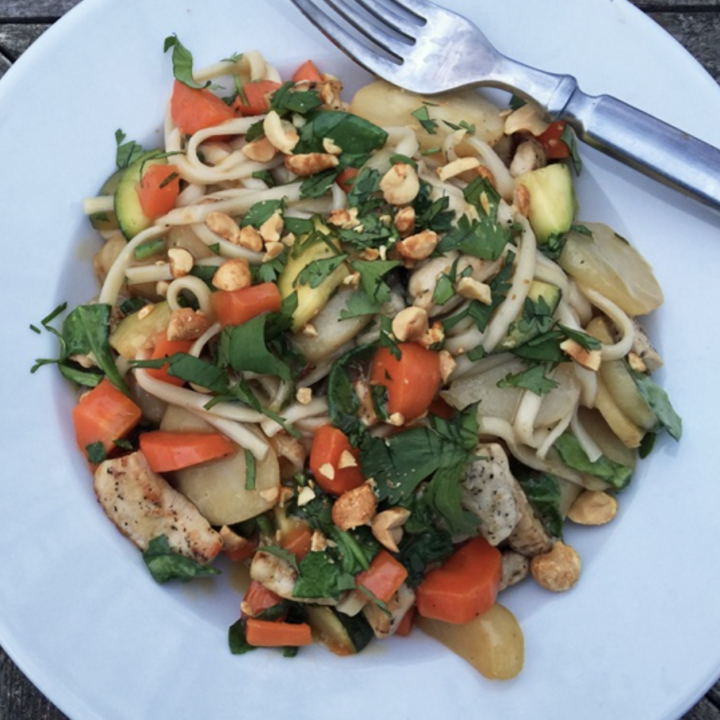 Peppered Pork Udon Noodle Stiry Fry
Get those veggies in with this amazing peppered pork stir fry!
Ingredients
6 ounces pork, cut into bite sized pieces, tossed in about 1/4 teaspoon cracked pepper
2 cups cooked udon noodles (this can be done the morning before work or the night before to make it quick)
1 tablespoon Frank's sweet chili sauce
1 tablespoons classic stir fry sauce
1 tablespoon corn starch
1 teaspoon sriracha
1/2 cup chicken broth
2 cups mixed veggies (I did carrots, zucchini and water chestnuts)
2 tablespoons water
Instructions
In a large skillet add the water and veggies and cook for about 5 minutes or so, just until the carrots start to get tender.
Mix the corn starch with the chicken broth and add that to the pan and cook over medium-high heat until the sauce starts to thicken.
Add in the pork and cook 5 minutes, or until the pork is cooked through (my pieces were small so it didn't take but 5 minutes) add in the udon noodles, Frank's sauce and stir-fry sauce and sriracha and cook another 2-3 minutes.
Top with cilantro and chopped peanuts.
Notes
To check the points for your WW plan, click here!
Nutrition Information:
Yield:

2
Serving Size:

1
Amount Per Serving:
Calories:

526
Total Fat:

15g
Saturated Fat:

5g
Trans Fat:

0g
Unsaturated Fat:

8g
Cholesterol:

80mg
Sodium:

547mg
Carbohydrates:

62g
Fiber:

6g
Sugar:

11g
Protein:

34g
This was delicious if I do say so myself. It was just enough sauce to coat everything without being too saucy. This is great for a quick weeknight meal.
I ended up with decent steps yesterday too!

Today is my first full day of PT on my knee – fingers crossed we start on time. I got a text from a secretary that she'll be out today, so hopefully I will be busy. I made a super quick chicken tortilla soup last night for lunch – it was ready in 20 minutes – I'll share the recipe tomorrow. It's 34 degrees today and cloudy with highs in the mid-40s and windy again, so soup will be good today!
Alright, time to get this show on the road – make it a great day!