Homemade Spaghettios
This bowl of homemade spaghettios brings me right back to my childhood.
Specifically Sunday mornings after church. I would heat the can of spaghettios, toast white bread and butter it, and scoop the bread into the spaghettios with each bite.
Can you make homemade spaghettios with fresh tomatoes?
Yep! I frequent The Waypoint Farm at my local farmers market and scored these amazing cherry tomatoes. While I don't like to eat tomatoes on their own, I love tomatoey things, weird right?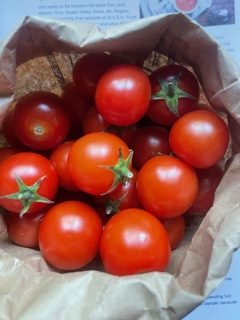 What kind of pasta is used in spaghettios?
The classic O pasta is called Anelli, which is circle in Italian. I was able to find it at my local Mariano's, but you can buy it online if you can't find it. Bronze Cut is my preferred type of pasta because it has rough edges and holds the sauce better than regular pasta.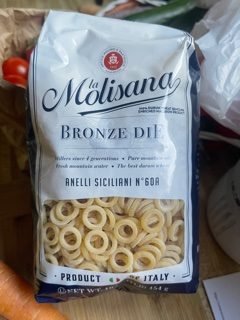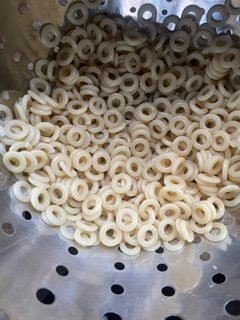 How do you reheat homemade spaghettios?
It is important to cook and store the noodles separate from the soup. When reheating the soup simply add the noodles in during the last minute of reheating and you won't have noodles that taste like ass.
How gorgeous is this sauce?!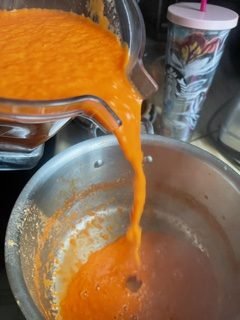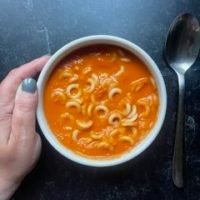 Homemade Spaghettios
This bowl is my childhood - I grew up on Spaghettios and this tastes like the real deal - and it's made with fresh tomatoes!
Ingredients
1 pound cherry tomatoes, sliced in half
4 carrots, chopped
1 tablespoon vegan butter
1 teaspoon onion powder
1 teaspoon garlic powder
1/2 teaspoon salt
1 teaspoon paprika
1/2 cup unsweetened almond milk
6 ounce tomato paste
2 ounces cheddar cheese, shredded
1 teaspoon honey
2 cups chicken broth
1/2 teaspoon crushed red pepper
2 cups Anelli shaped pasta (or any other small pasta)
Instructions
Cook the noodles according to package instructions, drain, rinse in cold water to stop the cooking process and set aside.
Melt butter in a stock pot. Add the tomatoes and carrots and cook for 5 minutes.
Add remaining ingredients and cook for 15-20 minutes, or until the carrots are fork tender.
Carefully transfer to a blender or use a stick blender and puree.
Add 1/4 of the cooked pasta to each bowl and mix to combine.
Notes
Whenever you make a batch of soup with pasta, always cook and store the noodles separately. When reheating the soup, add the noodles in the last minute to reheat. On all WW plans this is 9 points.
Nutrition Information:
Yield:

4
Serving Size:

1
Amount Per Serving:
Calories:

227
Total Fat:

9g
Saturated Fat:

5g
Trans Fat:

0g
Unsaturated Fat:

3g
Cholesterol:

24mg
Sodium:

901mg
Carbohydrates:

30g
Fiber:

6g
Sugar:

12g
Protein:

10g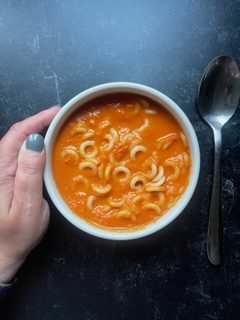 Looking for more pasta recipes?
Check out my Goat Cheese Pasta with Meatballs.
Let me know if you make this. 😁