Be sure to scroll down to get the recipe for pork chops with cranberry balsamic glaze – so good!
One word could describe most of my day yesterday.
LAZY!
And it was wonderful! I am one of those people who always has a list of things I have to do and a list of things I want to do. I don't waste a lot of time sitting around. Maybe it's because I knew I had two more days off of work, but the urgency to do stuff just wasn't there.
Tony and I slept in, watched movies snuggled under blankets. It was glorious! We finally got up and going and it was probably 11:30 before I ate breakfast. Another Tony original – spicy eggs and hash browns with toasted bread with grape jelly.
It probably wasn't until about 2:30 that I thought I should get my act in gear. I had a couple errands to run. I am making my step-son the Ultimate banana bread (he is a banana bread junkie!). And even though they are leaving tomorrow, I have no doubt he can finish the loaf by himself by tomorrow.
And I made Lizz some of my baja fresh salsa. Whatever she can't eat I am going to have her give to her parents – since they are flying she can't take it with her.
It was so nice outside – imagine grilling in Chicago without a coat on November 30!
Both Lizz and her parents can handle the spice, so this is VERY spicy, but still flavorful.
Because I had pork chops that I never used last week I had to use them up. Tony was just happy we weren't have party pizza Friday (although I am making pizza tonight when Joe and Lizz come over!).
Leftover cranberries from Thanksgiving and wanted to make a sauce for the pork chops. Now normally Tony doesn't like sweet with meat, so I put his sauce in a tiny dish on the side – and while he said he wouldn't have wanted it all over his chops, he did like the little bit that he had.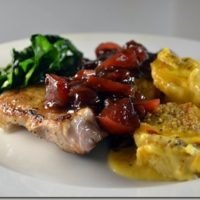 Pork Chops with Cranberry Balsamic Glaze
This cranberry balsamic glaze was inspired by Bon Appetit - I reduced the butter by 3/4 but this is still rich, savory and delicious over pork chops.
Ingredients
1 tablespoon butter
1 tablespoon chopped fresh rosemary
1 teaspoon cornstarch
1/2 cup chicken broth
1 cup whole cranberries, fresh
1 tablespoon balsamic vinegar
Instructions
Heat a stock pot over medium heat. Mix the cornstarch into the chicken broth.
Add everything to the pot and stir to melt the butter.
Simmer for 20 minutes, or until the cranberries are cooked through.
The sauce should thicken so that it coats the back of a spoon.
Notes
On all WW plans, 1 serving of this sauce is 2 points.
I absolutely loved this. The balsamic made this more savory than sweet for me. On the side I had sautéed spinach and scalloped potatoes.
My Skinny Snowman Challenge stats for yesterday: 30 points
5 points for veggie at dinner
10 points for logging food
10 points for getting more than 64 ounces of water
5 points for 5 positives for the day
not feeling guilty for being lazy
spending time with Tony!
enjoying our mild weather
finding the humidifier in our basement to replace our fan in our bedroom
cheering Helen on while she tries to earn her first degree black belt!
So for the first week of the challenge (not including today and tomorrow) I've earned 210/450 points. I'll adjust that on my Monday blog post.
Alright, off to make banana bread and pizza dough. Enjoy your weekend and I'll "see" you on Monday!