This Winter Garden Salad is the only salad you need this season! This is our recreation of a local pub's winter salad that was SO good. Hannah's been on a salad kick lately, so we knew this had to get thrown into the mix to recreate. Salads are not difficult by any means, but it's easy to make a bad salad, right? This one hits all of the notes: crunchy, light, fresh, comforting, sweet, savory and creamy.
What you need to make this salad:
Candied pecans
Crunchy chickpeas
Greens of choice (we used artisan mixed greens)
Rosemary Marcona almonds
1/2 an apple (we used red)
Honey goat cheese
@NoCrumbsLeft Magic Elixir onions
*Optional protein of your choice
What you need for the dressing:
1/8 cup olive oil
Juice of a mandarin (or cutie)
Zest of a mandarin (or cutie)
Juice of half a lime
Zest of half a lime
Salt & pepper
Dijon mustard
Red wine vinegar
Honey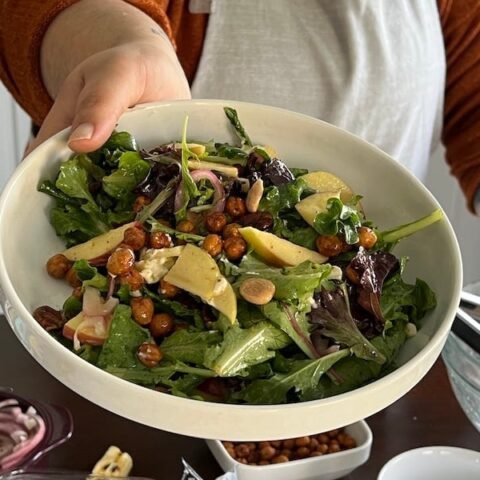 Winter Garden Salad
Cozy and fresh seasonal salad that's easy to multiply for large crowds, make ahead, and is the perfect variety of creamy and fresh citrus. Sweet and savory and its finest!
Ingredients
1/4 C marinated red onions
3 T candied pecans
1/4 C crunchy chickpeas
2 C artisan greens
2 T rosemary marcona almonds
1 red apple, sliced thin
4 T honey goat cheese
Instructions
Throw the greens into a large bowl.
Slice the apple into super thin pieces and toss onto the greens.
Sprinkle the marinated onions, candied pecans, crunchy chickpeas, goat cheese, and almonds all over the bowl.
Drizzle the Honey Citrus dressing on top, and give everything a good toss to coat. Serve immediately and enjoy!
Notes
To make your own crunchy chickpeas, toss a can of chickpeas into your airfryer or oven at 380F for 20 minutes after draining, spraying with avocado oil, and seasoning to your taste. I used italian seasoning, paprika, onion powder and garlic powder.
Be sure to let your onions marinate for at least 12 hours.
Click this link to find the WW points for your plan. I am on the diabetic plan and have to count points for fruit. For me, this salad (without dressing) is 10 points, however keep in mind that it is only 377 calories. 👍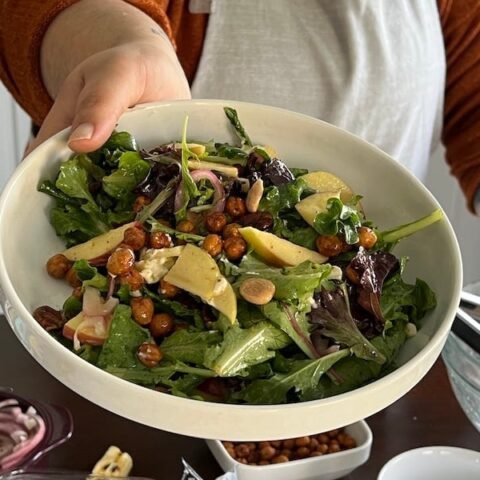 Honey Citrus Dressing
This honey citrus dressing is the perfect pair to the Winter Garden Salad recipe we also have. This dressing was made for that salad, but it is also light and versatile enough to be paired with anything! Subtly sweet and tangy.
Ingredients
1/8 C olive oil
Juice of small mandarin (or cutie) - about 2 tablespoons
Zest of small mandarin (or cutie) - about 2 teaspoons
Juice of small lime - about 2 tablespoons
Zest of small lime - about 2 tablespoons
1 t salt
1 t pepper
1 T dijon mustard
1 T red wine vinegar
1 T honey
Instructions
Combine everything into a bowl and whisk, or to a jar and shake.
Notes
In an airtight container, this dressing will last up to 2 weeks in the fridge.
This made a lot of dressing, so start with a small amount and add as needed. Click this link for the WW points.
Nutrition Information:
Yield:

4
Serving Size:

1
Amount Per Serving:
Calories:

183
Total Fat:

7g
Saturated Fat:

1g
Trans Fat:

0g
Unsaturated Fat:

6g
Cholesterol:

0mg
Sodium:

757mg
Carbohydrates:

33g
Fiber:

3g
Sugar:

25g
Protein:

1g
How can I make this ahead?
If you are having guests over and preparing things ahead of time, you can do that with this salad! All you need to do is make the dressing and set it aside until it's time to serve. In a large bowl, place the greens on the bottom and cover with a plate – this will prevent everything else from seeping into the greens and thus making the greens soggy. On top of the plate, put all other ingredients. These will not go bad if sitting together on top of the plate. When it's time to serve, remove the plate and let everything fall on top of the greens. Drizzle your dressing and toss. Serve!
Is it worth the WW points?
YES! Here's the thing about any food, especially salad in my opinion: If it's not going to keep you full and satisfy you, or you won't enjoy eating it, then why bother eating it at all? Use points for things that would make otherwise "boring" meals something that is interesting, delicious and filling! That's why you have them! WW is not about starving yourself, so enjoy the points that you have!
What makes a good salad?
Variety, by far, makes a good salad. Something crispy, something sweet, something savory, something smooth. Getting a good variety in salad usually means it's going to be more satisfying and overall more addicting to make! Don't be afraid to try new things and experiment!
What are magic elixir marinated onions?
If you didn't know, No Crumbs Left has a post about her amazing marinated onions. These are easy to make ahead, can sit on your counter, and are the perfect topping for literally everything and anything – including this seasonal winter garden salad! Thank you Teri 🙂
How do I make crunchy chickpeas?
I'm glad you asked! Drain a can of chickpeas really well, and pat dry. Toss them into a bowl and add avocado oil spray and whatever seasoning you prefer. I added onion powder, garlic powder, paprika and Italian seasoning to mine. In an air fryer or oven at 380F, toss in the seasoned chickpeas and bake for about 20 minutes or until crunchy. Eat them as-is for a snack, or add them to salads like this!