This recipe for pumpkin biscotti is hands down the best one I've made yet. And I've made a lot of biscotti over the years!
There is a fine balance between being crispy enough, without being hard to bite, but also tender enough so it doesn't crumble. This recipe achieved both goals!
What is biscotti?
Biscotti originated in Italy, and mean "twice baked." They are crisp crunchy, and perfect for dipping into coffee. The flavor combinations are endless! Add dried fruit, nuts of choice, etc.
Ingredients needed for biscotti:
egg whites (whipping the egg whites makes for a delicate crumb)
flour
cinnamon
ginger
canned pumpkin (make sure you buy puree and not pumpkin pie filling)
chips of choice (chocolate would be great, but I used sea salt caramel from Trader Joe's)
nuts (I love walnuts in biscotti
How long do you cook biscotti?
I prefer to start my first bake at 350 degrees, and then reduce the heat to 300 in the final 30 minutes, flipping the biscotti every ten minutes. This ensures that the biscotti cooks all the way through, but not too crispy. Biscotti will be delicious up to a week after baking, just store in an airtight container. After the first bake, the biscotti will just start to brown. Don't try to slice right out of the oven, because it will be crumbly and you won't have good knife cuts.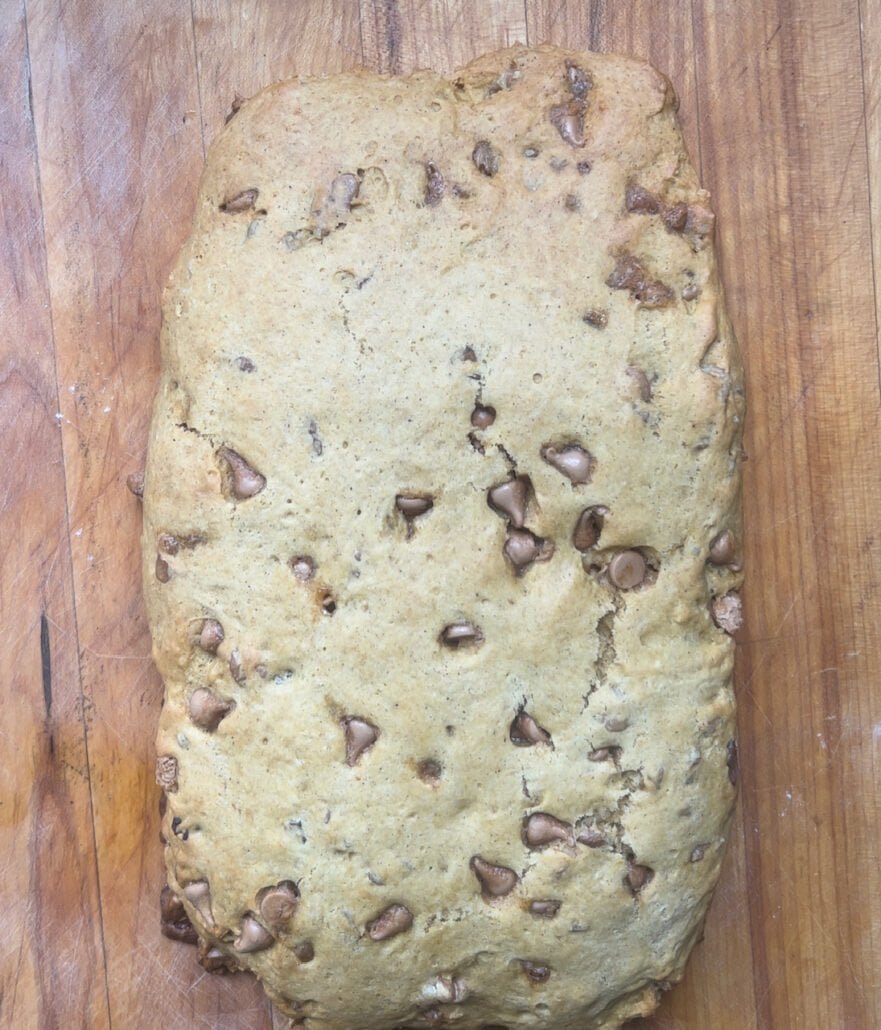 Be sure to also flip the biscotti every ten minutes to get an even cook.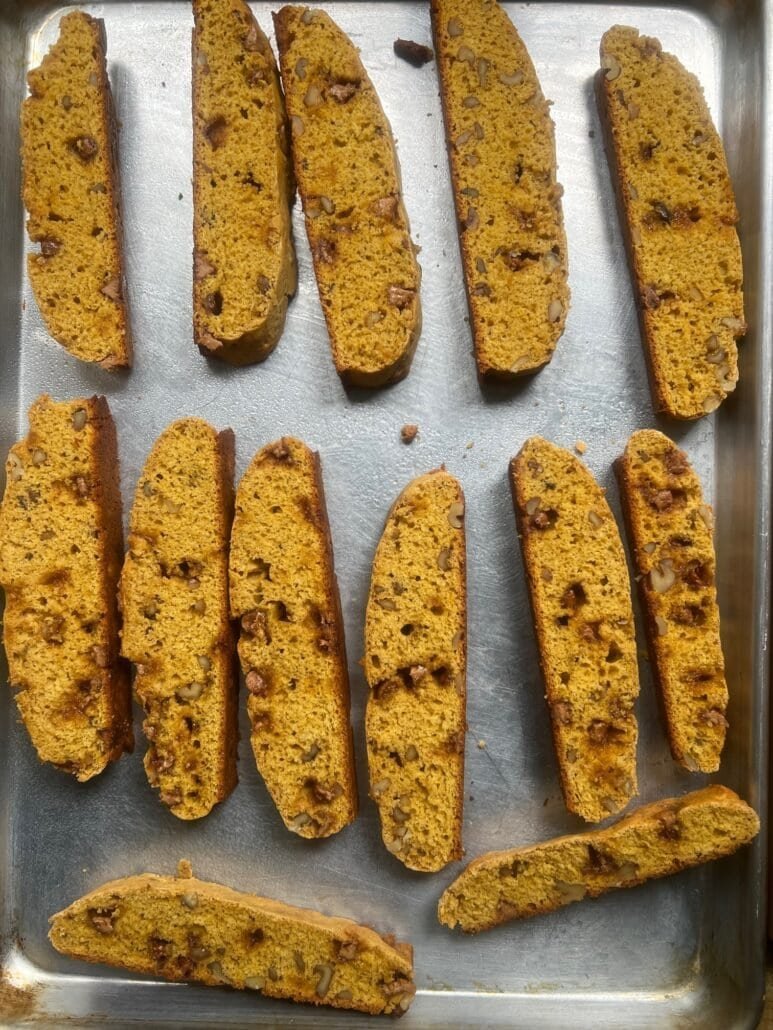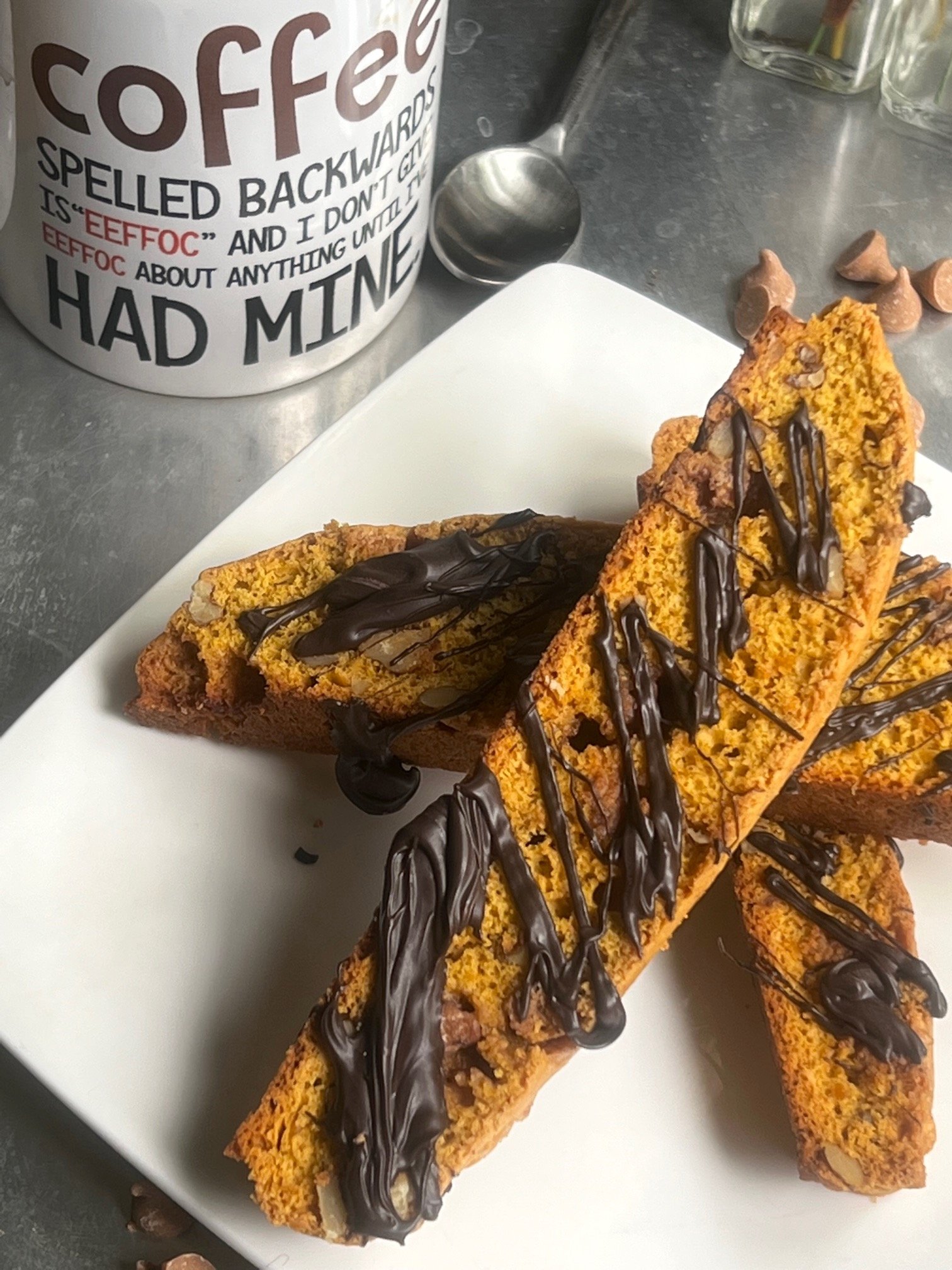 Pumpkin Biscotti
Total Time:
1 hour
5 minutes
This pumpkin biscotti recipe is probably my new favorite biscotti recipe - it's like fall threw up in my mouth in the best way possible!
Ingredients
2 egg whites (from large eggs, or 3 tablespoons liquid egg whites)
pinch salt
1/2 cup sugar
2 cups flour
2 teaspoons baking powder
1 teaspoon cinnamon
1 teaspoon ground ginger
1 tablespoon olive oil
1/2 cup canned pumpkin puree
3 ounces sea salt caramel chocolate chips
2 ounces walnuts, chopped
18 dark chocolate melting wafers
Instructions
Preheat oven to 350 degrees. In a large bowl, beat egg whites with a pinch of salt until they just hold stiff peaks. Gradually beat in the sugar while constantly mixing. Mix in the pumpkin.
Add the flour, baking powder, cinnamon, ginger and olive oil and mix just until combined. Stir in the caramel chips and walnuts.
Spray a baking sheet with avocado oil spray. Dump the mixture onto the baking sheet and press down (wet fingers so the dough doesn't stick to your hands) and press into a rectangle - about 12 inches long and 4 inches wide.
Bake for 25 minutes. Remove from oven and let rest for 10 minutes. Reduce the oven to 300 degrees.
Cut the biscotti into 14 slices. Place cut side down and bake for 10 minutes. Flip and bake another 10 minutes. For the last 10 minutes, bake standing straight up.
Cool completely.
Melt the dark chocolate wafers in the microwave in 30 second increments until melted (usually takes 3 times) and drizzle over the biscotti. Store in an airtight container.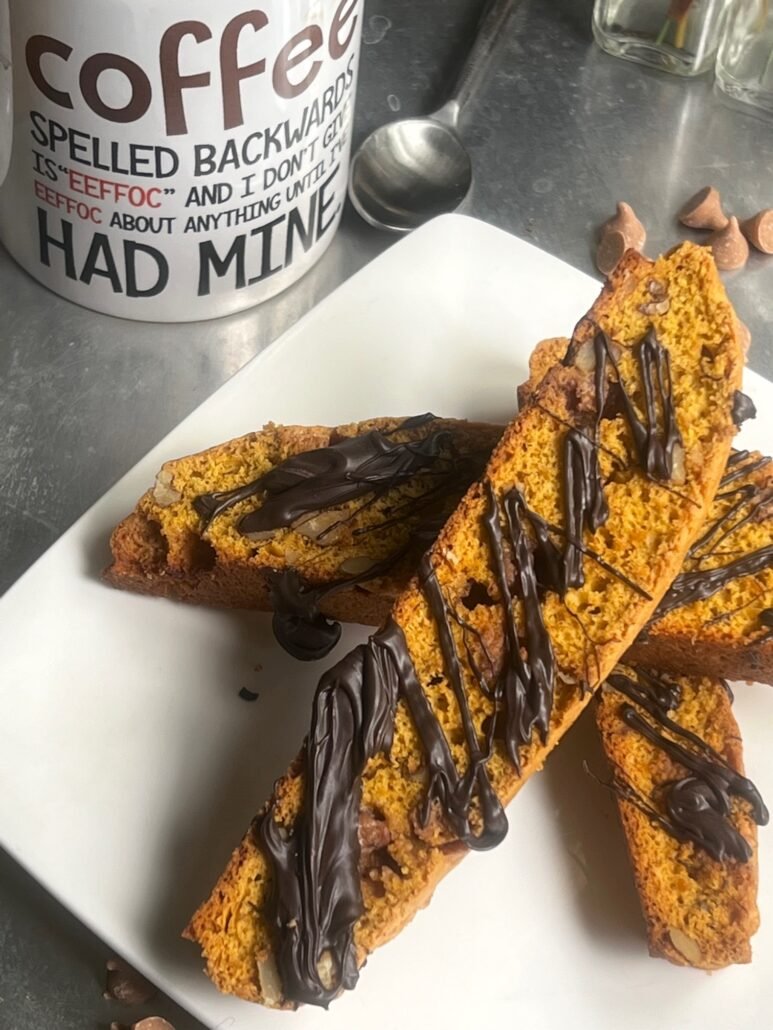 If you've never tried to make biscotti before, please try this one! You can thank me later. ❤️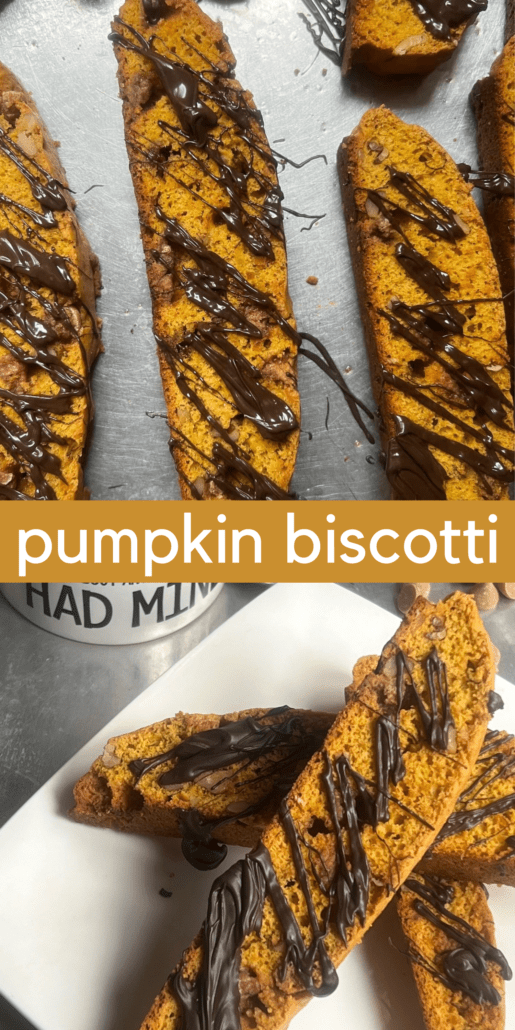 [web_stories_embed url="https://mybizzykitchen.com/?post_type=web-story&p=81968″ title="Pumpkin Biscotti" poster="https://mybizzykitchen.com/wp-content/uploads/2022/09/cropped-bizcotti-640×853.jpg" width="360″ height="600″ align="none"]