These blueberry waffles will be your go to meal prep breakfast recipe. You probably already have all the ingredients!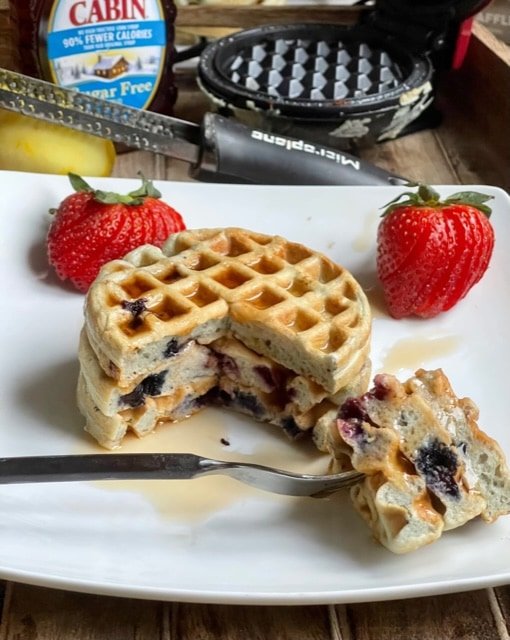 How to make homemade blueberry waffles
Ingredients you'll need – that you probably already have on hand!
flour – you can use self-rising or all purpose
baking powder – yes, I still add baking powder even though I use self-rising flour
salt
unsweetened almond milk
eggs
blueberries
lemon zest optional, but its delicious!
How many calories in blueberry waffles?
Because I used a mini Dash waffle maker, each waffle is only 73 calories, 1 fat, 13 carbs, 1 fiber and 2 protein.
How do you get fluffy waffles?
Baking powder is your friend! Be sure to let the batter sit at least 15 minutes before making the waffles. The bubbles are what make fully waffles. If you love waffles as much as I do, check out my apple waffles here.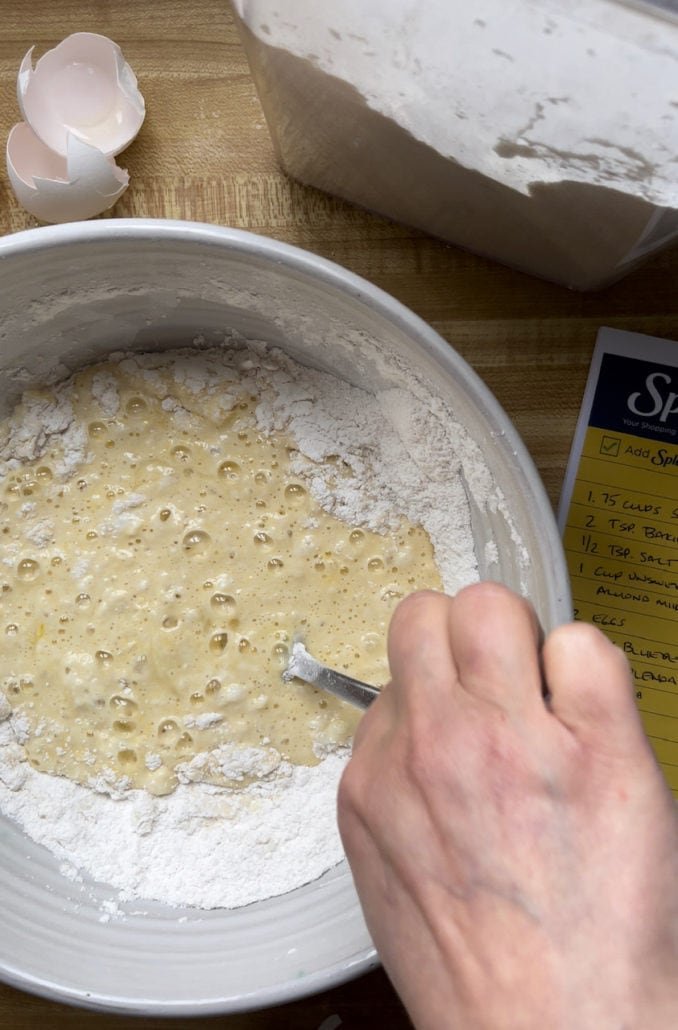 Note: don't overfill your waffle maker. I know that 1/4 cup batter doesn't seem like enough, but it is – trust me!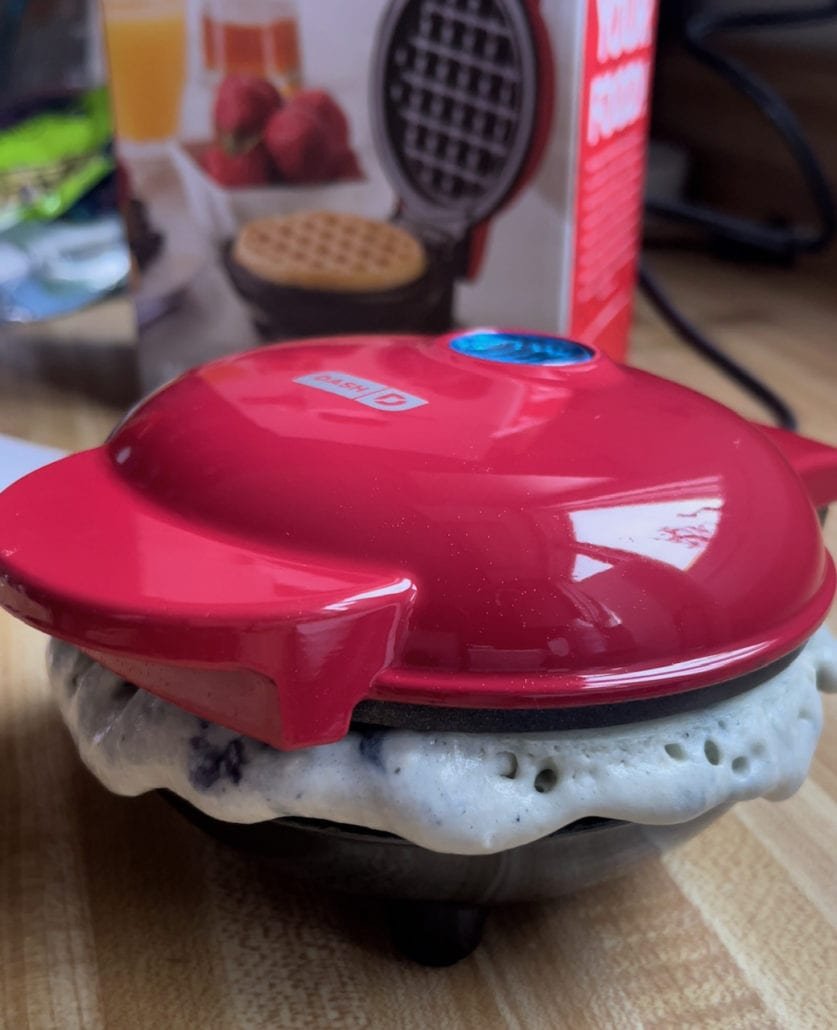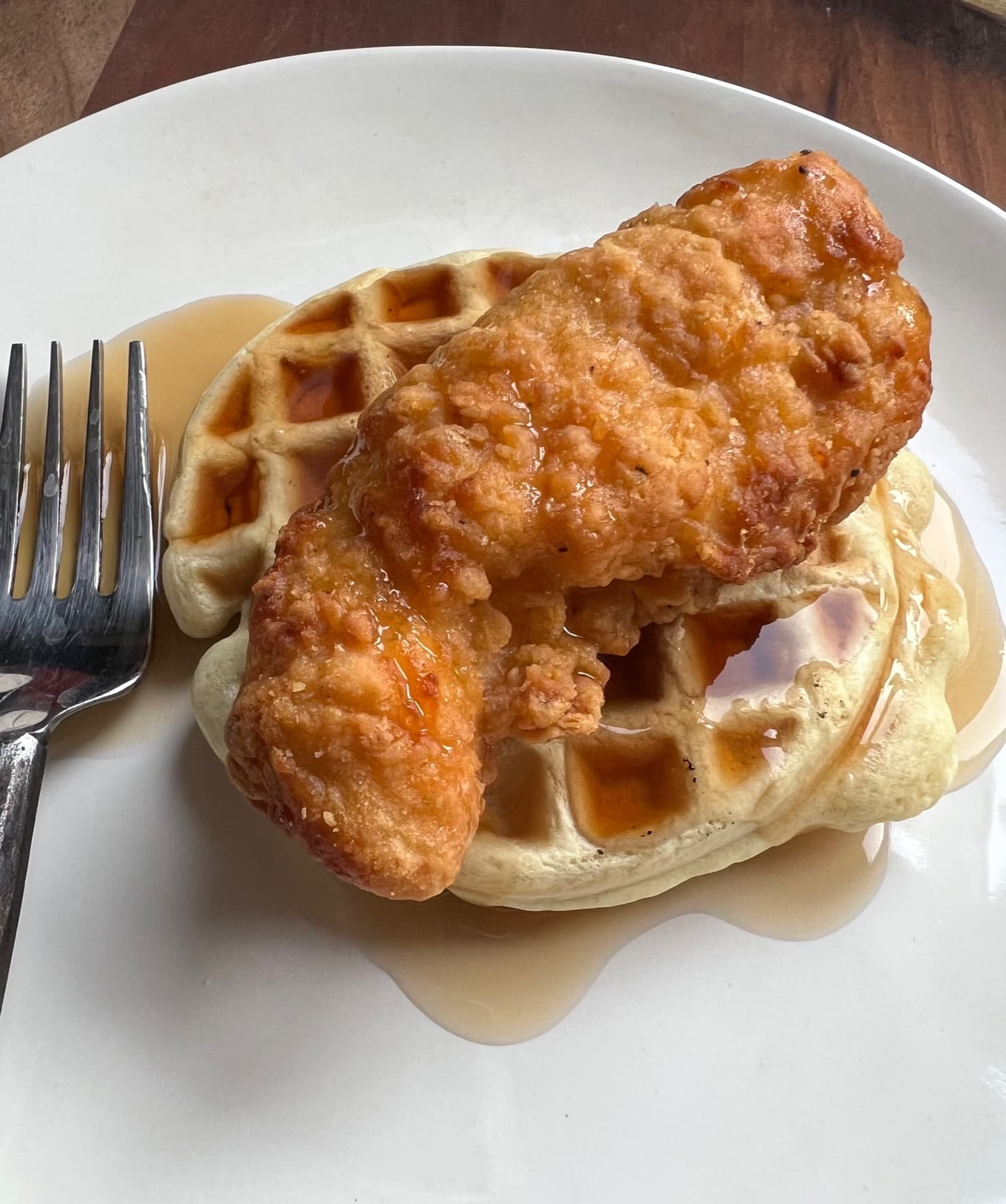 Chicken and Waffles
Do you have a mini Dash waffle maker? I got one in a swag bag at a food conference I was at and had everything to make these waffles at home. These are great for meal prep because they make a lot!
Ingredients
2.25 cups self-rising flour (or all purpose)
2 teaspoons baking powder
1/2 teaspoon salt
1/2 cup Splenda with Stevia
1 cup unsweetened almond milk
2 eggs
Instructions
Mix the flour, baking powder, salt and Splenda together. Add the milk and eggs and mix until combined. Let the batter sit for 15 minutes to let the baking powder do its magic.
Using a 1/4 cup measure, spray your mini Dash with avocado oil spray, add batter and cook 2-3 minutes per waffle. Let cool. Lay out on a cookie sheet and freeze for 30 minutes. Store in a ziplock bag. That way they won't stick together and you can grab as many as you want. Simply go from freezer to toaster like you would a store bought frozen waffle.
Notes
Be sure not to overfill your waffle maker. I know 1/4 cup doesn't seem like enough, but it is!
Click this link to track to your WW plan. These are 2 WW points per waffle.
To make these chicken and waffles: air fry your favorite chicken tender according to package instructions. Top your waffle with the fried chicken - best sweet and savory combo!
Nutrition Information:
Yield:

15
Serving Size:

1
Amount Per Serving:
Calories:

81
Total Fat:

1g
Saturated Fat:

0g
Trans Fat:

0g
Unsaturated Fat:

1g
Cholesterol:

25mg
Sodium:

369mg
Carbohydrates:

15g
Fiber:

1g
Sugar:

1g
Protein:

3g
This morning for breakfast I made an egg white zucchini omelette with two of the waffles and chicken sausage – only 6 WW points for the plate on my WW plan and this was delicious and so filling!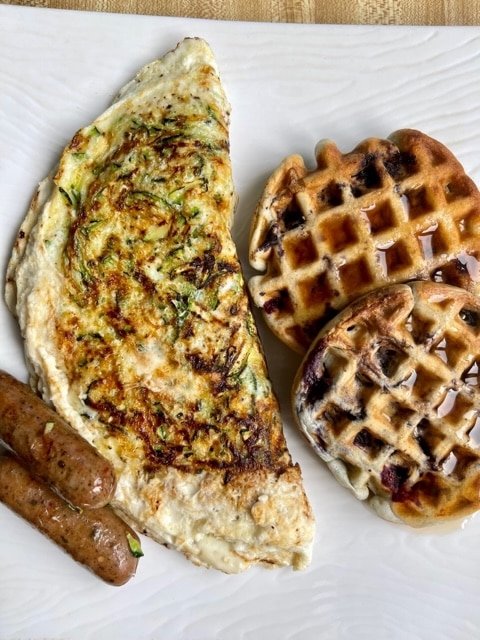 The added protein of the egg whites and chicken sausage not only keep me full, but also helps my blood sugar not spike too high with the carbs in the waffles. It's a win win!
[web_stories_embed url="https://mybizzykitchen.com/web-stories/blueberry-waffles/" title="Blueberry Waffles" poster="https://mybizzykitchen.com/wp-content/uploads/2022/03/cropped-IMG_8840-640×853.jpg" width="360″ height="600″ align="none"]