These banana bread granola muffins need to jump to the top of your list of things to make!
What is the new flavor of Safe + Fair Granola?
Banana Bread Granola! Every time they come out with a new flavor I declare it's my favorite, and THIS ONE IS MY FAVORITE! It's not overly sweet, crunchy and has that delicious banana bread flavor. Are you familiar with Safe + Fair? I've been working with them for almost three years and they make safe allergy friendly products at a fair price. Best yet is that they have given me a discount code of 20% off using Biz20 at www.safeandfair.com! If your order happens to be over $40 after my discount, you also get free shipping!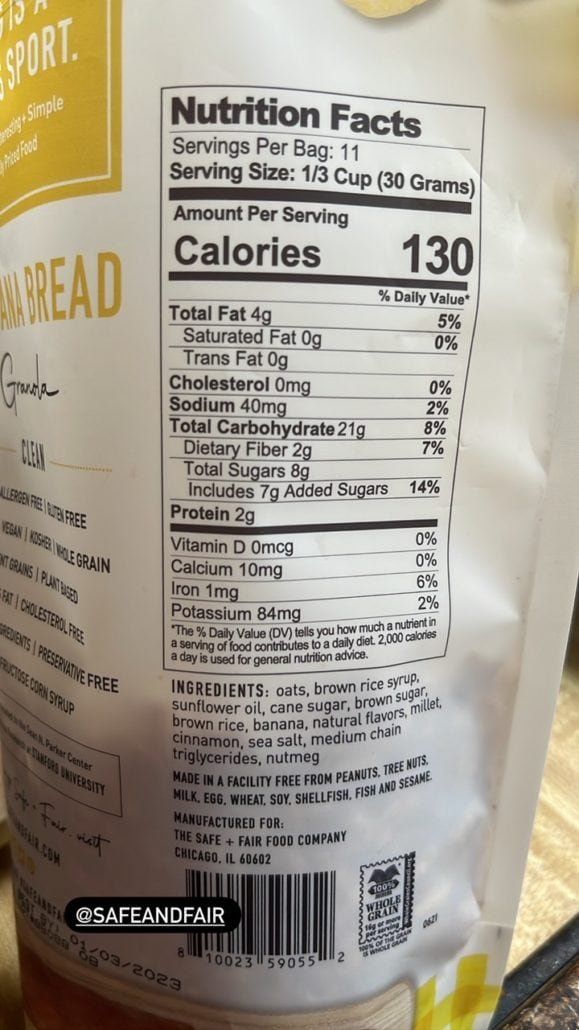 What temperature do you bake muffins at?
There are many schools of thought, but I love baking my muffins at a higher temperature – 425. The baking time is less and I believe that the muffins rise higher (nicer muffin top!) if you cook them at a higher temperature.
How do you get muffins to be light and fluffy?
One time I made a batch of muffins. I am notorious for leaving out ingredients if I am not careful. That particular time I'd whisked the whole muffin batter together and realized I'd forgotten the eggs. Doh! But once added at the end, the texture of the batter was lighter and I've been doing it that way every since.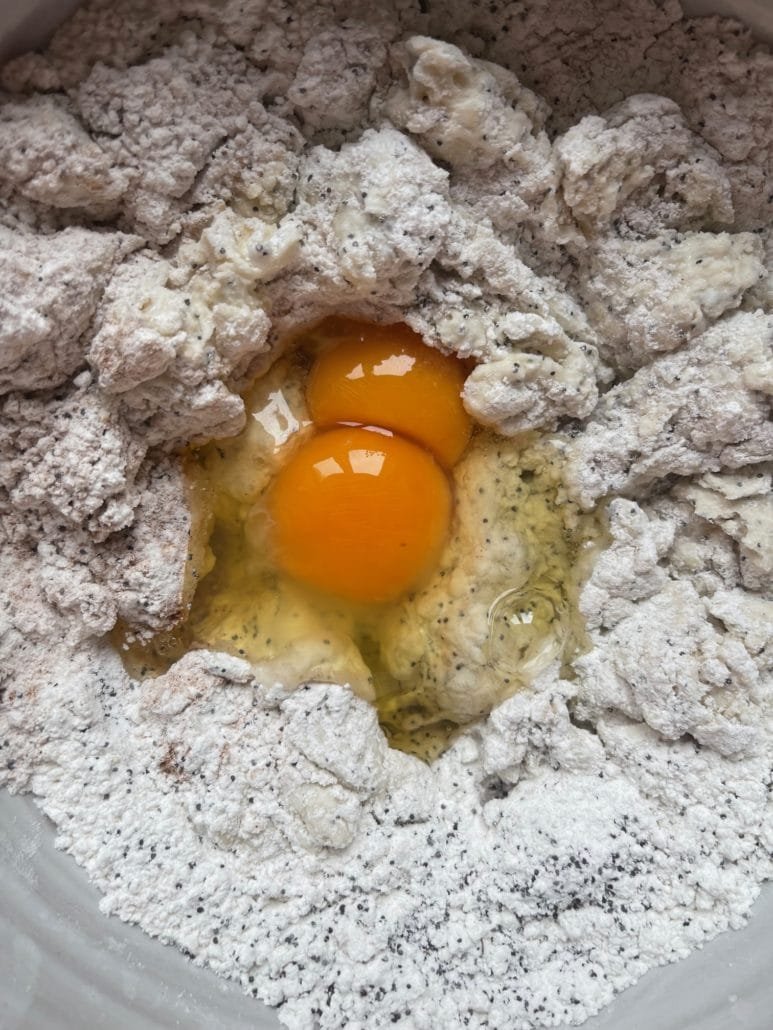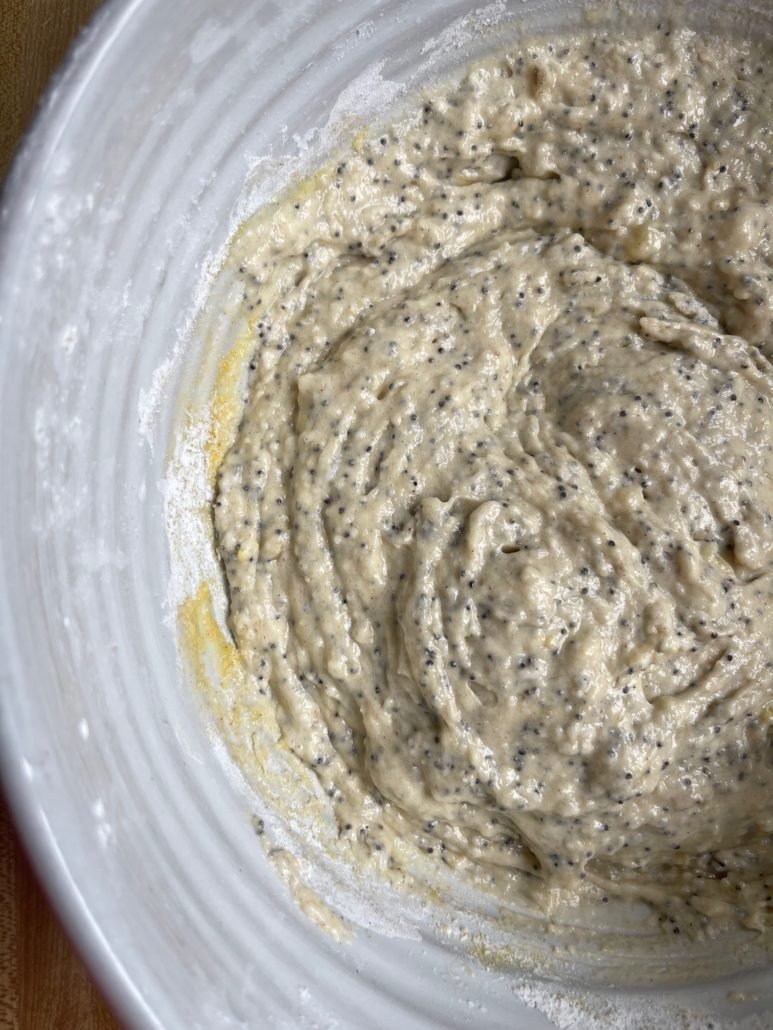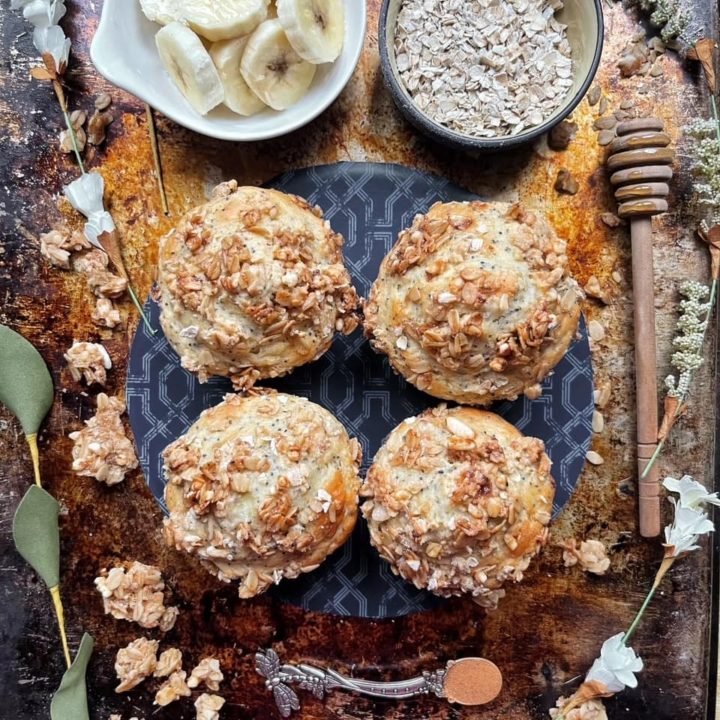 Banana Bread Granola Muffins
These banana bread granola muffins taste so amazing. The muffin itself isn't overly sweet, but then you get that sweet crunch from the Safe + Fair granola streusel topping. #swoon
Ingredients
2 cups self-rising flour (all purpose is fine)
1/2 cup sugar
1/2 teaspoon salt
2 teaspoons baking powder
2 tablespoons poppy seeds
1 teaspoon cinnamon
3 tablespoons light butter
1/2 cup nonfat greek yogurt
1/2 cup lowfat buttermilk
1 large banana (ripe)
2 eggs
For the streusel:
1/8 cup flour
1/8 cup oats
1 tablespoon brown sugar
1 tablespoon light butter
45 grams granola
Instructions
Heat oven to 425 degrees.
Mix the flour through cinnamon together in a large bowl.
In another bowl, mix the light butter through banana and mix until the banana and butter is mashed.
Add the wet mixture to the dry mixture. I always add the eggs last - not sure why, but I think I like the muffin texture better.
Once the eggs are incorporated, divide batter between 12 muffin tin.
Mix streusel ingredients together and divide mixture on top of each muffin, pressing in slightly
Bake 15-18 minutes.
Notes
Click here to find out the points for your WW plan. If you replace the sugar with no calorie sweetener, reduce the points by 3 points.
For example, on my plan each muffin is 7 points with sugar, or 4 points substituting no calorie sweetener such as monk fruit, Splenda, etc.
Nutrition Information:
Yield:

12
Serving Size:

1
Amount Per Serving:
Calories:

201
Total Fat:

5g
Saturated Fat:

2g
Trans Fat:

0g
Unsaturated Fat:

3g
Cholesterol:

37mg
Sodium:

475mg
Carbohydrates:

33g
Fiber:

2g
Sugar:

13g
Protein:

6g
There are so many Safe + Fair recipes on my blog –
click this link to find them
. Food allergies are everywhere and I love that people have a chance to eat safe snacks, granolas, brownies, etc. at a fair price.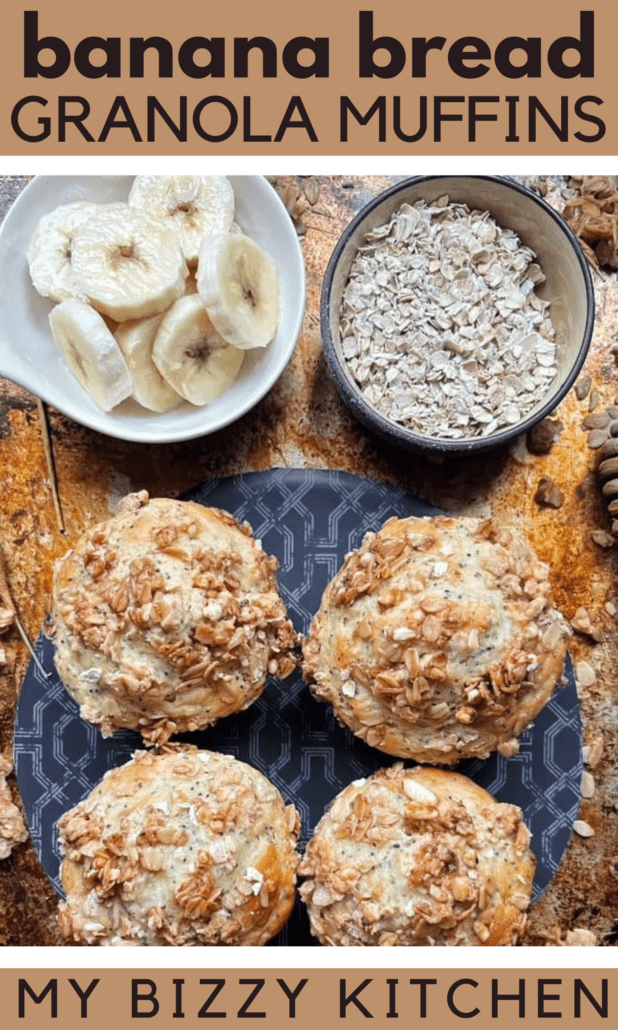 [web_stories_embed url="https://mybizzykitchen.com/web-stories/banana-bread-granola-muffins/" title="Banana Bread Granola Muffins" poster="https://mybizzykitchen.com/wp-content/uploads/2022/04/cropped-banana-bread-granola-640×853.jpg" width="360″ height="600″ align="none"]