This potato and sausage frittata is a great meal prep recipe AND a great way to use up veggies at the end of the week.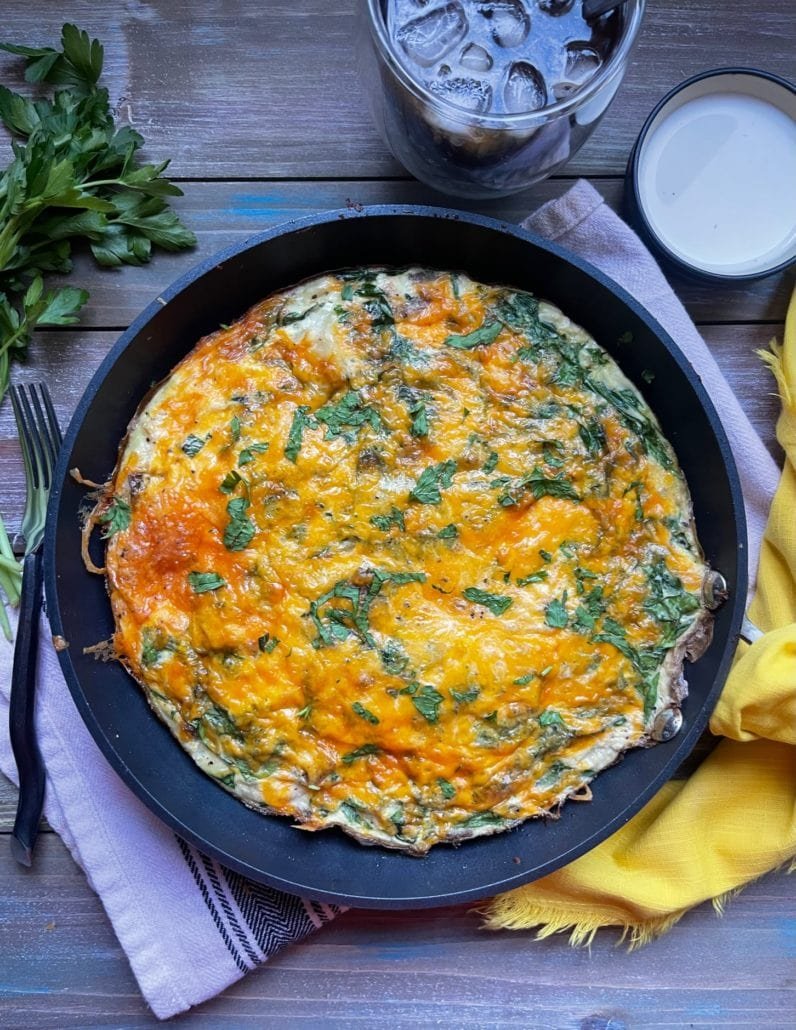 Do you make a frittata in the oven or on the stovetop?
You can do either method, but I prefer the oven method. It's kind of like "set it and forget it." I used baby spinach as my vegetable, so I didn't need to precook the veggies. Had I used red pepper, broccoli, or mushrooms, I would saute the veggies first before adding them to my frittata.
This is perfect for meal prep because you can cook once and have breakfast all week.
How do you reheat a frittata?
My favorite way to reheat the frittata is in a nonstick skillet. I spray with avocado oil spray and heat over medium heat. Place the frittata in the pan (the potatoes stay on the bottom) and place a lid on top so the middle cooks while the bottom gets nice and crispy.
Tools you'll need:
What are other things you can make with frittatas?
Chop up 1/8 of the pie and make easy breakfast tacos, or make a breakfast quesadilla. It would also be a great filling for breakfast egg rolls!
What is the difference between a frittata and an omelette?
Typically a frittata mixes the eggs with the veggies and serves many people, while an omelette is typically stuffed with veggies and serves one. The other benefit of a frittata in my opinion is that it tastes great served room temperature, while an omelette is really best eaten right away.
My friend Carla introduced me to Jimmy Dean's Fully Cooked Turkey Sausage when I came to visit her in Atlanta a few weeks ago. She makes an egg scramble every morning, and I believe she only uses 20 grams for 1 point and it adds so much flavor to the frittata.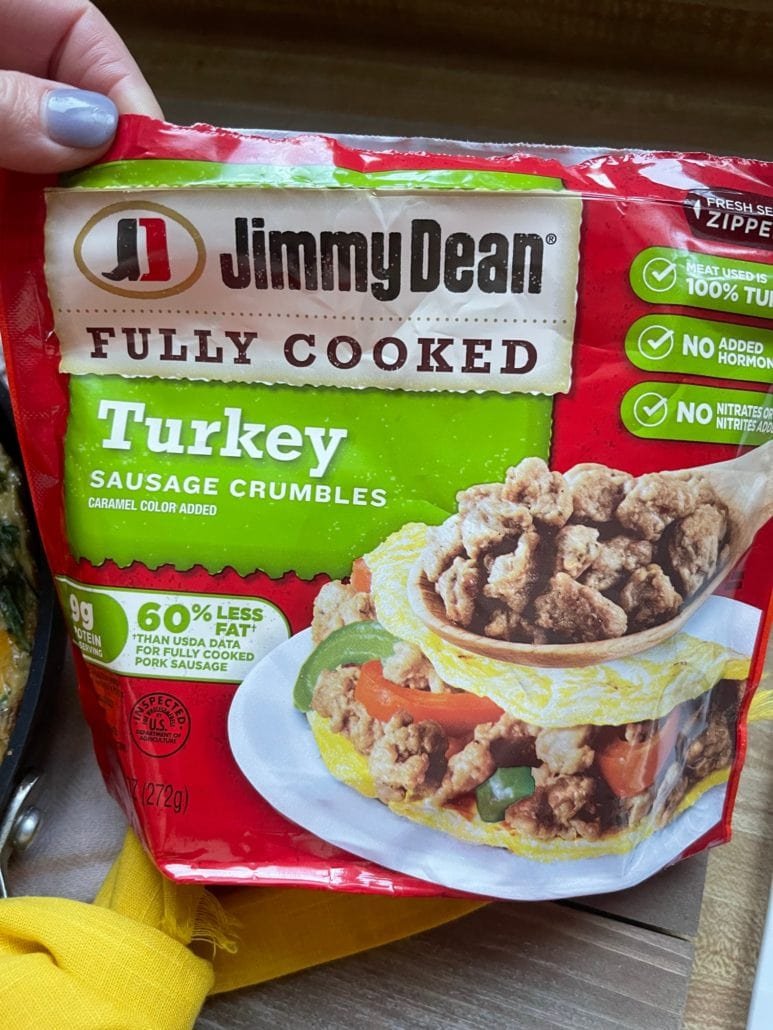 People told me that Walmart always sells it, but I've looked at nearly every grocery store in my area, and finally found it at Meijer. So if you have a Meijer grocery store near you, you should check it out.
Potato and Sausage Frittata
I love frittatas because it's a great way to use up those veggies you bought at the beginning of the week and never got around to making.
Ingredients
8 ounces cooked baked potato, diced
Salt and pepper to taste
4 eggs
1/2 cup liquid egg whites
½ cup milk of choice (I used unsweetened almond milk)
1 cup turkey sausage crumbles (I used Jimmy Dean brand)
2 cup baby spinach, chopped
2 ounces sharp cheddar cheese
4 tablespoons chopped parsley for garnish
Instructions
Heat oven to 400 degrees.
In a cast iron skillet, or other oven safe dish, spray with
avocado oil spray and add the potatoes of the bottom of the dish. Sprinkle with salt and pepper.
In a skillet, heat the sausage crumbles for 5 minutes. Sprinkle over the top of the potatoes.
Mix the eggs, milk, and baby spinach together. Pour over the potatoes and sausage. Top with cheddar cheese and bake for 25 to 30 minutes.
Remove from oven. Let sit 10 minutes. Sprinkle with chopped
parsley and cut into four slices. Serve with a side salad to make this a great brunch meal.
Nutrition Information:
Yield:

4
Serving Size:

1
Amount Per Serving:
Calories:

286
Total Fat:

14g
Saturated Fat:

6g
Trans Fat:

0g
Unsaturated Fat:

6g
Cholesterol:

234mg
Sodium:

550mg
Carbohydrates:

15g
Fiber:

2g
Sugar:

3g
Protein:

24g
If breakfast is your thing, check out my Top 10 Pancake Recipes!