No one will know that there is ground turkey or tons of veggies in this spicy beef chili!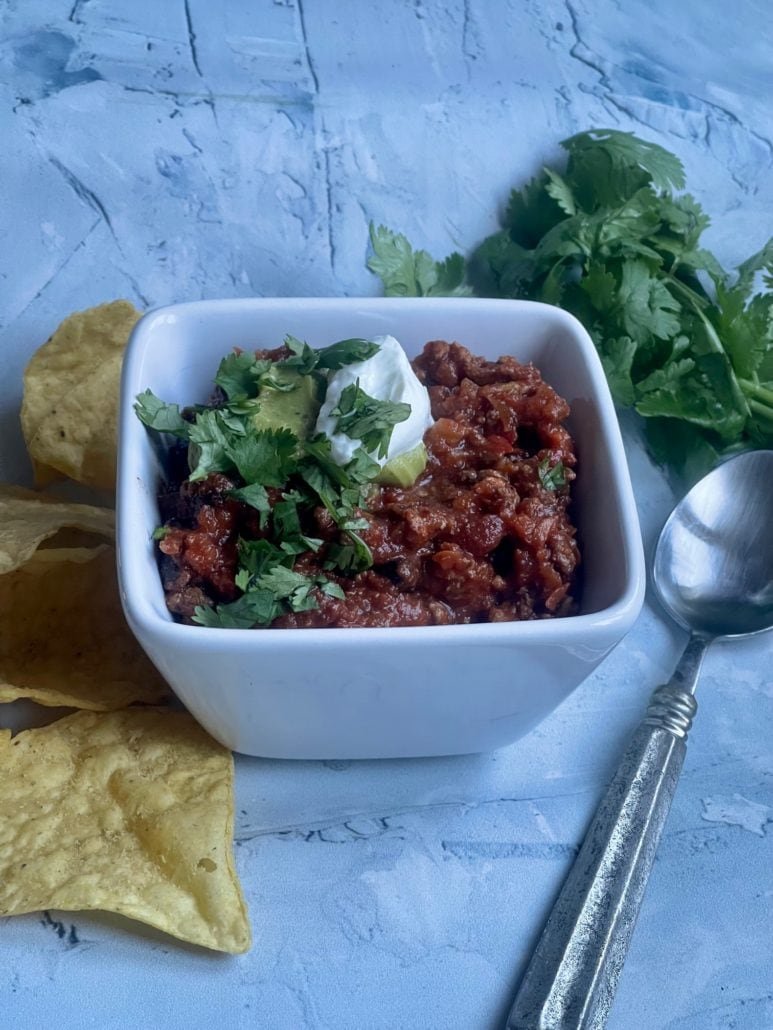 When I was in Atlanta at my friend Carla's WW meeting, a woman weighing in after her first week said "I am so sick of chicken and turkey!" So I asked her "they why not eat some beef if you enjoy it?" It was like a revelation that she could incorporate beef into her plan AND still be on plan.
The trick to my spicy beef chili is using just 1/2 pound of 80/20 beef and 1 pound of ground turkey breast. Once I cook down the beef, I keep the fat that is rendered to cook the ground turkey. Just that little amount of fat over 11 cups of chili is all you need to get the mouth feel that you are truly eating all beef chili. If you don't like spicy food, take the seeds out of the canned chipotle pepper, but I think the chipotle pepper lends a depth of flavor and smokiness that makes this chili. I even lucked out at the meat bin!
What is the difference between ground turkey and ground turkey breast?
Ground turkey is a combination of chicken thigh and chicken leg meat. It basically has the same nutritional value as ground beef, so you really aren't saving much on calories or grams of fat if you use ground turkey. Although ground turkey does have less saturated fat than ground beef. Ground turkey breast is all breast meat, which has less calories and less saturated fat (although not as big a difference as ground beef if you compare the two together).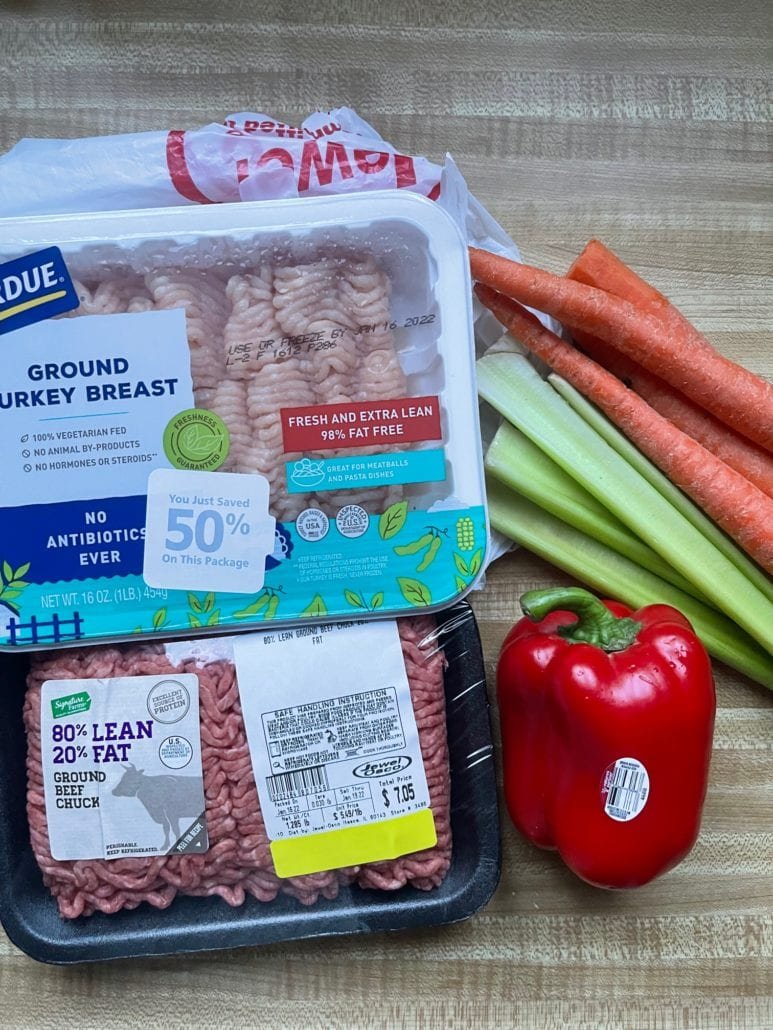 It's no secret I have trouble getting my veggies in, so having all these veggies blended into this chili is a great way to get them in. If you have picky eaters at home, this is a great trick too!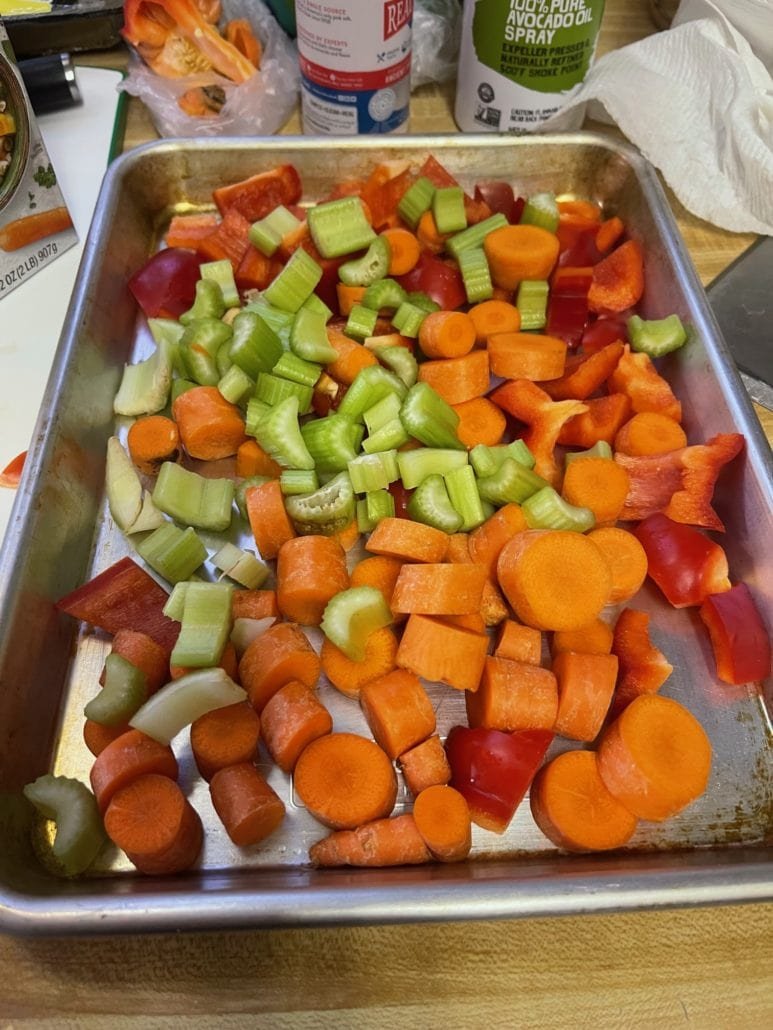 How long does it take to make chili on the stove?
Because I browned the meat first, then cooked the veggies separately, this chili is really ready in about 45 minutes from beginning to end.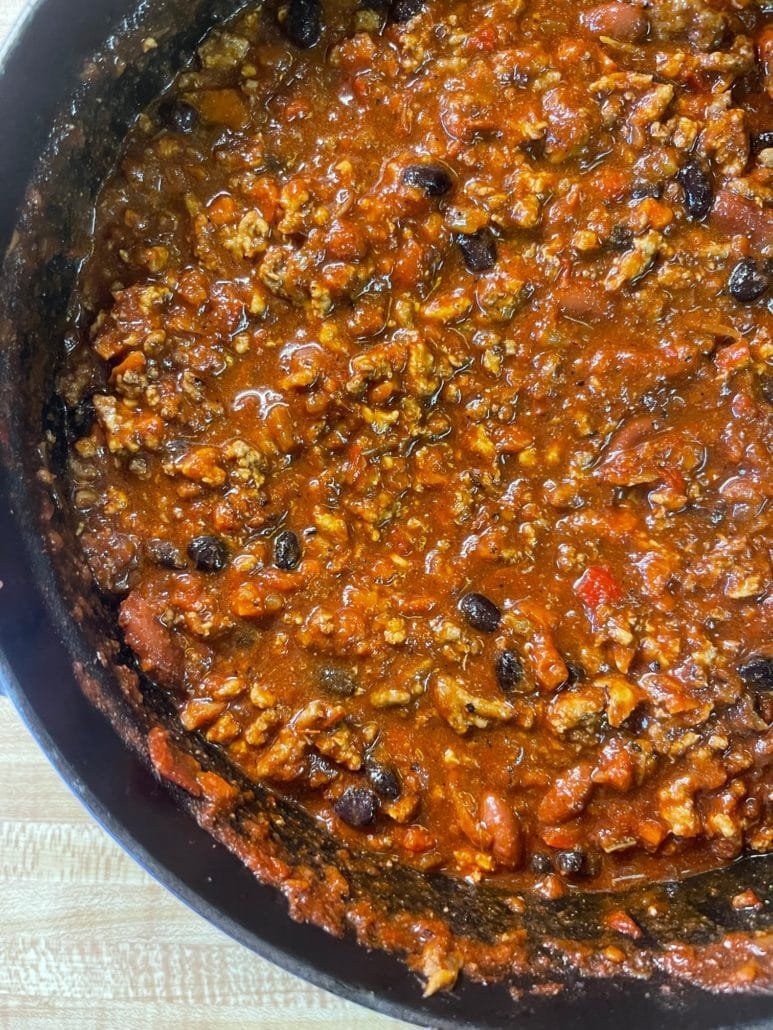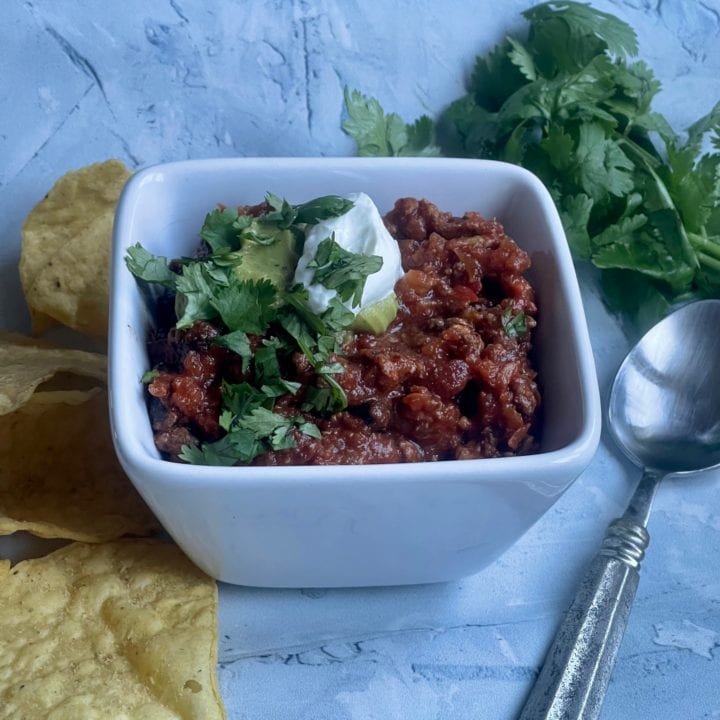 Spicy Beef Chili
Yield:
11 one cup servings
This beef (and turkey) chili is so hearty and delicious. No one will know there is ground turkey or a shit ton of veggies in it - pinky swear!
Ingredients
8 ounces ground beef 80/20
1 pound ground turkey breast
3 cloves garlic, minced
1 can tomato paste
3 tablespoons chili powder
1 tablespoon ground cumin
1 tablespoon smoked paprika
28 ounce fire roasted crushed tomatoes
1 cup carrots, chopped
1 cup celery, chopped
1 cup red bell pepper, chopped
1 chipotle pepper (canned)
1 cup beef broth
1 teaspoon garlic salt
1 can kidney beans, drained
1 can black beans, drained
Instructions
In a large stock pot, start browning the beef. You don't need to add any oil because there
is enough fat in the beef. Once some of the fat renders after a few minutes, add the ground turkey and cook, breaking
up the meat and mixing it with the beef, for about 5 minutes. Remove the meat and set aside.
Add the tomatoes, carrots, celery, chipotle pepper and bell pepper to the pot. Simmer for 30
minutes, or until the carrots and celery are fork tender. Using a stick blender, blend until
smooth.
Add back to pot, add beef and remaining ingredients.
Mix until combined, bring your heat to medium low and simmer
for 30 minutes.
This chili ranks right up there with my favorite
Best Buffalo Chicken Chili
. This freezes well too!