This zucchini lasagna with pork ragu tastes as if I simmered the sauce for days instead of 20 minutes.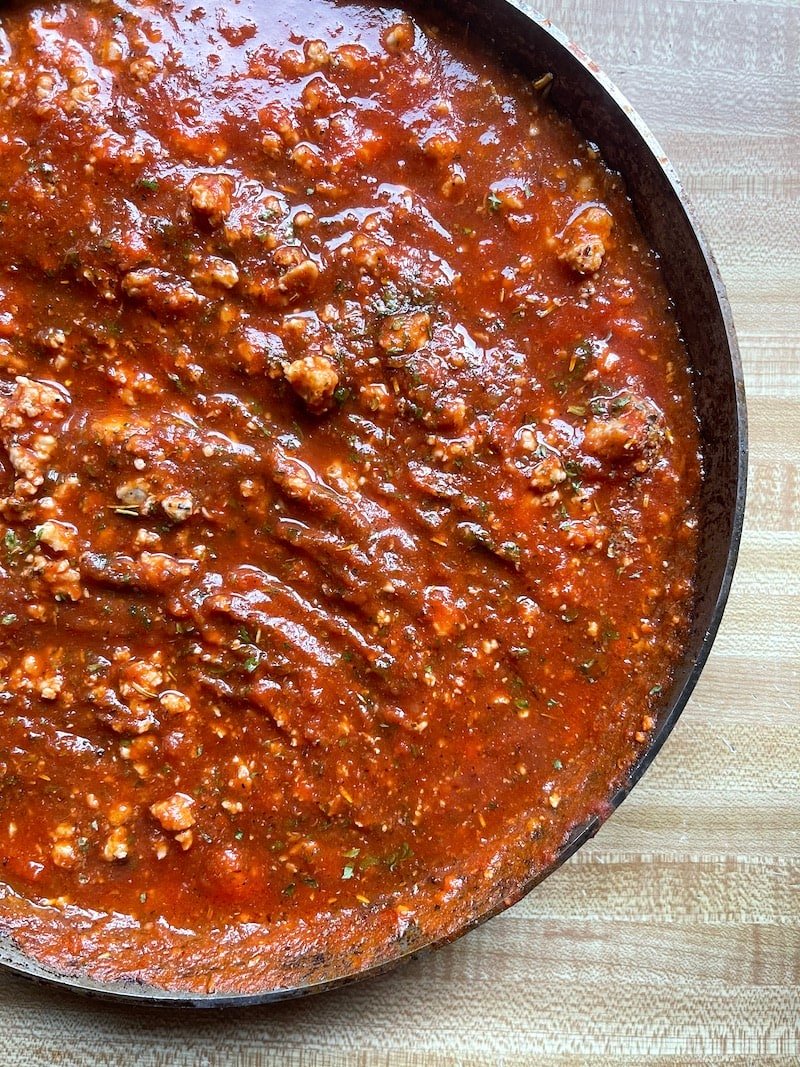 This is another recipe that came together using what I had on hand. Several months ago I bought pork stew meat thinking I'd make some sort of stew in the cold weather. But now it's almost summer weather and I decided to grind up the stew meat to ground pork and this pork ragu was born – best decision evah!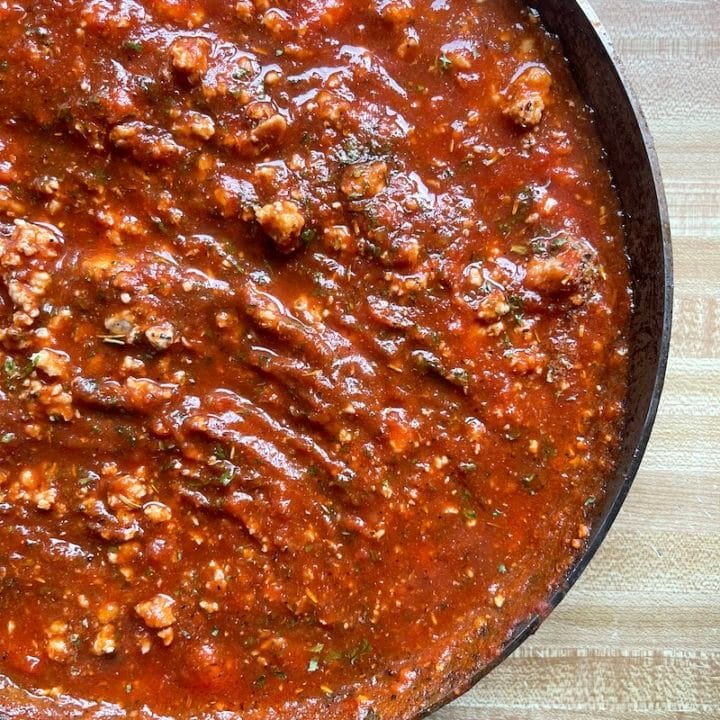 Pork Ragu
Yield:
6 half cup servings
This pork ragu is so rich and has such a depth of flavor. A great switch from ground beef!
Ingredients
8 ounces ground pork
1 cup jarred pasta sauce
1 can diced tomatoes, pureed
6 ounce can of tomato paste
2 cloves garlic, minced
2 tablespoons Italian seasoning
1 teaspoon crushed red pepper
1 tablespoon dried parsley
Instructions
Heat skillet over medium heat with avocado oil spray. Add ground pork and garlic and cook, just until the pork is cooked half way through. Add the pasta sauce, tomatoes, tomato paste, Italian seasoning and crushed red pepper.
Simmer for 20 minutes.
Add parsley and stir until combined.
Notes
* I used pork stew meat that had been in my freezer for nearly six months - ha! I just used my food processor to make the pork ground. Just make sure to pulse meat when you grind it - if you leave it on you get meat paste and that's never a good idea!
On all WW plans, this sauce is 4 points per half cup.
Nutrition Information:
Yield:

6
Serving Size:

1
Amount Per Serving:
Calories:

169
Total Fat:

9g
Saturated Fat:

3g
Trans Fat:

0g
Unsaturated Fat:

5g
Cholesterol:

36mg
Sodium:

275mg
Carbohydrates:

11g
Fiber:

3g
Sugar:

7g
Protein:

12g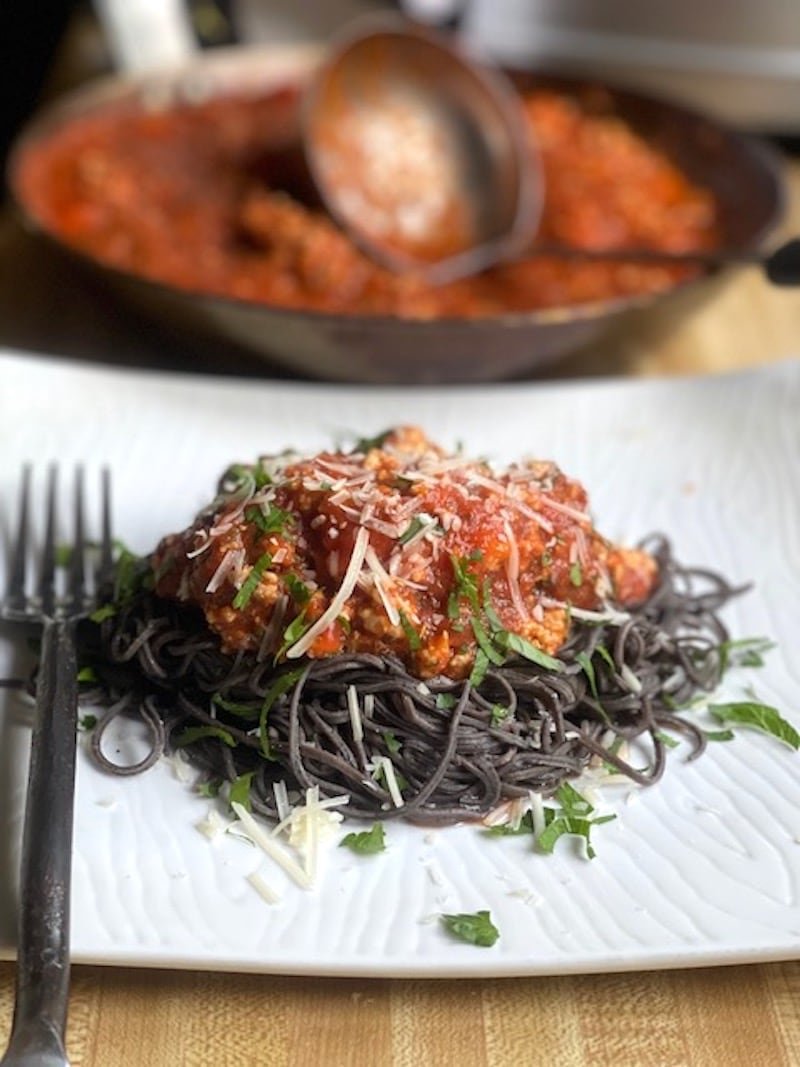 The first night I served the ragu over black bean pasta. I really liked this pasta and it's zero points on #teampurple.
Last night I made zucchini lasagna. People will think using cottage cheese is weird in a lasagna, but I promise you it just tastes cheesy. If you don't like cottage cheese, simply use ricotta cheese.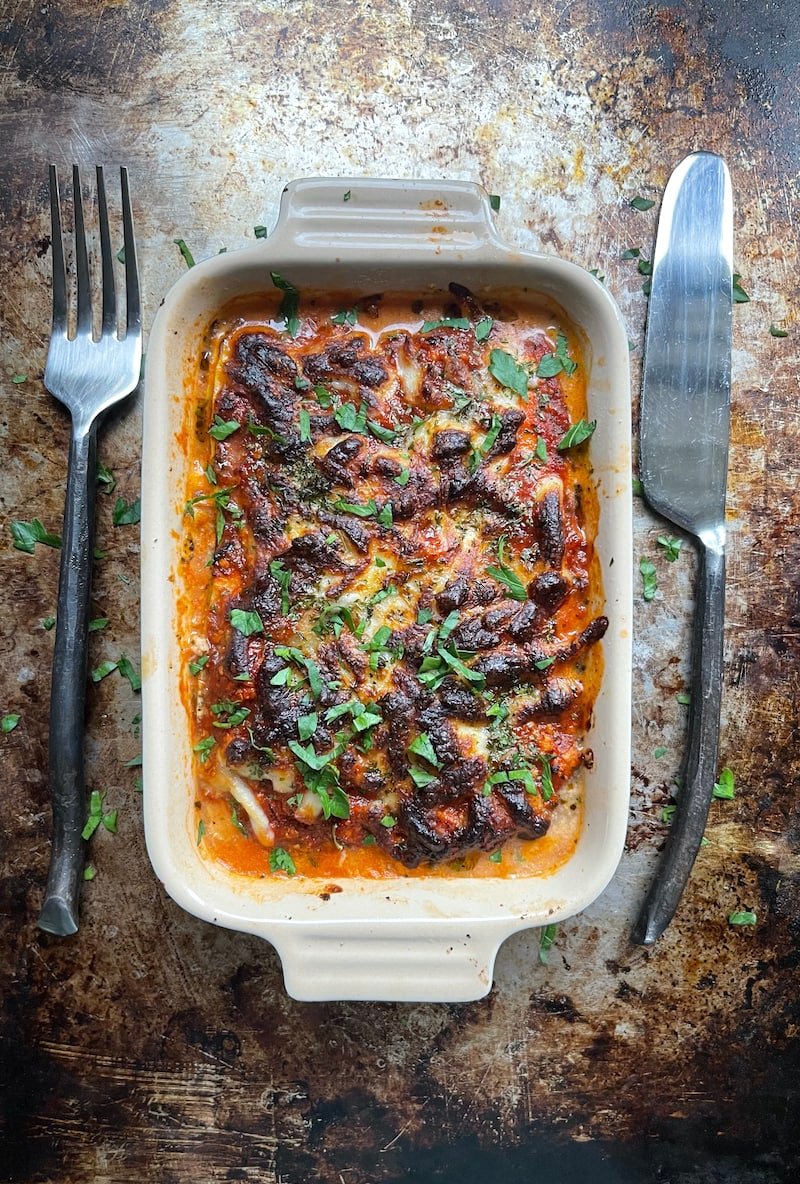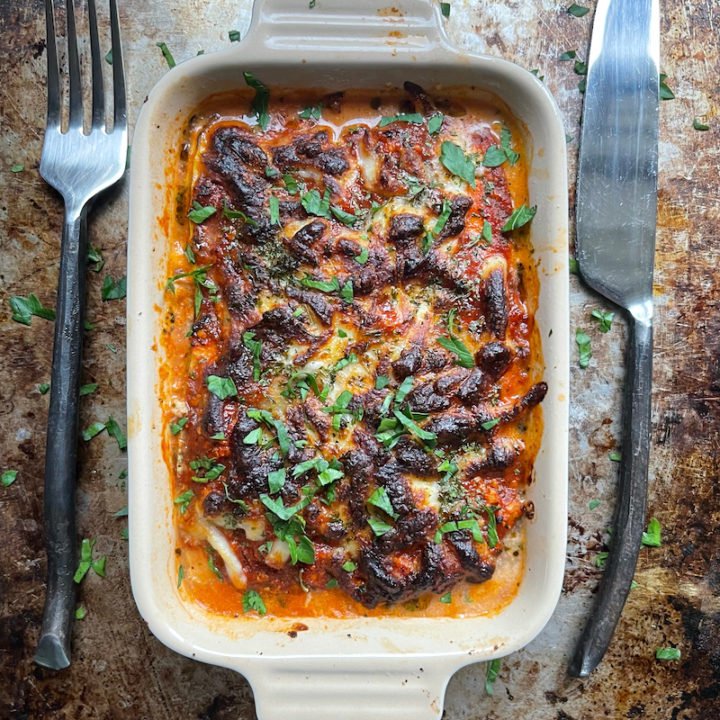 Zucchini Lasagna with Pork Ragu
If you have an abundance of zucchini this summer, or just love zucchini as much as I do, this zucchini lasagna will need to be on your must to make list soon! Note - the pork ragu was made ahead of time, so this is a 15 minute dinner.
Ingredients
1 large zucchini, sliced thin with a vegetable peeler
1/2 cup cottage cheese (I used small curd)
1/2 cup pork ragu (recipe above)
1 teaspoon Italian seasoning
1 ounce part skim mozzarella
1/2 teaspoon dried parsley
Instructions
Once you have the thin layers of zucchini, place on paper towel to wick away excess moisture.
Starting with a layer of zucchini, add a tablespoon of cottage cheese, then a tablespoon of ragu and continue until you have used all the zucchini.
Sprinkle Italian seasoning on top of the layers of zucchini.
Top with mozzarella and dried parsley.
Preheat air fryer for 5 minutes at 400 degrees.
Bake for 10 minutes.
Notes
If you count calories or macros, this is 474 calories, 14 fat, 22 carbs, 5 fiber and 38 grams of protein.
Check the WW points for your plan HERE.
In case you are wondering, this is how my kitchen looks during a photo shoot. Just a side note, I do clean it before going to bed each night so I can mess it up the next day – ha!
This proves that you don't need a fancy kitchen to make good food! This lasagna is a tiny bit watery, but I didn't mind one bit – I probably could have waited more than a minute to cut into it. 😂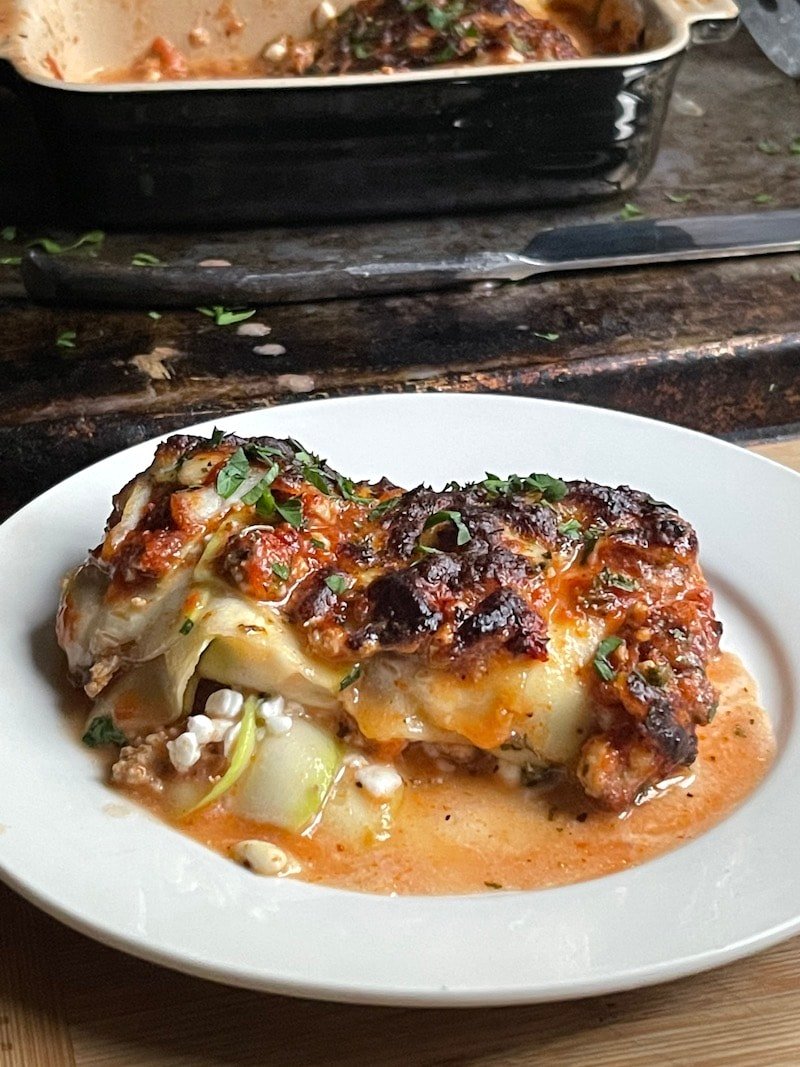 Not a fan of pork? Check out my chicken bolognese.
Let me know if you make this 😁