Black bean and quinoa chili is so hearty and filling and good for you.
The reason it is so good is because the base of the chili is from my friend Nicole's black bean and quinoa burger recipe.
This black bean and quinoa mixture is great not only for burgers, but I'll be making several dishes from this filling this week. While I love meal prepping, I can't stand to eat the same thing over and over. You'll see how versatile this recipe is – thanks Nicole!
While we are almost to April, our weather is still on the chilly side, so this is perfect for a lunch during the week or a light dinner.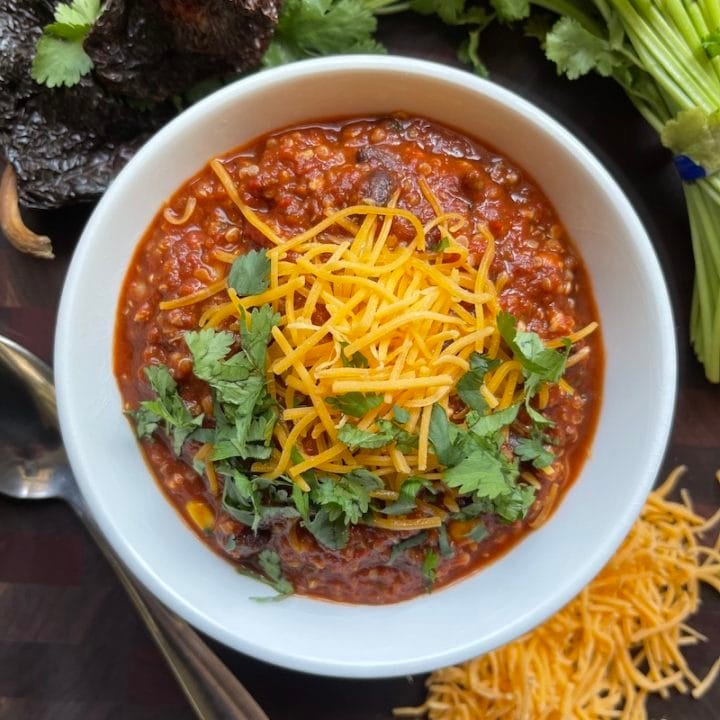 Black Bean and Quinoa Chili
My friend Nicole has THE BEST black bean and quinoa burger recipe - I use that mixture for so many things other than burgers, like this spicy black bean and quinoa ancho chili. The link to her recipe is in the notes below.
Ingredients
3 ounces cooked ground beef
1 tablespoon chili powder
2 tablespoons tomato paste
10 ounce can Rotel tomatoes and chiles
1/2 cup beef broth
1 dried ancho chili, rehydrated
1 cup black bean and quinoa filling
Instructions
Steep the ancho chili in boiling water for 5 minutes.
In a blender, blend the canned tomatoes and ancho chili until smooth.
Add all ingredients to a stock pot and simmer for 5 minutes.
That's it!
Notes
The base of the black bean and quinoa burger is only 1 point for the whole recipe on #teampurple, 2 points on #teamblue and 4 points on #teamgreen
With the addition of the lean ground beef, it adds 2 more points per serving no matter which plan you are on.
https://preventionrd.com/2012/12/black-bean-quinoa-veggie-burgers/
Quinoa is a super food and if you don't like it plain, please try it in this chili. I also love quinoa in a salad,
like this chicken quinoa salad with apples
– yum!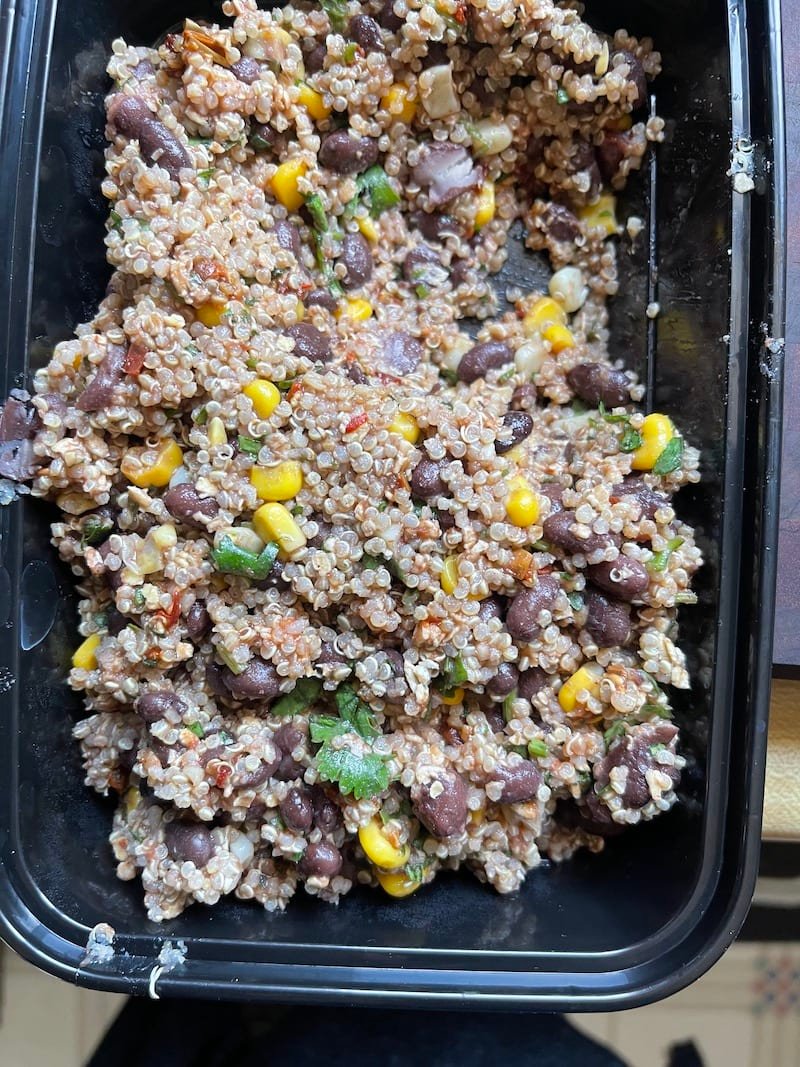 I plan on making stuffed zucchini later this week with the filling and also taquitos. What would you use the filling for?