I am calling these Elvis pancakes because they have bananas, peanut butter AND bacon. #swoon
In 2017, I got a message from Premier Protein asking me if I wanted to work with them. What?!
I literally thought I had finally made it in the blogging world – someone actually wanted to work with me! And not just in free product! In case you want to check it out, here is a link to all the recipes I made for them.
How do you make a mock buttermilk?
Simply put, just add a tablespoon of vinegar (I used red wine!) to any milk – soy, almond, oat – and even a protein shake. Just let it sit for about 5 minutes. Don't worry, it will look like someone threw up in a cup, but trust me, these are delicious!
How do you freeze bananas?
There are many schools of thought on this. Peeling the bananas, placing them on a cookie sheet for 30 minutes then tossing them in a ziplock bag. I nearly always need bananas in recipes like bread, muffins, etc., so I freeze my bananas whole. All you need to do is microwave the frozen bananas for two minutes, and yes, it will look like banana poop, but it's the easiest (aka laziest) way to freeze bananas. Show of hands how many of you buy 15 bananas for the week and look at them four days later and haven't eaten one?!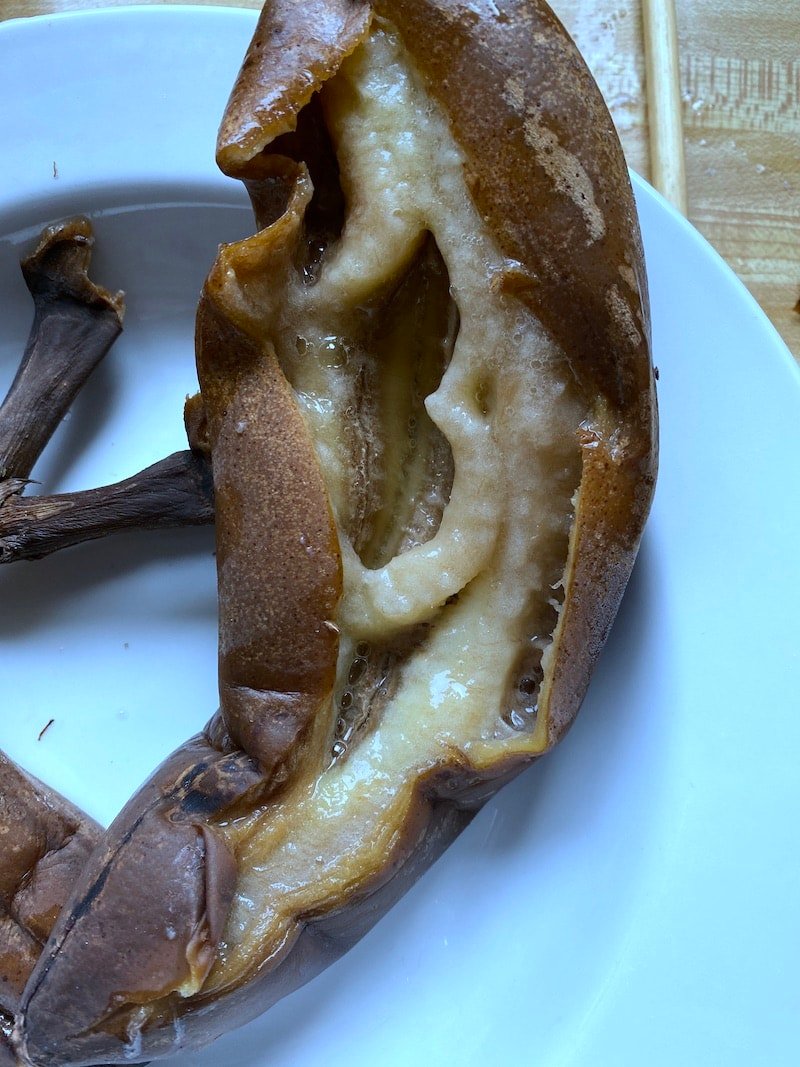 How do you get fluffy pancakes?
This is crucial to fluffy pancakes – you need to let the batter sit for at least 30 minutes to let the baking powder do it's magic. You'll be rewarded with fluffy pancakes every time.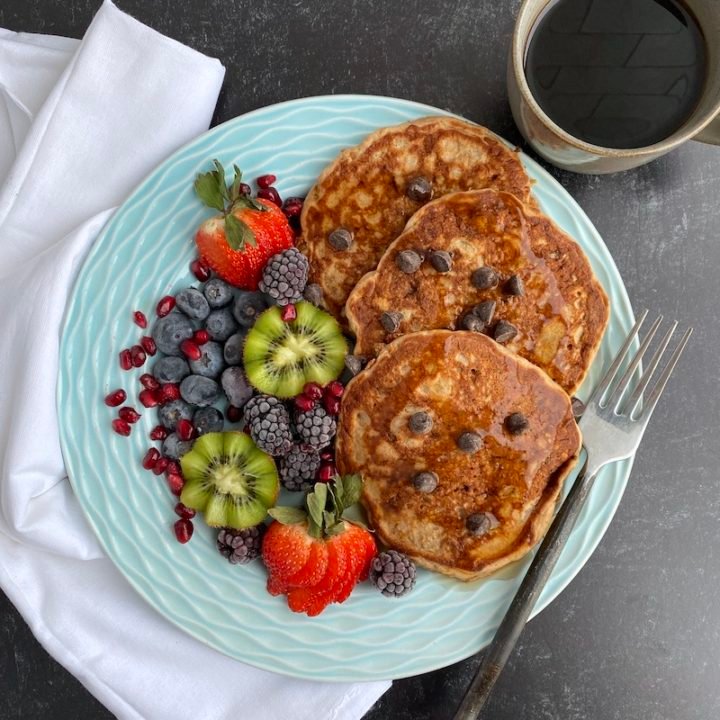 Elvis Pancakes
Additional Time:
30 minutes
I am calling these Elvis pancakes because there is banana, peanut butter AND bacon. These are delicious and fluffy and since I used a protein shake as the milk, it bumps up the protein.
Ingredients
1.5 cups flour
3 teaspoons baking powder
1/2 teaspoon salt
2 tablespoons powdered peanut butter (I used PB Fit
3 tablespoons sugar
2 large ripe bananas, mashed
1 large egg
1 tablespoon vinegar
one 11 ounce Premier Protein shake (any flavor works, I used cafe latte)
9 teaspoons of bacon bits
Instructions
Mix the flour, baking powder, salt, sugar, peanut butter powder and mix with a whisk, just until combined. Mix vinegar with the protein shake, and let sit for 5 minutes. Add that to the flour mixture. Add in the egg and bananas and protein shake, and using a fork, mix just until combined. It's okay if its a bit lumpy.
Now here is the secret to fluffy pancakes. Let your batter sit a minimum of 30 minutes to let the baking powder do its magic. I used a 1/3 measure cup to get 9 fluffy pancakes. Because these pancakes are so fluffy, after the first flip (sprinkle one teaspoon of bacon bits on each pancake before flipping) place a lid on the pan so that they cook in the middle.
Notes
Each pancake on all WW plans these are 4 points, and each one is approximately 173 calories, 3 fat, 28 carbs, 2 fiber and 8.6 protein
These pancakes are perfect for meal prep. If you don't have an air fryer to reheat the pancakes, simply go from fridge/freezer to your toaster. Just keep an eye on them. I used to do that all the time when I worked in an office and limited kitchen appliances. Well, I did bring a panini maker and crock pot to work, but that's a story for another time.
If you love pancakes, check out my cottage cheese pancakes – no one will know there is cottage cheese in them!