I remember my Mom making morning glory muffins growing up. She must have made them often, or maybe when she did make them a few times they made an impression, but I loved them. I am probably sure I didn't know there were veggies in there!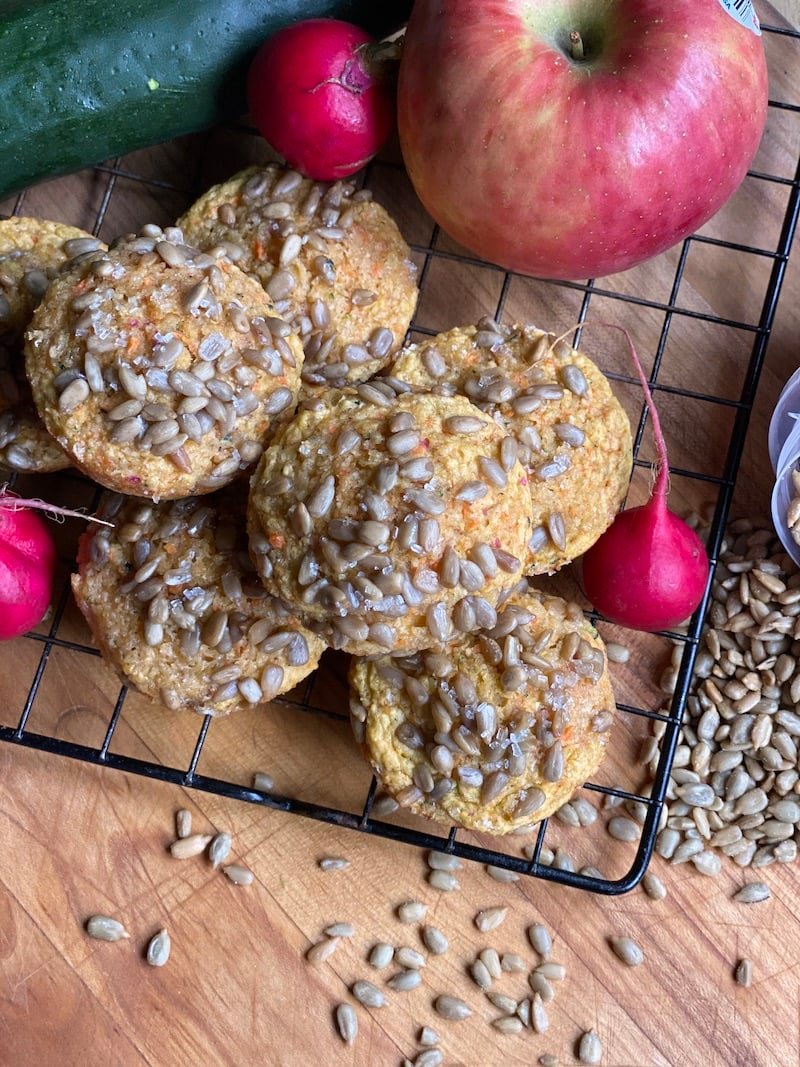 My idea to make these morning glory muffins came to me when I realized I had a zucchini, one apple, a few carrots (and yes radishes) that needed to be used up.
My first batch was a disaster – I tried using mostly oat flour (just quick oats put in a food processor or blender to blend into a flour) and while they tasted great, they were flat as a pancake and really "doughy" on the inside.
Batch two? Was perfect. Now I will preface this by saying these are not overly sweet. Which means my daughter Hannah probably wouldn't like these. She would probably take one bite and say "did you forget the sugar?" There is real brown sugar in this recipe and one trick I like to do is add course sugar to the top of the muffins so that you get a taste of sugar on each bite. The salty sunflowers seeds make it the perfect sweet/salty combo.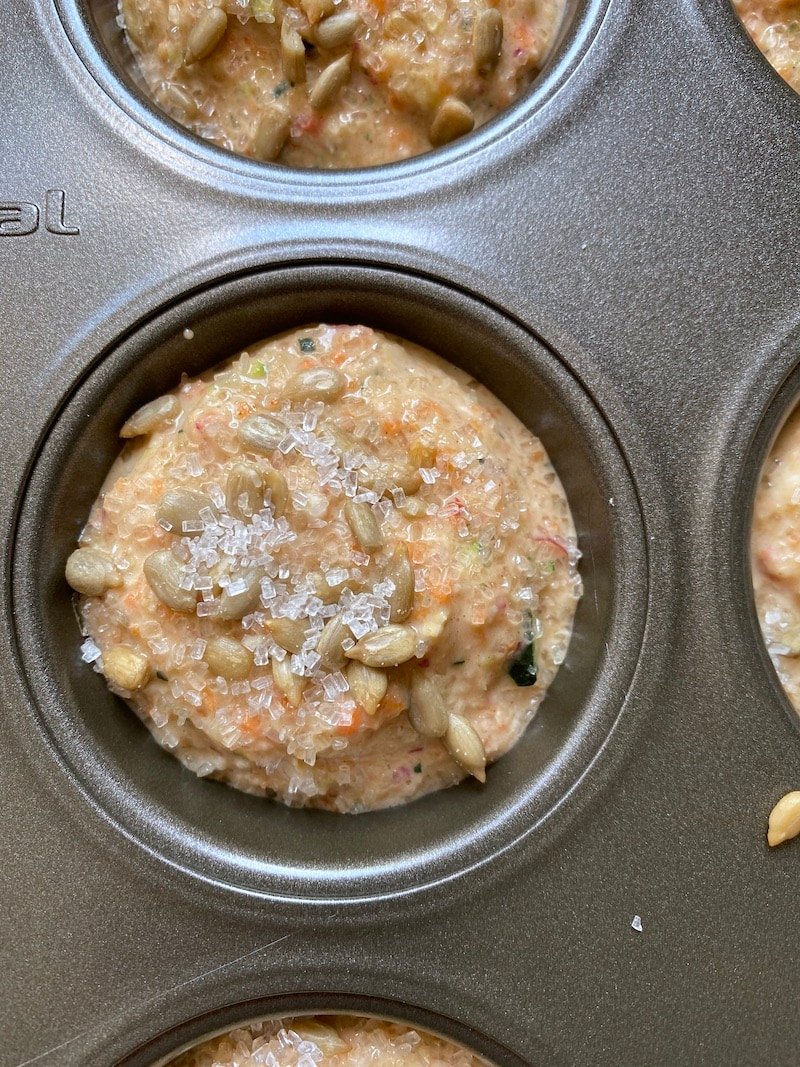 Just be sure to press the sunflower seeds and sugar in a bit (not too hard) so it sticks to the batter before baking.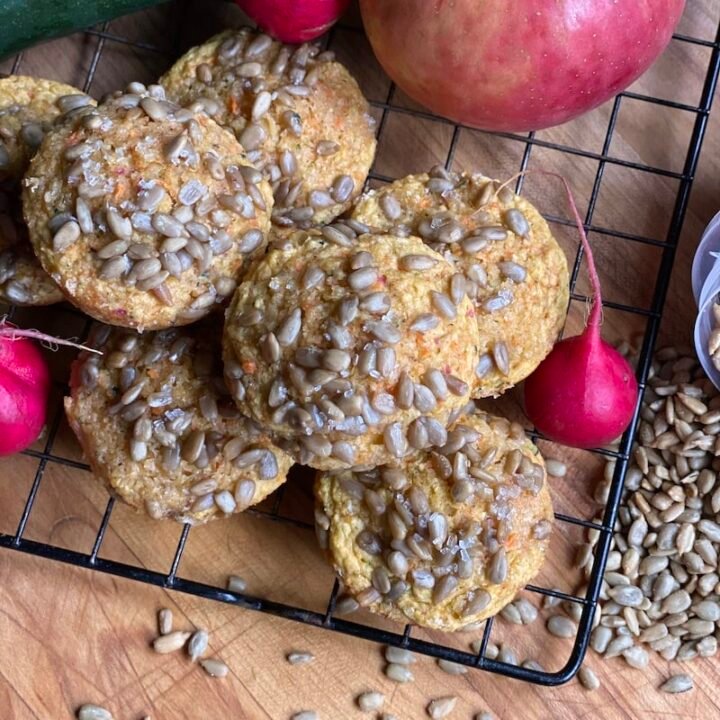 Morning Glory Muffins
These muffins bring back childhood to me.  You can use any combination of veggies and fruits - just process in a food processor and add to the batter.  A great way to sneak in veggies!
Ingredients
1 apple
2 carrots
1 zucchini
4 radishes
1 tablespoon fresh ginger
2 eggs
1/2 cup unsweetened almond milk
1/2 cup nonfat greek yogurt
1/3 cup brown sugar
1.5 cups oat flour (just 1.5 cups quick oats processed to flour consistency)
2 cups self-rising flour
1 tablespoon baking powder
1/2 teaspoon salt
1/2 cup salted sunflower seeds
2 tablespoons coarse sugar
Instructions
In a food processor, process the apple, carrots, zucchini and ginger, until chopped finely. Add the eggs, almond milk and greek yogurt - that is your wet mixture.
In a large bowl, add the oat flour, flour, baking powder, brown sugar and salt. Add the wet mixture into the dry mixture and mix just until combined.
I used a melon baller, so two scoops of the melon baller per muffin. Divide the sunflower seeds and sugar over each muffin and bake at 425 for 13 minutes.
Nutrition Information:
Yield:

22
Serving Size:

1 muffin
Amount Per Serving:
Calories:

113
Total Fat:

3g
Carbohydrates:

18g
Sugar:

3g
Protein:

3g
To meal prep these, after they cool, place on a cookie sheet individually and freeze for 30 minutes, then store in a ziplock bag. They won't stick together and you can take one and defrost in the fridge overnight, or they should defrost on the counter in about an hour. I haven't tried going freezer to air fryer to defrost – if you try that, let me know!
I make a lot of muffins – if you like chocolate, you should try my double chocolate muffins!
If you try these morning glory muffins, let me know! Until next time, be kind – be well! Love, Biz