These KFC Chicken Nuggets will quickly make it to the top of your "must make" recipe list.
One of my strongest food memories is visiting my grandparents in Warsaw, Virginia, then driving the what seemed like far distance to the "big town" of Tappahannock and getting Kentucky Fried Chicken. I loved everything about it. The crispy spicy chicken, the mashed potatoes and gravy and don't even get me started on the biscuits. I remember there were packages of honey that came with our meal?
All I know is that THAT KFC became the benchmark of all other KFC restaurants. I know, it's weird. I'll have to ask my brother and sister if they would eat fried chicken off the bone, or if they ever did?
We are on about Day 11 of quarantine, and I am trying to still use up stuff I have. I could quite possibly not have to go to the grocery store except for a few fresh fruits and veggies for at least another two weeks – and Hannah used to get mad at my canned good stockpile – look at how handy it is now!
I've had a jones for KFC for a while now. Meanwhile as I was working yesterday I kept thinking to myself, "I need to make this happen!"
My mouth is literally watering thinking about these. These are heavily seasoned and flavorful spicy. I suppose if you can't handle the spice then leave out the cayenne altogether, but I think these are perfect as is.
The Best KFC Chicken Nugget Spice Blend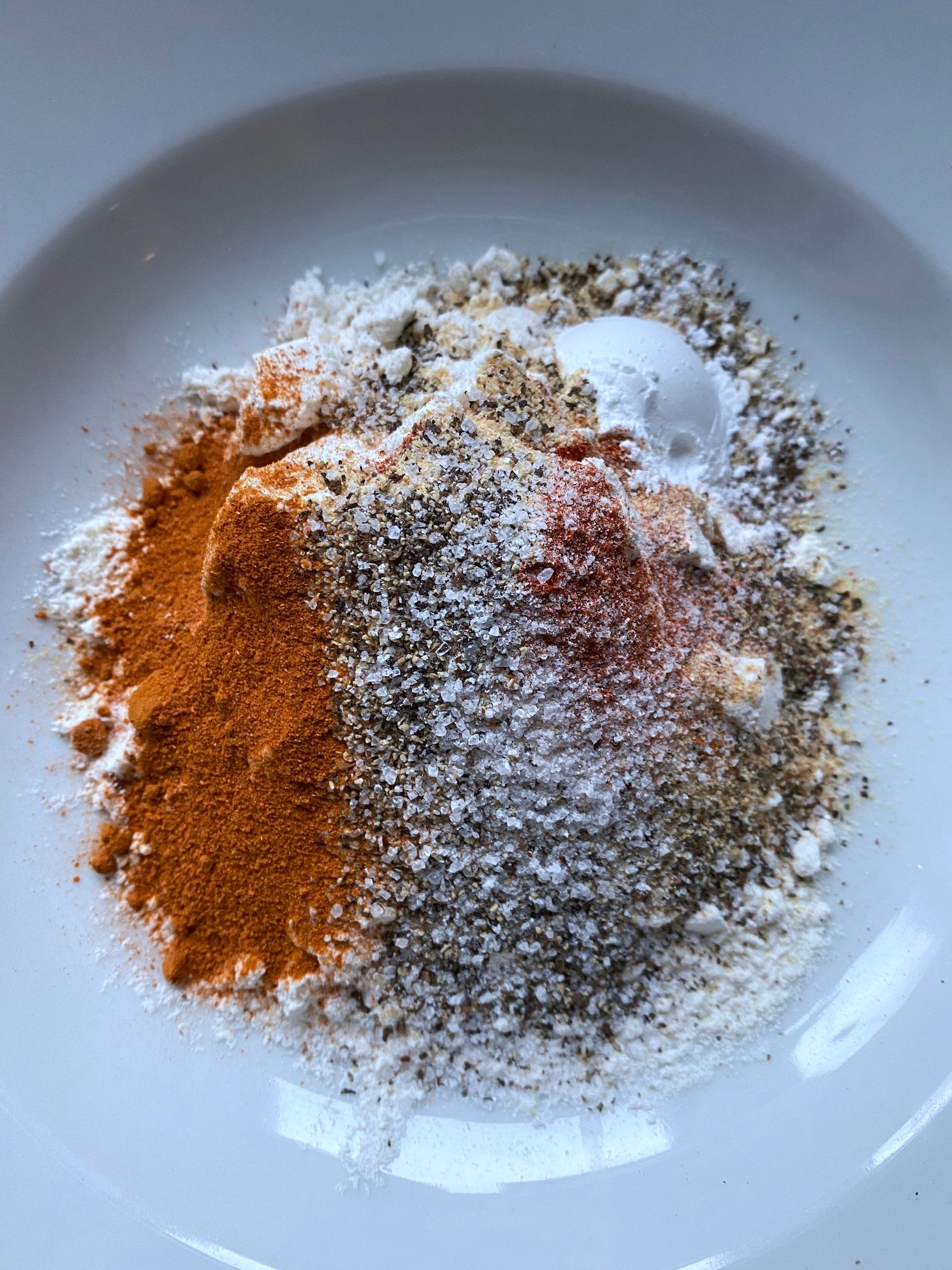 KFC Chicken Nuggets
This is the closest recipe I've gotten to my beloved childhood KFC restaurant.  So flavorful spicy!
Ingredients
8 ounces chicken, cut into bite size pieces
1/2 cup self-rising flour + 1 tablespoon flour
1/2 teaspoon salt
1/2 teaspoon pepper
1 teaspoon garlic powder
1 teaspoon paprika
1/2 teaspoon cayenne pepper
1 teaspoon baking powder
1 egg
1/4 cup oat milk (any milk will do)
2 tablespoons Frank's hot sauce
 
 
Instructions
Heat air fryer at 360 for 5 minutes.
Put the flour, salt, pepper garlic pepper, paprika, cayenne and baking powder in a dish.
In second dish mix egg, milk and hot sauce.
Double dip! Dip the chicken in the egg mixture/flour mixture/egg mixture/flour mixture.
Spray with avocado oil spray and air fry at 360 for 6 minutes and 400 for 3.
Notes
Always preheat your air fryer, much like you would an oven.
You really need these kfc chicken nuggets in your life. Like, I want to put these on the menu once a week. I am thinking of using the leftovers for chicken and waffles. Or make Parmesan chicken nugget sliders. The possibilities are endless!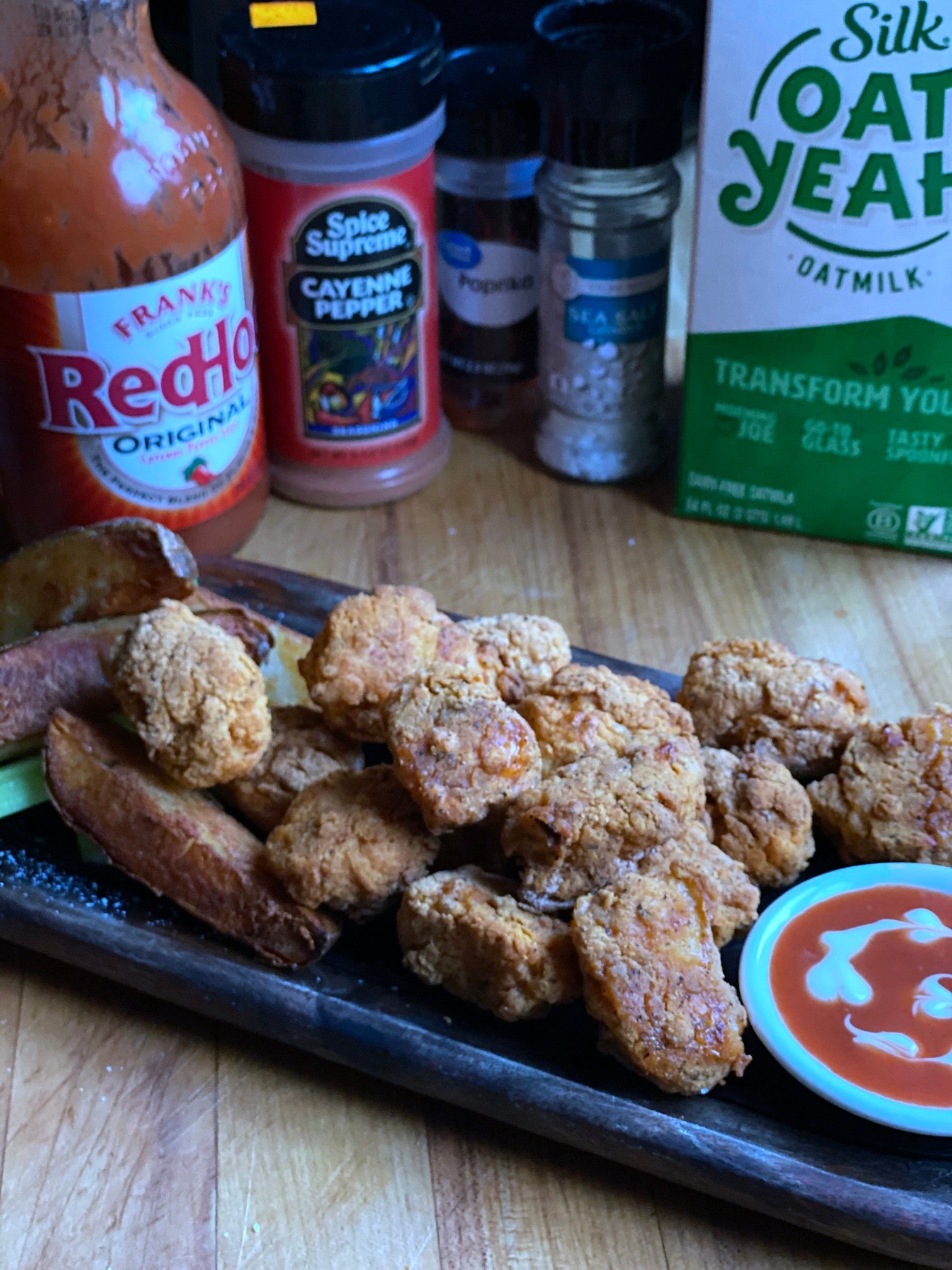 Pin these for later. Be sure to tag me on Instagram if you make these! Also, can we laugh at the KFC menu from the 70s? I love that the first thing its "Ideal for" is "tired mothers!"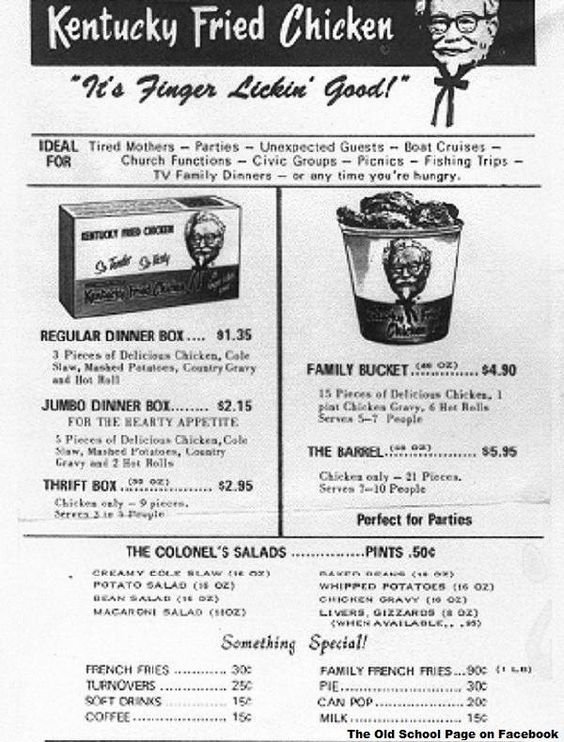 And I'd really like to be able to spend $2.15 for nearly half a chicken. Thank you.
If you like chicken, check out my fried chicken sandwich – so good!
Make it a great day!