Print
Alouette Alfredo Sauce

Please make this Alouette alfredo. It's so light, garlicy and cheesy. I can't wait to try this sauce on the base for pizza!
Author:
Prep Time:

4

Cook Time:

11

Total Time:

15
Scale
Ingredients
3 cups uncooked brown rice pasta
2 tablespoons I can't believe it's not butter
1/4 cup self rising flour
2 cups unsweetened almond milk
4 tablespoons @alouette garlic and herb spreadable cheese
1/4 cup good shredded Parmesan cheese
Pinch of nutmeg
Pinch of crushed red pepper
Instructions
Cook pasta and set aside. In a stock pot, melt the butter, add the flour and cook for one minute. Slowly add the milk, stirring constantly. This takes about 6 minutes.
Remove from heat, stir in the Alouette cheese, Parmesan cheese, nutmeg and crushed red pepper. Taste for seasoning, I thought the saltiness from the Parmesan was enough.
Stir in cooked pasta. I served my bowl with fresh spinach.
**************************************************************
On team purple on WW, whole grain pastas are zero points. It's a running joke at our house – my son-in-law will ask me how many points something is and I'm like "zero!" With over 300 "zero" foods, there are a lot of choices! So I've been coming up with recipes using as many zero point foods as I can, but still tasting amazing.
Alouette cheese is my go to cheese for spreads and sauces – I count it as 1 point each tablespoon.
This was my first time using brown rice pasta, and I absolutely loved it. There is a trick I think to cooking "alternative" pastas though. They go from being perfect al dente, so mushy in the blink of an eye. The package instructions said to cook for 15-16 minutes, but at 11 minutes I tested it and it was perfect. I had an ice bath ready to stop the cooking process, knowing I was going to add the pasta to the hot cheese sauce.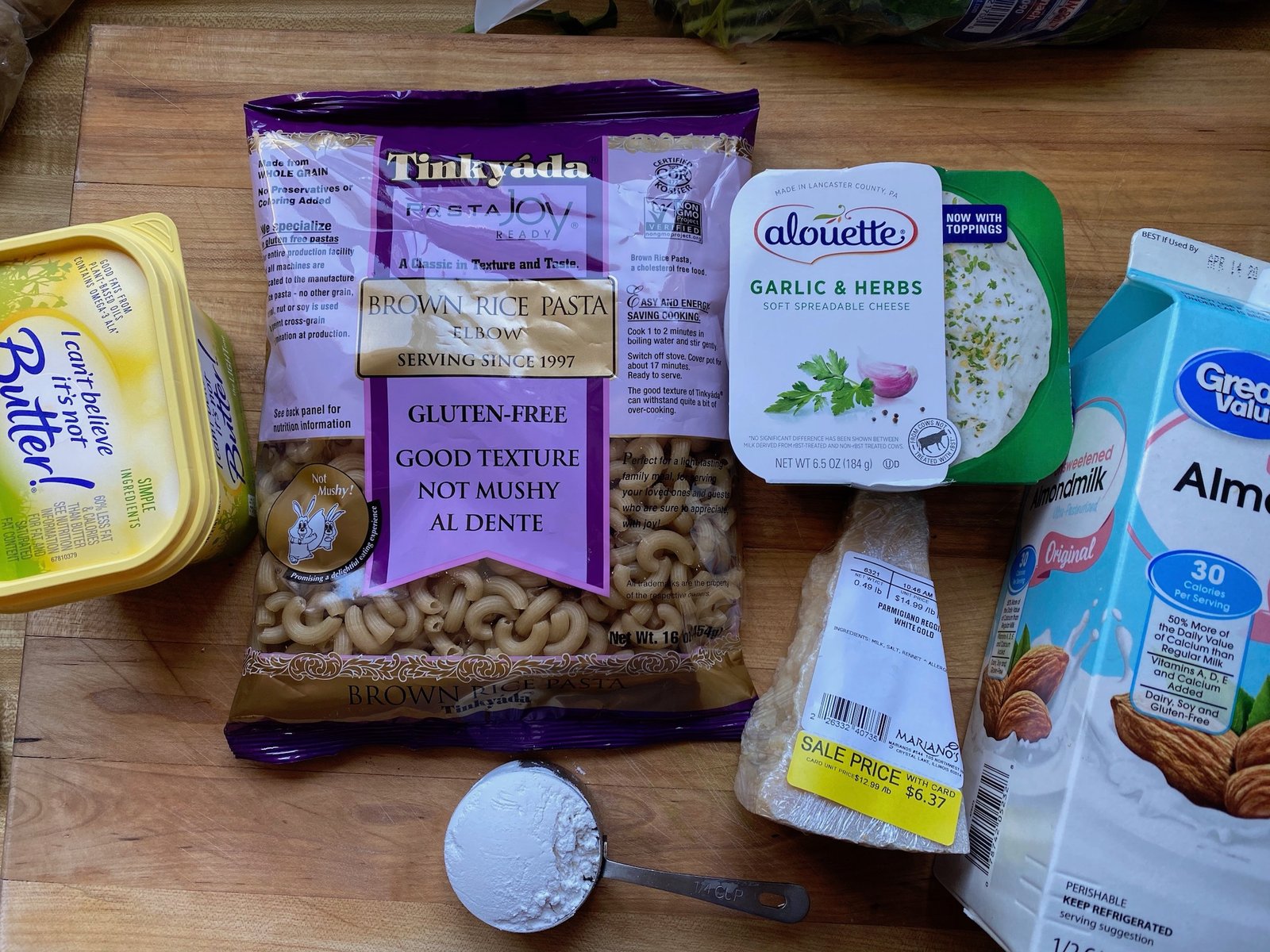 This is literally a 15 minute recipe. Not only is it perfect as a side dish, but pair it with some grilled chicken or shrimp and you've got yourself a low point dinner.
I've been using I Can't Believe It's Not Butter in roux's to bring the points down and you'll be hard pressed to miss the real butter in this recipe. You just need to cook the butter/flour mixture for a minute before adding the almond milk.
I scored on some really really good parmesan cheese at Mariano's. Just 1/4 cup to this recipe brings out the saltiness and cheezy goodness of the Alouette.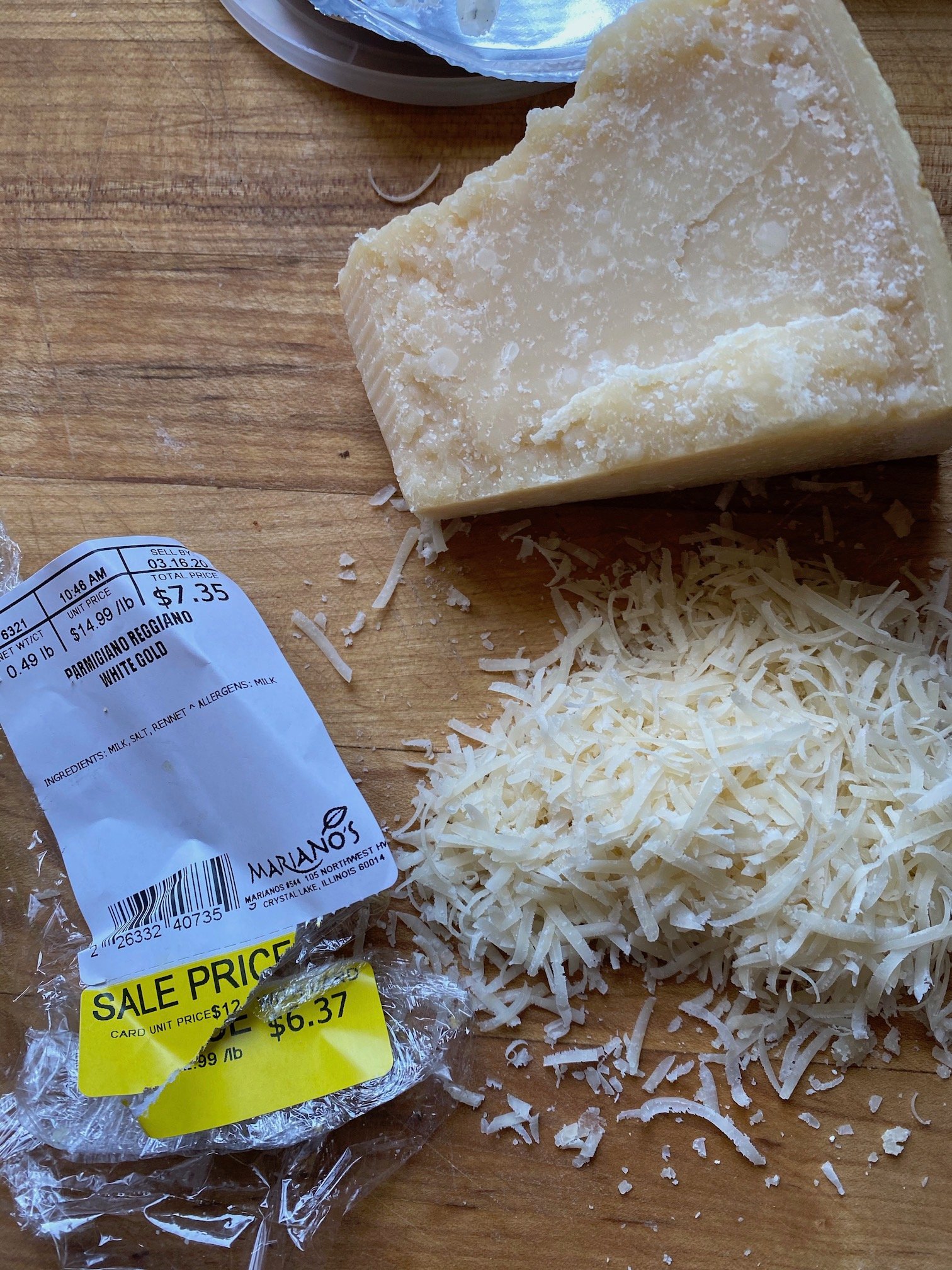 One of the mistakes I made early on in my cooking process was 1) not reading a recipe all the way through to see if I had everything and 2) trying to speed up the process. I used to melt butter, add flour and then pour in ALL the liquid when making a roux and wondered why it never turned out or two four times as long as it should. Be patient. I only add 1/4 cup of the almond milk at a time and you'll be rewarded with this cheezy sauce in no time.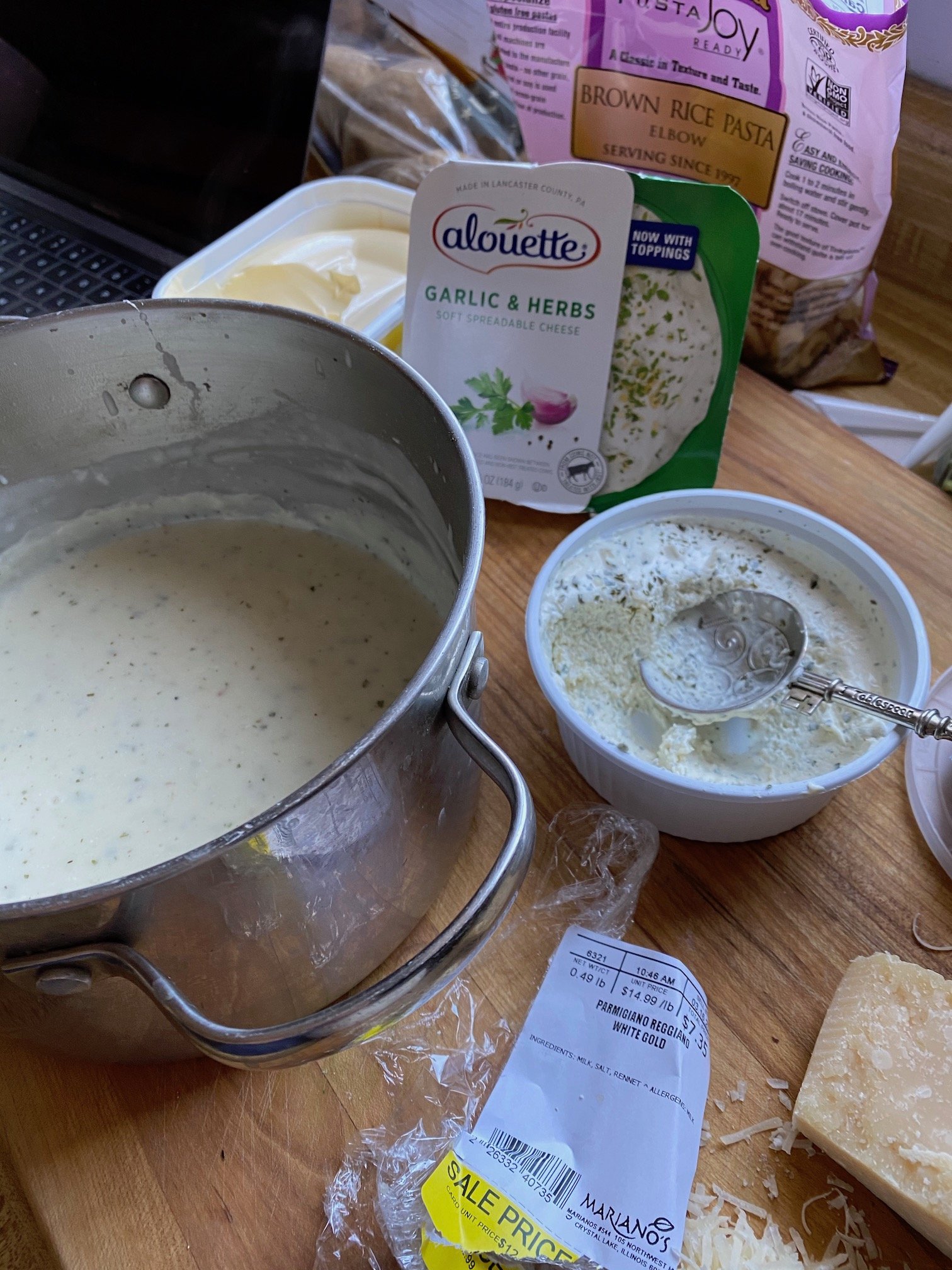 This makes a lot of sauce and you may think you have too much sauce to the ratio of the cooked pasta, but trust me, this works.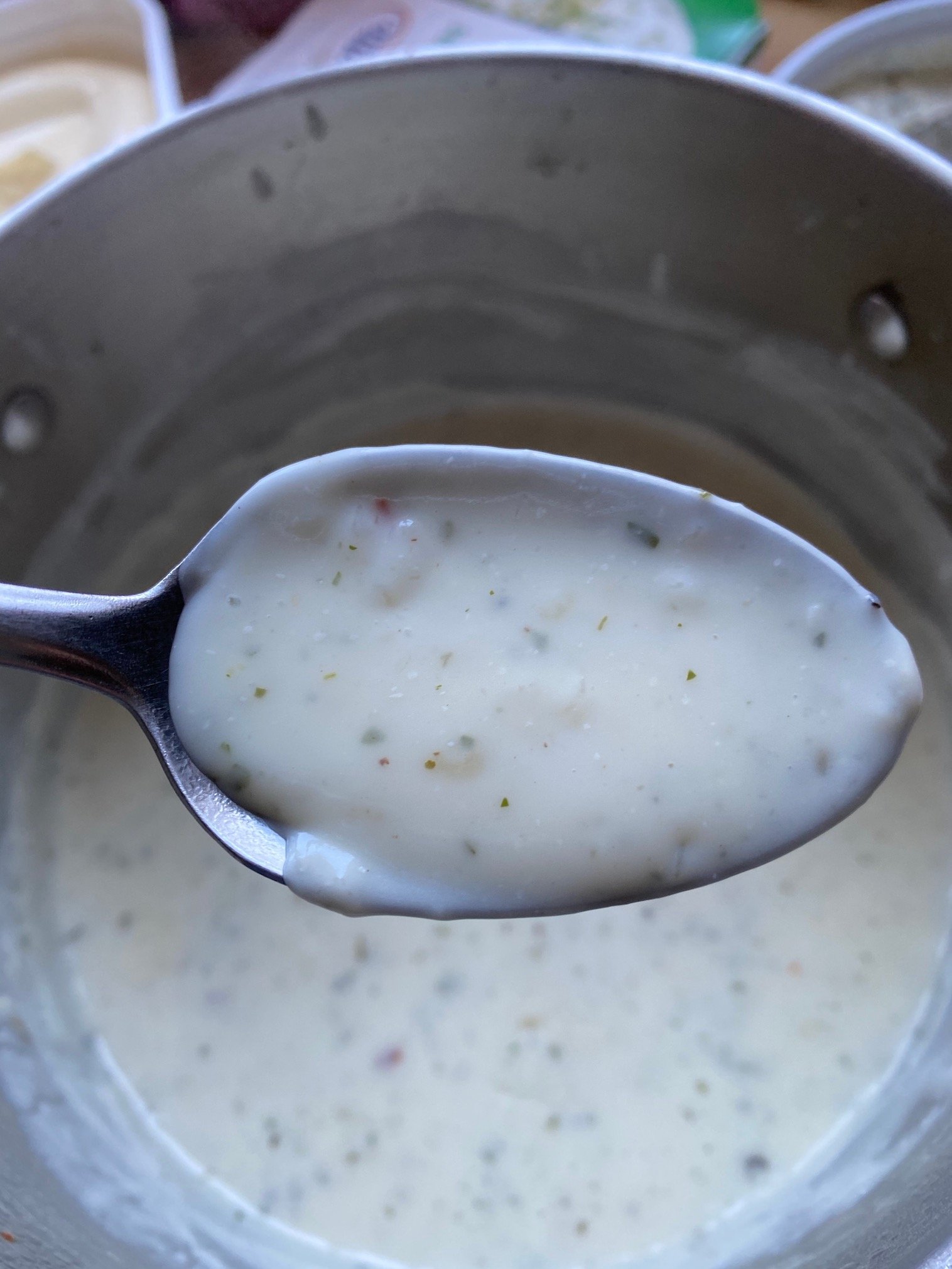 I have already eaten this mac n cheese as a leftover, and the pasta stayed together and not mushy at all.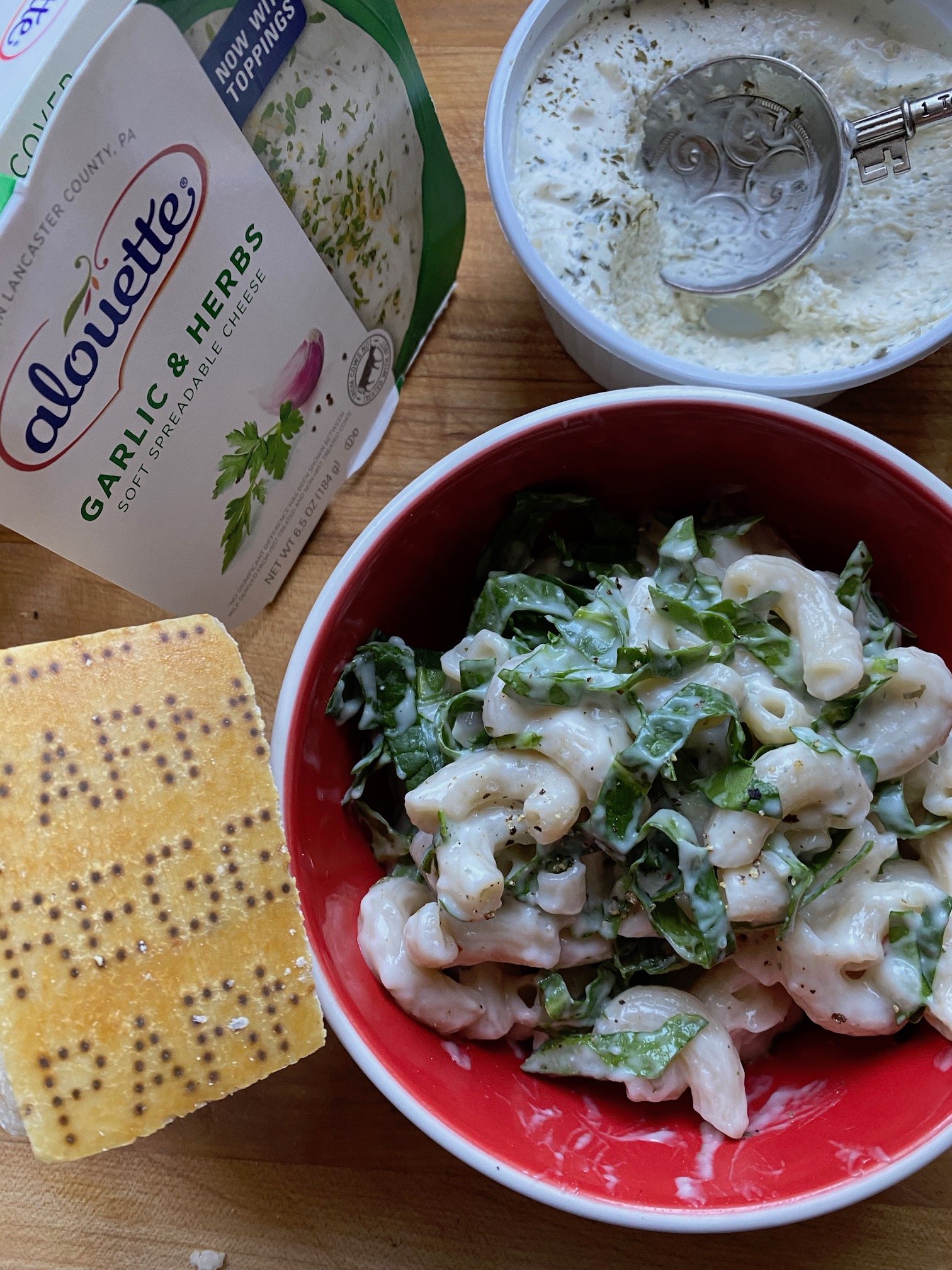 I added some chopped spinach to my bowl. So, so good!
Not sure why my recipe popped to the top, but you're welcome!