Friday night I came home from work and decided to clean out the fridge while Hannah and Jacob were out. And between their groceries and mine, I threw out a whole garbage bag of food that had gone bad or leftovers that were never used up.
Gross.
So my friend Alexis on WW declared a #wwpantrychallenge and I knew I was in. After writing down everything I had in my pantry/fridge and freezer, I knew I could meal plan from what I had using less than $20 at the grocery store. And I am proud to say that I spent $19.25 on groceries this week!
What's the best way to get a rich ramen broth?
Simply roasting your protein, whether it's chicken, or beef bones, makes all the difference!
I had a package of chicken wings from the meat bin that needed to be used up. Do you guys follow Marion's Kitchen on YouTube? I love her, her Mom, her food. Every time I see her make something, I am like "I can't wait to make that!" I remembered that she made a ramen broth using baked chicken wings as the base. Huh. I was up to try it, and make a broth based on the ingredients I had.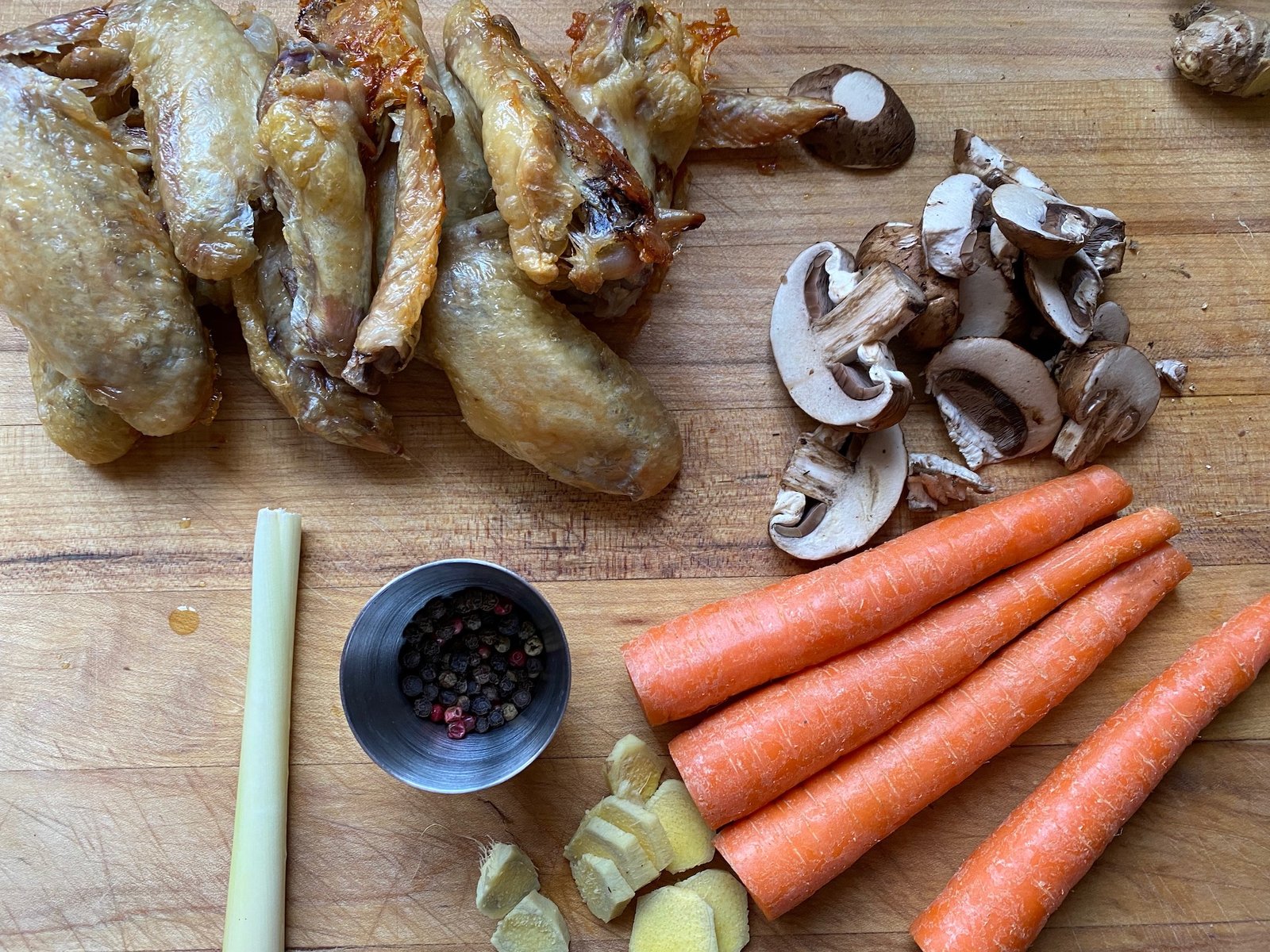 Now I may get some flack for this, but I am not counting WW points for the broth. Yes, I know there is some residual fat in the chicken skin, but a serving is two cups of the broth, and well, I am just not counting it. Feel free to add a point if you wish!
Have you guys used fresh tumeric? It's available in most grocery stores, usually right by the fresh ginger. I just peeled it and tossed it in the broth – it gives such an amazing flavor to the broth.
The best part about this ramen broth is it's pretty much hands off. Bake the wings for 45 minutes, then throw everything into the stock pot and let it simmer for an hour.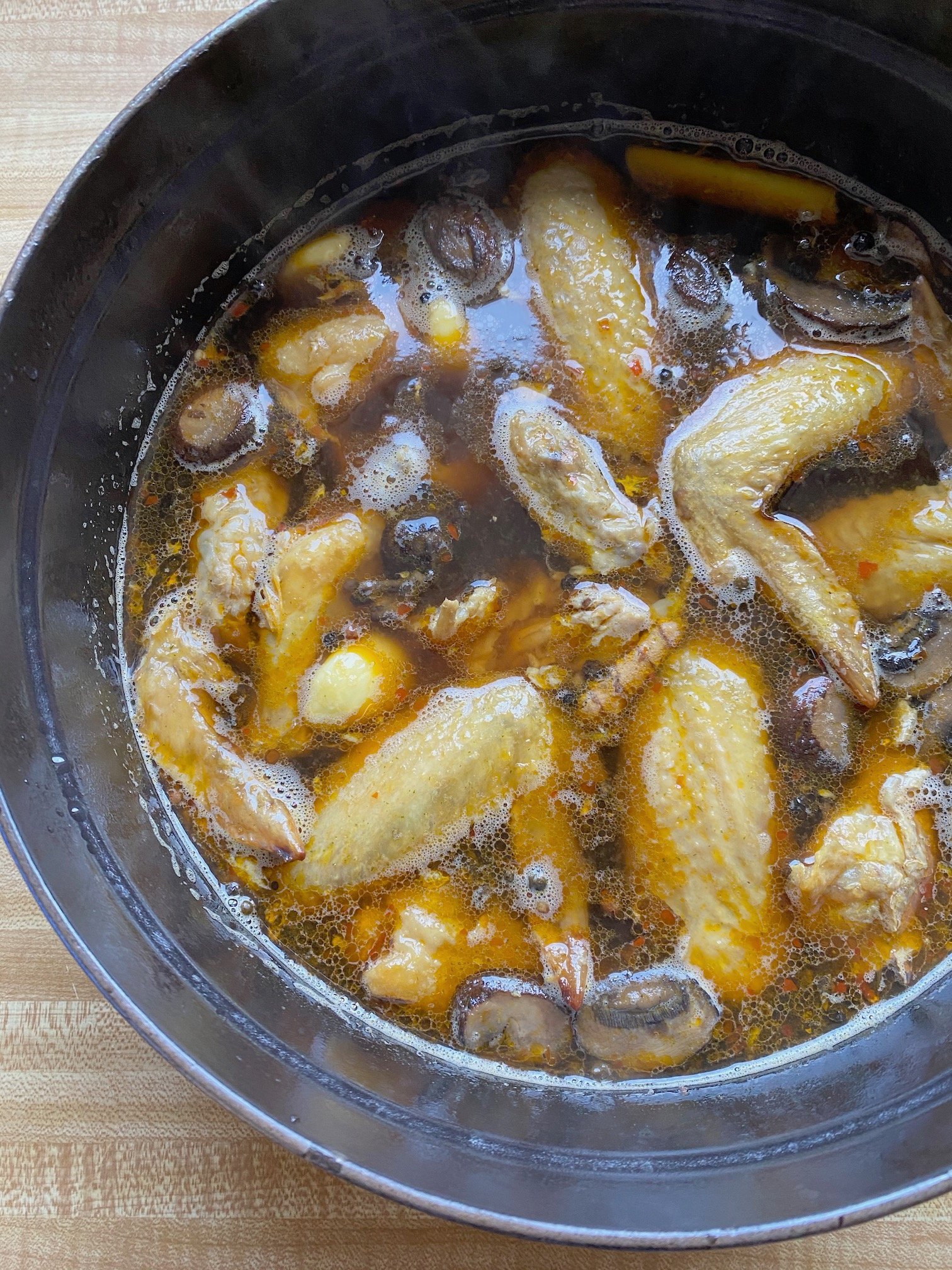 The aroma and taste is amazing. Perfect balance between savory, a punch of heat from the spicy garlic paste, and a touch of citrus from the lemongrass.
Ramen Broth

Baked chicken wings are the secret to this rich ramen broth.
1 pound chicken wings
4 large carrots
2 tbsp ginger (fresh, about 2 inch piece, chopped)
1 tumeric root (peeled and sliced)
1 tbsp peppercorns
1 cup mushrooms
1 stalk lemongrass (sliced into three pieces)
8 cups water
2 tbsp chicken base
8 cloves garlic
1 tbsp sambal oelek
Heat oven to 350. Bake chicken wings on a cookie sheet for 45 minutes.

In a large stockpot, spray with avocado spray and add the carrots, ginger, peppercorns, and mushrooms and saute over medium heat for 5 minutes, stirring so the ginger doesn't burn. Not that it happened to me, I just read that on the internet. 😀

Add the water, chicken wings, tumeric, lemongrass, chicken base, garlic cloves and spicy garlic sauce. Simmer for 60 minutes. Remove chicken and throw out. There isn't much flavor left in the chicken to reuse.

Build your bowl! I used lo mein noodles, spinach, mushrooms, carrots, soft boiled egg and sliced peppers.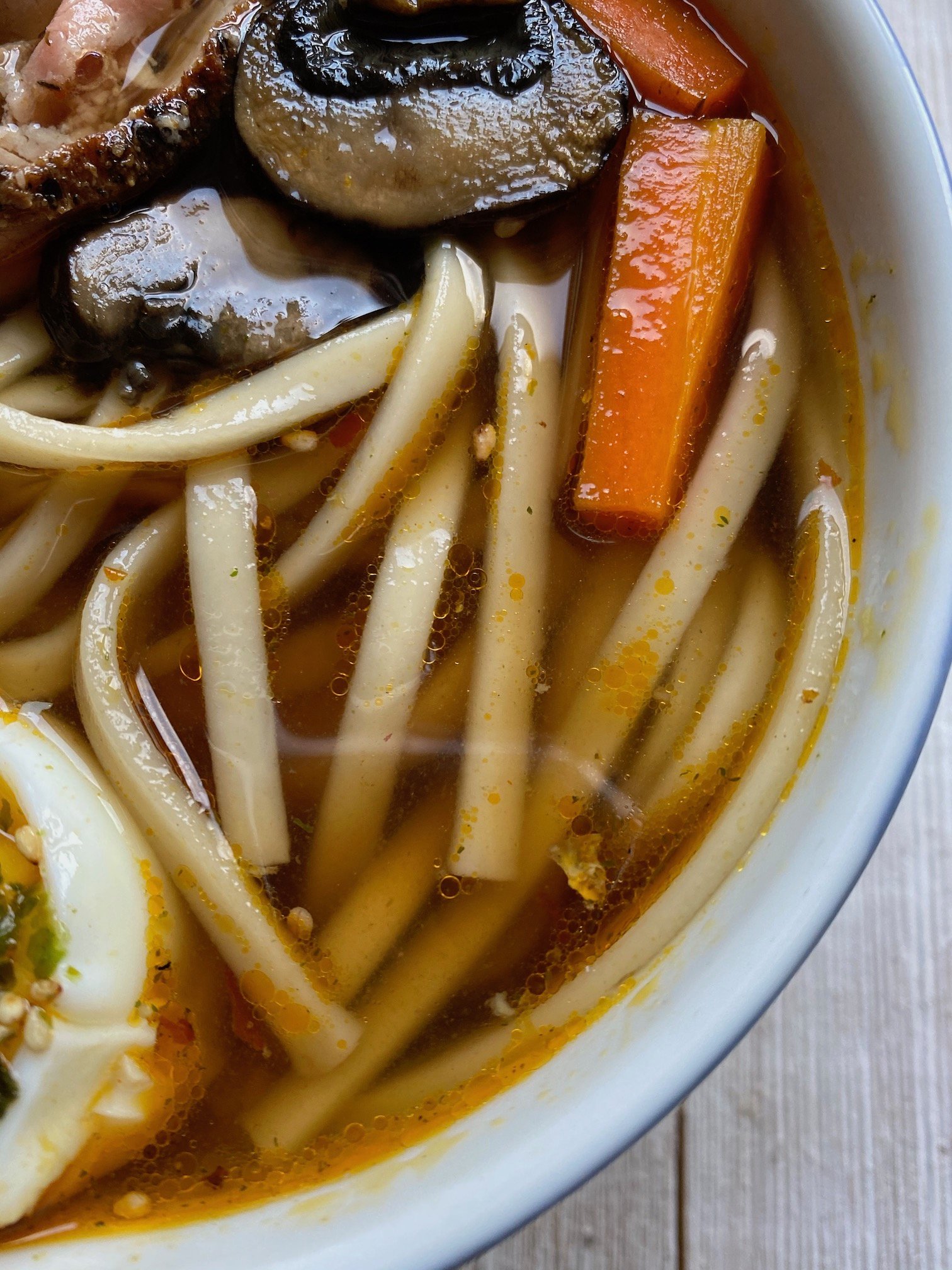 Marion strains her broths, but I didn't take that extra step. You can add your favorite veggies and lo mein noodles. My bowl had 2 ounces of cooked lo mein noodles (2 ounces dry), spinach, leftover eye or round from my Butcher Box, jammy egg, carrots and mushrooms from the broth, and sliced peppers. I also squeezed some lime juice on top for that extra kick of acidity.
Seriously, this is hands down the best broth I've ever made.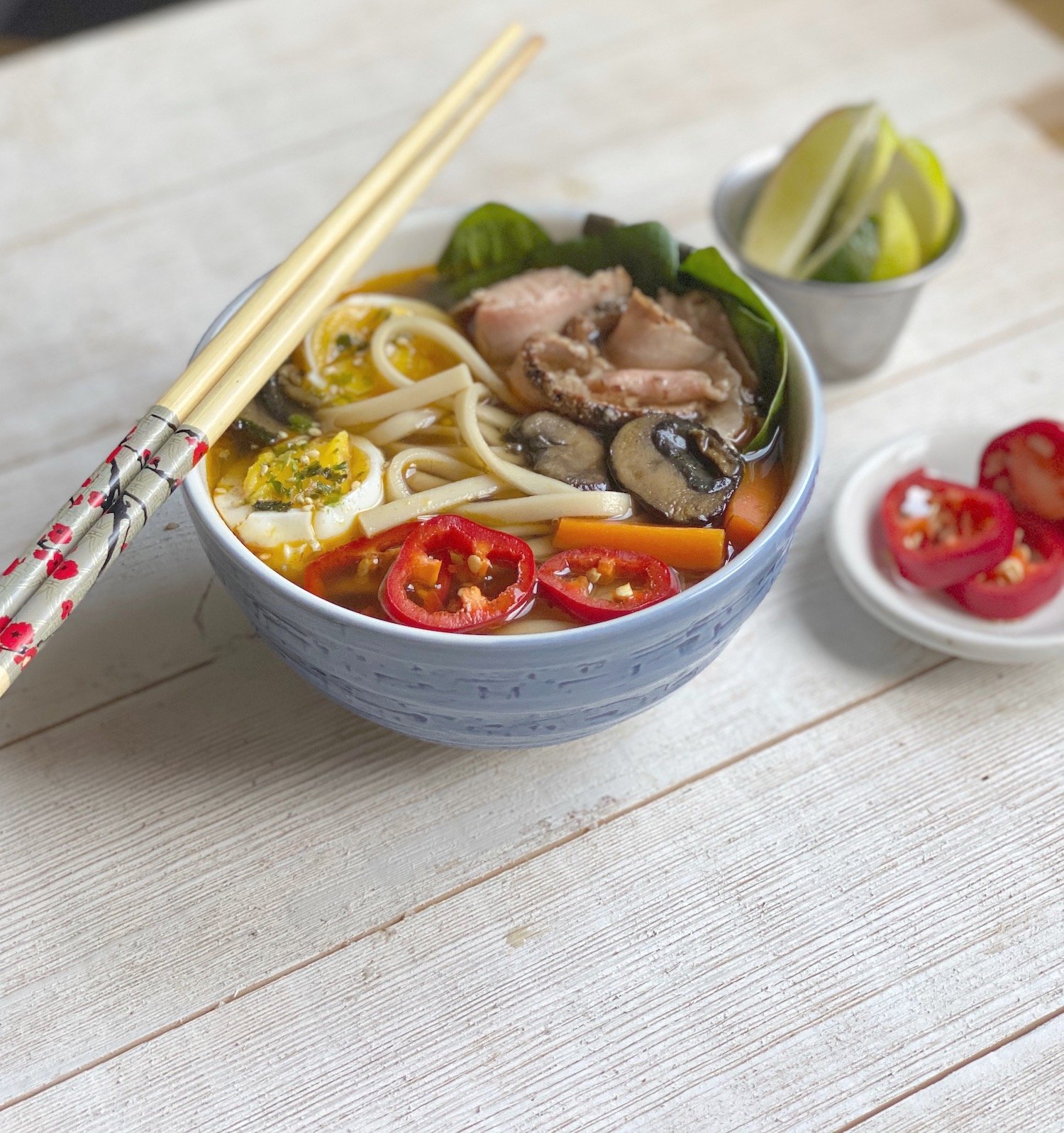 I hope you give this one a try! If you do, be sure to tag me on Instagram so I can see it.
If soups are your jam – check out my soup archives!