Last week I bought a squash – except I wasn't quite sure what it was! It looked like a giant delicata squash, but I wasn't sure. The woman at the farmers market said that sometimes the squashes cross pollinate – not sure I spelled that right – but she said it could be a spaghetti squash – for a $1 I bought it!
I roasted it for 45 minutes in the oven – just sliced in half, with the seeds, sprayed with a bit of avocado spray and salt and pepper and baked it at 400 degrees until fork tender.
I had one baked potato in the fridge, so shredded that and added it to the spaghetti squash – I used Daks Voodoo Cajun spice for these, but feel free to use your favorite spice. Then pan fried them in a bit of oil and avocado spray – about 2 minutes per side – the filling is fully cooked, so you are just trying to get the outside crispy.
I love Dak's seasonings because you can adjust the amount of salt – all of the spices are salt free. I have a discount code of Bizzy10 to get 10% off your order – my all time favorite is the steakhouse seasoning.
So crispy on the outside yet soft and tender on the inside. Yum!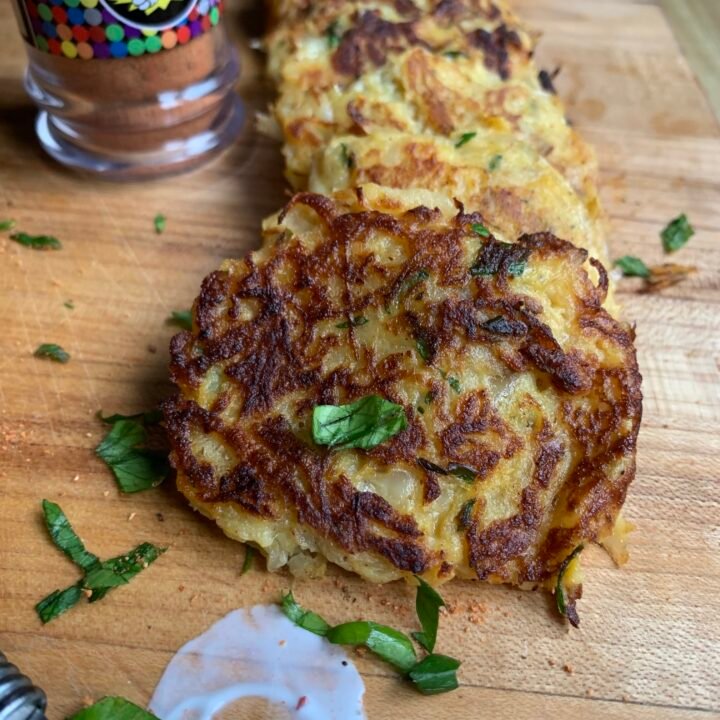 Spaghetti Squash Fritters
A great way to use up spaghetti squash - make these spaghetti squash fritters - makes 2 servings at 4 points each - or like 8 fritters!!
Ingredients
2 cups spaghetti squash
5 ounces baked potato, shredded
1/3 cup flour
2 teaspoons Voodoo Cajun Seasoning (I used Dak's)
1 egg
1/2 teaspoon salt
1/2 teaspoon pepper
1/4 cup fresh parsley, chopped
 
Instructions
Squeeze out any excess liquid in the spaghetti squash. Mix remaining ingredients together.
Heat a skillet over medium low heat. Add 1 teaspoon oil, and avocado spray, and pan fry the fritters about 2-3 minutes per side, or until nicely browned.
Notes
I put this into the WW recipe builder as 8 servings - so one fritter as of the time of publication is 1 WW point each. You can decide however many you like to eat. Click here for the WW tracker.
Nutrition Information:
Yield:

8
Serving Size:

1
Amount Per Serving:
Calories:

57
Total Fat:

1g
Saturated Fat:

0g
Trans Fat:

0g
Unsaturated Fat:

0g
Cholesterol:

23mg
Sodium:

422mg
Carbohydrates:

11g
Fiber:

1g
Sugar:

1g
Protein:

2g
************************
My step-son turned 30 on Saturday! I literally can't believe it. One of my favorite stories about Joe is the snowman he made me – you can read about that here.
Sunday was Tony's birthday. He would have been 59 years old. I miss that face so much. And I realized I forgot to call his parents yesterday. 🙁
And today is my Mom's birthday! Happy birthday Momma! I surprised her at church yesterday and we went out to lunch.
And we are back to Monday. A lot of the attorneys are at a retreat, so hopefully it won't be too busy today – fingers crossed!
Happy Monday – make it a great day!