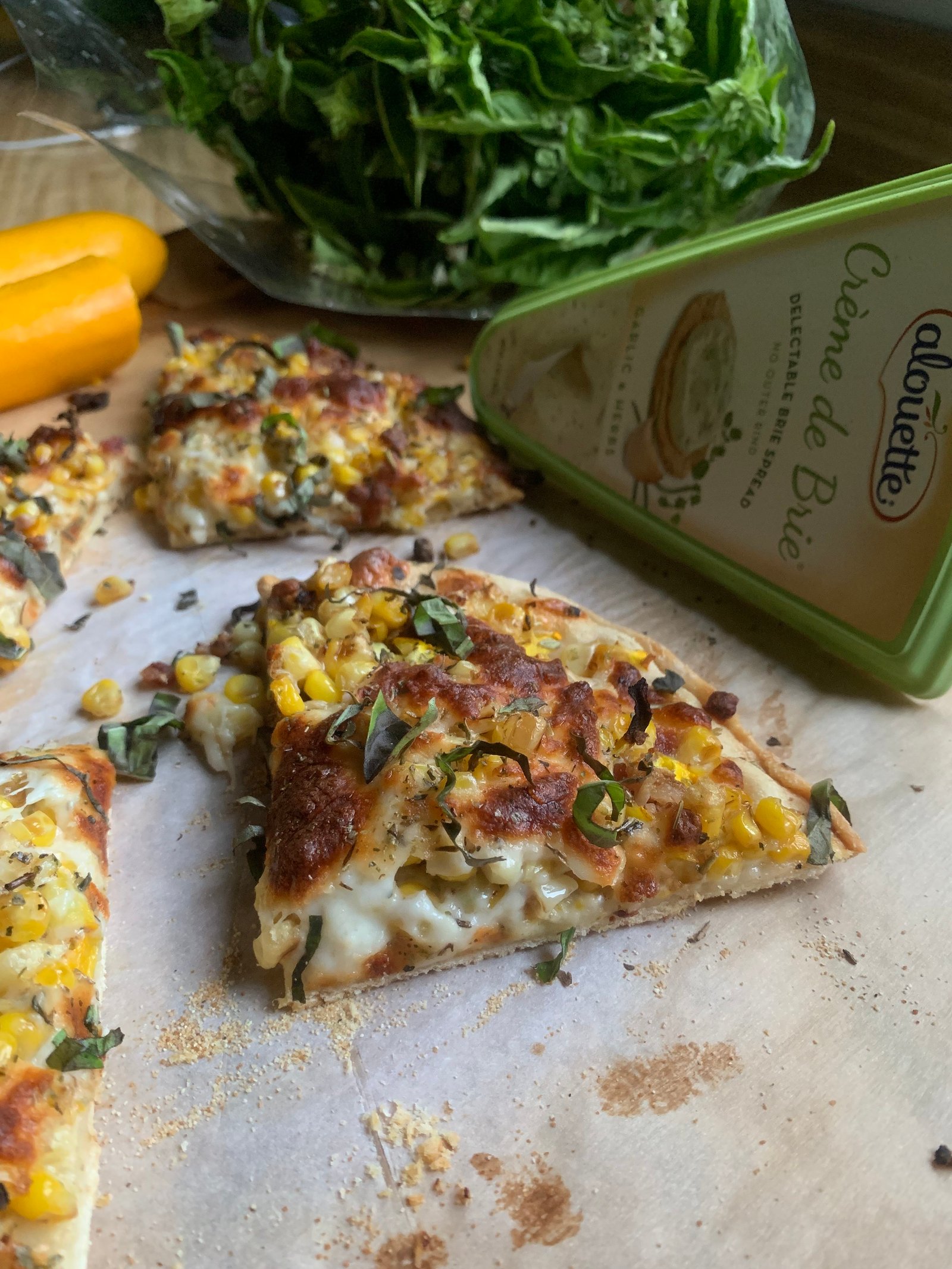 Farmers Market Pizza
This simple white pizza was inspired by my farmers market haul - yellow zucchini, corn on the cob and fresh basil!
Ingredients
5 ounces skinny pizza dough
2 tablespoons Alouette creme de brie
1/3 cup fresh corn cut off the cob
1/2 cup shredded zucchini
1/4 cup part skim mozzarella
1 tablespoon fresh basil
Instructions
Heat oven to 500.
Roll out dough, spread brie on dough, top with zucchini and corn and cheese, bake for 11 minutes. Let cool slightly and top with fresh basil.
Notes
To check the points for your plan, please click here!
Nutrition Information:
Yield:

1
Serving Size:

1
Amount Per Serving:
Calories:

541
Total Fat:

16g
Saturated Fat:

6g
Trans Fat:

0g
Unsaturated Fat:

9g
Cholesterol:

29mg
Sodium:

772mg
Carbohydrates:

79g
Fiber:

5g
Sugar:

8g
Protein:

21g
The farmers market is my favorite place to be, but I have to remember that what I buy at the Chicago market in Daley Plaza has to then be carried home on the train!
My beloved delicata squash – yet. But I did buy some yellow zucchini, corn on the cob and fresh basil.
What can you put on a farmers market pizza?
The possibilities are endless! But I loved the sweetness of the corn that balanced with the salty cheese.
Since this was a "light" pizza, that I would use cheese as the base instead of red sauce. Hannah doesn't like red sauce – or rather, if she does add red sauce to her pizza, it's literally 1/2 tablespoon for her whole pizza!
Alouette creme de brie was used as the base of my pizza – 2 tablespoons is 80 calories, so I count it as two points.
Then I added a tablespoon of real bacon bits (I borrowed them from my roommates – they buy a big bag at Sam's Club and a tablespoon is plenty and 1 point.
Then I added about 1/2 cup of shredded zucchini, making sure to wring out any excess moisture.
I cut the corn off of one ear and added that.
Then added 1/4 cup part skim mozzarella – just my store brand which is 3 points. Gosh I miss trader joe's mozzarella!
Bake at 500 for 11 minutes. So good! When it came out I added the fresh basil and chopped sport peppers to balance the sweetness of the corn.
So good!
The perfect bite:
This was the perfect summer pizza – 11 points for the whole thing!
Happy Friday friends – make it a great day!