Dear Chia Pudding: I can eat you every day and never get sick of it 😀
However, yesterday's was a home run because I used canned light coconut milk for the liquid – it's 3 points but it makes THE CREAMIEST chia pudding. Like ever. And it makes it slightly sweet – to make two servings: 1 cup light coconut milk and 4 tablesoons chia seeds. Let sit overnight a day or two or until the chia seeds puff up. I normally make my chia puddings on the weekend as part of meal prep, and eat it later in the week.
Yes, that was an 8 point breakfast but it was delicious and it kept me full for hours.
There is the breakdown of my mason jar:
Jenn and I got our walking shoes on yesterday. She had to shop for her SIL's birthday, and our friend Michelle on Instagram is always commenting on Jenn's hats – so we sent this picture to her:
I guess I didn't take a picture of my lunch – it was boring but tasty – a ground beef taco with spinach in an Ole wrap with an apple on the side.
So let's talk about dinner. Last weekend when Jacob cooked I thought I heard him say that he was making jalapeno poppers, but I guess with all the other food he made he just ran out of time. I've been thinking of jalapeno poppers ever since!
My batter is so simple: a heaping tablespoon of flour mixed with a teaspoon of seltzer (it can be anything with bubbles – beer, tonic, etc.) salt and pepper – that's it. I found that the ones with the less coating got crispier, so let the batter drip off a bit before pan frying in avocado spray.
Instead of stuffing my burger with the Alouette smoky jalapeno, I decided to make a sauce – again, super easy – two tablespoons of the cheese mixed with a teaspoon of buttermilk (could be any milk) and microwave for 30 seconds. That's it.
For the potatoes, I took 5 ounces of new potatoes, sliced thin, sprayed with garlic avocado spray, and cooked at 360 for 5 minutes, shake them up, then 5 minutes at 400. So good! The thinner ones were like potato chips – yum!
This whole plate was only 8 smart points. Yum! Side note: I love how many people are buying this candle tray and using it for food photography 😀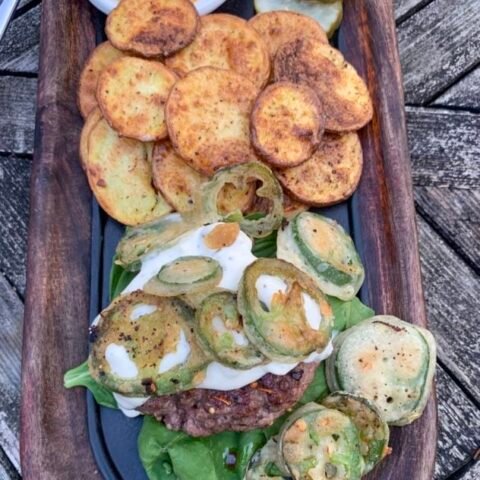 Jalapeno Popper Burger
Who doesn't love a jalapeno popper?! This is my burger version, sans the bun so I can have more potatoes.
Ingredients
3 ounces 97% lean beef
1 teaspoon steakhouse seasoning (I used Dak's)
1/2 cup baby spinach
1 small jalapeno, sliced (remove seeds for less heat)
1 tablespoon flour
1 teaspoon seltzer
1/2 teaspoon garlic powder
5 ounces new potatoes, sliced thin
avocado oil spray
2 tablespoons Alouette smoky jalapeno cheese
1 teaspoon buttermilk
Instructions
Heat air fryer at 400 for 2 minutes. Spray sliced potatoes with avocado spray, salt and pepper. Add to air fryer and reduce heat to 360 - bake for 5 minutes, toss, then cook at 400 for 5 minutes. The thinner ones will be crispy like potato chips - the thicker ones will be crisp on the edges and creamy in the middle.

Heat skillet to medium heat. Season beef with steakhouse seasoning, spray pan with avocado spray and cook about 2 minutes a side for medium rare.

Mix the flour, garlic salt and seltzer together. Mixed the sliced jalapeños in the batter, letting the excess batter drip off for a crispier jalapeño- once the burger is cooked remove to a plate, and spray the pan with avocado spray and cook the jalapeños about 2 minutes over medium high heat or until the brown and get crispy.

By now your potatoes should be done. While you start to plate, mixed the @alouettecheese with the buttermilk and microwave for 30 seconds.

To Plate:

Tiny dish with ketchup and mustard with pickles on the side.

Baby spinach on the bottom, burger on top, drizzle the jalapeno sauce over the burger and add the crispy jalapenos. Serve with potatoes on the side.
Not a shocker that I used Dak's steakhouse seasoning – it's my favorite – all those mustard seeds! If you use my code Bizzy10 you can save 10% off your order.
I saw that online last night and laughed when I saw it – I puffy heart mustard seeds 😀
If you watched my stories last night on Instagram, my kitchen was pretty much a disaster after I got finished cooking – I am not a "clean as I go" cook as much as I wish I was. You'll be happy to know that I cleaned the kitchen. Hannah and Jacob were happy when they got home 😀
And while I can't wait for the day when I can rip out the whole kitchen and design a new one someday, this kitchen as served me well these last 18 years. Lots of memories, lots of good food, family holidays.
Life is good.