This recipe for blackened popcorn chicken is going to break the internet. It was the PERFECT amount of spice – flavorful spicy, not just knock your socks of spicy.
The best part about this recipe? That whole pile of popcorn chicken is only 5 smart points – add 1 point for the ranch for dipping and you have a delicious and filling 6 point dinner. This actually counted as two servings – if Jacob hadn't have come home though to help me eat half though, I am pretty sure I could have eaten that whole plate.
How to make blackened seasoning from scratch.
Back to the drawing board I went to make this blackened spice seasoning. For my shrimp bites I made earlier this week, I added a bit of Splenda brown sugar to offset the spiciness, and with the shrimp since I pan fried them, the brown sugar worked in that recipe. Not so much in my chicken tenders I made the night before last.
Realizing that I needed both white and black pepper – that was the missing link in this recipe. They have two completely different flavors – white pepper to me is milder, but takes awhile for the spicy to warm your palate, while black pepper has that "get in your face" spiciness. It was the perfect combo.
The other thing I did was after the first dip into the flour, I put the chicken in the freezer for 5 minutes. This helped the flour stay on the chicken, so the batter stayed on the chicken.
Usually I use neutral avocado oil spray, so I used chipotle – I've only been able to find that flavor online, but that helped with the color of the final popcorn chicken. Just make sure to spray all sides of the chicken so you can't see flour anymore.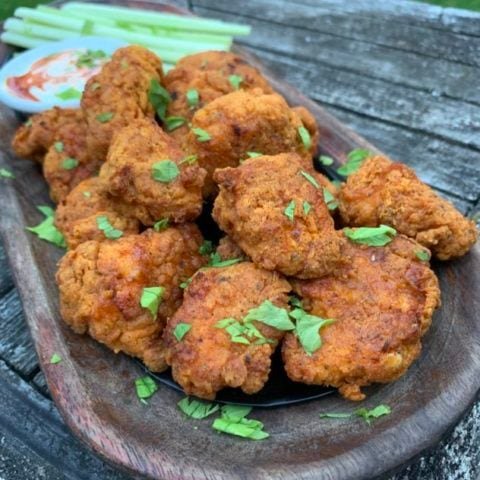 Blackened Popcorn Chicken
Cook Time:
16 minutes
14 seconds
Total Time:
21 minutes
14 seconds
Crunchy, juicy, spicy blackened popcorn chicken. I could eat this every day and never get sick of it!
Ingredients
12 ounces chicken breast, cut into bite sized pieces
For the blackened seasoning (you won't use it all but it will store for a month)
1 tablespoon paprika
1 teaspoon white pepper
1 teaspoon black pepper
1 teaspoon salt
1 teaspoon cayenne pepper
1 teaspoon Italian seasoning
1 teaspoon garlic powder
1 teaspoon onion powder
Dipping station:
1 egg
2 tablespoons unsweetened almond milk
1 teaspoon hot sauce (I used Frank's)
Flour station:
1/2 cup self-rising flour
2 teaspoons of the blackened seasoning above
Instructions
1. Toss the chicken in two teaspoons of the seasoning and toss until coated.
2. Mix the flour and blackened seasoning and dip the chicken in the flour mixture.
3. Put on a paper plate and stick in the freezer for five minutes. This will make sure that your flour batter stays on the chicken and doesn't come off on the first bite.
4. Mix the egg, almond milk and hot sauce. Dip the floured chicken in the egg mixture, then back into the flour mixture.
5. Spray with avocado oil spray so that you can't see anymore flour.
6. Bake in an air fryer for 8 minutes at 360, then 6 minutes at 400 degrees, tossing a couple times during that time. Depending on how big you cut your chicken, check the chicken every two minutes once you bump the heat up to 400.
7. If you have a meat thermometer (and if you don't why don't you!) they are done when they reach 165 degrees.
Nutrition Information:
Yield:

2
Serving Size:

2
Amount Per Serving:
Calories:

688
Total Fat:

10g
Saturated Fat:

3g
Trans Fat:

0g
Unsaturated Fat:

6g
Cholesterol:

238mg
Sodium:

2611mg
Carbohydrates:

78g
Fiber:

5g
Sugar:

1g
Protein:

67g
These were crispy, tender on the inside and that spice is spot on. I am so happy my second batch turned out!!!
Check out my other recipe for grown up chicken nuggets.
Oh, and in case you didn't know, today is International FALAFEL DAY! My friends at Naf Naf Grill are offering BOGO on all their falafel entrees today – code is FALAFEL DAY. They have four downtown locations and many suburban locations – you can also order online for pick up – just don't forget to use the code.