Um, these air fryer egg bites are going to be on a heavy rotation I believe. So many different possibilities! While I puffy heart the sous vide egg bites at Starbuck's, what I can't fathom is the $4.95 price tag. I usually reserve buying them when I have a bucks gift card. I think to myself, "I can buy 60 eggs at Jewel for $5!"
I've had these silicon muffin cups for a while. They are awesome – nothing sticks, but I did spritz with a bit of avocado oil. I put chopped spinach in the bottom, about a tablespoon of spicy salsa, one scrambled egg and 1/4 ounce of cheese on top. While I was putting these together, I preheated my fryer for about 2 minutes at 360 degrees.
Then baked them in the fryer for 8 minutes. That's it!
How cute are these? Only 1 WW point each – you could obviously add bacon, ham, more cheese, etc. – the skies the limit! Best part is that you could make a dozen at a time.
Let's say you have a family of four – there are four different colors of muffin cups – everyone can build their own and you can bake them all at the same time.
They easily popped out of the molds.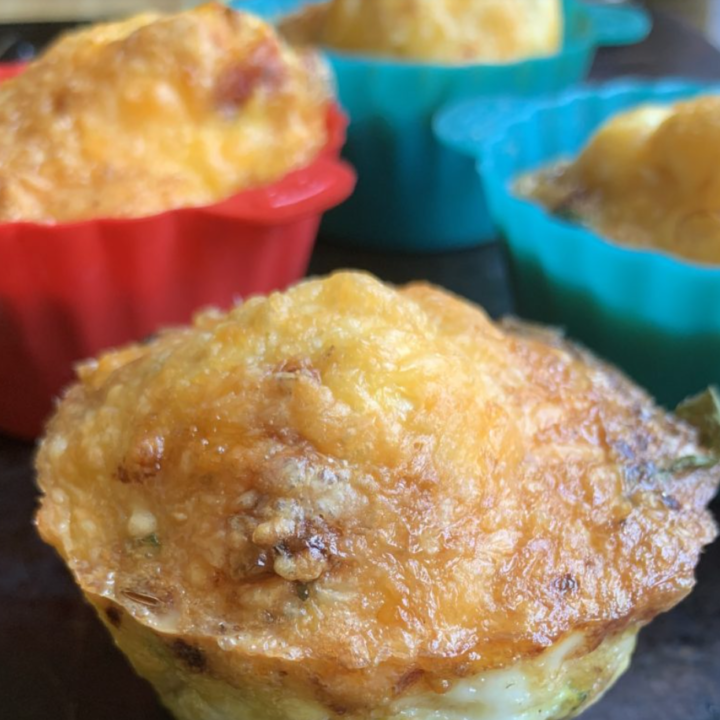 Air Fryer Egg Bites
Similar to the Starbucks Sous Vide Egg Bites - these are light, versatile to make with your favorite veggies, and low on WW points!
Ingredients
4 eggs
1 cup baby spinach, chopped
4 tablespoons salsa
1 oz cheddar or colby jack cheese
Instructions
Preheat air fryer to 360F for a couple of minutes.
Scramble the eggs, add salt and pepper.
Divide spinach between 4 mini egg cups, and place on the bottom.
Pour the eggs evenly into the 4 cups. Add a tablespoon of salsa to each cup. Top with cheese and bake for 8 minutes.
Notes
To track this to your WW app or check the points for your plan, please click HERE!
Don't forget to use your 20% coupon code at BB&B. 😀 I really need to figure out how to do affiliate links 😀
When I got to work, I reheated them in the cups for 40 seconds. Let me know if you make these air fryer egg bites! I would love to know how you would switch things up and what your favorite add-ins are.
Jenn and I walked at lunch. Right before I checked my blood sugar and it was 102 – too low when I was just about to walk for 45 minutes, so I ate a banana. Which immediately screwed up my macros. For those of you who count macros, are you having to constantly change on the go?!
I am posting this recipe tomorrow – it's nearly identical to Bobby from FlavCity's new cookbook, but I used meatloaf mix for the beef, and added more seasonings – I love the mushroom umami seasoning from Trader Joe's. I had this pasta dish for lunch. So good!
I had the lovely opportunity to meet a follower from NEW ZEALAND! She's been following me for only a few months, but is an international flight attendant, and had a layover in Chicago for a few days. She asked me what she should do, and my immediately response was "let's have dinner!"
We had dinner at Riva Crab in Navy Pier. So good! She's lost 116 pounds!! I saw her profile was 53, so I thought she lost 53 pounds – nope, that's 53 kilograms! So we were good WW and we split a NY strip, got crispy Brussels sprouts which were amazeballs (must recreate that at home in my air fryer) and we split the crab cakes. It was the perfect amount of food – indulgent, but not too bad. I counted dinner at 18 points, mostly because I could taste butter on the steak, and the sauce for the crab cakes, which looked to be fried.
It was a beautiful night in Chicago. We walked all along the pier, then the river walk, before I walked her back to her hotel and hit the 8:30 train home – which was a 90 minute train ride because of freight train interference. I got home just after 10 p.m. And went to bed at 10:30. 😀
I love new people, and told Vic I will always be her Chicago friend. 😀 It was so fun meeting you and I hope you have safe travels home tomorrow.
I may have gotten a few steps in yesterday! And guess what? I think I didn't put my fitbit on right after I took that picture, because it's gone. I may hit up the lost and found at the train station. I may say that I lost that, and maybe a mac book pro. Kidding! I charged the wrist fitbit my sister gave me, so I've got that on today.
It was a long day, but fun.
Happy Tuesday friends – make it a great day!