I can't wait to share my crispy buffalo tofu bites!
But first, I have to be honest, I was a bit surprised with my loss this week. I had brunch with my Mom and sister with drinks, I had wine last Saturday night, habachi and two beers on Monday night. I guess my saving grace is that I walk a lot during the day – even on the days I didn't walk at lunch I was easily at 12,000 steps for the day.
Now that March is nearly officially over, I can't use the excuse to celebrate all the birthdays in my family anymore, and it's time to refocus. I only tracked 1/3 of the month of March. And for that I had an overall gain of 1.8 for the month.
But I am not upset about that at all. March is a full month for me, and I enjoyed it, but now it's time to get back to business.
Goals for April:
track 25 out of 30 days
drink 80 ounces of water a day
gym 3 times a week (strength train)
minimum 4 pounds to lose (would get me to -20 pounds since Christmas!)
maximum 9 pounds to lose (which would get me to -25 pounds since Christmas!)
journal every day
I know journaling is key so I need to fit that into my routine. I am also trying to figure out my workout schedule. My thought is that if I work out before work: a) it's done and over with and no matter what my day throws at me, I'll have already gotten the workout in and b) I can sleep an hour on the train to work if I am tired, so there really is no excuse. I'll keep you posted on that one.
I took the early train to get to WW before work to meet my sister, so I didn't have time to pack my food for the day. Corner Bakery is in the lobby of the building WW is in, so I got their protein flatbread with avocado and spinach, with a side of fresh fruit. Not only was this delicious, the salsa was spicy, and this only set me back $5.79 – I am not sure I could get McDonald's for that price! (well, if I didn't get anything off the $1 menu).
One of my bosses was out, so I had no trouble going back to WW for the meeting. We had a guest leader and I really liked her. She lost 100 pounds and has maintained that loss for 12 years, but even she admitted that she still has to double check points. It was funny she said she'd make breakfast and think "that's probably 6 points" when in reality it was more like 24 points, but she'd have it stuck in her head that breakfast was only 6 points.
I do love the weekly meetings though – as someone on Connect (Weight Watchers app Facebook) said that she needed the meetings when she had a great week because maybe something she said could influence someone else having a successful week, and when she had a bad week, she still went to get inspiration from others. I couldn't agree more.
I picked up lunch at Pret and got a small soup with a hard boiled egg drizzled with Goddess dressing. Lunch was 8 smart points. I need to make a pot of tomato soup and figure out the points – there is no way that this 110 calorie cup of soup is 13 smart points like the WW app suggests. It's delicious though!
Thursday night is what I call "leftover" night because even if I had meal planned, there are always weeks when I plan a meal and then it never happens. I had tofu in the fridge, so took that as my inspiration.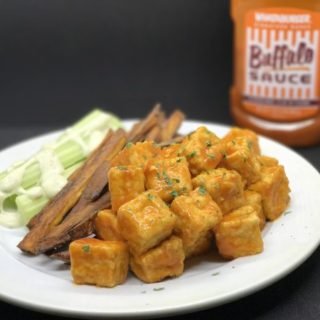 Crispy Buffalo Tofu Bites
If you have a jones for buffalo wings, these crispy buffalo tofu bites will cure that jones - for much less calories!
Ingredients
6 ounces firm tofu, pressed and cut into cubes
1 tablespoon flour
1 tablespoon cornstarch
1/4 teaspoon salt
1/4 pepper
4 tablespoons unsweetened almond milk
1 tablespoon buffalo sauce
Instructions
Put the tofu between two paper towels and press with a heavy object. I just used my tea kettle full of water. After 5 minutes, change the paper towels, repeat that process two more times, for a total of 15 minutes. (FYI - this can be done ahead of time).
In a bowl add the almond milk. In another bowl mix the flour, corn starch, salt and pepper. Dip the tofu into the flour mixture, then into the almond milk, then back in the flour mixture.
Spray a skillet with avocado oil spray. Cook the tofu on all sides until crispy, about 5 minutes. Toss in buffalo sauce. Serve with fries and celery sticks.
Notes
Click HERE to check how many WW points this is on your plan!
I think the only person who loves buffalo flavored anything more than me is my DIL Lizz. She's been trying to make crispy tofu at home, so I figured this would be an easy recipe to follow.
You could make this an even quicker weeknight dinner if you press the tofu in your fridge during the day when you are at work. Just layer a lot of paper towels on a plate with the tofu, and put a heavy canned good on top.
I think the corn starch gives it the extra crunch. I had the points and fully expected this to be one serving of food below, but after eating half, the sweet potato fries and the celery, I was full. I put the recipe into the WW app, and each serving comes in at 5 smart points.
So spicy and delish! I love this Whataburger buffalo sauce – spicier than Frank's Red Hot, but just as flavorful. I think my daughter-in-law will love this recipe! Love you Lizz – let me know if you try this 😀
Last day of the month! I am going to get my taxes done tonight, I have no idea how that will go, so keep your fingers crossed.
Happy Friday!
p.s. if you love tofu, try my orange chicken tofu