These breakfast taquitos are great for breakfast, lunch or dinner!
Much like when my late husband and I first got the deep fat fryer and fried all the things, it was the same with the Simple Living Products Air Fryer. We were all like "what should we try next!"
Breakfast taquitos seemed like an obvious choice.
What kind of tortillas for taquitos?
Corn tortillas are my go to for taquitos because they get nice and crispy. In Chicagoland you can find El Milagro tortillas pretty much anywhere for about 50 cents a package. So good!
The secret to using corn tortillas is microwaving them for 30-45 seconds before filling, so that the tortillas are still warm when you fill them. That insures that they won't crack in air fryer when cooking.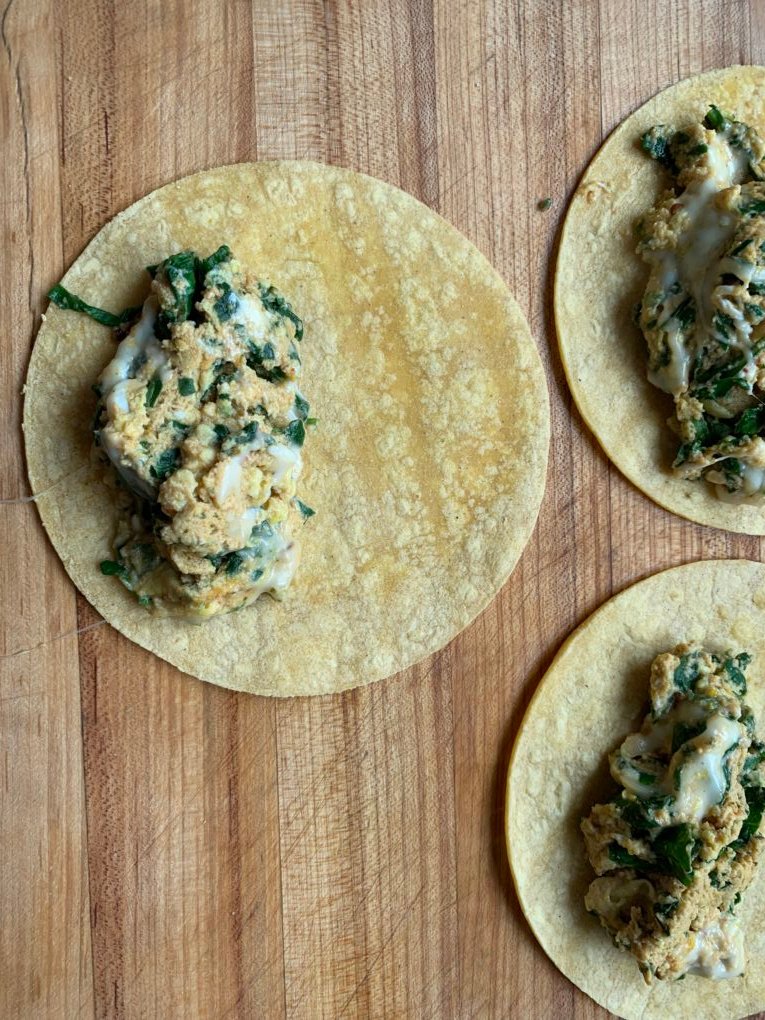 My secret to fluffy eggs? A tablespoon of fat free half and half mixed with the eggs. So good – and only 10 calories so I don't count that shit. I scrambled two eggs with a cup of baby spinach (it wilts a lot!) and the fat free half and half.
What's the best way to roll taquitos?
The secret to success with rolling taquitos is to microwave the corn tortillas for 30-45 seconds, AND make sure your fillings are ready. You want the corn tortillas to still be warm when you roll them up. Always start cooking seam side down.
Are taquitos better with corn or flour tortillas?
My personal preference is using corn tortillas because I love crispy tacos, but flour taquitos are equally delicious. If you like a lower carb flour tortilla, my favorite brand is LaBandarita.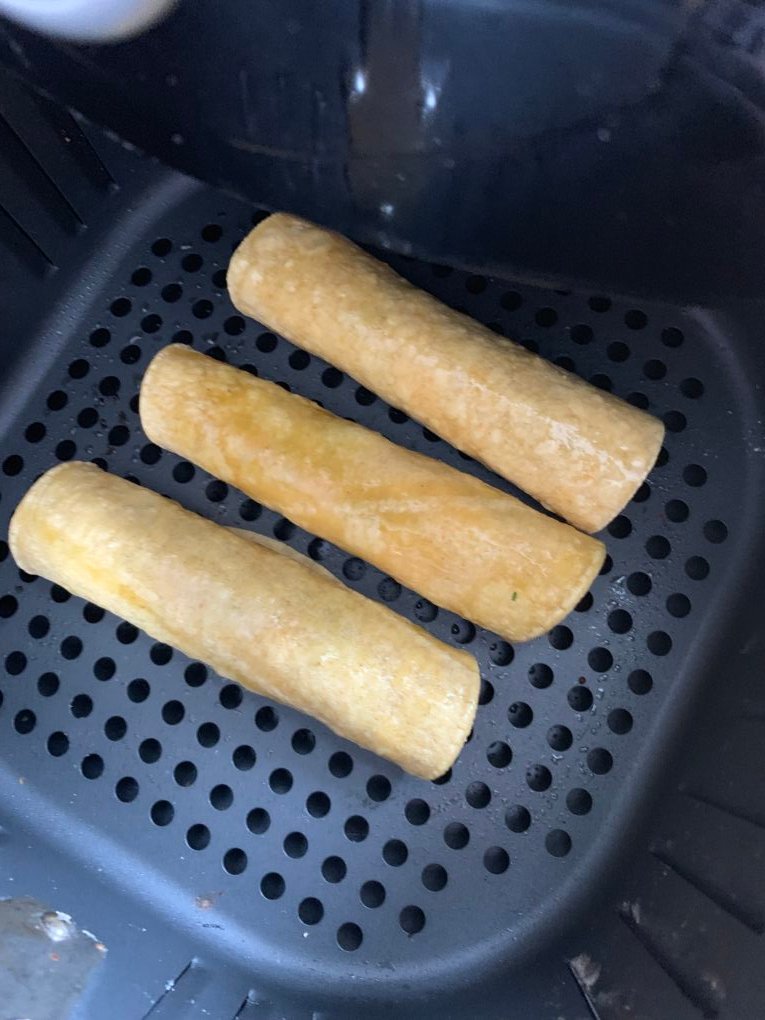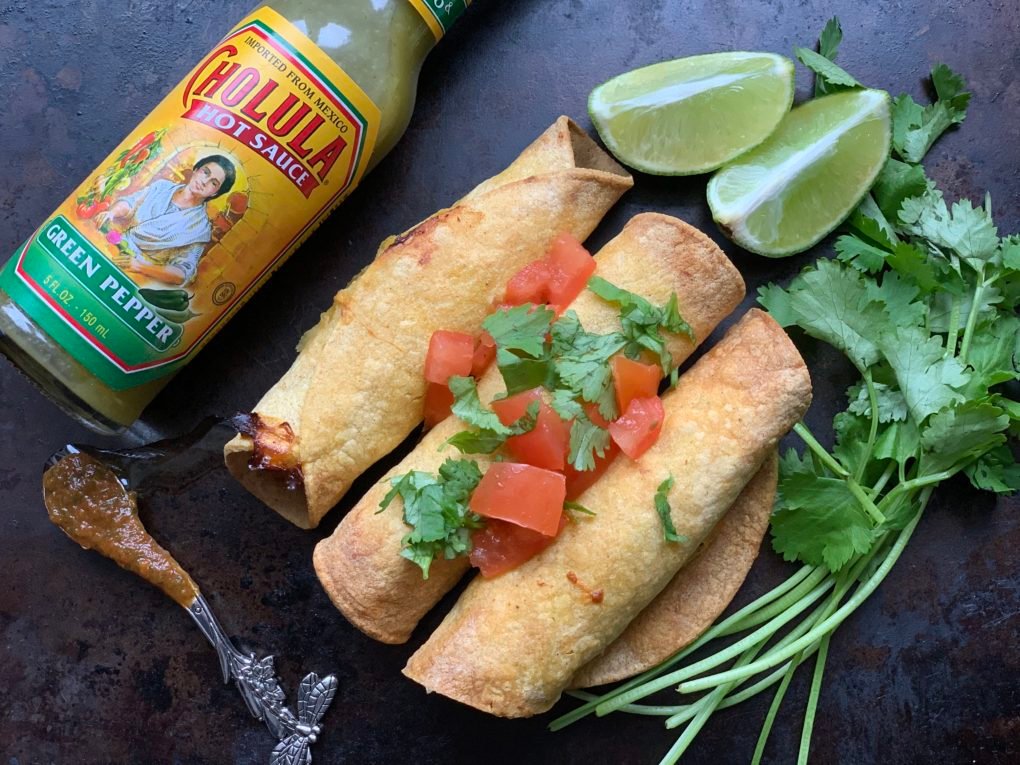 Hannah loves to jump in to help with the food styling when she can – she's much better at it than I am – that's the bottom of a super old cookie sheet, but it looks cool in the background, no? I was giving her shit though and I kept picking up pieces of cilantro and placing them in other places – she was giving me the stink eye so hard!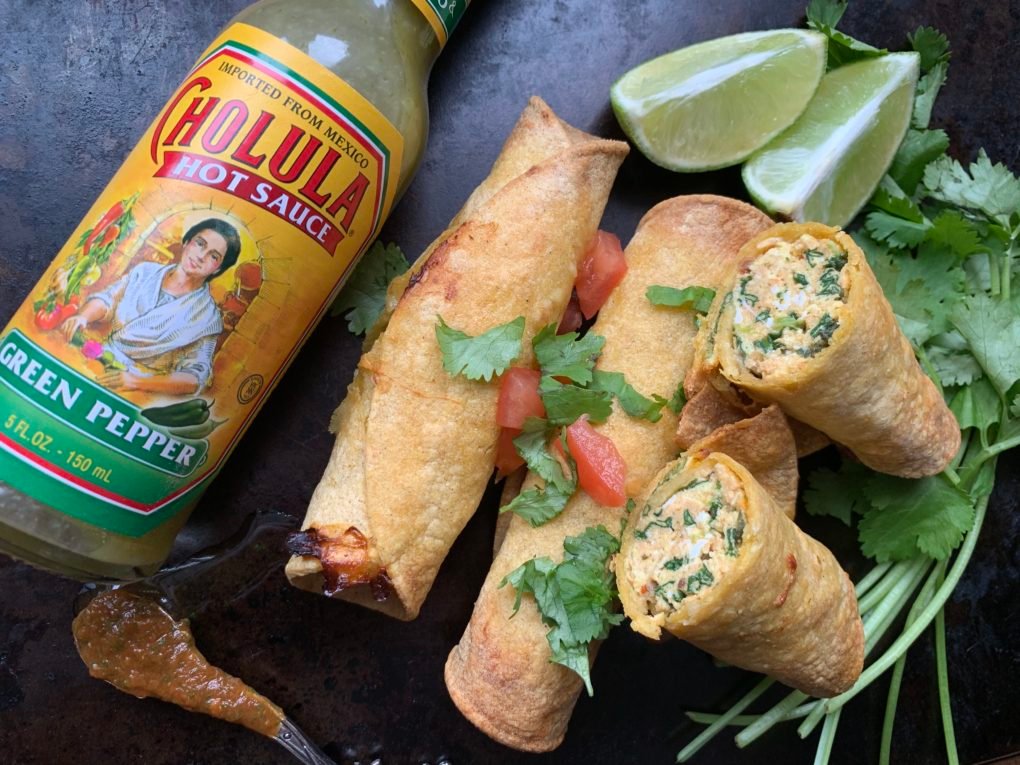 The best part? Four of these taquitos are only 4 points – the only points is the three corn tortillas. Serve with salsa and diced tomato and you've got a filling breakfast. Next time I think I'll also add a schmear of fat free refried beans.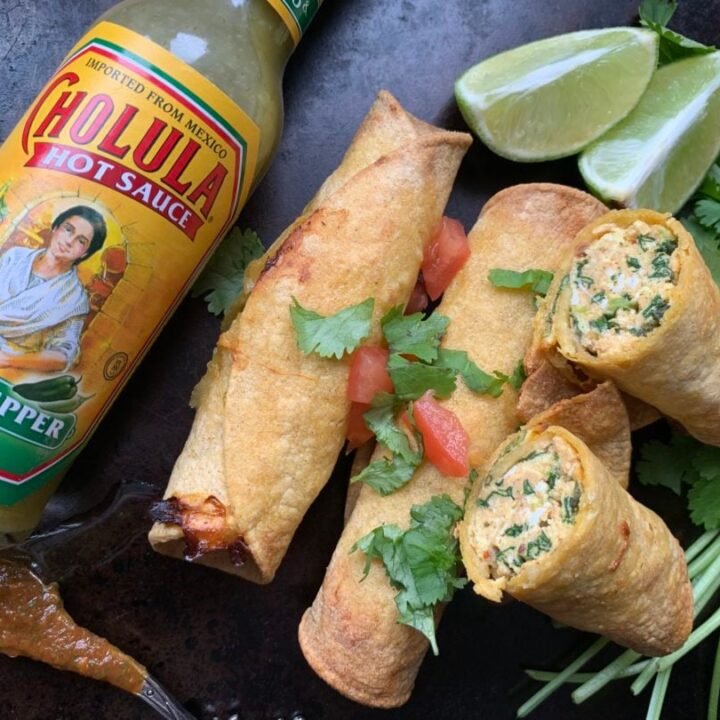 Breakfast Taquitos
These breakfast taquitos are perfect for breakfast, lunch or dinner! Only 4 WW points!
Ingredients
2 large eggs
1 tablespoon fat free half and half (optional)
1 cup baby spinach, chopped
3 corn tortillas
avocado oil spray
Instructions
Preheat air fryer at 380 for 5 minutes.
Mix eggs and half and half and scramble.
Stir in baby spinach.
Microwave tortillas for 30-45 seconds, until pliable.
Divide egg/spinach mixture between the three tortillas.
Spray with avocado oil and cook, seam side down, for 6 minutes. Flip and cook 4 more minutes. Serve with your favorite salsa for dipping.
Yesterday's breakfast was basically a repeat of Monday's – zero point chicken apple sausages, banana muffin, eggs and fruit.
The Biz & Jenn show was on the air at lunch – we walked Macy's again since it was cold outside.
Promise to share this recipe tomorrow – it's so good! It's my take on Gina's turkey meatball soup – so hearty and filling.
I should know better than to buy stuff like this – these are delicious by the way. They were on the discount rack at my local grocery store so I threw them in my cart – only 45 calories each! Until you eat 4. I didn't scan them before I ate them, rookie mistake, I was shocked that it was 8 points! But I am doing 100 days of honest tracking, so I tracked it. I woke up with low blood sugar the night before last too, and ate a Guilt Free Cookie, which after I ate it, scanned in at 7 points.
So 15 points of my day yesterday was snacks. And I was starting to get that mind set of "fuck it" when I slowed my roll and realized those 15 points only added up to 350 calories. And I was like "it's all good!"
I was sent a bunch of new products from Alouette cheese – this spreadable brie cheese is new to me. Holy balls, is this good. Two tablespoons is 3 points, one tablespoon is 2 points.
I had defrosted a steak last night, and decided to make some skinny creamed spinach – I'll do a separate post on this later, because it was amazing – I just mixed 1 tablespoon of the brie with 2 tablespoons of unsweetened almond milk, a pinch of flour, salt, pepper and garlic. I cooked that "sauce" over medium low heat until the cheese melted, then added two cups of spinach, put a lid on for a minute, then stirred together – 2 point creamed spinach? Yes please!!
I did the potatoes in the air fryer too. I preheated the fryer to 400 degrees for 5 minutes. It was a 6 ounce red potato that I tossed with a tiny bit of grape seed oil, and Dak's green zest seasoning, salt and pepper. I baked for 10 minutes, shaking after 5 minutes. This was a delicious 10 point dinner.
I worked a bit late, so didn't hit up the gym, but still had Day 2 of my 4 week challenge with my Insta girl Seraphina. This took me 14 minutes to complete. Wall sits are no joke!
I have to give a shout out to my Insta daughter Christina – she surprised me with not one, but TWO gifts from Anthropologie that I was eyeing but couldn't pull the trigger on the price tag. The first is this zippered journal, which is already my favorite.
And this angel food cake candle – swoon. Now I really want to make angel food cake 😀 Thank you!! Can't wait to see your face again.
I ended the day with 36 points, but I bet if I put everything I ate into myfitnesspal, it would only be about 1300 calories, so it's all good. I still have 18 weeklies on the table and it's already Wednesday.
Can you believe I didn't have wine on National Wine Day yesterday?! Go me!
Alright, almost downtown, so I am going to hit publish. Make it a great day friends – and don't eat like an asshole – Love, Biz
p.s. If you haven't tried my black bean soup, this is one of my favorites!