I love this chickpea and pumpkin curry – so rich and flavorful!
Meatless Monday! Well, at least one meal of my day will be meatless Monday. Let's not go totally crazy with a full meatless Monday! Although beginning in 2019, I may just do that.
Sunday mornings are my favorite. I still get up around the same time – well, I usually get up at 6:30 on the weekdays, but I sleep in until about 7:15. Saturday mornings I have to get to WW (I was down .4 last week – continuing my maintenance December!!), but Sunday mornings I can spend up to an hour laying in bed with the dogs, checking out recipes, watching stories on Instagram.
I subscribe to The Feed Feed, and they posted a recipe for a spinach and chickpea curry, and a quick scroll through the recipe, I realized I had almost all of the ingredients! That's what happens when you are a canned good whore like me – you always have coconut milk, pumpkin and chickpeas on hand. 😀
Not only is this vegetarian, it's also vegan – I think my DIL would love this, but truth be told, not sure she likes curry – I'll have to get her opinion on that!
I did make some substitutions to make it a bit more WW friendly – I used half unsweetened almond milk and half lite coconut milk. The only points in this dish are the coconut milk and potatoes. I also added 6 ounces of tomato paste to the dish to give it a bit more depth in flavor. OMG, you guys this is so good – next time I'll add fresh ginger, but this is so flavorful spicy.
If you haven't cooked with tumeric (it's a new spice to me too) it's delicious. If you need to stock up on spices, Trader Joe's has a pretty good selection, and they are around $1.99 a bottle.
Chickpea and Pumpkin Curry
This vegetarian curry is so delicious, promise you won't miss the meat!
Ingredients
1 tablespoon grape seed oil
3 cloves garlic
1 teaspoon ground ginger
1 teaspoon hot curry powder
1 teaspoon tumeric
1 teaspoon cayenne pepper*
1/2 teaspoon salt
2 carrots, diced
3 potatoes (1 pound), diced
1 cup pasta sauce
15 ounce canned pumpkin
15 ounce canned chick peas, drained
1 cup almond milk
1 cup lite coconut milk
6 ounce tomato paste
1.5 cups veggie broth
Instructions
Heat the grape seed oil over medium heat. Add the garlic, ground ginger, curry and tumeric, and cook for about 1 minute. Throw in remaining ingredients and simmer for 15-20 minutes, until the potatoes are fork tender.

Serve over cooked rice and your favorite veggie - spinach, zucchini, whatever you have on hand.
Notes
I like spicy shit, so either omit the cayenne altogether, or go easy and add as you go. My curry powder was also spicy, so beware of what curry you buy.
As of 2023, the points for this recipe is 3 points per cup. Click here for the WW tracker.
Let me know if you make this recipe! Be sure to tag me so I can see it – mybizzykitchen on Instagram too 😀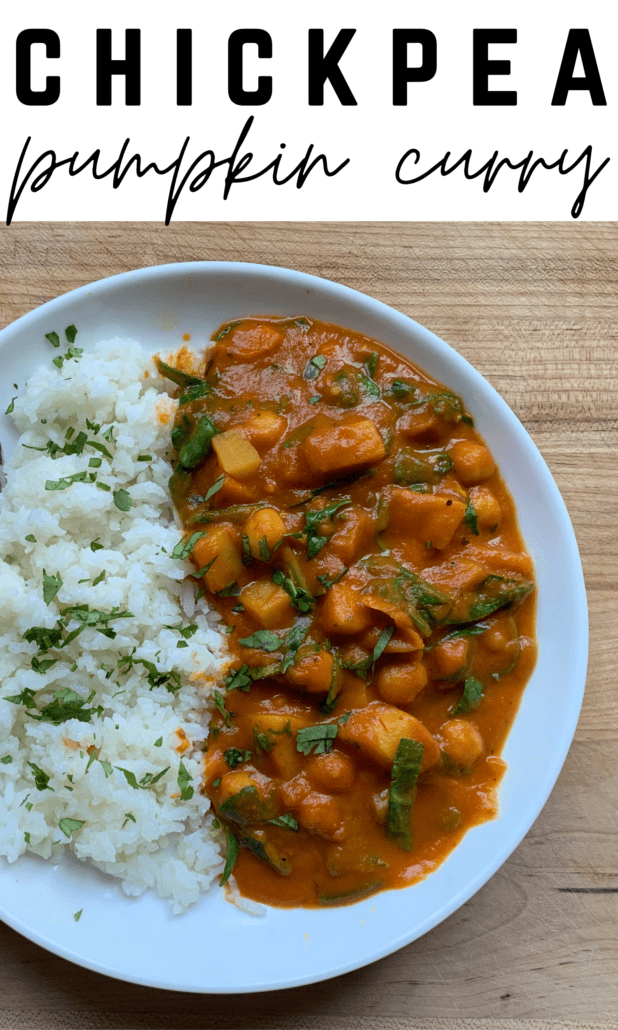 *************
Saturday was a meat bin day!! Much to Hannah's delight 😛 I was mostly out of beef and pork, but I couldn't pass up the $3.18 nearly 7 pound whole chicken. Our weather in Chicago was gorgeous this weekend, so I grilled out on Saturday. Not only was it dinner for Saturday night, it will also morph into a few other dishes for me this week – chicken ramen, chicken fried rice and a chicken parmesan panini.
I was outside in a t-shirt! #love
I grilled the chicken to 160 degrees – once rested it got up to temperature.
I mentioned on Instagram that I didn't know how women went more than a day without washing their hair – some people I follow only wash their hair once a week and it looks like they stepped out of a salon every morning!
Case in point – this is what my hair looks like most mornings when I wake up. I know, it's hard being a part time fashion blogger!
My friend Beth (it_happened_by_snaccident on Insta – follow her because she's super funny!) suggested these two products, so I may give it a try.
My Mom and I went to the movies yesterday. For the second time I saw A Star Is Born and loved it just as much as the first time. I sent this picture to my brother and sister, you know, to just remind them that I am Mom's favorite.
And then my brother switched our eyes and sent us this picture. Love you Charlie!
Guys – I did my second video! Super rustic, but hopefully it answers questions people had about my skinny pizza dough – which is now almost a year old! It only took about 8 months to catch on. 😀 You can check it out here – already 215 views! 😀
And just like that, we are back to Monday. I can't believe Christmas is next week – I still haven't bought a single gift. I guess this will be a last minute Christmas – which I don't mind because I typically spend less money.
Happy Monday friends – make it a great day!
p.s. if you like chickpeas, check out my recipe for garlicky hummus – so good!