I had the funnest night on Saturday. My neighbor Brett was turning 50! His wife had gone to a Chef instructed interactive dinner in Lake Geneva as a guest. She thought it would be something fun to do for her husband, until she learned that it was $180 PER PERSON.
So she called me and asked if I could do something at their house for 8 people. I didn't hesitate! Brett only likes asparagus, he loves mushrooms, meat, chocolate and carbs, so I based my menu on those things.
OMG, this bang bang shrimp appetizer. I am planning on making this again for my dinner one night these week. It was funny because Brett said that he never eats greens, but he ate all the greens with the shrimp. #winning!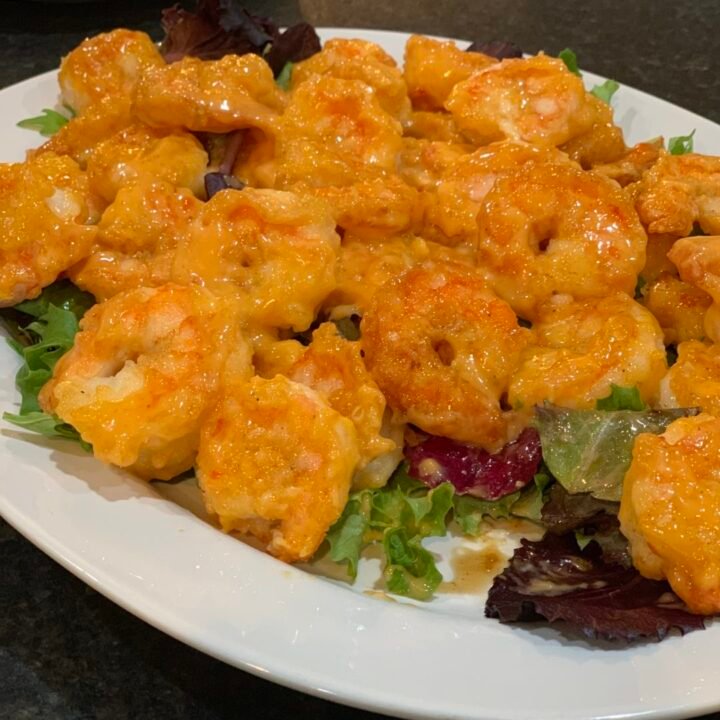 Bang Bang Shrimp Salad
Crispy, sweet and tangy shrimp over mixed greens. Delicious!
Ingredients
1 pound peeled and deveined shrimp
1/2 teaspoon salt
1/2 teaspoon pepper
4 tablespoons corn starch
2 tablespoons sweet chili sauce
2 tablespoons light mayonnaise
3 tablespoons plain Greek yogurt
avocado oil for pan frying
4 cups bagged salad mix
1 tablespoon Asian dressing
2 tablespoons cilantro, chopped
Instructions
1. In a bowl, mix the corn starch, salt and pepper and mix together. Toss the shrimp with the corn starch mixture until all the shrimp is coated. It's a super light coating, so don't worry if each shrimp isn't 100% coated - you'll be tossing it in the bang bang sauce, so no worries.
2. I cooked 1/2 a pound of shrimp at a time in the 1 tablespoon of oil. Heat oil over medium high heat. When you put the bottom of a wooden spoon in the pan - you should see bubbles forming around the spoon, which lets you know that the oil is hot enough to sear, not absorb and get soggy.
3. Cook about 2 minutes a side, then drain on a paper towel while you cook the second batch.
4. Mix the sweet chili sauce, mayo, yogurt together in a large bowl. When the shrimp are all cooked throw them all in the bang bang sauce, and using a spoon, toss to coat.
5. Mix the salad mix with the Asian dressing, and plate on a platter. Top with the bang bang shrimp and sprinkle with chopped cilantro.
Notes
To track this directly to your WW app or check the points for your plan, click here!
Nutrition Information:
Yield:

4
Serving Size:

1
Amount Per Serving:
Calories:

261
Total Fat:

9g
Saturated Fat:

2g
Trans Fat:

0g
Unsaturated Fat:

7g
Cholesterol:

242mg
Sodium:

1451mg
Carbohydrates:

16g
Fiber:

1g
Sugar:

6g
Protein:

27g
I saw this recipe on Jessica's site – she made it with a napa cabbage slaw, but I took a different (read easy!) route and just bought a bagged mixed salad and used an Asian salad dressing for the base. I also subbed in some plain Greek yogurt in place of all real mayonnaise, which significantly reduced the calories and points on this dish.
I did a shallow pan fry – I added a tablespoon of oil to the recipe even though I know a tablespoon of oil wasn't absorbed in these.
This is the dressing I use – so good. It's one of Hannah's favorites and we usually always have it on hand.
That would be Brett and Amy's son Charlie giving the bang bang salad a big thumbs up. He loves to cook, and while I thought that this was going to be an interactive cooking night with the adults, turns out Charlie acted as my sous chef and we made the whole dinner together. He was full of questions, I was giving him tips on when to salt the beef – it was so much fun. Best part is that I asked if he was on Instagram and if I could tag him and he had 6 followers before I tagged him, and by the end of the night he had 169 – love it. He kept showing me "I got 10 more followers!"
[sp_recipe]
Below is Jessica's inspiration dish – thanks Jessica – I know you don't mind me lightening up your recipes just a bit 😀
If you have a Fresh Market near you, you need to keep your eyes out for their sale flyers – about every three weeks they have Prime New York strip steaks. Each of those steaks only cost $5.99 EACH! Normally they are $12 each.
Cast iron seared New York strip steaks with blue cheese:
Hasselback potatoes with garlic rosemary butter:
Risotto with carrots, peas and Parmesan:
Steamed asparagus with a garlic parsley gremolata:
When everyone was done eating, Charlie and I got to making the individual lava cakes – although we overcooked them a tad, so it was more like chocolate cake, but still delicious.
This is a real deal chocolate cake – it had 1.5 sticks of butter, 6 eggs, 1/2 cup heavy cream, 1/2 cup chocolate chips #swoon – I loved that is wasn't overly sweet, and I topped it with a sea salt caramel gelato.
I had so much fun working with Charlie – he may become a chef and restauraneur someday! Thanks for all your help Charlie!
Here is how he looked in 2010!
My plate. I didn't eat like an asshole but I drank like one – ha! I had 44 points on Saturday, but it was worth it. Today is Brett's actual birthday – Happy Birthday!
Best shopper evah! The cost of that dinner party? $129.17. For 8 people (well actually 10 because two of their kids ate with us – I bought one extra steak) which works out to be $12.91 cents per person for an appetizer, three sides, New York strip steak, and dessert. Did you know that Jimmy John's now costs about $10! So I'd say this was a pretty budget friendly dinner party.
Yesterday was the FOURTH anniversary of Tony passing. It's hard to believe. I talked to my MIL yesterday for about 35 minutes – we both said it feels like yesterday and ten years at the same time.
But guess what? I took it easy yesterday. I did what I love to do. I sipped on coffee on the sofa with the dogs, I cooked a little bit. Jacob's grandma also died yesterday a year ago, so we went out to dinner with him and Jacob's Mom and Hannah and Jacob treated. It was lovely.
I didn't eat like an asshole (ended the day with 21 points) and didn't have a glass of wine, or even a margarita at the Mexican restaurant. I was in bed by 10:30 and it was a good day.
My jewelry speaks for itself:
Happy Monday friends – make it a great day!