I've mentioned it before, but I usually write recipes on my train ride home. Yesterday morning before I left for work I almost pulled out a pork chop to defrost in the fridge during the day, but saw that I had shrimp and not knowing if I was going to be working late last night, knew they would thaw quick and I'd make something with them. On the way home, I thought "what about coconut shrimp!"
I didn't even know if I had coconut, but I wrote down a recipe and kept my fingers crossed. When I got home I found I did have coconut. Score! Oh, but it expired in August 2018. Ah, how bad could it have been – so I used it. 😀
I defrosted 5 ounces of shrimp. I have learned my lesson and will always pay the extra $2 a pound or whatever it is to buy peeled and deveined shrimp. I did try to butterfly them a bit, but I was a bit too aggressive with my knife on a couple of them.
My thought process was to make a wet better and then toss in coconut/bread crumb mixture. In order for the coconut not to burn before the shrimp was cooked, after I battered them I froze them for 15 minutes. This helps ensure that the batter stays on the shrimp too. How delicious do these look?! The dip is Chobani/sriracha and a teaspoon of sweet and sour sauce. So good.
So crunchy. And not greasy at all, because I cooked them at 350 degrees.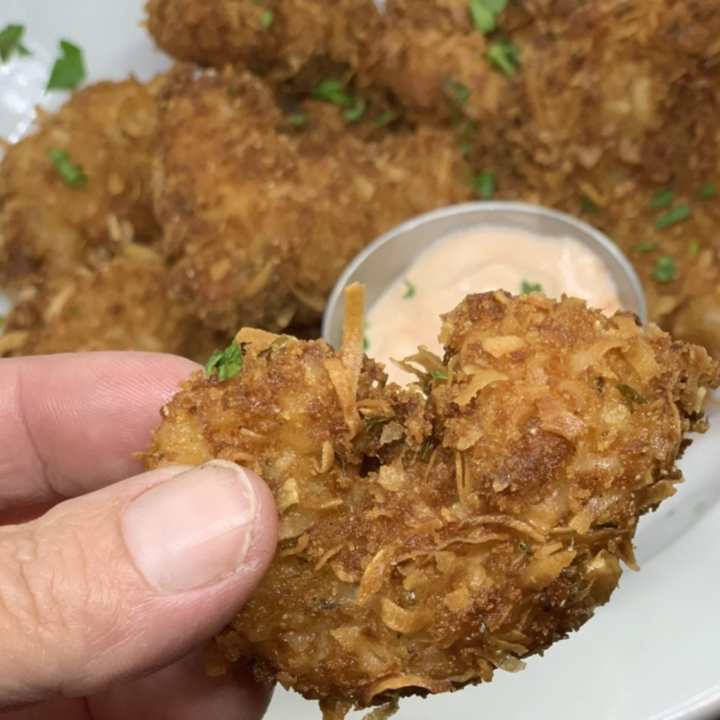 Coconut Shrimp
This crispy and light coconut shrimp is perfect alone with a dipping sauce or on top of a salad or over rice and some veggies. This turned out even better than I expected, and is truly best in a deep fryer but can also be done in a pan or air fryer.
Ingredients
5 ounces shrimp, peeled and deveined (and butterflied if you feel like it)
1/4 cup self-rising flour
1 egg
2-4 tablespoons seltzer
1 tablespoon unsweetened coconut flakes
1/4 cup bread crumbs
1/2 teaspoon cayenne pepper
1/2 teaspoon salt
1/2 teaspoon pepper
Instructions
1. Heat fryer or oil to 350 degrees.

2. Mix the flour, egg and add in enough seltzer so that it forms a batter. I used about 4 tablespoons - it was the consistency of pancake batter.

3. In a second bowl, mix breadcrumbs, coconut, cayenne pepper, salt and pepper and toss to combine.

4. Dip the shrimp in the batter, then using a fork, toss in the breadcrumb mixture and place on a plate.

5. Freeze shrimp 15 minutes before frying. Alternatively, you could make this ahead of time and store them in the fridge for a minimum of 30 minutes - or all day if need be.

6. Fry for 4-5 minutes depending on how big your shrimp are. Mine were 17-21 count, so they needed to cook the whole 5 minutes.
Notes
I served mine with a dip of 2 tablespoons nonfat greek yogurt, 1 tablespoon sriracha and 1 teaspoon sweet and sour sauce.
Click HERE to check how many points this is on your WW plan!
Nutrition Information:
Yield:

1
Serving Size:

1
Amount Per Serving:
Calories:

498
Total Fat:

13g
Saturated Fat:

6g
Trans Fat:

0g
Unsaturated Fat:

5g
Cholesterol:

485mg
Sodium:

3044mg
Carbohydrates:

48g
Fiber:

3g
Sugar:

2g
Protein:

46g
I had a mock McDonald's sausage McMuffin yesterday and it was so good. I will spend 4 points on a Bays Sourdough English muffin – so good! Have you guys tried Jennie-O turkey breakfast sausage – they have a mild and a spicy and it's delicious and only 1 point per ounce. That was two ounces that I cooked before work. I also cooked the scrambled eggs before I left and just assembled it when I got to work. English muffin (4) sausage (2) 1/2 ounce cheese (2). Delish.
I was determined to go to lunch yesterday, and my sister and I walked towards the west loop to change things up. It was chillier than we though. But we warmed up as we walked and talked.
Look – I ate vegetables! I know, I can hardly believe it too. I counted this as 5 points – for the feta cheese, ham and dressing.
I had a few people ask me in the last few days if I had tried to make donuts with the Skinny Pizza Dough – um, no! Challenge accepted. Except I didn't have any dough made, so I texted Jacob and he made it for me – thanks Jacob!
I made this mini churros for 3 points. These were so light and fluffy! And yes, I deep fried them for 3 minutes. I am going to try to make a filled donut hole tonight.
Go good!!
Happy Friday – we've made it! This week went surprisingly fast for me. I have more paid Instagram posts coming up in the next couple weeks with some great giveaways – and it's CHEESE! I'll be posting the giveaway on my Instagram on Monday.
Hope you have a great weekend – make it a great day!