Living with a vegetarian, who loves her smoothies, I am almost never without hemp seeds, chia seeds, matcha powder, spurlina (I am sure that's not spelled right) and stuff like that. One of the features I love most about Instagram (and as soon as I hit 10,000 followers I can do it too!) is the Swipe Up! button.
Yes, you guys are going to be like "will she stop talking about Jessica from How Sweet Eats already?!" But she does a weekly recap on her Instagram page of stuff she posted earlier in the week. My blog reading has gone way down now that I have a job that actually requires me to work, and while I do have time on the train ride home to catch up – just so many blogs and not enough time.
So I missed the post where Jessica made this chia seed pudding with lemon curd. It stopped me in my tracks. Hannah has made chia pudding before and it's delicious. And paired with lemon curd – hells to the yes!
Only one tiny problem. A mere two tablespoons of prepared lemon curd is six smart points. And silly me though chia seeds were free, but sadly, they are not. Healthy, but not zero points.
One other tweak I made to the recipe was using lime zest (because I only had bottled lemon juice) and I love the added kick to the curd with the lime zest.
This recipe is quite simple, just don't expect to eat it soon. I prefer to let my chia pudding sit for at least two days before eating it, but this is a perfect meal prep breakfast – make 1/2 a dozen and then switch out the toppings throughout the week.
Do you guys have a microplane? I bought one at The Chopping Block before I left – they are rather inexpensive, I think that one was $10, but it's perfect not only for zesting fruit, but also grating Parmesan cheese, or nutmeg or even cinnamon sticks.
Instead of sugar I used . . . no calorie Splenda! Now, I am used to artificial sweeteners, so I think it tasted amazing, and so did Hannah. That shaved about 16 points from this recipe alone.
Simply mix the curd ingredients in a food processor until smooth, then cook, stirring constantly, for ten minutes over a medium heat. Remove from the heat. Let cool completely and store separately until ready to make your parfait.
Hannah ate hers the next day on Sunday. She defrosted some mixed berries for the top, with some sliced banana and matcha powder on top.
Hannah in photography action!
Isn't that gorgeous??!!!
I had mine yesterday for breakfast, so this was three days after I made it. Can you see how much bigger the chia seeds are in my dish compared to Hannah's after 24 hours? If you've tried chia pudding before and didn't like it, it may be that you didn't let it "bloom" enough. I urge you to give this recipe a try. The chia seed pudding is 4 points, the lemon curd, three points – I topped mine with blackberries and mango, and a tablespoon of granola for texture for 1 point. This also kept me full for hours.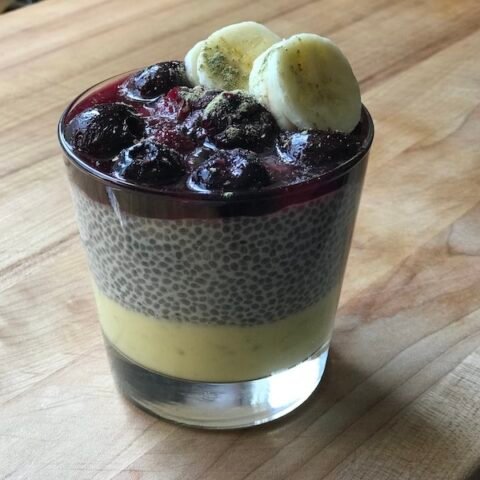 Chia Pudding
Additional Time:
12 hours
Total Time:
12 hours
5 minutes
This chia pudding base can be customized and made into a parfait, or an afternoon snack with fruit - the possibilities are endless!
Ingredients
1 cup unsweetened almond milk (or milk of choice)
2 1/2 tablespoons chia seeds
Instructions
Mix the milk and chia seeds together.
Place in a glass jar with a lid and refrigerate for 30 minutes.
After 30 minutes, stir with a fork to separate the chia seeds - they tend to drop to the bottom of the jar if you don't mix after 30 minutes.
Chill at least 12 hours. I like to make this right before bed and then it's ready for breakfast in the morning.
My sister was busy at work, and while I am not 100%, I had to get some sun on my face at lunch. I took a very very slow walk for about 30 minutes before heading back.
I will post this recipe tomorrow – holy balls, so good! Crispy tofu with a PB2 garlic sauce over broccoli slaw rice. I got the idea for the sauce from Lindsay's new cookbook – her almond sauce though (for 2 servings) calls for 1/2 a cup of sesame oil (I need to ask her if that is right, because that's a lot of oil and sesame oil can be very overpowering) which would have meant the sauce in her dish would be 17 points per serving, without the food included. My sauce came in at only 2 smart points and packs a flavorful punch.
I posted this and after a couple hours, the verdict was a definite NO to liking tofu. I press my tofu for a few hours, then coat it in corn starch and fry it in coconut oil – and while my dish wasn't as crunchy as when I first made it, it still held its shape and was "meaty" if that makes any sense. I just checked the poll, and now 385 have chimed in, and it's 48% yes, to 52% no. Do you like tofu??
Bolthouse Farms kindly sent me some of their B Strong Smoothies. All are lower in sugar and high in protein – that one is only 19 grams of carbs and 190 calories – or 7 smart points.
I decided to make waffles out of them (I'll post the recipe soon!) by adding vinegar to 1.5 cups of the vanilla shake.
I talked on my Instastory how Tony hated the idea of breakfast for dinner. Like, there was no talking him into anything remotely resembling breakfast food past 10:00 a.m. any day of the week. Even if we slept in on a weekend, if it was after 10, he would rather have a sandwich than an omelet.
Since I haven't been feeling well, I told my self to #kiss – keep it simple stupid. So this 6 point waffle sandwich was perfect – it hit the spot and now I have waffles for later in the week or to freeze for next week. #winwin
This hit all my buttons – crunchy waffle, tender on the inside, salty, sweet, savory and cheezy – yes please!
If you are on Instagram, are you following Hannah? OMG, she's been posting the funniest things when she drops me off at the train. You can find her at HannahFindingHealth. She is way more creative than I will ever be.
She posted this yesterday – #love