This buffalo shrimp and grits recipe is quick, easy and delicious!
I won't mind at all that this will be my breakfast three days this week. I love the everything but the bagel seasoning on the baked potatoes. I think next time I make this though, I'll add some protein, this didn't stick with me until lunch. Six smart points if you are doing #backto30, or 3 points #wwfreestyle for 1/4 of the quiche. The recipe was posted yesterday if you missed it.
Even though I am still coughing I feel fine, it's just that nagging cough. My sister suggested we walk in Macy's because it was pretty chilly yesterday, promising to walk slow, so that's what we did. Such a pretty building.
I didn't bring a lunch yesterday. Right when I was about to put my lunch together, Hannah was knee deep in the freezer inventory, so I let her do her thing. Frontera has a take out restaurant on the 7th floor of Macy's. I am spoiled that I am literally blocks from Rick Bayless' restaurants. Jacky, we need to go to Frontera Grill sometime soon after work!
This is his chicken tortilla soup, and don't let the look of it turn you off. OMG, seriously the best soup I've had in a while – probably since I had his soup at Xoco 😀 It is a broth based soup, and you can't see it because the chicken is at the bottom, but it has thick cuts of chicken breast that is so tender. The depth of the soup is unreal. I may have licked the lid. I am counting this soup as 10 points because um, there may be a bit of oil in the soup 😀 and because of the avocado and tortilla strips. So good.
Because of Hannah's excellent organizational skills of my freezer, um, pretty sure I won't need to go grocery shopping for anything but fruit and veggies for the next few weeks. As soon as I realized I had shrimp, I knew I wanted to make Jessica's buffalo shrimp and grits. I adapted this recipe a bit to make one serving, and reduced the amount of butter and oil, but lordy, this is going to be a repeat dinner. It was done in less than 10 minutes.
But here is a tip from me to you. I thought I would save a step by adding the butter and buffalo sauce to the hot pan I just cooked the shrimp in, but I basically pepper sprayed myself with the hot spicy steam coming out of the plate. Because of my bronchitis, my lungs are a bit compromised at the moment, and I basically had a coughing fit for about 5 solid minutes. So heed my directions in the recipe and melt the butter in the microwave, add the buffalo sauce, stir and toss in the cooked shrimp. You'll thank me later.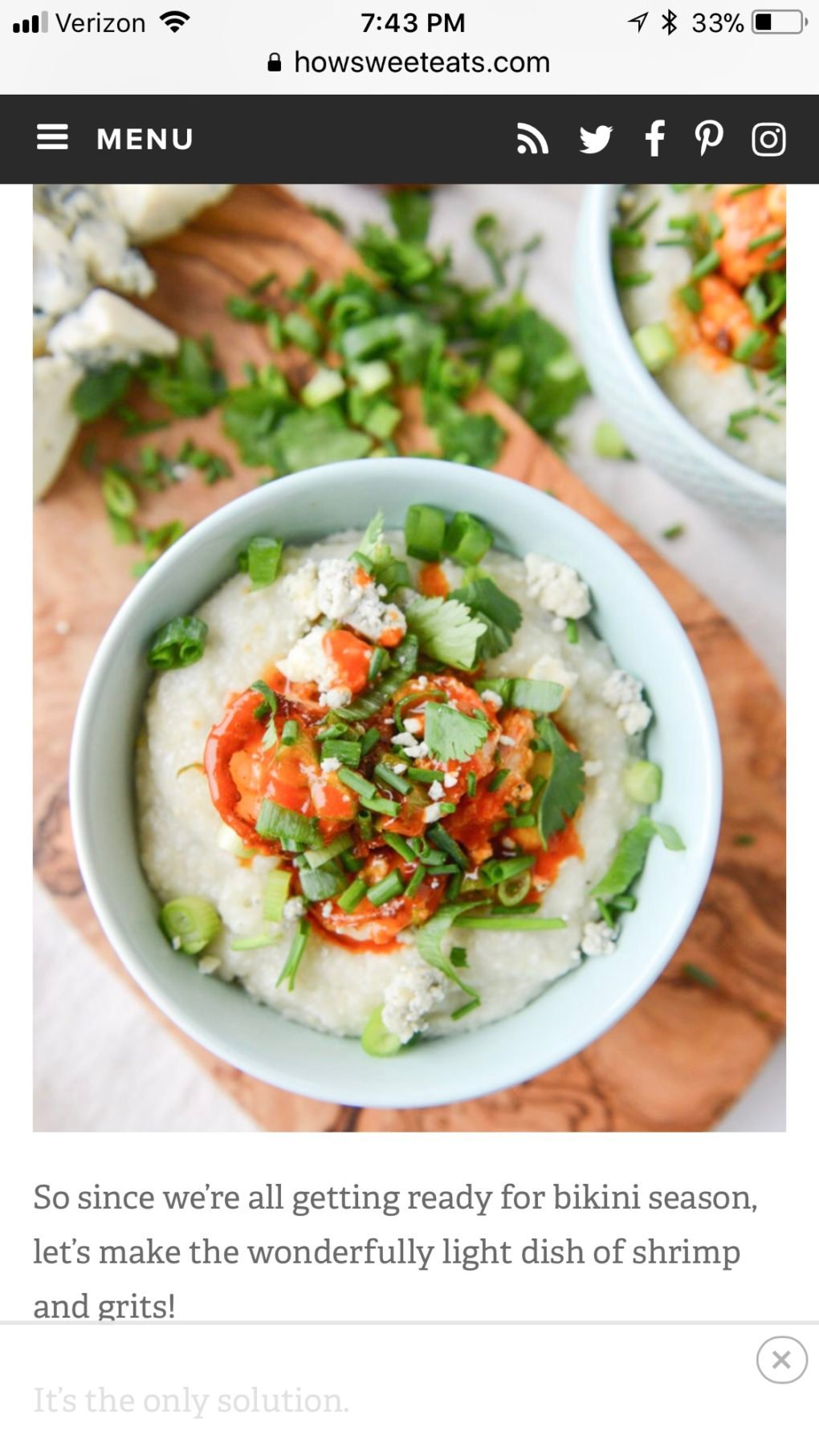 Buffalo Shrimp and Grits
This recipe is loosely based off of Jessica's recipe from How Sweet Eats - thanks for the inspo Jessica!
Ingredients
4 ounces shrimp, peeled and deveined
1 tablespoon flour
salt and pepper
1 teaspoon coconut oil
1/4 cup quick cooking grits
1 cup water
1/2 ounce sharp cheddar cheese
1 teaspoon butter
1 tablespoon Frank's hot sauce
Instructions
Mix the flour, salt and pepper together and toss the shrimp to coat.

Heat a non-stick skillet over medium high heat. Add the coconut oil and when the oil is hot, cook the shrimp for about 1-3 minutes depending on the size of your shrimp.

In a 4 cup measuring cup, mix one cup water with 1/4 cup quick grits, and microwave for 3 minutes.* Remove from microwave, and season with salt, pepper and the cheddar cheese, stir so the cheese starts to melt.

In another bowl, melt the butter and stir in the buffalo sauce.

Plate the grits on the bottom of your plate. Toss the cooked shrimp in the buffalo sauce, and place on top of the grits, and garnish with fresh parsley.
Notes
*you need to microwave the grits in a large container (like a 4 cup measuring cup) because it expands a lot when it cooks and you don't want to clean up a mess in your microwave - not that I know that personally, just telling you because a friend told me.
Link to Jessica's recipe: https://www.howsweeteats.com/2015/03/crispy-buffalo-wing-shrimp-with-blue-cheese-grits/
Nutrition Information:
Yield:

1
Serving Size:

1
Amount Per Serving:
Calories:

336
Total Fat:

15g
Saturated Fat:

10g
Trans Fat:

0g
Unsaturated Fat:

4g
Cholesterol:

263mg
Sodium:

1878mg
Carbohydrates:

16g
Fiber:

1g
Sugar:

0g
Protein:

31g
The shrimp does get crispy with the tiny bit of flour, the grits are a bit salty from the cheese, and creamy. So good – thanks for the inspiration Jessica!
Can you show me some comment love over at The Chopping Block? My weeknight surf and turf just posted yesterday and this one is a winner – and only took 13 minutes from start to finish so no excuse that you don't have time to make dinner at home after a long day. And this one won't break the bank at only $4.02 per serving.
Yesterday was a busy work day, so I expect the same today. It's overcast and chilly, so while I wish I was at home snuggling with the dogs, turns out I have bills to pay, so I'll just power through the day.
Happy Tuesday friends, make it a great day!
p.s. if you love shrimp, check out my crispy sweet sriracha shrimp