This weeknight lasagna soup is perfect for a quick dinner.
Didn't 2017 go by so fast?! I can't tell you how many times I typed a letter yesterday and put 2017 – it's going to take a while before I wrap my head around 2018. In 2018 my step-son will have been out of high school for TEN YEARS already. I met him when he was 10 years old!
Among my many mantras of 2018 is to just take it One.Day.At.A.Time. Do the best you can faced with the day you have and try to make a better choice. The more days you put like that in a row the more likely you are going to have success, no matter what that is.
I had a great day yesterday. Stuck to my food plan (we will ignore my lunch!) and while I didn't make it to the gym, I had so much fun in my kitchen after work, that I know I'll still make my goal of 3 x at the gym before Sunday, so it's all good.
I made another breakfast waffle – 2 points for the waffle, 1 point for the cheese, 1 point for the bacon, and pom seeds and pineapple on the side, which is a great combo by the way. 4/23 (add coffee creamer – 6/23).
It felt so warm outside at 15 degrees with no wind! I met my sister at Macy's and we walked and talked – I hadn't seen her since before Christmas!
If you watched my Instastory over the weekend, you will have seen that I "found" so much stuff in my pantry I had forgotten I had – such as these Joseph's lavash wraps. They were unopened, so I threw those in my bag to make a rotisserie chicken buffalo wrap.
Only one tiny problem – the wrap was dry AF. I tried microwaving it, but that only made it worse, so I picked out the filling and ate that – so lunch was only 2 points. 8/23 – my Fuji apple was delish though – does anyone else eat their apple sliced like that? I think there is much less waste when it's cut like that.
Tracking like a boss though – which was the key to my success at the beginning of last year. One.Day.At.A.Time.
Longtime readers know I LOVE Brenda's lasagna soup recipe. She updated the recipe on her blog last month, so check it out – still after all these years, it's one of her most popular blog recipes.
This is my spin on her soup weeknight style.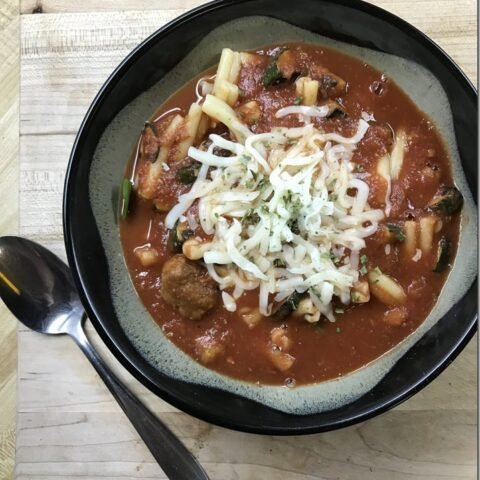 Weeknight Lasagna Soup
This is a quick weeknight version of my friend Brenda's recipe - so good!
Ingredients
4 ounces Jennie-O Italian turkey sausage
1 28 ounce can crushed tomatoes
1 cup chicken broth
2 teaspoons minced garlic
1 tablespoon Italian sesoning
1 tablespoon tomato psta
2 cups cooked pasta
1/2 teaspoon crushed red pepper
1/8 teaspoon salt
1/2 teaspoon black pepper
1 large zucchini, diced
2 cups baby spinach, chopped
2 ounces light mozzarella
Instructions
Cook pasta according to package directions. Alternatively, this is a great way to use up leftover pasta!
Take the sausage out of the casing and make into 8 small meatballs. In a non-stick skillet, saute the meatballs and zucchini for about 5 minutes, until the meatballs start to brown.
In a stock pot add the tomato paste, tomato sauce, garlic, chicken broth, Italian seasoning, crushed red pepper and black pepper. *the chicken broth might be enough salt, so taste before adding any additional salt.
Add in the meatballs and zucchini, and cook over medium heat for about 5-6 minutes. In two large bowls, put one cup of chopped zucchini in the bottom of the bowl.
Add 1/2 cup of cooked pasta into each bowl. Ladle in the soup dividing the meatballs between the bowls. Top each bowl with one ounce of the light mozzarella cheese and dried parsley.
This is so hearty and filling, it is a big hug of goodness in a bowl.
Guess what happens when I don't drink wine at 9:00? I keep busy in my kitchen! I had skinny pizza dough in my fridge from last Friday, and it's perfect. Each ounce of the dough is 1 point, so I made these two point mini apple hand pies! They are close to greatness, so I am not ready to publish this recipe just yet, but I am so close. I need parchment paper to get a better crust on the bottom, and need to fill them a bit more and roll out the dough a little thinner – but close! That didn't stop me from eating one though!
We've made it to Thursday – stay warm my midwest friends and my east coast friends hope the snow isn't too bad where you are – my Aunt Cele had snow in South Carolina!! So crazy.
One.Day.At.A.Time. Make it a great day!