Happy Friday! Um, you know when a lot of people took today off is when you get parking spot #4 at the train station, and you normally park in the 100s! So today at work is either going to be super dead, or crazy busy. I am planning on it being crazy busy and I'll be happy if it's a low key day.
Do you remember when the two ingredient pancake recipe was floating around the internet? Just two eggs mixed with banana – that was it. Well, much like cauliflour mash doesn't taste like mashed potatoes, the two ingredient pancakes tasted NOTHING like a pancake. Although, on the Freestyle program on Weight Watchers, those two ingredient pancakes would be zero points. Just saying.
But what if you want an actual pancake?! Well, this my friends, is the perfect base pancake recipe. Feel free to add fruit to the batter, add chocolate chips (just don't forget to count the points!) add pumpkin to it to make pumpkin pancakes with no added points – the possibilities are endless!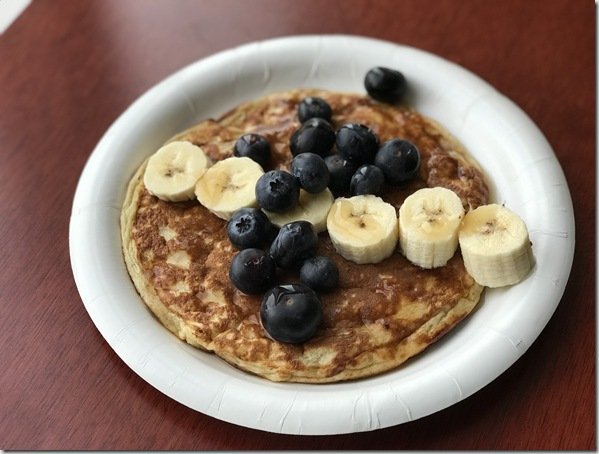 Two Point Pancakes
A great base pancake recipe - perfect to add your personal spin to!
Ingredients
2 large eggs
1/2 cup plain Greek yogurt
1 large banana
1/2 cup flour
1 teaspoon baking powder
1/2 teaspoon salt
1/2 teaspoon cinnamon
Instructions
Mix all the ingredients together until the banana is mashed and the eggs are mixed well. It may be a bit lumpy, but that's okay. Let the batter sit for 15 minutes. I got three LARGE pancakes out of this recipe - the whole recipe is 5 smart points, or 2 points per pancake.
Nutrition Information:
Yield:

3
Serving Size:

1 grams
Amount Per Serving:
Unsaturated Fat:

0g
Check out my other pancake recipes here
!
While I could have eaten all three pancakes for 5 points, one was plenty.
Yesterday I helped my sister with her office pancake breakfast, after a bit of a snafu over electrical outlets not working, it was a big success. Later in the morning though I realized that yesterday was probably the last day I'd see my sister in 2017, as she is off work until the new year and they usually spend Christmas with just her immediate family.
So I suggested we do #fancyfoodfriday a day early. But, with no reservations, we struck out at a couple places before landing at Rosebud Prime. We walked in and while it was packed there too, we found seats at the bar. It was just a shame we had to go back to work and not enjoy a nice glass of wine with lunch!
My computer at home is acting up and for some reason I could not download my pictures, so when I did finally manage to pull pictures off my phone, it pulled 584 all at once. I worked late last night, so didn't download the pics until this morning and ran out of time trying to find the ones I wanted.
But, while I got a delicious burger, my sister got this spaghetti and meatballs and it was amazing – perfectly cooked pasta and a delicious meat ball. I'd get that next time.
*********************
December is a tough month for me – with it being not only the month Tony died, but today would have been our 17th wedding anniversary! So this is the third year without him. So hard to believe, but I've said it before, I've come to peace with the fact that I was put on this earth to take care of him at the end of his life.
I need to visit my parents in law again next year – maybe in January when its 5 degrees and snow is on the ground!
So hug your spouse, significant other, your children, or even your pet a little tighter today, and if they wonder what you are doing, just tell them Biz asked you to do it.
Make it a great day!