This Ricotta Pan Pasta with Jennie-O Turkey Meatballs will be perfect on a chilly night.
I hate snow in March. I really really do. But I know we are never out of the clear for snow in March. Some birthdays when Hannah was little we had water balloon fights because it was so warm, other times we had five inches of snow. I remember on Hannah's 7th birthday it worked out perfect because she was going to school for an art fair the morning of her birthday party from 9-12, and her party started at 1. I had it planned perfectly – I'd wrap her gifts, shovel the snow down my front walk, finish decorating her cake – three hours was plenty of time to get that all done!
Except when I went to leave, she begged me to stay. Not just for a few minutes, but THE WHOLE TIME. I was in a panic – how was I going to get it all done? Well, the fast answer was, I didn't. And Hannah was none the wiser. The only caveat was that I never did get a chance to shovel my walk to the front door, and a couple parents gave me a stern look
So here is what I woke up to:
Just noticed Hannah never brought in the extension cord when she and Jacob had a bonfire a couple weeks ago and hung up lights around the gazebo! #klassy
So my breakfast was a plate of sunshine on the cold, snowy, overcast day. I made an egg white omelet microwaved dish – 2 ounces of canned potatoes on the bottom, 1/2 cup egg whites, baby spinach – cook on high for 2-3 minutes until the eggs are cooked, then flipped it and added 1/2 ounce of cheese on the top. On the side was turkey sausage and fresh fruit – pineapple to make me think I was in Hawaii! #not
When I took this picture, it looked like I had sliced banana on top of my eggs, and a couple people on Instagram thought I had lost my damn mind! (thank you Christina and Kym for your concern!)
My sister and I talked mid-morning and she definitely did not want to walk in the cold/snow, and neither did I to tell the truth. I thought I'd just hit up my office gym and walk on the treadmill for 45 minutes before heating up my lunch. But I remembered I didn't have my key card to get into the gym (I switched bags) and it would have been a hassle to get a temporary one from the office of the building, so I just bundled up and got to walking. I was trying to get the Sears Tower in the picture, and didn't notice the light post coming out of my head!
Yesterday was a higher carb day, so I had chicken fried rice for lunch. Since I was walking by myself, I walked to Mariano's – not even thinking of buying anything, but just walking around getting more steps indoors. But then I saw this wasabi sauce and it made me stop in my tracks. I did not alter that picture below at all – that's the actual color of the sauce, and if you love wasabi like I do, go buy this. It's only 10 calories (zero points) a serving and it has the zip of heat that goes away after a few seconds like wasabi does. Even though Tony didn't like spicy stuff, he could tolerate wasabi when he ate sushi because the heat didn't last. I still have yet to recreate a stir fry like Tony even close to what he could make. I even watched the video Tony made, but to no avail. I did use less soy sauce than he normally did, although his always turned out great, so I don't know why I question the amount I use. My plate came in at 8 smart points – 6 for the rice, 2 for the chicken and the rest was free.
I actually got a lot of stuff done at work that I wanted to. Are any of you like me that have a list of things you want to get off your desk, but constant interruptions foil your attempts to cross anything of your list? Well surprisingly yesterday both my attorneys hardly bothered me at all. So that means today I'll probably be swamped
I am on Jennie-O Turkey's Blogger program and I am given products to try every other month. In January I made the perfect turkey burger and turkey and bean chili. I did just realize that I was supposed to make a breakfast dish with this turkey sausage they sent me, but is it wrong that I thought of meatballs when I first saw the product? You all know how I am about the balls!
This dinner was ready in less than 20 minutes, and while I only made one serving, I am writing the recipe for 4 servings. Each serving on the WW recipe app is 12 smart points.
Each serving of this Ricotta Pan Pasta with Jennie-O Turkey Meatballs is 1 cup of the cooked pasta and 6 meatballs (or three ounces). Sprinkle with a bit of Parmesan cheese and dinner is served!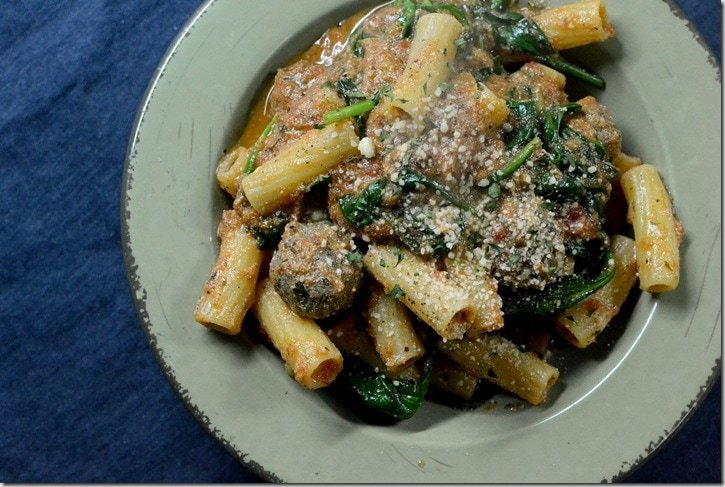 Ricotta Pan Pasta with Turkey Meatballs
This quick and easy weeknight dinner is perfect for those nights when you don't have a lot of time to spend in the kitchen. It's ready in about 20 minutes!
Ingredients
8 ounces dry pasta
2 cups marinara sauce
4 tablespoons part skim ricotta
12 ounces Jennie-O turkey sausage
1 tablespoons Italian seasoning
1/2 teaspoon crushed red pepper
1 tablespoon dried parsley
4 cups fresh baby spinach
Instructions
Heat water for pasta.
Meanwhile mix the sausage, Italian seasoning, garlic, crushed red pepper, parsley, salt and pepper and mix just until combined. For each 3 ounce portion, I made 6 meatballs, but feel free to make them however big you like them. Heat a cast iron or non-stick skillet over medium high heat and spray with coconut oil spray (it can withstand the high heat) and sear the outside of the turkey meatballs.
Reduce the heat, and add the marinara sauce and let the meatballs simmer in the sauce until the pasta is ready. Drain the pasta, add that to the meatball marinara pan, stir in the ricotta cheese and baby spinach, and put a lid on the pan for 1-2 minutes until the
spinach starts to wilt - it will seem like too much, but no worries!
This was so delicious. Pure healthy comfort food at it's best. I defrosted my zero point marinara for this dinner before I went to work, but just check the labels of store bought marinara if you go that route – a lot have a ton of added sugar in them (look at the ingredient list).
*************
On my way home from work I saw two different people make my chili and each gave it two thumbs up! First up my friend Meg from Instagram:
And then my high school friend Matt who I am friends with on Facebook made my buffalo chicken chili.
That's basically what I do – changing lives, one chili recipe at a time! (ha!)
I forgot to mention that my latest post is on The Chopping Block website – Kris, you'll be happy to see a Vegan dish for my daughter-in-law. If you could send me some comment love over there, I would appreciate it! I made a lentil pasta with a kale pesto – so good, even coming from a meat eater like myself.
p.s. if you love pasta, check out my macaroni and cheese – made with greek yogurt – it's so good!