You guys are going to love this braided apple pie – so good!
It was nice to have a semi-long weekend. While I had Thursday and Friday off, I worked Saturday and Sunday at The Chopping Block. We had a nice Thanksgiving, having my Mom and Jacob's family over – I think it's the first time in a very long time that he's had his Dad and his brother at the same dinner table, regardless of it being Thanksgiving. Jacob's grandparents came too, bringing deviled eggs and stuffing, and his Mom joined us later for dessert.
Hannah did the side dishes, I grilled up turkey breasts, wings and legs, and I made an apple pie. I actually decided to switch up my usual apple pie. Whenever I think about apple pie, it reminds me of when Tony decided to dress up my apple pie before going into the oven several Thanksgivings ago:
This will be a tough week for me as we are nearing the two year anniversary of his death. I miss how he made me laugh, his hugs and his kiss. How can it be two years already?!
So as not to start crying, let's get back to the pie. I watched several youtube videos on my train ride home last Wednesday night. I've seen braided pies before and thought "could it be that difficult?!" Well, the answer is yes and no. Braiding on a table is a lot different from braiding hair, but after a couple tries I got the hang of it. I also cheated and used refrigerated pie dough.
This is where I got my inspiration from, and this was the look I was going for:
I rolled out one of the pie crusts and just used my pizza cutter to cut cut it into strips.
I did not use the outer pieces of the dough because they were too short. And I added several braids together to do the outer layer around the pie. I tried to do a lattice top, but by then my dough was starting to get soft, and I figured I should just quit while I was ahead. Here is how mine turned out. I actually like how rustic it looks!
For serving, I added a scoop of Talenti caramel cookie crunch and drizzled with jarred caramel sauce. Holy balls was this insulin worthy! The apple pie filling is from The Chopping Block. Have you ever made a braided apple pie?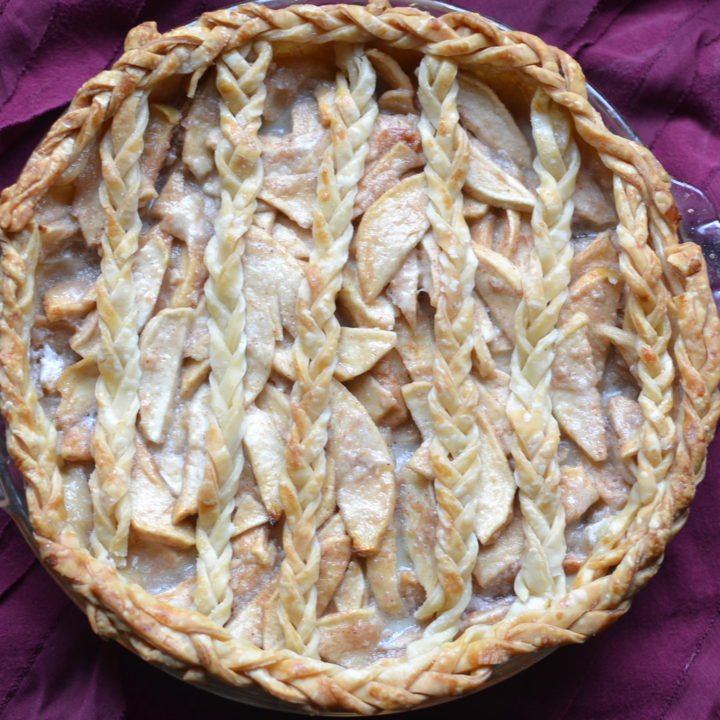 Braided Apple Pie
Cook Time:
1 hour
45 seconds
Total Time:
1 hour
20 minutes
45 seconds
A braided pie crust looks difficult, but it's really easy! And this recipe uses refrigerated pie crust - easy peasy!
Ingredients
2 refrigerated pie crusts
3 pounds granny smith apples (or fuji or honeycrisp)
1/2 cup all-purpose flour
3/4 cup sugar
1 teaspoon ground cinnamon
1/2 teaspoon salt
3 tablespoons unsalted butter, cut into small pieces
Instructions
Heat oven to 375. Peel and core the apples and cut them into 1/2 inch wedges. Toss apples, flour, sugar, cinnamon and salt in a large bowl and mix well. Let sit while rolling out the dough.
Lightly dust a clean surface with flour and roll one dish of dough into a 1/8 inch circle. Gently roll the dough onto the rolling pin and place it into a pie dish (I sprayed with Pam), allowing the excess to hang over the edge. Add pie filling to the pie and sprinkle the small pieces of butter on top of the filling.
At this point, I put the pie in the fridge while I rolled out the top dough and made my braids. I did a egg yolk/water mixture and brushed that around the edge of my pie so the braids would stick. You can alternatively put the second pie layer on top and insert a knife in several places to create vents. Then using your gingers or a fork, crimp the edges. Brush the top of the pie with heavy cream and sprinkle with sugar. Place the pie on a parchment-lined sheet tray, and bake until the filling is bubbly in the center, the apples are tender and the top crust is golden brown, about 45-60 minutes.
Let pie cool before cutting.
Notes
I used a combination of 1.5 pounds granny smith apples and 1.5 pounds fuji apples.
The other highlight of my weekend was spending Friday night with my step-son Joe, his wife Lizz and Hannah and Jacob. Joe and Hannah were so tiny when I met Tony, only 8 and 10 years old and it's weird to see them all grown up. I am so very proud of all of them.
And with a blink of an eye, the weekend came to a close. I'll be working at The Chopping Block at least the whole month of December, and truth be told, even though I am working 7 days a week, working at The Chopping Block doesn't feel like work.
I got home late Saturday night, nearly midnight, and Hannah was waiting up for me because she started our holiday decorating! She and Jacob put up the tree, and she started putting my snowmen around and hung lighted garland around the front windows – I'll take better pictures later, but it was such a sweet gesture – thanks Hannah!
How was your long weekend? What was your highlight? Here's to a new week – make it a great day!
If you like pie, check out my recipe for peach pie!