Its pretty amazing what you can get done when a job doesn't get in the way. The first two days of this week just flew by, probably because I am doing what I love! Hitting the gym, being Bizzy in my Kitchen, and working on my blog and throwing out my food resume and seeing where it sticks. I've applied for several jobs, and even had a 30 minute phone interview when I was in Austin, which I hope will pan out to a personal interview. Really keeping my fingers crossed on that one, because it would be the job I would have written for myself! But I don't want to jinx it, so we'll just let it simmer on the back burner for a bit.
I did a full grocery shop on Sunday and it felt good to meal plan again since I hadn't in a few weeks. We basically ate through our pantry/fridge/freezer before we went to Texas, and I just did a $30 grocery shop to get us through last weekend. One thing that's been interesting is that being home, I find I am tempted to just snack in between meals which is something that I wouldn't do at work. I need to get a handle on that, otherwise all my workouts at the gym will be for nothing. They always say that you can't workout bad eating habits!
I've had some good eats though!
Pretty sure if you put Frank's hot sauce on anything, I'd eat it. Well, okay, not everything. I put on Instagram that I'd eat buffalo liver, but I wouldn't eat that – gross! Mom, Bonnie and/or Carl – do you guys still make liver and onions for yourselves? Ew!
I buy prepared chicken tenders at my grocery store, which Jacob has declared the best chicken tenders he's ever eaten. Not gonna lie, they are pretty good – just enough crunch of the batter, and it's all chicken breast on the inside. Five ounces, or about two generous size tenders comes in at 7 smart points. I just tossed the tenders in Frank's hot sauce, and wrapped them in Tumaro's ancient grain low carb wrap with a touch of ranch dressing – with carrots and fruit on the side, lunch came in at 9 smart points.
Irish soda bread – I puffy heart Irish soda bread. My store had it on sale for $2 a loaf, and my measly 1.5 ounce slice is a whopping 5 smart points, but totally worth it. I've subsequently turned Jacob and Hannah onto soda bread too, and they may or may not have bought four more loaves to stock in the freezer. But with my egg white, spinach, hot sauce scramble and fruit, breakfast was 8 smart points.
I made another batch of

barbacoa

– this time I used a pretty lean cut of chuck roast and ended up making romaine beef "wraps" with red cabbage, lettuce and light Cabot cheese with 1/2 cup of yellow rice on the side. That dinner came in at 10 smart points.
Yesterday morning I had planned to do my first group fitness class at the Y. I was excited because my long time blog friend Erica (formerly of Itzy's Kitchen) had been teaching it for so long. The class was an hour long, so I knew I wanted a high carb breakfast, so I ended up heating up Trader Joe's frozen steel cut oats in the microwave, and topped it with blueberries, strawberries, and apples that I sauteed in 1/8 cup of sugar free pancake syrup – a big bowl of food for only 5 smart points!
The group exercise classes at the gym that are popular have numbers handed out – so once all the numbers have been handed out, the class is full. While I totally would expect a 5:30 p.m. class of Body Pump to fill up quickly, I thought arriving 15 minutes before class on a Tuesday morning would be fine. Nope! All the numbers were gone. Rat farts. I found out that the numbers are handed out 30 minutes before each class, so next time I'll get there at 9:30. I still had a good workout – my favorite thing to do lately is my walk/job/sprint workout. I do it at 5 minute intervals. Running and I are interesting – I hate it the first 20-25 minutes, but then I hit my stride, get my breathing under control. I held my last "sprint" for two minutes at an 8:00 mph pace! Gotta love that girl at the gym giving me the stink eye for taking a selfie
When I got home from the gym, it was only 11:45, so I had plenty of time to make soup. Not gonna lie I feel pretty happy to be able to do this. It only took about 10 minutes to prep, let it cook for 20 minutes and lunch was ready! Again, I scored on the $1 rack and picked up Idaho potatoes – two pounds for $1. Roz, I thought you'd appreciate this picture and maybe add it to your Random Heart Project on Facebook?!
I got my inspiration for my potato soup from Gimme Some Oven – she called it a skinny potato soup, and while I am sure it is, I knew there was room for improvement. I left out the bacon step all together and subbed in a piece of Trader Joe's uncured bacon for 1 point as a garnish. I also reduced the potatoes to one pound, added carrots and celery and used 2 ounces of light Cabot cheese as a garnish – 1/2 ounce per serving, but is included in the nutritional serving of 1.5 cups. Without the garnishes, the soup is 1 WW point on #teampurple and 4 points on #teamgreen and #teamblue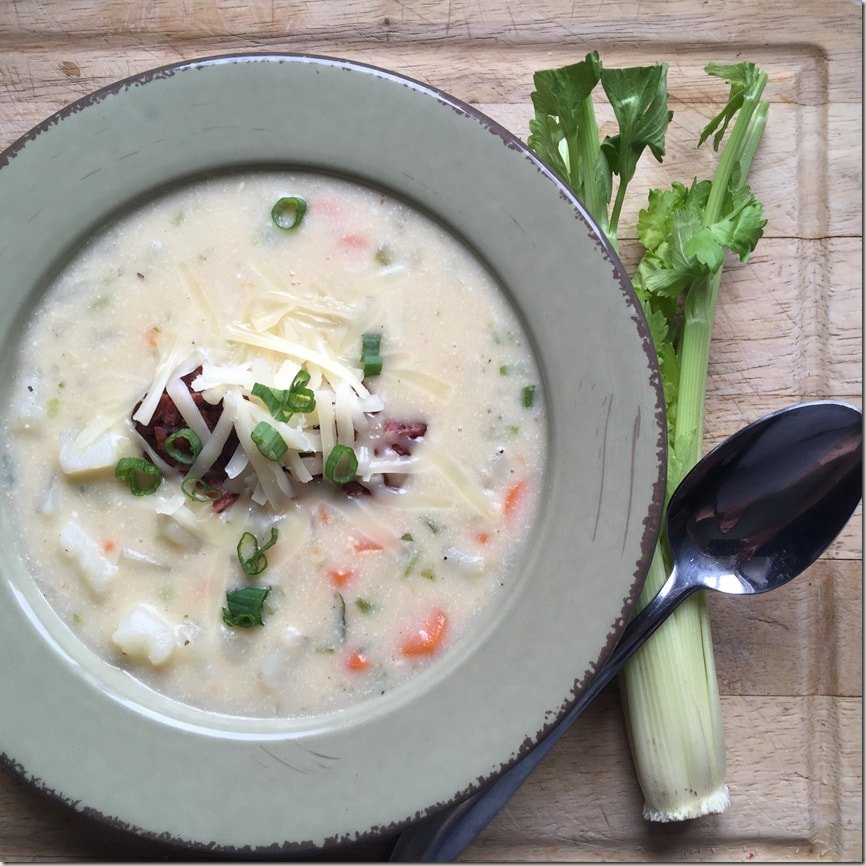 Potato Soup
My store sells a 5 pound bag of russet potatoes for .49 cents a bag about every three weeks. You just have to use them within a week of purchase before the start to go bad. This soup is one of my go to soups. Perfect for a light lunch, or snack in the afternoon.
Ingredients
1 teaspoon olive oil
3 medium carrots, peeled and chopped
3 celery stalks, with leaves if possible, chopped
1/4 cup all-purpose flour
2 cups vegetable stock
2 cups unsweetened almond milk
1 pound Idaho potatoes, peeled and diced
1/2 cup plain Greek yogurt (I used Chobani)
1 teaspoon dried rosemary
1/2 teaspoon salt
1/2 teaspoon pepper
Instructions
In a stock pot, heat the olive oil over medium heat. Add carrots and celery and cook for 5
minutes. Sprinkle the flour on top and cook for 1 minute.
Slowly add the veggie stock and almond milk, stirring until the soup starts to thicken. Reduce the heat to low, add in the potatoes, put
a lid on the pot and cook for 15-20 minute, or until the potatoes are cooked through. Remove from heat and stir in the yogurt and
mix until combined.
Stir in rosemary, salt and pepper and season to taste.
You can use a potato masher to have a chunky soup, or use an emersion blender if you want a smoother soup.
Garnish with cheese and chopped chives.

Nutrition Information:
Yield:

4
Serving Size:

1
Amount Per Serving:
Calories:

205
Total Fat:

3g
Saturated Fat:

0g
Trans Fat:

0g
Unsaturated Fat:

2g
Cholesterol:

1mg
Sodium:

670mg
Carbohydrates:

37g
Fiber:

5g
Sugar:

5g
Protein:

8g
And guess what? While I just used the green onion for a garnish, I actually ate them and it wasn't bad! And after this picture was taken, I did add a bit of crushed red pepper to kick it up a notch, so feel free to add some if you can handle the heat.
*******************
Last week I made a low sugar granola that really tasted like ass – turns out granola is only really good if you add copious amounts of sugar/honey/agave nectar! But guess who's loving it?
This is not Kyle or Lyle – because he's really skittish if I come to the back door, but he LOVES the granola. He probably ate a cup of it over the course of 15 minutes.
***************************
And my bed head continues with short hair! The hair on the left is when I went to bed with wet hair. The one on the right is from, I don't know what!
So excited because I have a lunch date with an old field hockey friend today, who actually has been living in the same town as me for 15 years and we've only bumped into each other once in all those years. Her kids are much younger, so it explains why we haven't run into each other at the high school when Hannah was there. Her two oldest kids are in high school now, and Hannah graduated nearly six years ago already. How did that happen? You know I couldn't go to the lunch empty handed, and when I saw my friend Liz make a banana scone, I knew I would use my $1 bananas to recreate them. Although I made mine a bit healthier, and made them mini, but I'll be sharing my version of the recipe on Friday, because these are really good – and totally worth the 6 smart points!
It makes me so happy to be Bizzy in My Kitchen! Make it a great day!
p.s. My twin sister is back to blogging after taking a bit of a break. She's also on Weight Watchers, and so far has lost 16.5 pounds this year – she'll be posting her tips and tricks on how she eats on WW – you can check it out here. Keep up the great work Jenn!