No news yet to report on Tony. Still waiting for his INR level to drop. The cardiologist stopped by later in the afternoon, but he was just waking up and didn't get everything she said. I called the cardiologists office because she said I could call her if I had any questions, but I never heard back from her. Hopefully today I'll get a call back from her. For the record, I am the note taker for the family! I talked to Tony intermittently throughout the day. He actually is sleeping better during the day for some reason, so twice when I called him I woke him up. Today marks Day 7 at St. Mary's and I know it's getting old for him, but as I've said all along, he's at the right place, so we'll just have to go with the flow.
So since it's just me at home this week, I thought I'd give myself a bit of a challenge. My goal is to spend only $15 on groceries this week. Yesterday I didn't spend anything, just used what I had in my freezer, pantry and fridge. It will be an interesting week for sure!
You can't go wrong with a breakfast egg mcmuffin for breakfast. Mom, I am loving the egg cooker you gave me – they taste like I cooked the eggs on top of the stove and don't turn out rubbery like they sometimes do in the microwave – and these are egg beaters, so that says a lot! I used 1/3 cup egg beaters, some baby spinach, 1/2 ounce of mozzarella cheese and nuked it for 1 minute 30 seconds. Um, I may or may not have put some sriracha on my eggs. And I had some strawberries on the side that I am surprised are still good since I bought them over a week ago.
While I had my gym bag packed, it was so nice outside that I decided to take a walk and get some fresh air – I really enjoyed my walks when I was at the hospital. This is just a short 5 minute walk from my office – so pretty! It's mostly corn fields except can you see the gigantic house on the left hand side in the background?
So the weekend before Tony got admitted to the hospital and he was resting, I was doing an inventory of what I had on hand, what to make, etc. I really have no idea when I bought these radishes – I am guessing a month ago? I bought them because it was $1 for the bag, and I love radishes in salad – that nice peppery bite. But as things tend to do in the downstairs fridge, it got pushed to the back and forgotten.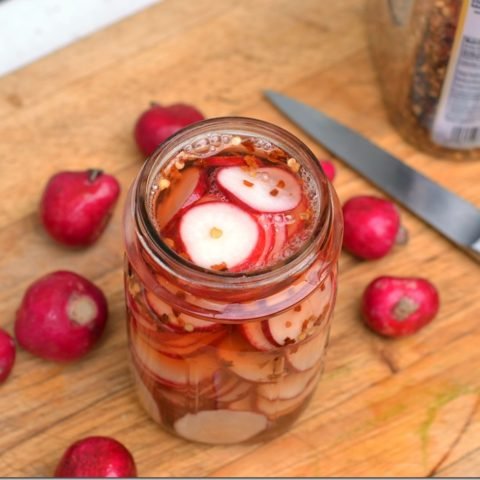 Pickled Radishes
These pickled radishes are tasty as a snack out of the jar, or on a pulled pork sandwich - be creative!
Ingredients
20 radishes, sliced thin
2 pinches crushed red pepper
3/4 cup water
3/4 cup apple cider vinegar
1 teaspoon salt
1 tablespoon honey
Instructions
Instructions
In a pot, boil the water, vinegar, salt and honey. Put the sliced radishes in a mason jar - first fill half the jar, sprinkle with crushed red pepper, fill the rest of the jar with radishes, pour the boiling liquid into the mason jar, and top with the remaining crushed red pepper.
The brine can be used to pickle any veggie you like!
I ended up finding a small package of frozen ground beef in my freezer, so duh, I made tacos! The pickled radishes made the tacos – so spicy good! I melted a bit of extra sharp Cabot cheese on the bottom of each flour tortilla, then added the ground beef, and topped it with diced tomato, red cabbage and the pickled radishes. These were not only really tasty, but they were super filling – I ended up not even starting dinner until after 7!
Long time readers know I am an emotional eater, and let's just say I've been on a bit of an emotional roller coaster these last few weeks. Me, alone with no one to see what I eat = Trouble with a Capital T.
But guess what I did? I came home, put my workout clothes on and did T-25. I didn't call for a deep dish pizza to eat all by myself in solitude! #nonscalevictory!
And while Tony is away, I thought I'd try a couple things that I've pinned that I knew Tony wouldn't touch with a ten foot pole. I pinned this recipe called an Israeli Salad. It looked like summer in a bowl, but I modified it to make 1 serving and to suit my taste. And left the stinky red onion out. I also added cooked orzo to it to make it more of a complete side dish. I am actually not sure what makes the original dish Israeli, so I am calling it a Summer Orzo Salad.
Summer Orzo Salad for One
1/3 cup diced English cucumber
1/2 cup diced yellow and orange pepper
1/2 cup cooked orzo
1/4 cup diced tomato
2 tablespoons chopped cilantro
juice of half of one lime
zest of half of one lime
1 teaspoon olive oil
salt and pepper to taste
pinch of crushed red pepper
Just mix everything together and let it sit for about 10 minutes. I found two small hanger steaks in my freezer. I ended up defrosting both of them, and cooked one to go with my dinner tonight and the second one will be part of breakfast tomorrow. Each one was 3.5 ounces before cooking. Since they were so small, instead of my usual 2x2x2x2 method (8 minutes to a perfect medium rare sirloin) I did 1x1x1x1 – still gotta have those grill marks!
This was so good – I imagine this salad would only get better the longer it sits and it would have a chance for the orzo to absorb more of the flavors. Definitely a keeper!
I got all my steps in and then some too:
And I forgot to download this picture for yesterday's post, but by miracle of miracles, I only gained .4 last week. Not too bad!
Alright, time to put my stuff together – it looks like it might be a rainy day so it will be a gym workout today. I made cinnamon chip scones last night too that I'll post about tomorrow – they taste just like Starbuck's except mine are only 166 calories and 20 grams of carbs vs. 480 calories and 70 grams of carbs. Blog reader Ruth – I finally found the Hershey's cinnamon chips at my store!
Make it a great day!