Crustless quiche and almond milk alfredo – two recipes in one post – whoop!
I never thought I would be a morning person, but on weekdays, I love getting up early so I don't have to rush around before heading to work. Most mornings I am up between 6:30 and 7:00, which gives me either an hour and a half or an hour before I have to head out the door. Believe me, I used to be the person that would sleep until the last second and then get ready and out the door in 15 minutes!
So I had time to make quiche! I baked up a couple baked potatoes over the weekend, so I sliced up one baked potato for the crust of the quiche. I love how the plain Chobani made this almost taste like a custard! This makes 4 servings. If you like a crusted quiche, check out my mini veggie quiches.
Crustless Quiche
Most of the calories in quiche is from the buttery crust. I use potatoes as the crust and it's just as delicious!
Ingredients
8 ounces sliced potato
2 ounces deli ham, chopped
4 ounces broccoli, chopped
1 cup liquid egg whites
1 cup unsweetened almond milk
1/2 cup Chobani (or any nonfat Greek yogurt)
2 ounces of mozzarella cheese
salt, pepper, crushed red pepper and cayenne pepper to taste
Instructions
Heat oven to 350. Place the potato on the bottom of your pie pan, top with ham and broccoli. Mix together the egg whites, almond milk and Chobani, using a whisk to break up the yogurt and incorporate it into the milk and eggs, mix in seasoning and pour into pie pan. Top with cheese and bake for 45 minutes, or until the quiche is set and the top is browned.
Nutrition Information:
Yield:

4
Serving Size:

1
Amount Per Serving:
Calories:

194
Total Fat:

6g
Saturated Fat:

2g
Trans Fat:

0g
Unsaturated Fat:

3g
Cholesterol:

19mg
Sodium:

525mg
Carbohydrates:

20g
Fiber:

3g
Sugar:

5g
Protein:

17g
I had strawberries on the side, but for some reason, this was so filling, I never even ate them!
I talked one of the attorneys in my office to walk with me at lunch. It was sunny, about 46 degrees. We drove to the path near my office that I used to bike – two years ago!
We ended up walking a brisk pace for 40 minutes. It's funny because she's really tall and her strides were twice the length of mine – I had to walk fast to keep up! Well that, and she's also 16 years younger than me!
I still had leftover steak to use up. I swear it seems to keeps on going – it was an $8 steak and I think yesterday's lunch was the 4th or 5th meal I've made out of it. This time steak tostadas! I had 3 corn tostadas, 3 tablespoons of my stove top refried beans, 3 ounces of steak, and I had a mixture of shredded carrot, red cabbage and lettuce, then topped it with Cabot chipotle cheese and my baja fresh salsa. All three of these come in at 415 calories!
I was texting back and forth with Tony yesterday, and I give you another episode of Texting with Tony! This one made me laugh!
Tony is feeling a bit better, but still doesn't have much of an appetite, so he just wanted plain pasta. I had some chicken I needed to cook up, so I decided to try to make an alfredo sauce using unsweetened almond milk. While it might sound weird to have vanilla unsweetened almond milk, this actually worked – it was only slightly sweet, but when combined with the salty Parmesan cheese and crushed red pepper and lemon zest, it was the perfect combo.
This made two servings for the sauce.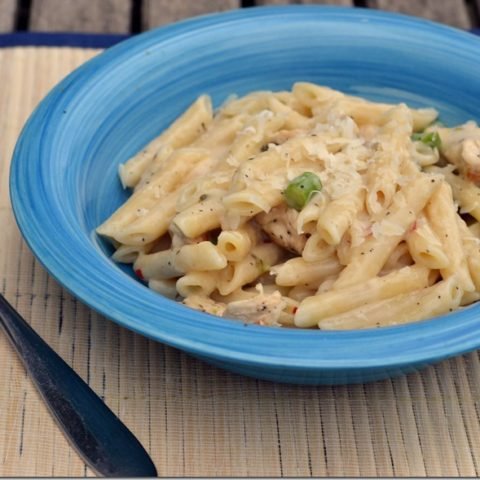 Almond Milk Alfredo
Yield:
2 servings (about 1/2 cup)
This creamy almond milk alfredo is so rich, but light at the same time. Love how it coats the pasta!
Ingredients
1 tablespoon light butter
1 tablespoon flour
1 cup unsweetened almond milk
pinch of crushed red pepper, salt, pepper
1 teaspoon Italian seasoning
zest of half a lemon
1/3 cup shredded Parmesan cheese
Instructions
Melt the butter – add the flour and stir for one minute. Slowly add the almond milk, stirring constantly until it thickens – about 5 minutes. Remove from heat and add in the the rest of the ingredients and stir until the cheese melts. I pan fried 3 ounces of diced chicken, and in the last two minutes of the pasta cooking, I tossed in asparagus.
Nutrition Information:
Yield:

2
Serving Size:

1
Amount Per Serving:
Calories:

145
Total Fat:

11g
Saturated Fat:

6g
Trans Fat:

0g
Unsaturated Fat:

4g
Cholesterol:

25mg
Sodium:

562mg
Carbohydrates:

7g
Fiber:

2g
Sugar:

1g
Protein:

6g
My plate: 1 cup pasta, 1/2 the sauce, the chicken and chopped asparagus – tossed it all together and topped it with a bit of shredded Parm.
I literally only took like three pictures of my dinner, because guess who joined me? Lyle!
I have been spring cleaning my office, and on one of my overhead cabinets I still had this calendar from last July hanging up:
My motto last summer was train insane or remain the same. Remember that girl?! Look at how much I worked out – nearly 90 minutes most days! When my gym opens up next week, I have to get back to basics and get back to my training – right now I am just remaining the same!
Stats for the Day:
1385 calories, 116 carbs, 88 protien, 56 fat and 13 fiber
36% of calories from fat, 25% from protein and 33% from carbs
average blood sugar 122
more than 10,000 steps!
It's going to be a long couple days – I work a double today and tomorrow. Right now I am just keeping my eye on Sunday – my favorite day of the week! Make it a great day!