I am finally posting my recipe for these mini veggie quiches which come in at 5 smart points and have an actual pie crust. These will be in my regular rotation for breakfast meals. They are so customizable, use any leftover veggies you have on hand, and the dough will last in the fridge for up to a week. The secret to a flakey pie crust? Super cold dough before it hits the hot oven. Even though there is only one tablespoon of butter in this whole recipe, this is still buttery and flakey.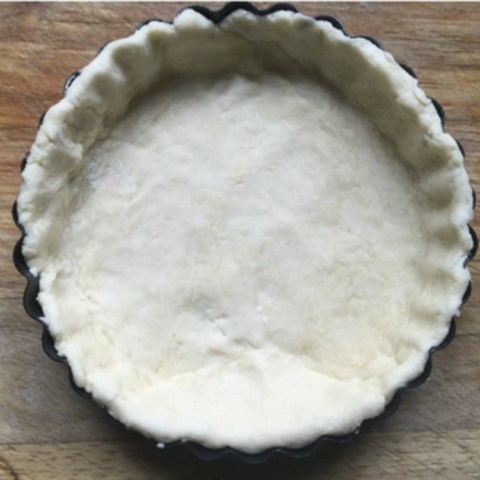 Simple Pie Crust
A classic (but WW friendly!) simple pie crust for desserts, quiches, or anything else your heart desires. It's flaky, buttery, and the whole batch makes 4 servings of mini pie crusts.
Ingredients
1 cup flour
1 tablespoon butter
1/2 teaspoon salt
1/2 teaspoon sugar
1/2 cup water
Instructions
Combine everything in a bowl and mix well so everything is evenly incorporated.
Refrigerate for at least 30 minutes, or overnight. This can be made days in advance.
To cook the crust alone, bake at 350 for about 10-15 minutes until golden.
Or use this dough to make the veggie quiche below.
Nutrition Information:
Yield:

4
Serving Size:

1
Amount Per Serving:
Calories:

141
Total Fat:

3g
Saturated Fat:

2g
Trans Fat:

0g
Unsaturated Fat:

1g
Cholesterol:

8mg
Sodium:

289mg
Carbohydrates:

24g
Fiber:

1g
Sugar:

1g
Protein:

3g
Biscuit Quiche
These mini veggie quiches are great for meal prep. Use whatever combination of veggies you like!
Ingredients
1 batch of simple pie crust above
1.5 cups mixed vegetables
4 eggs
1 ounce goat cheese
1 ounce grated sharp cheddar
1/3 cup cashew milk
salt and pepper
dash of paprika
1 tablespoon dried parsley, optional
Instructions
Divide dough into 4 sections. Using mini tart pans, place the dough into the tart pans.
Heat oven to 400 degrees.
Divide the vegetable mixture between the tart pans. Mix the eggs, goat cheese, cashew milk, salt, pepper and paprika. Divide the egg mixture between the tart pans. Add parsley if using.
Bake for 25-30 minutes.
TO REHEAT: Remove from tart pans. Place in a skillet sprayed with avocado oil spray. Top with 1/4 ounce cheddar cheese and cook over medium low heat for 5-6 minutes, with a lid on, until the cheese is melted on top, and the crust is crispy.
1/4 of the skinny pie crust is enough for this 4 inch tart pan – no worries, I have a picture below of what the pan looks like and what it is called – it was a set of 6 I got at Bed Bath & Beyond for $14.99.
A couple of things to remember – don't fill this with hot sauteed veggies – your crust will be soggy because it will start cooking from the inside. I saute my veggies, and after I put the dough in the tart pans, put them back in the fridge to stay cold before filling. This particular day I had shredded zucchini, roasted red peppers and mushrooms.
For each mini quiche, I scrambled one egg and added salt, pepper, crushed red pepper and a bit of Italian seasoning- add whatever seasonings you like – then pour that into each tart pan. Top with 1/8 cup of part-skim mozzarella for each quiche, add a dash of dried parsley and bake for 30 minutes at 400 degrees.
How pretty do these look?! Let them cool in the tart pans for 20 minutes then remove and continue to cool on a wire rack. These will last in the fridge for probably up to a week if they last that long. I reheated mine in my microwave at work so the pie crust wasn't as flakey as it was when it came out of the oven – if you have a toaster oven available to you, I'd suggest reheating it in a toaster oven. Do you think I could convince my office to buy a toaster oven for me? You know, for all the hard work I do for them?! 😀
A little video of how they look. Mom, let me know if you tried this.
I am sure you might be able to find these cheaper online – maybe Amazon? But they are the 4″ tart/quiche pans made by Wilton. I puffy heart their products.
I reheated this for only 45 seconds, and it was enough to take the chill off (granted, I carried it in my lunch bag for the hour and 30 minute commute to work!) so it was more room temperature, and I was able to eat it with my hands like a hand pie. Yum!
[sp_recipe]
*******************
Gah – I love this summer breakfast! So refreshing. This time I used cashew milk for the chia pudding, you can use any milk you like – with almond or cashew milk though 1/2 cup of the pudding is 2 points or one cup is 5 – gotta love that Weight Watcher math! You can check out my recipe here.
I was solo on my walk yesterday since my sister had a work lunch. My blood sugar was 176 before I left for my walk – perfect! I only walked for about 45 minutes, but maybe I was walking faster because I wasn't talking the whole time, but I got back to my work my blood sugar was 60 and sinking fast. Luckily my friend Toby brought me a pork sandwich for me to try – he's one of the partners at my firm but is a total foodie and follows me on Instagram #love. Those fries in the back? Those were from my boss – so a few fries and that pork sandwich was consumed in about 5 minutes flat, I ate a banana about an hour later and I was good to go.
I was lamenting on my Instagram story that I forgot my fitbit and did the steps really count if my fitbit didn't tell me how many steps I actually got?! Then someone told me – I have a built in pedometer on my iPhone – I had no idea! I was able to add these steps to my fitbit for a pretty accurate step count yesterday. The only steps it missed was the steps at work, so I am sure I got 20k, but I'll be fine with just under 18k for the day!
It was a gym night, so I needed a quick dinner. This one is an oldie but a goodie – a printable recipe is in this post here. Have you had polenta like this? It's cheap, usually $2 a tube, and 1/5 of it is only 2 points. I used 3 points worth of the polenta, did a quick pan fry with 1/2 teaspoon of grape seed oil until golden brown on each side – about 3 minutes a side.
Once I took those out, I cooked the shrimp and shredded zucchini and cooked that two minutes, then reheated 1/2 cup of pasta sauce (2) placed some sauce on each round, topped with the shrimp zucchini mixture, an ounce of fat free feta (0) and dried parsley. Seriously ready in less than 10 minutes.
Xxxx
This is simple enough to make for yourself on a weeknight, but fancy enough for company. This would also be perfect for an appetizer at a dinner party too. 😀
I left for the gym at 8 p.m. – with my Fitbit on! #reunitedanditfeelssogood
I did 45 minutes on the treadmill at 3.3 mph at 11 incline! I was sweaty after that. A quick 5 minute cool down, 10 minutes of the hydro message and I was back home by 9:30.
So while I am a bit salty that I didn't capture all my steps yesterday, not complaining about that total at all.
I've been listening to my friends podcast – Jane "The Mucho Mama" started a podcast a couple weeks ago – I think she already has about six episodes – I listened to #3 and #4 yesterday on my walk. One of the things she talked about was what to do when you think you've done all the right things – tracked points, got blue dots, drank all the water, etc. and the scale doesn't show your efforts. I talked about that in my story, and one of my followers left this comment, and I absolutely love it.
I love the analogy of selling a house to weight loss. You put your house up on the market, it lasts there for 60 days, you do some home improvements by painting, landscaping, then it's under contract, the offer falls through, you get a new buyer and six months later – SOLD!
Same holds true with weight loss – you have to keep adjusting, modifying, tweaking – until those behaviors lead to the outcome you want. Thanks Mary for this inspiration yesterday! You can follow Mary on Instagram here.
It's Wednesday. You can meet your goals today – just for today – tomorrow is a chapter in your life that hasn't started yet – finish writing today's chapter – and choose happiness.
Make it a great day!