This Canadian Bacon Breakfast Casserole will be perfect for a weekly meal prep!
It was dark on Sunday night by the time we ate. I pulled out a pork roast Saturday to defrost and cooked it on the Weber Sunday night. I rubbed it with horseradish mustard, salt, pepper and fresh chopped rosemary.
I know I can cook pork until 145 degrees – pink pork is okay people! But when I took the lid off and looked at it, even though the thermometer said 127 degrees, it looked . . . done.
So I brought it in to rest. After 15 minutes I began to slice it and I saw this deep red center and I was like "what the fuck happened here!" But I took a bite and it was delicious! I brought Tony his plate, sat down to my plate and it took us all of about 20 seconds to realize I cooked a beef roast!! Note to self: label your fucking freezer food! (or alternatively recognize the difference between pork and beef)
It was delicious though!
Best pork Tony ever ate.
My store had Canadian bacon on sale . . . .99 cents a pound! I decided to make a breakfast casserole – one casserole = 4 breakfasts.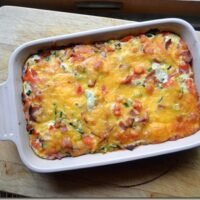 Canadian Bacon Breakfast Casserole
This quick and easy breakfast casserole is great for meal prep - cook once and you have breakfast 4 days! Feel free to switch up the veggies for whatever you like.
Ingredients
12 ounces white potatoes (about 3) cooked in the microwave and cooled
1 teaspoon olive oil
1 cup diced red pepper
1 cup diced zucchini
5 slices (3 oz.) Canadian bacon, chopped
1 clove garlic
3 egg whites
2 eggs
1/3 cup skim milk
1/2 teaspoon red pepper flakes
2 ounces sharp cheddar cheese
salt and pepper
Instructions
Heat oven to 400. When the potatoes are cooled (I actually cooked mine the day before and took them from the fridge), slice and layer the bottom of your baking dish. Salt and pepper the potatoes.

In a skillet, heat the olive oil, add the garlic, red pepper, zucchini and Canadian bacon, cook about 5-7 minutes, or just until the red peppers start to become crisp tender.

In a large bowl, mix the egg whites, eggs, milk and crushed pepper. Add pepper mixture to the egg mixture and mix until combined, and pour over the potato layer in your baking dish. Top with cheddar cheese and bake for 25-30 minutes, or just until the eggs are set and the cheese is golden.
Nutrition Information:
Yield:

4
Serving Size:

1
Amount Per Serving:
Calories:

210
Total Fat:

14g
Saturated Fat:

5g
Trans Fat:

0g
Unsaturated Fat:

7g
Cholesterol:

122mg
Sodium:

495mg
Carbohydrates:

6g
Fiber:

1g
Sugar:

4g
Protein:

16g
I actually put this together in about 10 minutes, then went on my 30 minute walk before work – it was done by the time I got home.
I just wrapped the casserole in some clean dish towels and took it to work – that way I'll have it all week.
My plate with gala apples on the side. Which I've determined I don't like as an eating apple – I think I'll have to sauté the rest of them. Breakfast comes in at 308 calories, 10 fat, 36 carbs, 5.6 fiber and 21 protein.
Loved the potato layer on the bottom. I think next time I'll brown the potatoes in an oven safe dish and make it more like a frittata.
So I thought I had my plastic surgeon consultation appointment to set up the removal of my abnormal mole. I got there right on time. 1:15 on the dot! Only to find out that my appointment is Monday, September 24! My first thought was "I can go work out now!" But sadly, since I didn't think I was going to work out, I gave myself the right amount of insulin and my blood sugar was 134 – too low to work out – it usually drops 100 points during exercise – um, pretty sure 34 would be close to a diabetic coma.
So I got back to the office and heated up my chili – with some tortilla chips on the side. Lunch comes in at 456 calories, 20 fat, 49 carbs, 11.9 fiber and 25 protein.
It was stormy on my drive home. I don't know what it is about rain and driving, but it just slows everything down. It took me nearly 50 minutes to drive 15 miles home! Luckily, I had Company Salisbury Steak on the menu – I kid you not that this is a dinner that is ready in literally 20 minutes from start to finish, even making the mashed potatoes from scratch (just cut your potatoes small and only cover the potatoes by an inch of water – they'll cook faster).
It wasn't until I went to plate this that I realized I never made my wilted spinach on the side. Let's just agree that I got my veggies in my breakfast, mkay?
I had every intention of doing a DVD after dinner while Tony watched Monday Night Football. But turns out I unconsciously put my PJs on before I made dinner, so that set the tone for the evening. No worries, I have six more days til my next weigh in, I'll hit it hard today.
Stats for Monday:
1382 calories, 52 fat, 144 carbs, 20 fiber and 87 protein
average blood sugar 144
30 minute walk before work
What's on your exercise to do list today? My gym bag is packed and I think I am going to do a treadmill sprint/jog/walk today. Make it a great day!