If you are not on the pumpkin spice bandwagon, then these apple crunch muffins will be your go to muffin recipe this fall.
What kind of apples are best for muffins?
There are so many varieties of apples these days that it's sometimes hard to figure out which ones are best for baking. In my experience, fuji apples, honeycrisp apples and zestar apples are my top three favorites.
What ingredients do you need for apple muffins?
flour – I used all-purpose, but self-rising flour works too – I just avoid almond flour because that makes for a dense muffin

non calorie sweetener – monkfruit was used in this recipe, but Splenda or Truvia works great too

salt

baking powder

cinnamon

nutmeg

butter

greek yogurt (use nonfat)

apples

eggs

crumble topping – I used @sevensundays protein oats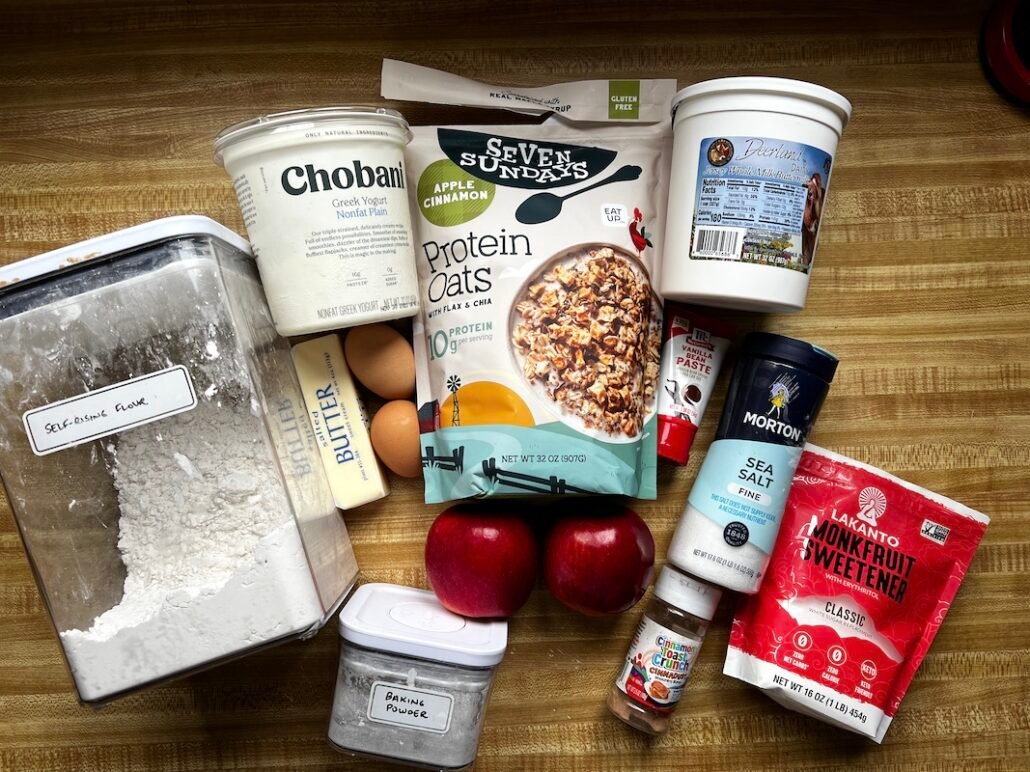 What temperature do you bake muffins at?
My friend Beth (well, I like to think we are friends, but I follow her on Instagram) is a muffin goddess, and she recommends starting the bake at 425 (to get a quick rise of the batter) then reducing the heat to 350 to finish the cooking. I tried one batch at 425 for the whole time, and while I loved the darker color of the muffin, the inside was not cooked all the way through.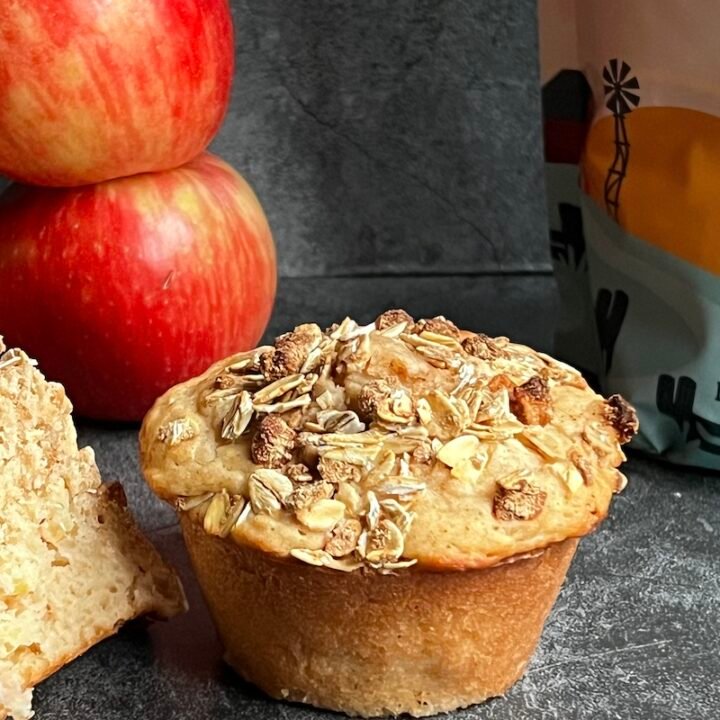 Apple Crunch Muffin
Additional Time:
15 minutes
If you are not about that pumpkin spice life, you need to make these apple crunch muffins. Not only are they delicious, but as of the date of this publication, only 4 WW points each!
Ingredients
2 1/2 cups all-purpose flour
1 cup no calorie sweetener (I used monkfruit)
1 teaspoons salt
2 teaspoons baking powder
1 teaspoon cinnamon
1/2 teaspoon nutmeg
2 tablespoons butter, grated
1/2 cup nonfat Greek yogurt
1 1/2 cups shredded apple
2 large eggs
1/2 cup unsweetened cashew milk (or milk of choice)
1/2 cup Seven Sundays protein oats*
Instructions
Preheat your oven to 425°F (220°C). Line a standard 12-cup muffin tin with paper liners or lightly grease each cup. In a large mixing bowl, combine the all-purpose flour, no-calorie sweetener, salt, baking powder, cinnamon, and nutmeg. Mix well to combine all the dry ingredients.
Grate the 2 tablespoons of butter using a box grater and add it to the dry ingredients. Using a fork or pastry cutter, blend the grated butter into the dry mixture until it resembles coarse crumbs. Add shredded apples and toss to coat. Set aside.
In a separate bowl, whisk together the nonfat Greek yogurt, cashew milk and eggs. Mix until the ingredients are well combined.
Pour the wet mixture into the bowl with the dry ingredients. Gently fold the wet and dry ingredients together until just combined. Be careful not to overmix; a few lumps are okay. LET THE BATTER SIT 15 MINUTES. This allows the baking powder to do its magic.
Divide the muffin batter evenly among the 12 muffin cups, filling each full.** Add a tablespoon of the protein oats on top of each muffin, pressing slighty to adhere to the batter.
Place the muffin tin in the preheated oven at 425°F (220°C) for 7 minutes. This initial high heat will help the muffins rise quickly.
After 7 minutes, reduce the oven temperature to 350°F (175°C) and continue baking for an additional 6-7 minutes, or until a toothpick or cake tester inserted into the center of a muffin comes out clean or with just a few crumbs.
Remove the muffins from the oven and allow them to cool in the muffin tin for 5 minutes before transferring them to a wire rack to cool completely.
Once the muffins have cooled, enjoy your delicious apple crunch muffins!
These muffins are a delightful combination of apple goodness and a satisfying crunch from the protein oats. Perfect for breakfast or a tasty snack any time of the day.
Notes
* If you don't have the protein oats, simply toss 1/2 cup quick oats with 2 tablespoons of brown sugar. The WW points don't change if you make this substitution.
** I follow Beth the First Year and she recommends baking 6 muffins at a time, leaving a space in between to get a higher dome on the muffins.
Nutrition Information:
Yield:

12
Serving Size:

1
Amount Per Serving:
Calories:

228
Total Fat:

4g
Saturated Fat:

2g
Trans Fat:

0g
Unsaturated Fat:

2g
Cholesterol:

39mg
Sodium:

318mg
Carbohydrates:

29g
Fiber:

2g
Sugar:

5g
Protein:

20g
What is Seven Sundays Protein Oats?
I am obsessed with Seven Sundays new protein oats. Think a grown up version of the quaker brown sugar packets you may have had as a kid. It's 230 calories per 1/2 cup, 6 WW points and honestly worth every single one. If you don't have that oat, simply combine 1/2 cup quick oats with 2 tablespoons of brown sugar and it is the same WW points if you make the switch. Code Biz saves 20% off your order if you decide to buy some.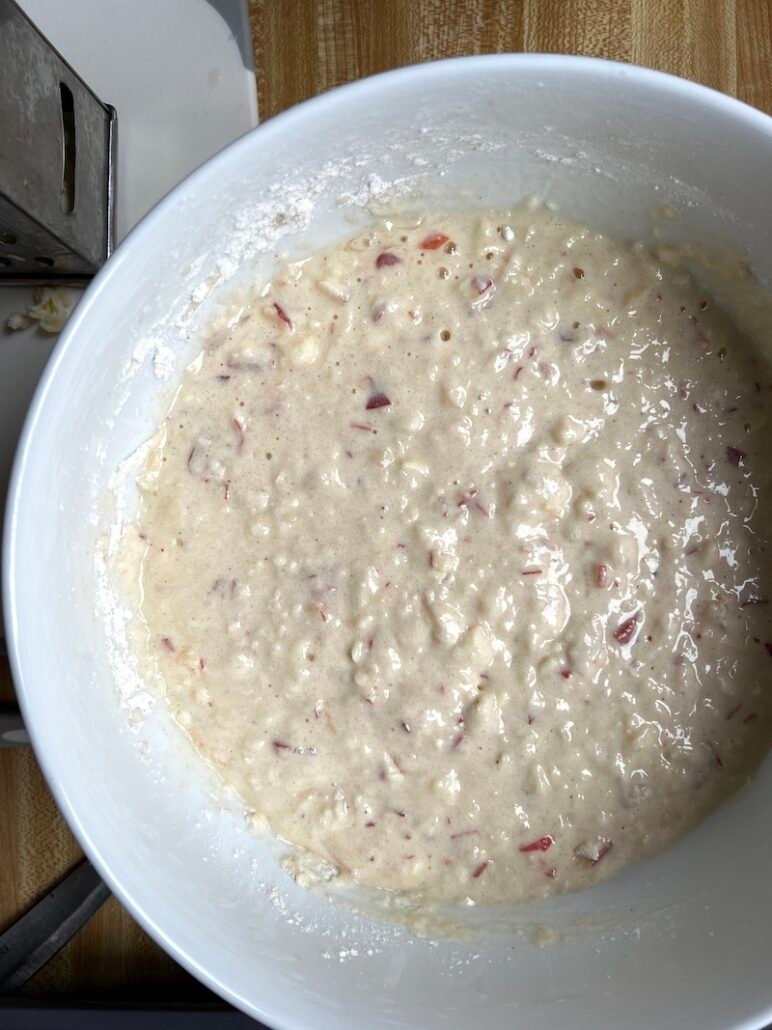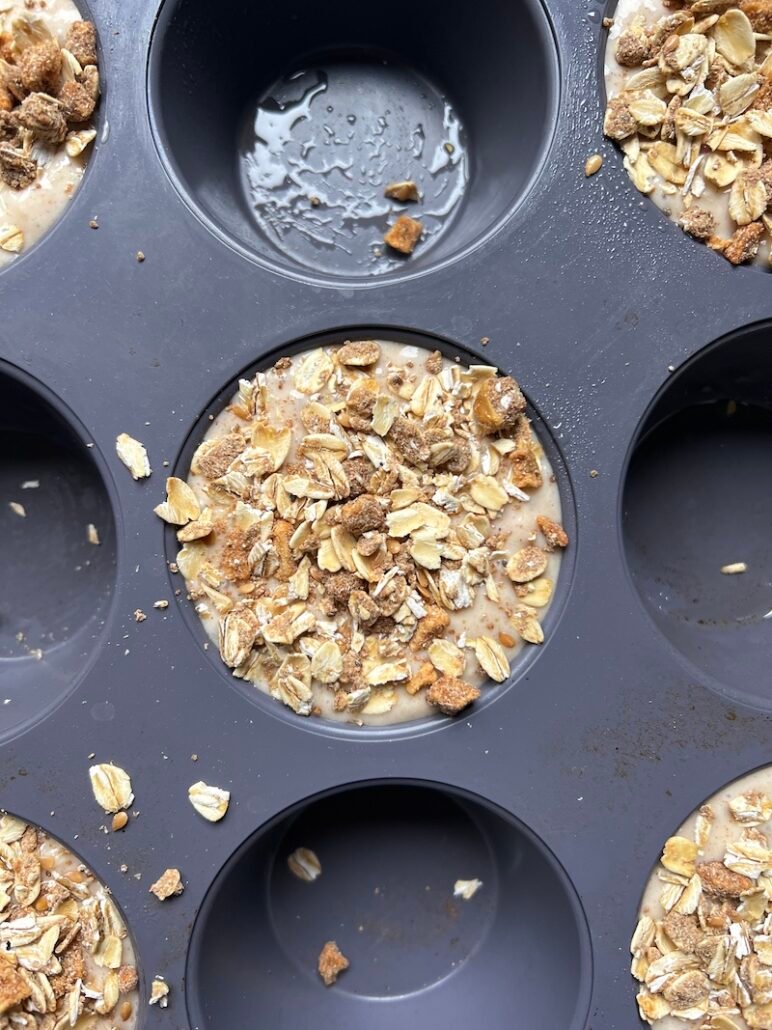 If you happen to be a pumpkin spice person though, check out my pumpkin crunch muffins – so good!