These vegan protein pancakes are the best pancakes I've ever made!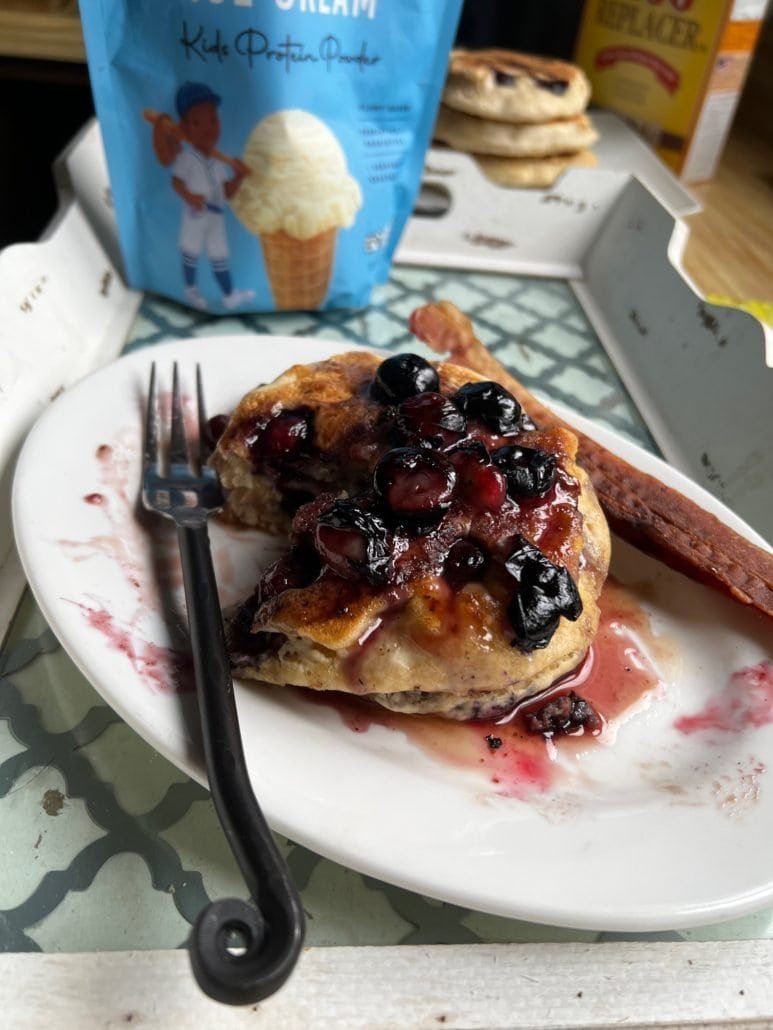 When you haven't been to the grocery store for yourself (I recently spent a long weekend at my Mom's house when my brother and his family were visiting – we went to Mariano's four days in a row!) you kind of have to be creative with what you have. Normally, I am team savory for breakfast, but this morning I had a taste for breakfast. I had a vegan pancake recipe in my newsletter months ago and decided to make those. Only I had no milk – gah!
Safe + Fair Vanilla Ice Cream Protein Mix to the rescue! If you are new to my channel, Safe + Fair has become a very near and dear company that I've worked with for over three years. Every time they come out with a new product I declare it my new favorite, and their protein powders are no exception. When I was trying to figure out a good substitute for my lack of any kind of milk, I saw the protein powder and decided to make a mock buttermilk with it – and by golly it worked!
How to make pancakes without eggs
Egg replacers are not only vegan, but they are shelf stable. My package cost $6.49, which may seem a bit expensive, but it's the equivalent to 113 eggs. Its 15 calories an "egg" has no preservatives, no cholesterol, no added sugar, vegan, dairy free, nut free, soy free and kosher. Simply mix with water and you are good to go. These "eggs" are not meant to be eaten like scrambled eggs, but are great for baking. You can find it at most grocery stores, if not in the baking aisle then in the alternative flour aisle. They are low carb, low sodium and have 0 grams of protein.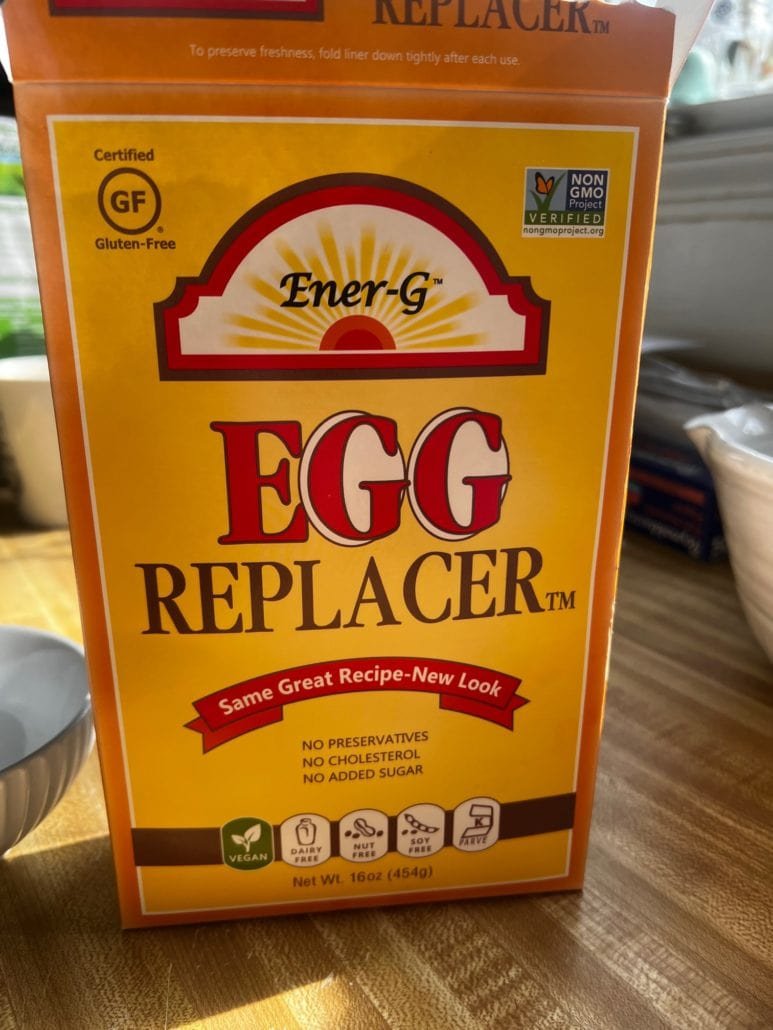 For the alternative to my normal almond milk I use for my pancakes, I simply used one scoop of the Safe + Fair vanilla protein powder and mixed that with 1.25 cups water and a tablespoon of vinegar. Be sure to let it sit for at least five minutes. It will look gross, but I absolutely loved the hint of vanilla in these pancakes paired with the blueberries.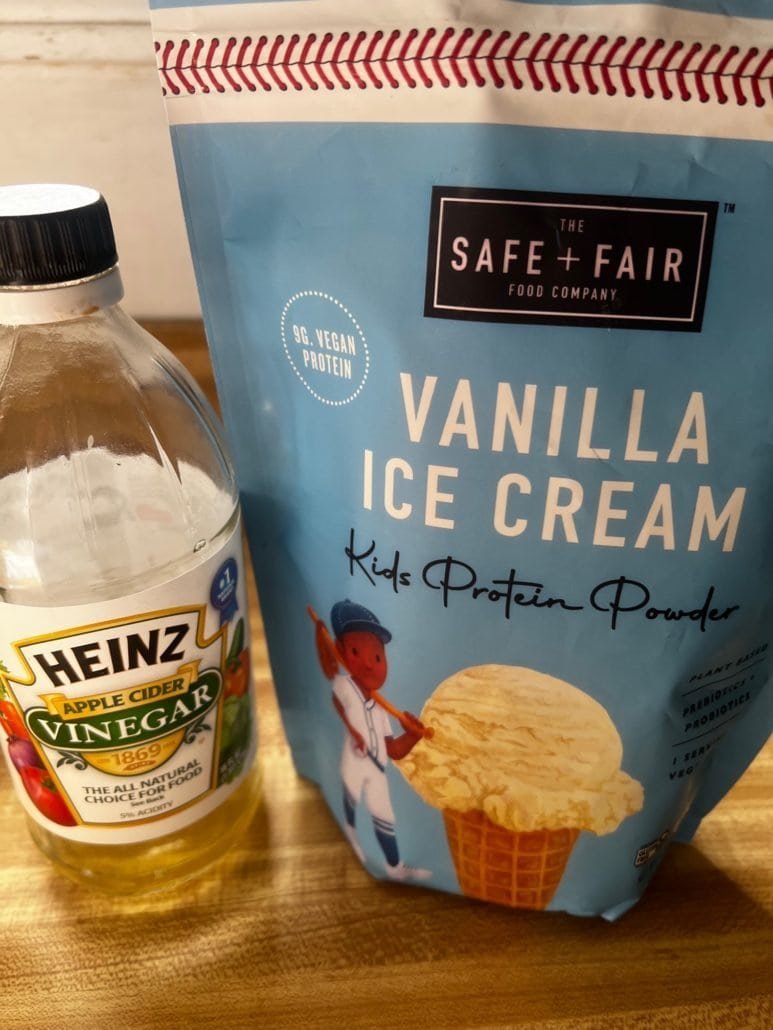 How to get fluffy pancakes
Baking powder is the secret to pancakes and I like using 1 tablespoon per batch of pancakes. At one point early on in my recipe development, I thought if one tablespoon of baking powder is amazing, adding 2 tablespoons would be even better! Sadly, using too much baking powder makes your batter taste bitter and almost metallic. One tablespoon is plenty. But it's most important that you let the batter sit at least 20 minutes before making the pancakes to allow the baking powder to do its magic.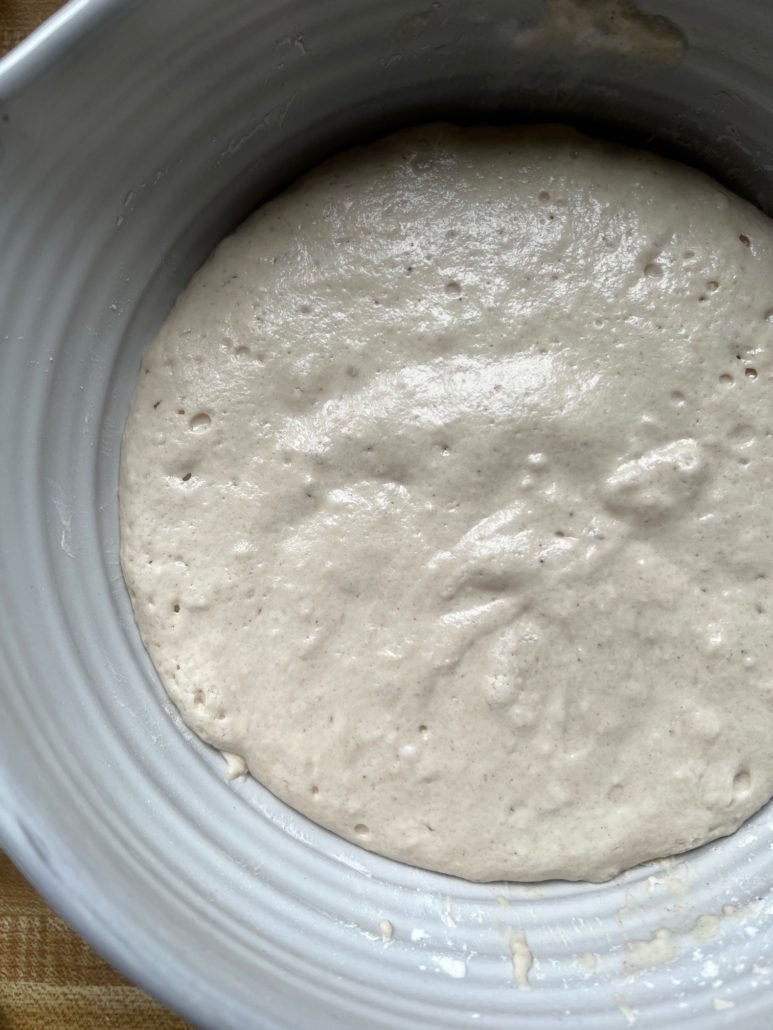 These pancakes are not only fluffy, but they are so flavorful. You may think they need more sweetener but you get that added with the sugar free pancake syrup. One of these for breakfast with a couple strips of bacon were plenty filling for me.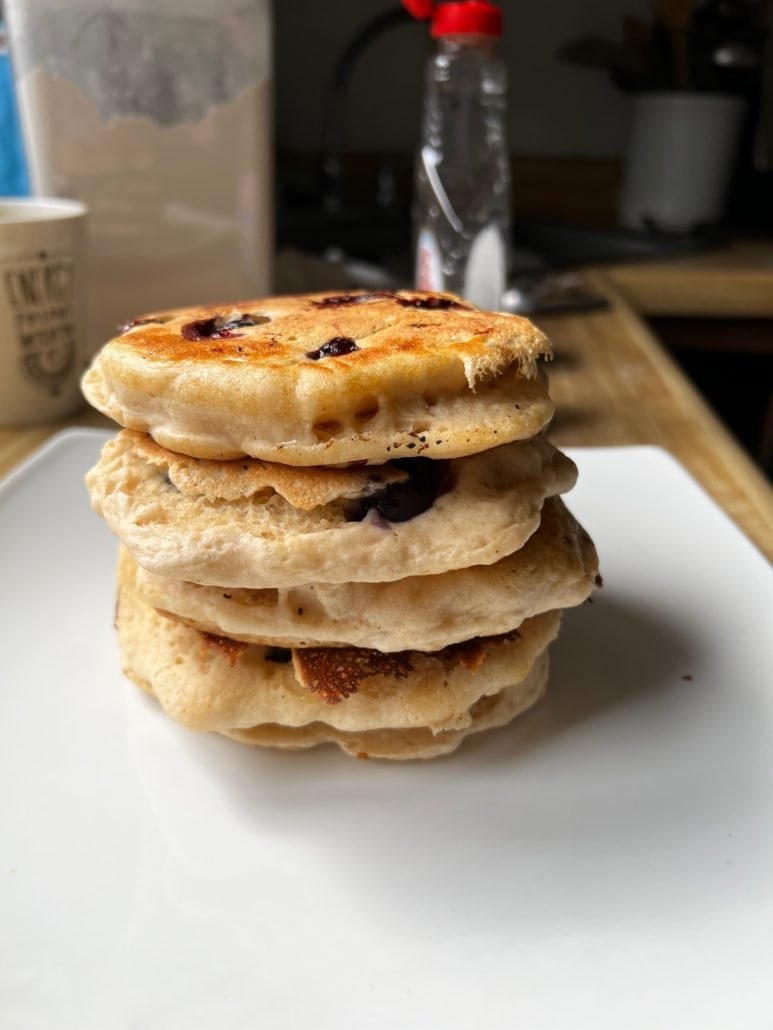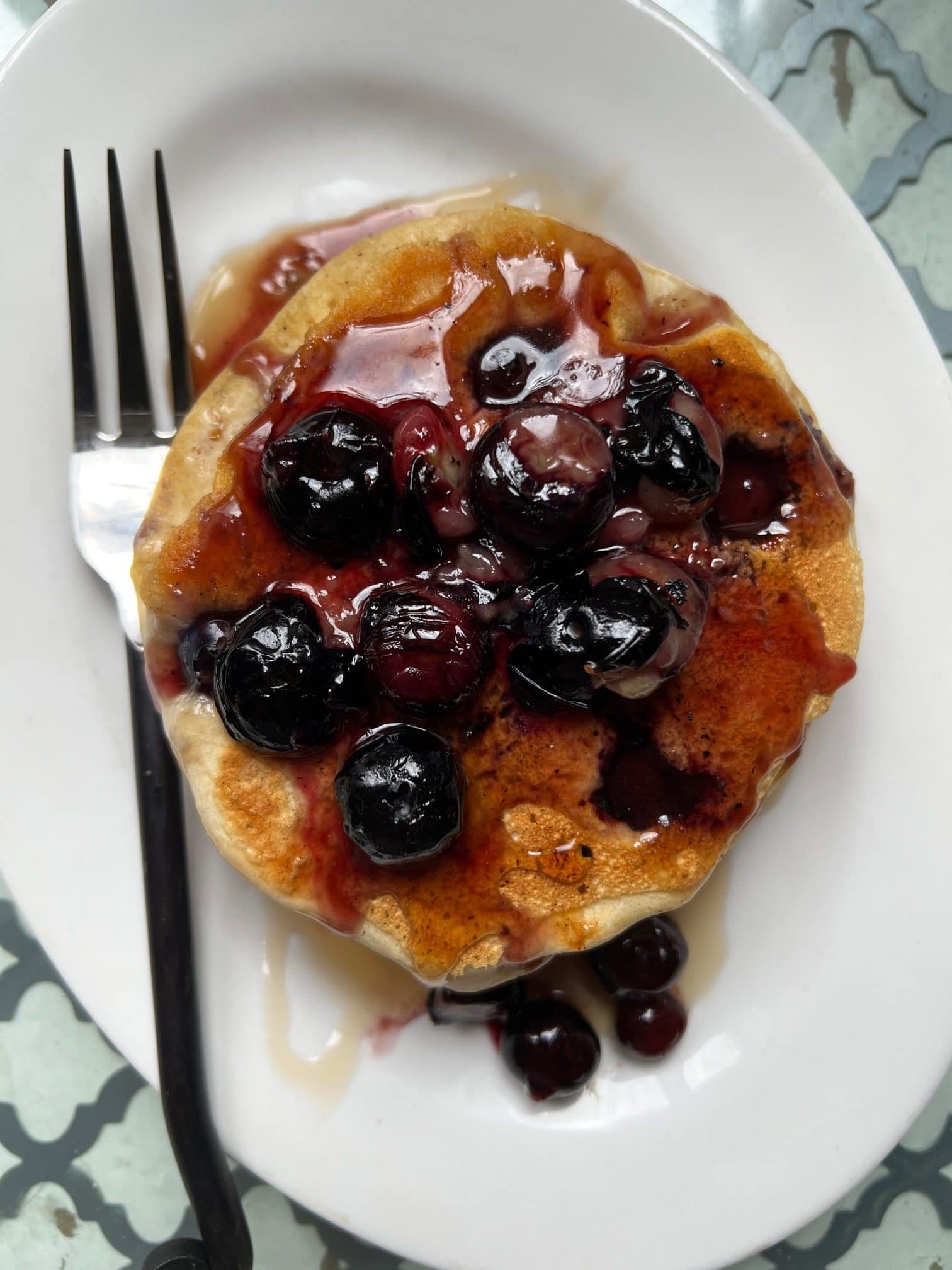 Vegan Protein Pancakes
I hadn't been grocery shopping in over a week and wanted pancakes - but no eggs or milk. Gah! Pantry stable egg replacer and Safe + Fair Vanilla Protein powder to the rescue! These are THE BEST PANCAKES I'VE EVER MADE.
Ingredients
1.5 cups flour (I used self-rising but all-purpose is fine)
1 tablespoon no calorie sweetener (I used Splenda)
1 tablespoon baking powder
1 teaspoon salt
3 teaspoons egg replacer
3 tablespoons water
1.25 cups water
1 scoop Safe + Fair Vanilla Ice Cream Protein Powder
1 tablespoon vinegar (I used apple cider)
1 cup blueberries
avocado oil spray
Instructions
Mix the 1.25 cups water with the scoop of vanilla powder, and mix with the vinegar. Let sit for 5 minutes. This is your mock buttermilk.
Mix the egg replacer and 3 tablespoons water together, set aside.
When the "buttermilk" has set for 5 minutes, mix all the ingredients together except the blueberries and mix just until combined.
Let the batter sit at least 20 minutes to let the baking powder do it's magic.
Using a 1/3 cup measuring cup, cook the pancakes over medium low heat, adding the blueberries to each pancake once the batter hits the pan. Cook each side for approximately 2 minutes.
Nutrition Information:
Yield:

6
Serving Size:

1
Amount Per Serving:
Calories:

195
Total Fat:

4g
Saturated Fat:

1g
Trans Fat:

0g
Unsaturated Fat:

3g
Cholesterol:

15mg
Sodium:

620mg
Carbohydrates:

31g
Fiber:

2g
Sugar:

5g
Protein:

8g
If you love pancakes as much as I do, check out my
Top 10 list
– which I am going to have to add this recipe to the top of that list!
I've had a standing discount code of Biz20 with Safe + Fair for over three years. Simply use my code Biz20 at checkout – if your amount is over $40 after my discount, you also get free shipping!