We are at the point of winter where one foot is still in cold weather, but we can see spring in the horizon. This beef and carrots with gravy dish is perfect for this time of year.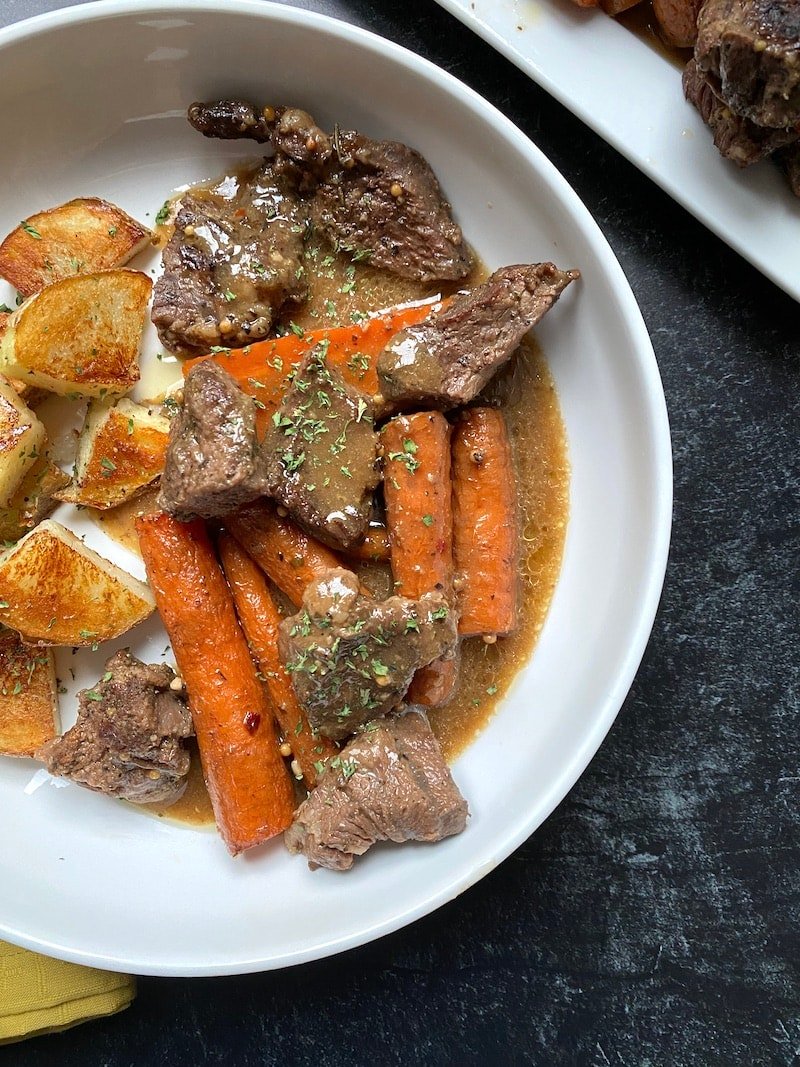 Next time you go grocery shopping, look for beef chuck boneless eye steak. It's super economical at around $4 – $5 a pound. It does have a bit of fat on it though, so after I trimmed a lot of the fat, I was left with just over a pound of meat.
I have two new products to me that I have been using for everything. First though, if you've followed me for any length of time, you know that I love Dak's steakhouse seasoning. The mustard seeds are my favorite part. I think my discount code still works – its Bizzy10 for 10% off. Even though all the seasonings are salt free, I do add salt, but I am able to control it.
Next up is MaD seasoning. A new friend of mine on Instagram makes it – it's literally the best seasoning salt I've ever tried. Not sponsored at all, but if you want to check it out, you can find it here.
Lastly, Super-Fuzed oil is amazing on so many things, from saute to using it as a finishing oil – it's so flavorful. For this dish, I tossed the carrots in two teaspoons of the oil before adding them to the pot. So good! (my discount code for that is 12MYBIZZYKIT to get 12% off).
Don't skip the step of searing the beef before adding the beef broth – your beef will be extra flavorful if you do this step.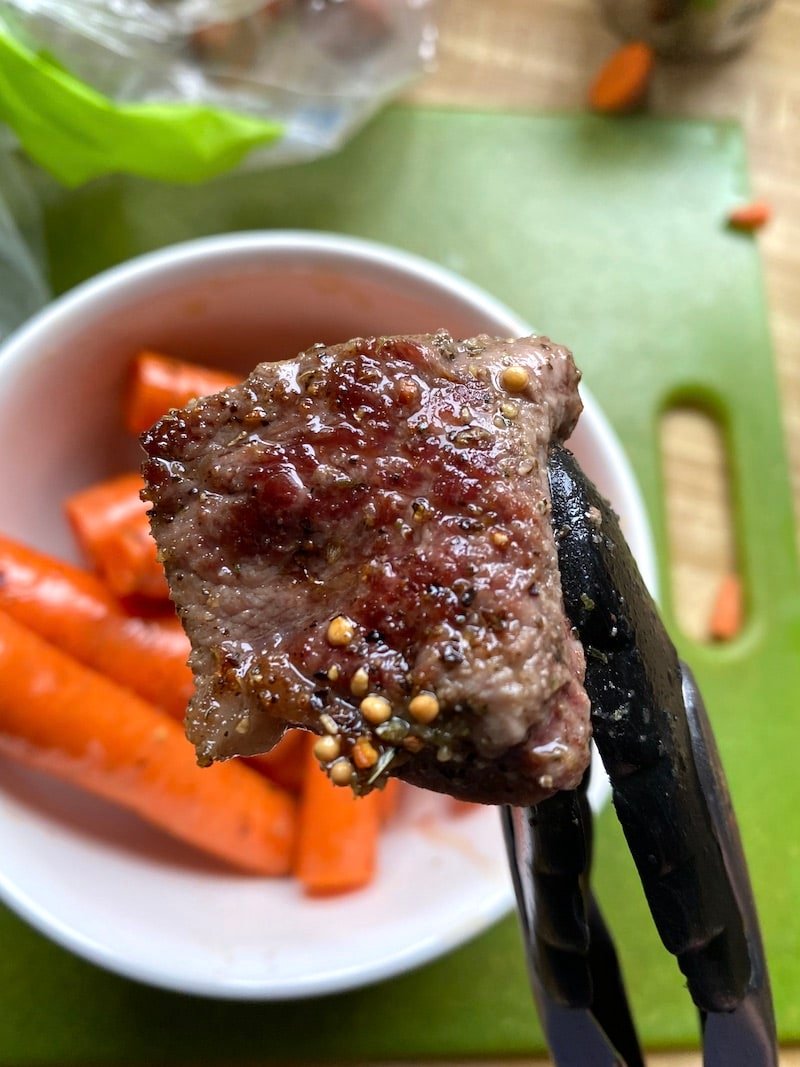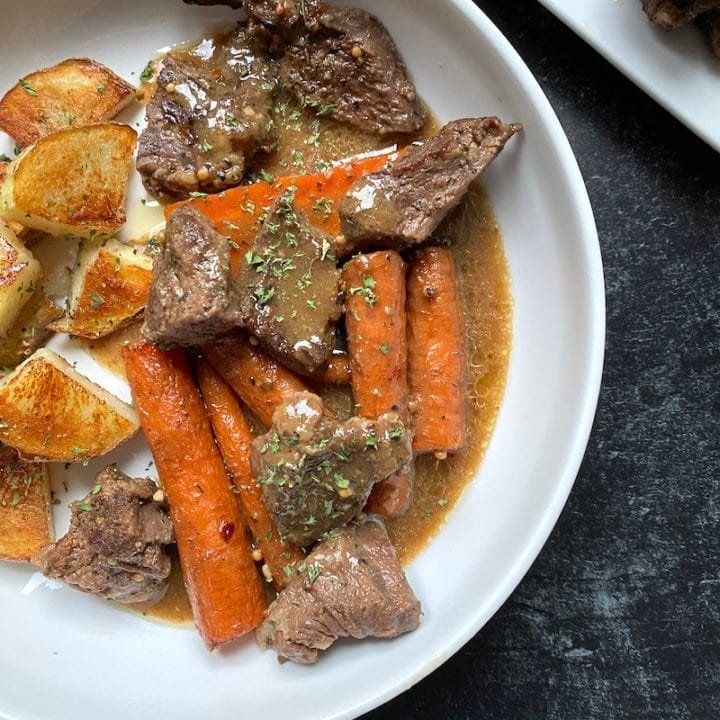 Beef and Carrots with Gravy
Additional Time:
5 minutes
Total Time:
1 hour
10 minutes
Next time you grocery shop, look for beef chuck boneless eye steaks - they are great grilled to medium rare, or also braised like in this dish. Super economical cut at around $4-5 a pound.
Ingredients
1 pounds beef chuck boneless eye steaks, trimmed of excess fat and cut into bite sized pieces
1 tablespoon Dak's steakhouse seasoning
salt and pepper
avocado oil spray
2 cups carrots
2 teaspoons Super-Fuzed oil
1.5 cups beef broth, divided
1 teaspoon mustard
2 teaspoons cornstarch
1/2 teaspoon crushed red pepper
Instructions
Heat oven to 325.
Heat avocado oil spray in an oven safe pot. Toss the trimmed beef in salt and pepper and the steakhouse seasoning. Sear the beef on all sides, about 5 minutes.
Toss the carrots in the Super-Fuzed and add carrots and beef broth and cook for 60 minutes.
Remove beef and carrots.
With the remaining 1/2 cup beef broth, add mustard, cornstarch and crushed red pepper. Add to liquid left in stock pot and cook over medium high heat, stirring, until thickened. About 5 minutes.
To plate: 4 ounces of beef, carrots and drizzle with the gravy. Enjoy!
Notes
On all WW plans, each serving is 6 points.
Nutrition Information:
Yield:

4
Serving Size:

1
Amount Per Serving:
Calories:

464
Total Fat:

24g
Saturated Fat:

8g
Trans Fat:

0g
Unsaturated Fat:

14g
Cholesterol:

166mg
Sodium:

1713mg
Carbohydrates:

8g
Fiber:

3g
Sugar:

3g
Protein:

53g
Let me know if you try this beef and carrots with gravy. Simple, delicious comfort food.