If my husband were still alive, this would be My Mariano's Valentine's Day Dinner.
My late husband and I met in May and married in December, so our first Valentine's Day was when we were already married!
That first Valentine's Day, I found a local restaurant that I wanted to try out. The menu wasn't too expensive, so my husband made me happy and we went. Only one tiny problem. No where on the website did they mention that the Valentine's Day dinner was a pre fix menu – Chef driven as well so there was no choice on what you ate – at $150 per person, without drink or tip.
It was all delicious, but small portions – one of the dishes was a single sea scallop with toasted hazelnut and parmesan creme. It came on this tiny plate, and while stunning, my husband and I left that dinner, having spent nearly $400, hungry and we stopped by Burger King on the way home.
Since that experience, we always made a fancy dinner at home on Valentine's Day. My local Mariano's was my inspiration. They had ribeye steaks on sale for $9.99 a pound, and well that sealed the deal.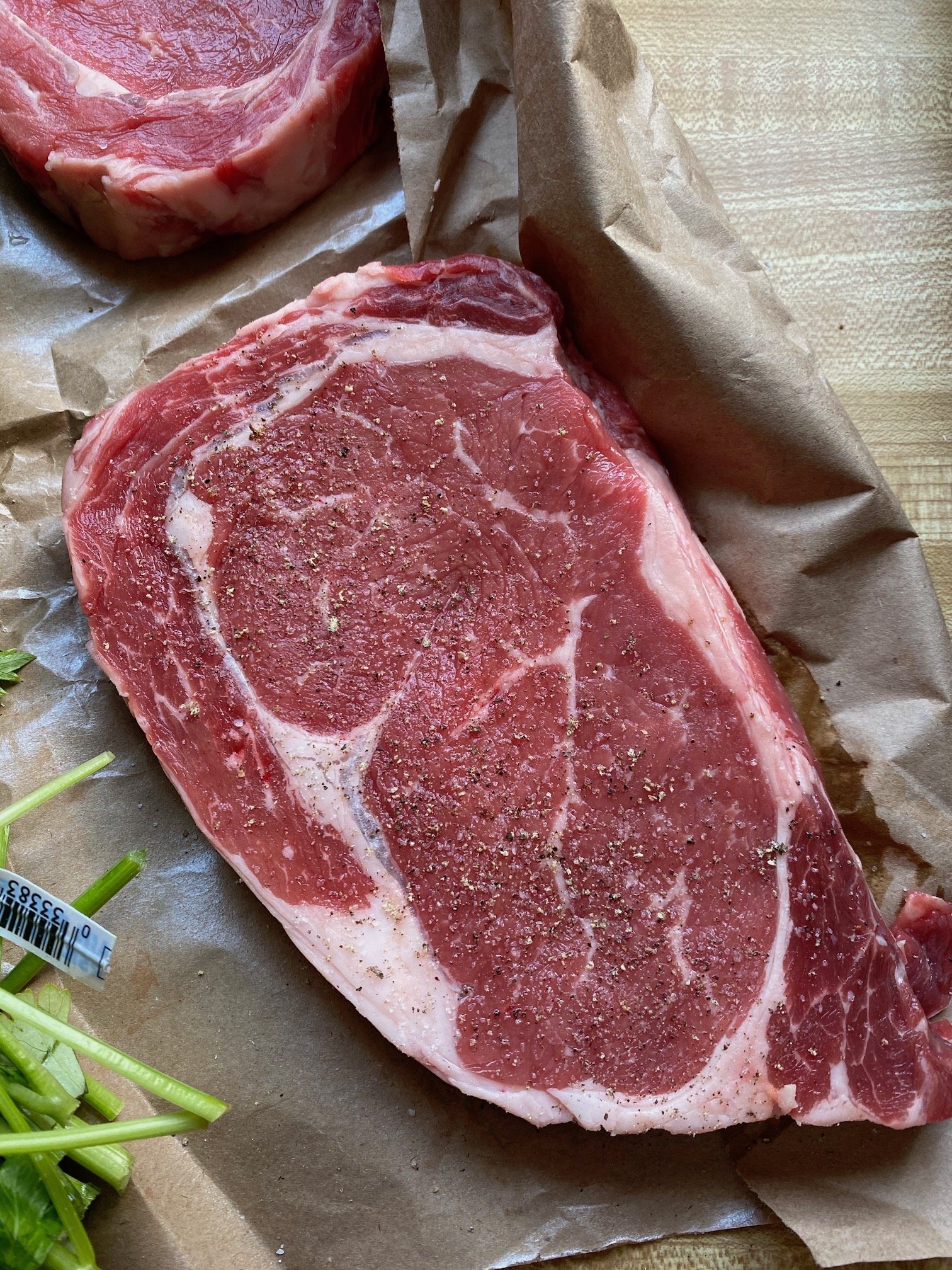 How gorgeous does that look? The best part is that I spent $31.16 on all the ingredients for my dinner, but since the steaks were so big, I will be able to morph this into three different dishes – all for under $32.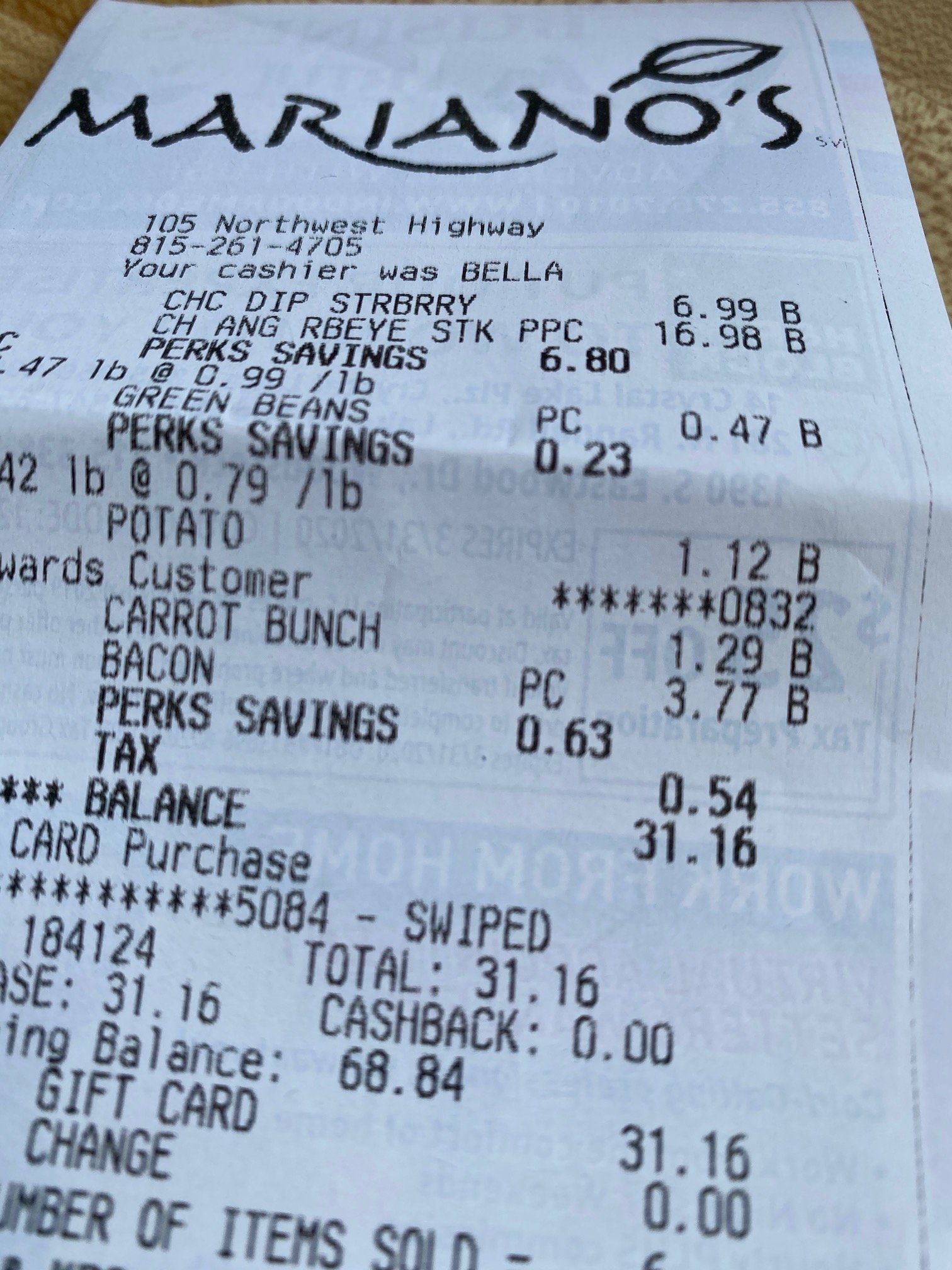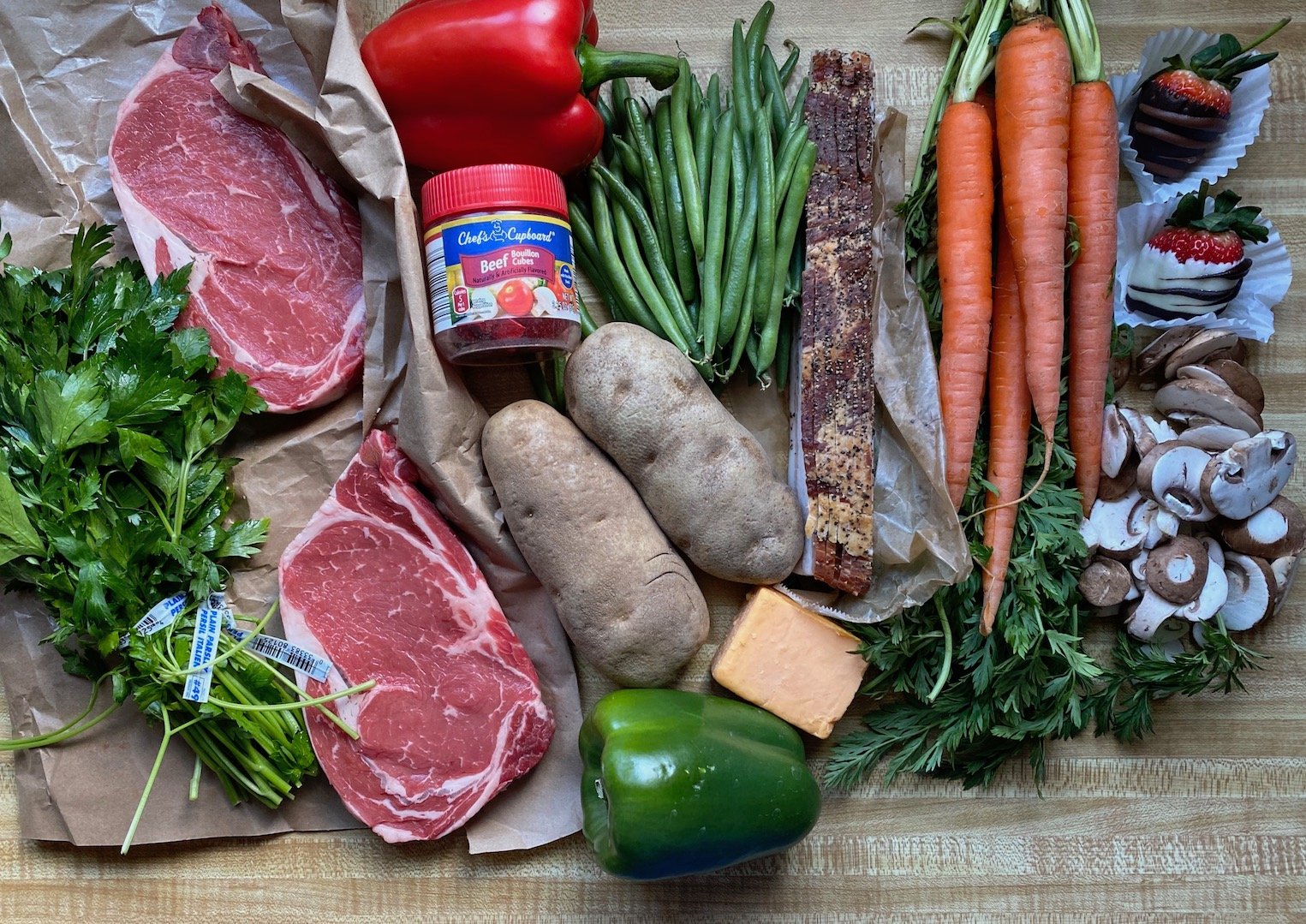 Pantry items I already had on hand: the 7 month aged cheddar I bought from Mariano's last week, and the beef bouillon for my steak soup.
How to have a budget friendly Valentine's Day Dinner at Home
The key to keeping your budget under control, is that when you have a high end protein, like the ribeye, your side dishes should be economical. Green beans and baked potatoes were on sale – my green beans cost me a mere .47 cents (half for the V-Day dinner and the other half were used in my soon to be posted steak soup), and two potatoes was $1.12, I used one potato was for my twice baked potato and the second was used for my soon to be posted philly cheesesteak potatoes.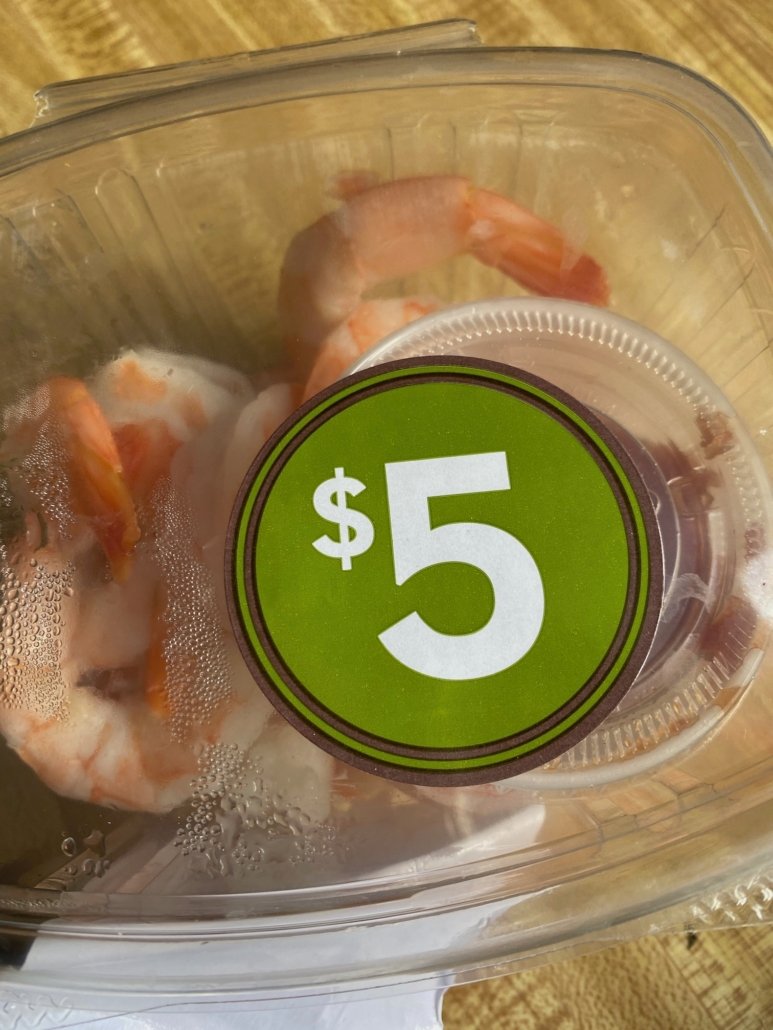 One of my favorite things to buy at Mariano's is their prepared shrimp cocktail. They are always perfectly cooked and you can't beat the price. This was the "surf" of my surf and turf dinner.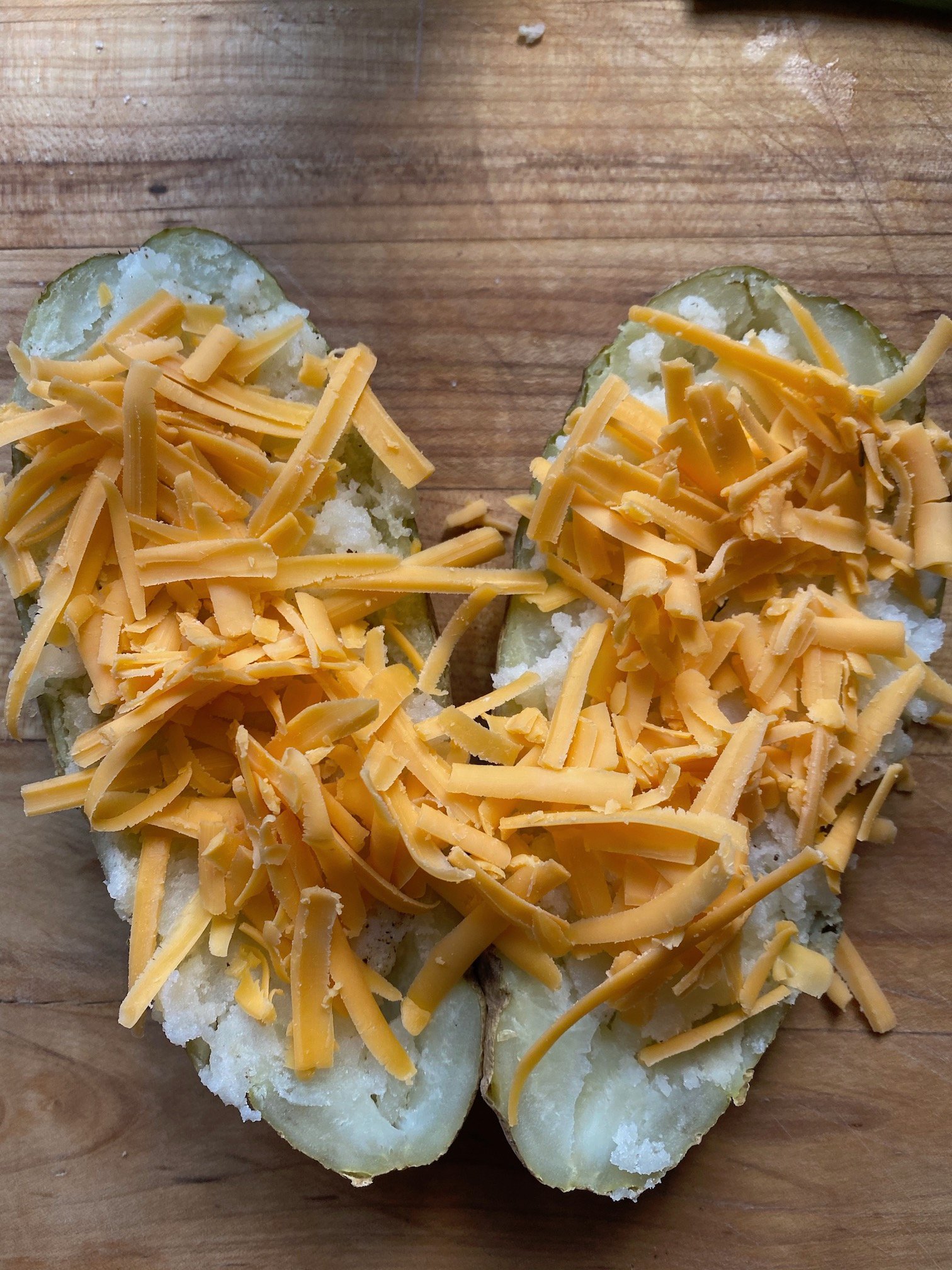 There is nothing more delicious than a simple twiced baked potato. Mariano's peppered bacon was perfect to put on top. If you haven't tried their bacon, they must have about six different flavored bacon at any given time.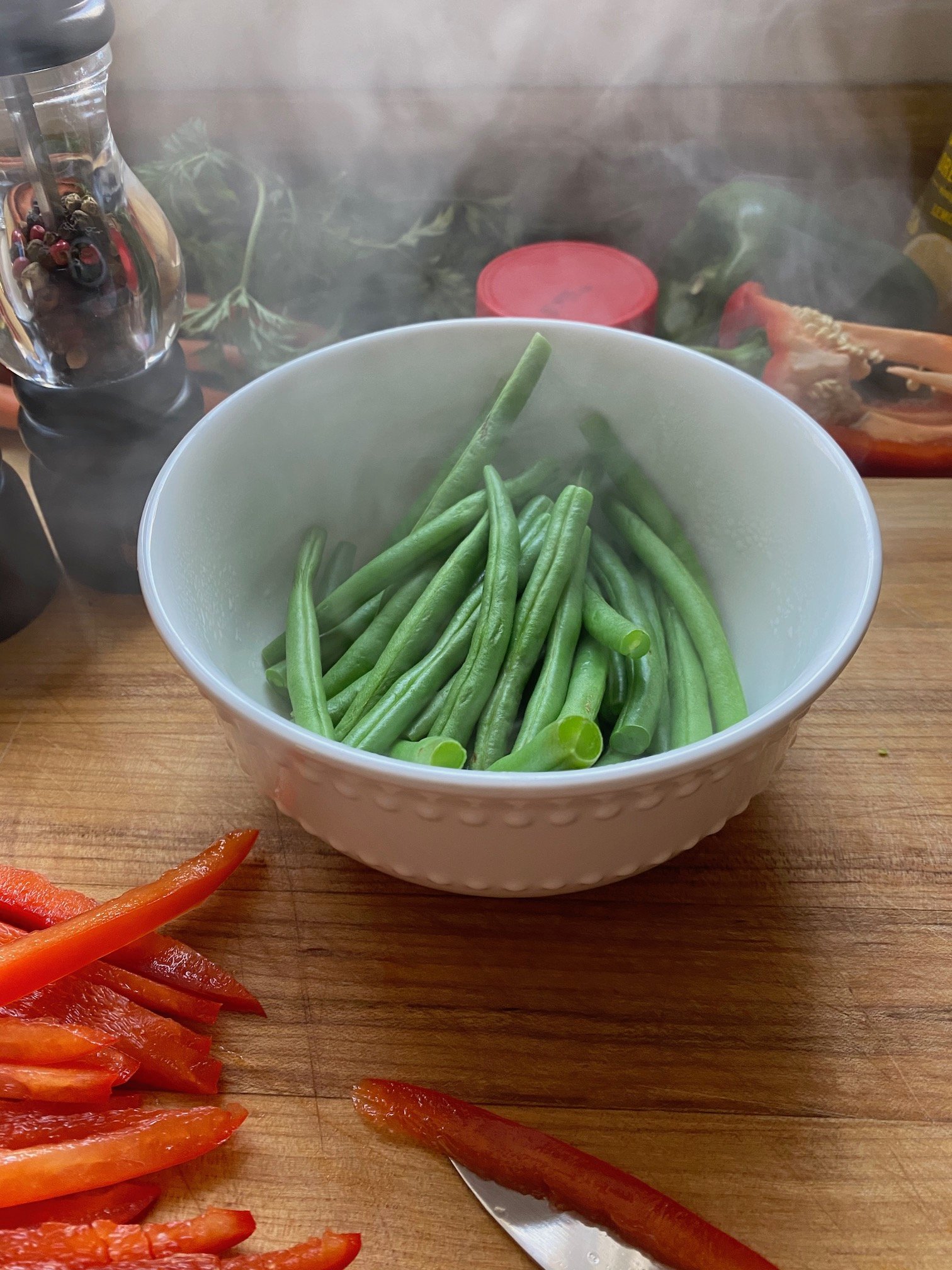 The green beans are so simple. I put them in a bowl and microwave on fresh vegetable. Then finish off in a cast iron skillet, and then finish it off with a jarred vinaigrette – I use Marzetti's lemon vinaigrette.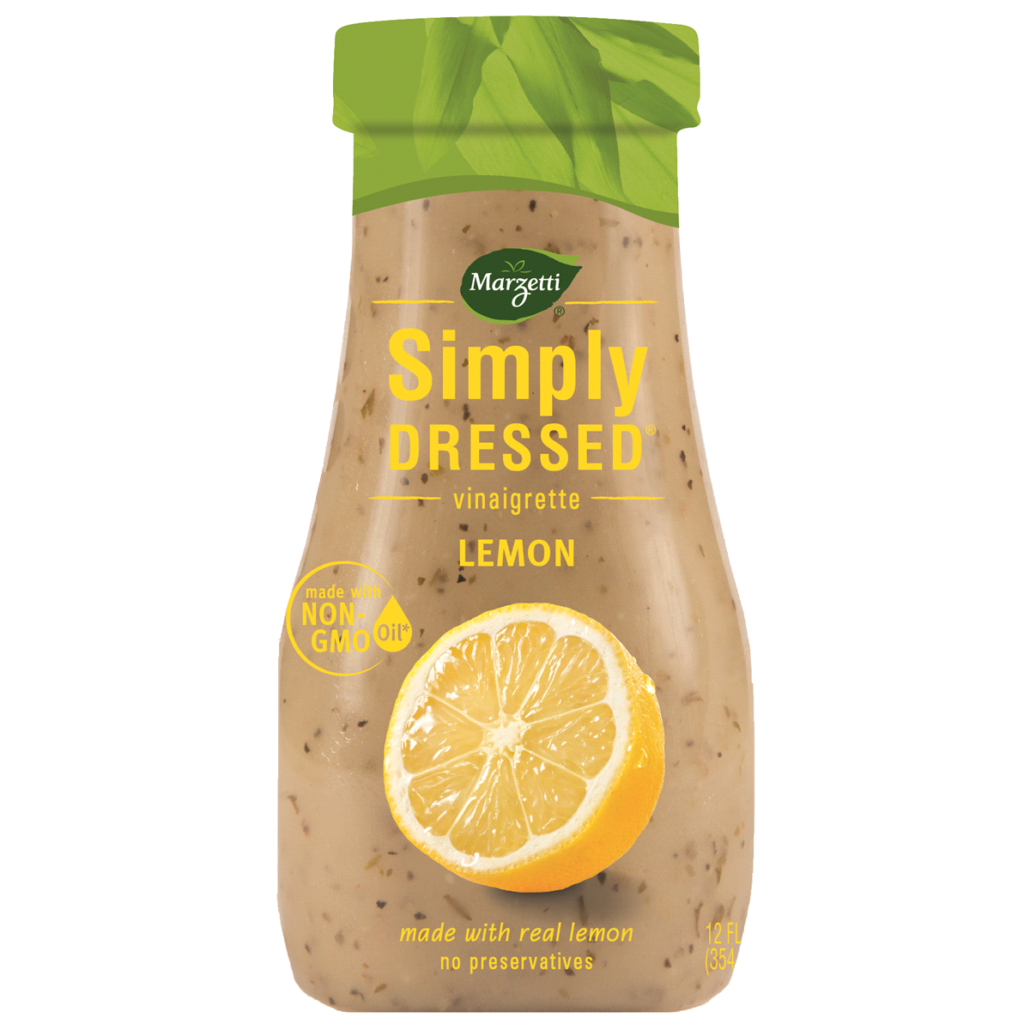 After you cook the beef, be sure to let it rest for 10-15 minutes. You will be rewarded with juicy beef every time.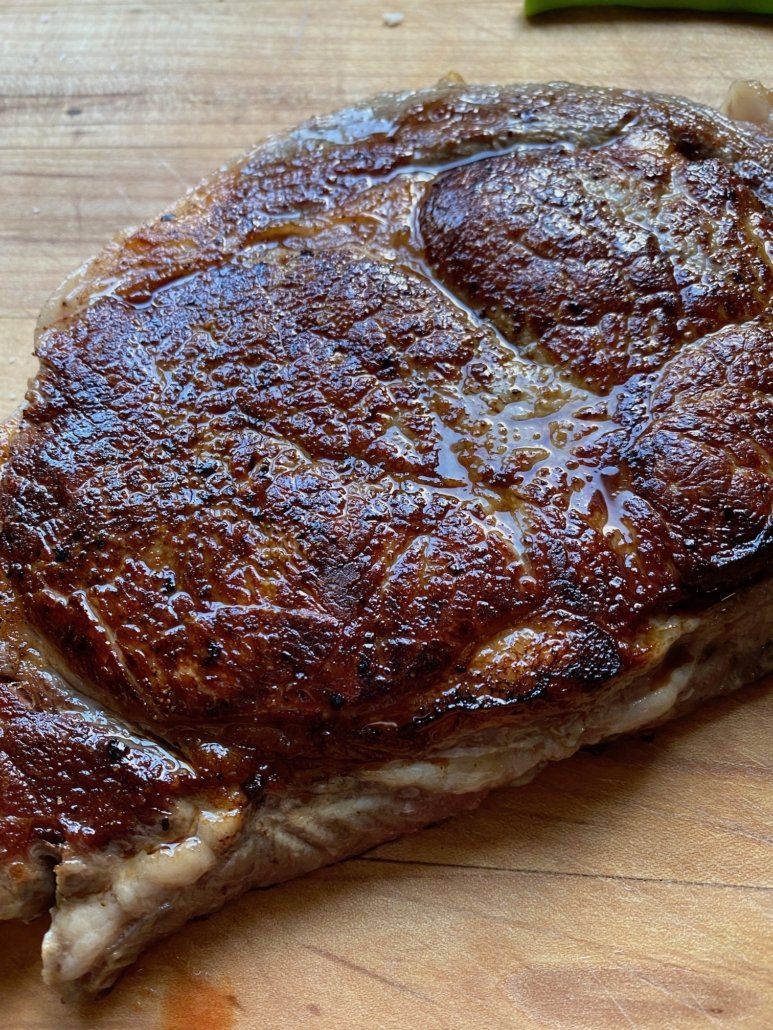 And now it's time to build our plate!
How much money did I spend on this Valentine's Day dinner at home?
Pan seared ribeyes with sauteed mushrooms, twice baked potatoes, lemon vinaigrette green beans, and shrimp cocktail. Total cost for this dinner? Roughly $14.42. Math isn't my friend, and I used a lot of the ingredients for the next two dishes I will share soon. So let's just call it $15.
Wouldn't you pay $30 a plate at a restaurant for that.? Save your money, and make this dinner at home. Eating out on a holiday is overrated in my opinion. Overpriced, and you feel like you are being rushed because the serve wants to flip the table.
Later this week I'll be posting my philly cheesesteak loaded baked potatoes and steak soup, using some of the same ingredients I used for my Valentine's Day dinner.
Let me know if you'd eat this for your Valentine's Day Dinner!
p.s. Mariano's also has a killer salad bar!
[tasty-recipe id="71998″]