I am trying to be more of a seafood lover. I love mussels, shrimp, and crab. But salmon and other fish? I look at it in the grocery store and say "not today!"
But last week I got a piece of salmon in the discount seafood bin. I know what you are thinking "they have a seafood bin like the meat bin?!" Yep! But I normally don't pay attention to it. But I saw a pretty big piece of salmon and thought I'd give it a try. Last weekend Jacob and I enjoyed surf and turf.
Well, let's just say that I really liked it, and Jacob thought it tasted like cat food. When I told him I was going to repurpose what he didn't eat into salmon cakes, I think he threw up in his mouth just a tiny bit.
Serve with some rice, or a side salad, this could definitely be a meal. Or a perfect appetizer the next time you have company over.
I love this Dak's Green Zest – really good in just about anything, but its light so it was perfect for these salmon cakes, and really good in scrambled eggs. If you want to try their products, don't forget to use my discount code – Bizzy10! Here is the link to their website.
These are light, slightly crunchy. I am going to try these in my air fryer the next time I make them. I'll keep you posted.
I bought this at Heinen's but I am sure it's in most grocery stores – only $2.99 a jar!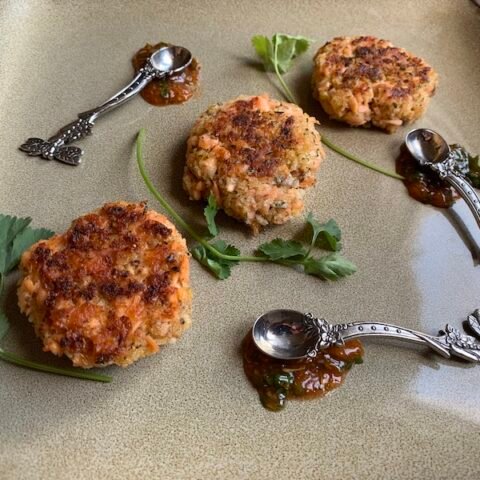 Salmon Cakes with Spicy Apricot Dip
If you aren't a huge seafood fan, try these salmon cakes - delish with the spicy apricot dip!
Ingredients
6 ounces of cooked salmon, flaked
1 tablespoon Greek yogurt
1/4 cup panko bread crumbs
1 teaspoon green zest seasoning
1 tablespoon dried parsley
1/2 teaspoon salt
1/2 teaspoon pepper
1/2 teaspoon mustard powder
For the spicy apricot dip:
1 tablespoon sugar free apricot preserves
1 teaspoon sriracha
1/2 teaspoon lime juice
1 teaspoon minced garlic
1/2 teaspoon green zest
1 tablespoon chopped cilantro
Instructions
Heat a non-stick pan over medium low heat. Spray with Pam or a tiny bit of grape seed oil.
Mix the salmon cake ingredients together and form into patties - I got four patties out of this recipe.
Cook for 3 minutes a side, or until the bread crumbs are browned.
For the dip:
Microwave the apricot preserves. Mix in the rest of the ingredients and serve on the side for dipping.
I used the rest of my leftover beef from my birthday dinner to make this beef picky plate. WW peeps, if you find that you are hungry in the morning, add protein – you will notice a difference, promise. Between the beef, the baby bel cheese and the hard boiled egg, there is a whopping 40 grams of protein.
My sister and I ran some errands while still getting our steps in – it was nearly 40 degrees – we will take it!
I posted the recipe of my orzo salad yesterday, and used 1 cup of it as the base for my chicken. I used Dak's cajun voodoo seasoning so this was a perfect combo – spicy chicken with a light spring orzo salad. Six points for that plate.
And in case you are wondering, I do have dried parsley in my desk. 😀
I didn't really meal plan this week, because I had plenty of things to work with. I knew I had baked potatoes in my refrigerator leftover from St. Patrick's Day, and thought about doing fries in the air fryer. But then I thought tacos sounded good.
In the end, I made taco fries! Next time I'll make sure I have queso on hand to make cheesy fiesta potatoes like taco bell.
These were amazing though. I used Dak's original red on the fries and cooked them in the air fryer at 400 for 7 minutes a side.
While those cooked, I cooked up lean beef and used their Taco Knight seasoning. Then built the fries.
Fries on the bottom (5) topped with three ounces of the taco meat (3), chopped greens, tomatoes, 1/2 ounce cheese (1), fire taco bell sauce, greek yogurt, and cilantro. Holy shit you guys, this was so good!
The fries were crispy and spicy, and was the perfect way to have healthy loaded fries. These are definitely going to be on the dinner rotation.
Turns out Rummy likes greek yogurt too. 😀
Tomorrow is the first WI of my Diet Bet week. I normally gain 5 pounds the week of my birthday, so I am optimistic!
Happy Friday – make it a great day – and don't eat like an asshole.
Love, Biz