Weight Watchers 2023 Plan Change
UPDATE 11/8/2022:
Today the WW program changed, which allows each person to choose their own "free" foods based on your response to their assessment.
Since every plan is different, I am including the WW recipe link here, in the hopes that you can click on it, add it to your daily tracker and it will calculate it at the right points for your individualized plan.
CLICK HERE TO ADD SKINNY PIZZA DOUGH TO YOUR TRACKER

. This recipe is for 1 ounce of dough, so just toggle up to five servings, for example, if you use five ounces of dough for your pizza.
UPDATE! WOW, thank you so much for all the people who have tried this skinny pizza dough.
I first wrote this recipe in December of 2017, after I could not for the life of me get the two ingredient dough to work out for me, without having yogurt all over my hands, or having to add a shit ton more flour, which basically defeated the purpose!
With the addition of yeast and water, it's a whole new ball game. It feels like regular pizza dough. I talked about this recipe on social media for months – I make pizza once or twice a week – so times that by 10 months before people started making it.
I think I saw my first post of someone making it in October 2018, and it's been made thousands of times since then – makes me so happy!
I thought I'd answer some of the most common questions I get – so here goes!
DO I NEED A BAKING STEEL?
Absolutely not. If you get a good jelly roll pan at Bed Bath & Beyond (use that 20% off coupon!) you should find a sturdy one – find one that can go to 450 degrees – that way you can preheat it like I do my baking steel and you'll get a crispier crust – the pizza will literally start cooking the second you place it on the cookie sheet.
USE PARCHMENT PAPER no matter what you cook it on – it's so much easier to build the pizza on the parchment paper, then carry the pizza in and out of the oven.
I tried baking on a regular baking sheet at 425 for 15 minutes. I pre-heated the baking sheet for 20 minutes before placing my pizza on the hot baking sheet. I got a crispy crust. At least 100 people have said that their baking sheets can be preheated at 500 degrees, but start with 425 and see what works for you with your baking sheet and oven. If it's not crispy at 425 degrees, bump up the temp in 25 degree increments.
WHAT TYPE OF YEAST SHOULD I USE

?

There are two types of yeast – regular active dry and instant yeast (which can also be called fast-rising, rapid-rise, quick rise, or even bread machine yeast – depending on what brand you use). These can be used interchangeably – the only advantage of using the instant yeast is that your dough will rise faster – perfect on those nights when you get home from work and you're like "fuck, I wanted pizza tonight!" I've used this dough 30 minutes after making it and it's great.
I LIVE ALONE, CAN I HALVE THE RECIPE

?

Well, you could, but make the whole recipe! It lasts in the fridge for 7 days, and actually gets better the longer it sits in the fridge. By day 7, you'll notice that the dough is a bit wet and really stinky, like in the best way possible – think sourdough bread stinky – you should toss it though if you see brown spots on the dough – or it's slimy. Time to make a new batch!
WHAT TEMPERATURE SHOULD I COOK MY PIZZA

?

Here is my rule of thumb. FOR THIN CRUST: If you have a regular cookie sheet – bake at 425 for about 12 -15 minutes for a thin crust. If you have a good jelly roll pan, bake at 450 for 9-11 minutes. If you have a baking steel, bake at 500 degrees for 7-9 minutes – or until your desired doneness – I tend to like mine on the more well done side. FOR PAN OR DEEP DISH PIZZA: you'll want to bring the temperature down to 425 in increase the baking time to 20 minutes for pan pizza, and 30 minutes for deep dish. I make my pan pizza in an 8 inch cast iron skillet. I make my deep dish pizza in an 8 or 10 inch cake pan.

FOR DEEP DISH PIZZA: You need to order the ingredients differently because of the longer baking process. I use a cake pan and brush the pan with oil (you can check out my detailed post here) you need to put the dough in the pan first, then put the cheese layer first, top with whatever else you are using (sausage, mushrooms, etc.) and then TOP with sauce. You need to sauce farthest from the bottom of the dough so the dough is crisp, not soggy.

Party Pizza Friday just got a whole lot better with this skinny pizza dough. Seems all the Weight Watchers are making the two ingredient "dough." I found the recipe through Jane (the mucho mama on Instagram) who found it from Jen (jen_weightwatchers on Instagram) and people are making everything from bread sticks, to bagels, and obviously pizza dough. You just use equal portions of plain Greek yogurt (non-fat) with an equal portion of self-rising flour. People have also had equal success with using plain old all-purpose flour.

I took it just a step further and decided to add yeast because I think it adds to the texture. My no rise pizza dough has long been used by blog readers over the years, so this recipe is the same concept, although I did let my dough rise 30 minutes on Friday night while I checked mail, got into comfy clothes, etc.
CAN YOU PROOF THE DOUGH IN AN INSTANT POT?
Yep! My IG friend Rachel told me about this method. Simply mix the ingredients in the instant pot (I usually double or triple the recipe in the instant pot) and use the yogurt setting. It automatically sets a timer for 30 minutes, but I leave it in there for 3 hours. If you have an older instant pot, you may have a "keep warm" setting. Many people told me that they have used this method, but only for the 30 minutes, then turn the instant pot off and let it sit there for 30 minutes. Simply dump the dough on your counter, add a bit of flour to bring together and store a ziplock bag.
I bake my pizza on my baking steel, but even if you use a cookie sheet, use parchment paper because you'll be able to transfer your pizza in and out of the oven so much easier. I dock the dough, meaning I stick a fork in the dough so I don't get any big dough bubbles on the pizza.
I used my zero point marinara and sauteed mushrooms.
Then added baby spinach and two ounces of Trader Joe's lite mozzarella cheese (2 points).
Baked it on my baking steel for 14 minutes. The bottom crust was amazing and the lite mozzarella got super cheesy. One quarter of the dough recipe is 5 points, my toppings were free except for the cheese, making this pizza 7 smart points and totally filling.
Skinny Pizza Dough
Yield:
4 individual pizzas
Additional Time:
12 hours
Total Time:
12 hours
15 minutes
The ORIGINAL skinny pizza dough. Not just for pizza, great for naan, dumplings, pasta - the sky's the limit!
Ingredients
2 cups self-rising flour
1/2 cup non-fat Greek yogurt
1 teaspoon yeast
1/2 teaspoon salt
1/2 to 3/4 cup water
Instructions
In a bowl, mix the flour, salt and yeast together. Sir in the yogurt and mix until it starts to combine. Start with just shy of 1/2 cup of water, mixing until it comes together, adding a tablespoon of water at a time until it fully comes together.
Place the dough in the microwave, covered with a towel or saran wrap, to slow rise all day. Refrigerate at the end of the night.
On the day of baking, heat oven to 500 degrees. I use 5 ounces of dough for an individual pizza, but the dough is one point per ounce on all plans.
Roll out, top with desired toppings, and bake for 8-11 minutes, or until desired doneness.
Notes
If you are weirded out by leaving the dough in the microwave because of the yogurt, you can slow rise the dough in the fridge for 24 hours. I bake my pizza on a baking steel, if you don't have one, reduce the temperature of the oven to 450 and use a jelly roll pan, but preheat the pan for 30 minutes before baking.
Nutrition Information:
Yield:

22
Serving Size:

1
Amount Per Serving:
Calories:

44
Total Fat:

0g
Saturated Fat:

0g
Trans Fat:

0g
Unsaturated Fat:

0g
Cholesterol:

0mg
Sodium:

186mg
Carbohydrates:

9g
Fiber:

0g
Sugar:

0g
Protein:

2g
Happy Monday my friends – make it a great day! And make this pizza dough! You'll thank me later. 😀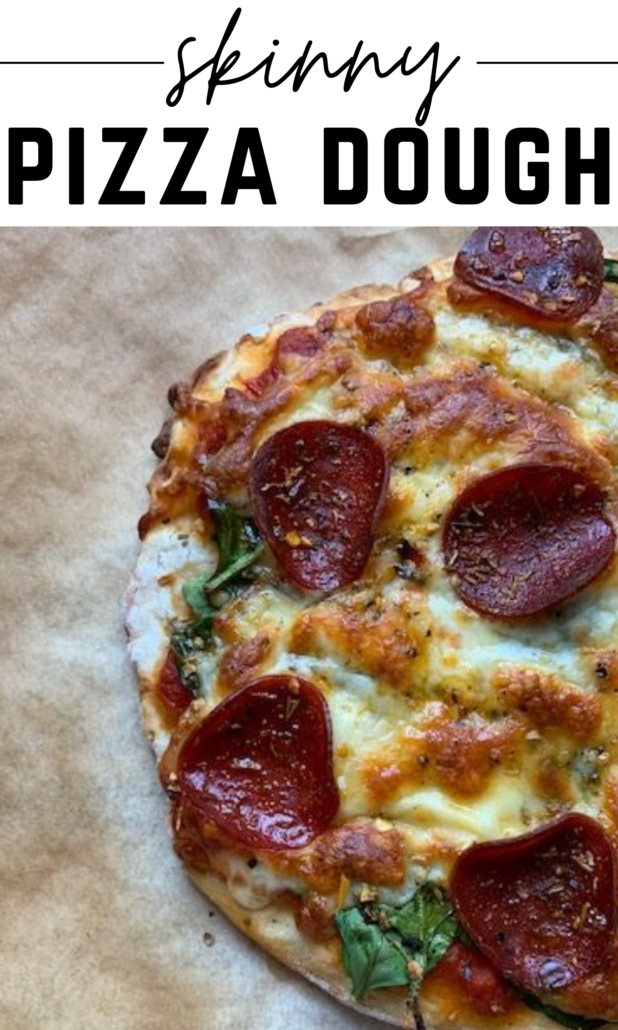 [web_stories_embed url="https://mybizzykitchen.com/web-stories/skinny-pizza-dough/" title="Skinny Pizza Dough" poster="https://mybizzykitchen.com/wp-content/uploads/2022/03/cropped-skinny-pizza-dough-finished-640×853.jpg" width="360″ height="600″ align="none"]