This shrimp lo mein could not be easier or more delicious!
Friday night I posted my dinner on Instagram and Connect, and I got all sorts of messages "recipe please!" There isn't really a recipe because there are only four ingredients, but I thought I'd post it here for reference.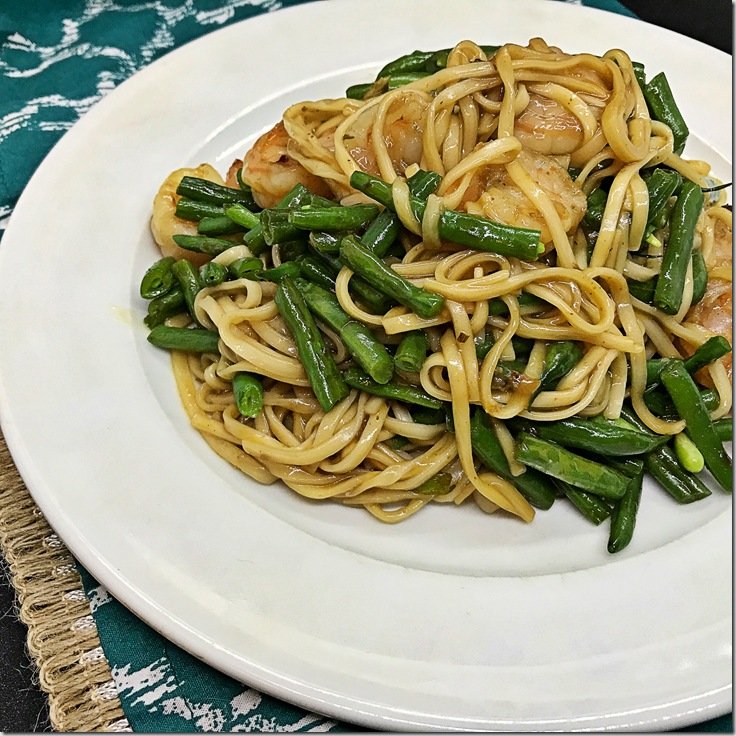 Shrimp Lo Mein
A super quick and easy weeknight dinner using store bought stir fry sauce - so delish!
Ingredients
2 ounces dried lo mein
1 cup green beans
3 ounces shrimp
1 tablesponn House of Tsang szechuan
1/4 cup starchy pasta water
Instructions
Cook the lo mein noodles according to package directions - mine only took 3 minutes. Drain, reserving 1/4 cup of the starchy pasta water.
In a large skillet, saute the shrimp for 2 minutes. While the shrimp are cooking, put the fresh green beans in the microwaver and cook on "fresh vegetable" setting. I love this method because I love a crunchy fresh green bean. Remove from microwave, chop into bite size pieces and toss that in with the shrimp.
Add the noodles, stir fry sauce and as much pasta water as you want (I used 1/4 cup) to make a sauce. Cook one minute until the noodles are coated with the sauce and serve.
Nutrition Information:
Yield:

1
Serving Size:

1 grams
Amount Per Serving:
Unsaturated Fat:

0g
This is my favorite stir fry sauce – only 1 smart point per tablespoons and super spicy.
I may have had a couple beggars wondering if I was going to finish it all!
The week before last I thought I would have had a 3 pound gain, instead, I lost .6 – but I knew it would catch up with me. My meals are spot on – I know exactly how many points my breakfast, lunch and dinner is, but it's the "extras" each day that add up to a 3.8 pound gain in two weeks.
Hannah and Jacob love snacky food, as do I, but I try not to buy that stuff because I know come 9:00 at night when I sit down and relax, my immediate thought is "I think there are Doritos in the pantry!" Gah.
I also went to my WW meeting last Thursday, and someone mentioned that it's only FIFTEEN WEEKS until January 1, so I need to get my head back in the game and see if I can end the year on a positive note – I lost 20 pounds the first 10 weeks of the year, so I am hoping to continue that streak going through this holiday season.
I am taking it one day at a time, posting my daily results on Healthy for 2016 page on Facebook (message me if you want to be added to this private group or email me at mybizzykitchen@gmail.com)
I babysat for my friends on Saturday night who have two kids, ages 7 and 10. Such fun ages! Of course, I brought stuff to make pizza – duh. I think the kids played with the pizza dough for roughly 30 minutes before we actually made the pizza. The older one decided to use cookie cutters to make the pizza, and I loved that idea. I wasn't sure how they would turn out after baking – only the snowmen which were a smaller cutter, lost its shape while baking, but the large cut outs turned out great.
Here are the pizzas before hitting the oven. O doesn't like a lot of cheese 😀
Baked at 425 for 10 minutes – these turned out great and they each ate everything they made over the course of the evening.
When I got home around 10:00 on Saturday night, Hannah and Jacob had made a bonfire and they said they had a productive eveining. My house pretty much is "company ready" at all times. My living room is always spotless, as is my dining room. The kitchen is always in various stages of cleanliness, but not too bad. My basement, however, is a hot fucking mess. Like all the time. It's the "catch all" when someone doesn't know where to put something "just put it in the basement."
They spent a few hours sorting what was down there, putting a donate pile together on items not used, breaking down boxes, etc. I'll post a picture when it is done (you didn't want to see the before!) but I was very happy at how far they had gotten, and truth be told, quite embarrased that I had let it go that long.
Saturday afternoon we continued the project, and in going through some of my old stuff, came across this old WW sliding points calculator. Anyone remember taking this to the grocery store?! I also found an old WW calculator, and finding those old tools only motivates me to get to goal, so I can stop paying Weight Watchers money – ha!
One of my cooking club friends husband posted on Facebook that he was thinking of going to an Oktoberfest a few towns over, and I suggested after we worked in the basement a couple hours to go.
Um, thank you weeklies, because I dipped into them for this grapefruit beer – if you love grapefruit and beer, this is delicious! My guess was 5 points for the 12 ounce pour.
I love this picture of Hannah and Jacob aka my roommates. 😀
Here is something I learned though – don't go to a fest during the last 90 minutes because they were out of almost all the food. When I finally chose this sauerbraten sandwich with sauerkraut, they guy said "last sandwich of the day!" And literally scraped the bottom of the barrel to put this sandwich together.
It was just okay. The meat was tender, butthe sauce too sweet, even with the balance of the saurkraut. Oh well, the beer was delicious, we had fun and the kadults had the best apple cider donuts of their lives – all good!
I was still hungry when we got home, so made this quick and easy beef with green beans and mushrooms – again another meal that I could eat over and over. Four ounces of beef, a cup of green beans and mushrooms. While I sauteed the green beans and mushrooms in Pam, most restaurants pour clarified butter over their steaks before they hit the table. I melted 1 teaspoon of butter (2 points) and poured it over the beef and veggies so that I had a buttery taste in every bite. So good.
Day 1 of 15 weeks of Biz 2.0 (or 11.0 – but whose counting?!) 😛
I am using Biz of 2013 for inspiration – and realize that strength training has to play a bigger role in my workouts. Walking is fine for cardio, but I will only reshape my body with weight training. I want to be a bad ass like my friend Jody who does Crossfit.
Four years ago today I was well over 100+ days of Insanity. I was consistent, not perfect and need to do that again.
I got up early and snuck in a quick 25 minute walk before work in 50 degree weather – it was glorious and a great way to start the day.
Happy Monday – make it a great day!