Hello everyone and Happy Thanksgiving! Biz is still on break and we still don't have any updates on Tony. But that's no reason I can't hijack her account to and post something too.
Today I bring you my semi-famous Potato Soup recipe. I came up with this maybe a decade ago and although I keep promising myself that I'll improve it someday, that never happens. So I do believe this is now the definitive version of this recipe!
First, the ingredients:
12 medium Russet potatoes
2 tablespoons of ham soup base
1 medium onion
2 stalks celery
2 cloves garlic
2 tablespoons butter
2 tablespoons dried parsley
5 cups skim milk
1 cup heavy whipping cream
1/2 cup butter
1/2 cup flour
1 tablespoon salt
fresh ground pepper
The recipe is pretty simple:
Peel and cube the taters.
Sauté diced onions and celery.
Boil the taters in eight cups of water, with ham base.
Heat dairy products to 175 or so.
Melt remaining butter, add flour, salt, and pepper.
Combine dairy products with the roux.
Pour the cream mixture into the tater pot.
From start to finish, it should take between ninety minutes and two hours. If you happen to be in a hurry at the moment, go! Go now and just start cooking. You should have all the info you need above. On the other hand, if you're just sitting at home right now, killing time, and watching the Macy's parade, read on.
Begin with a dozen potatoes. Don't worry too much about the sizes, it all works out in the end: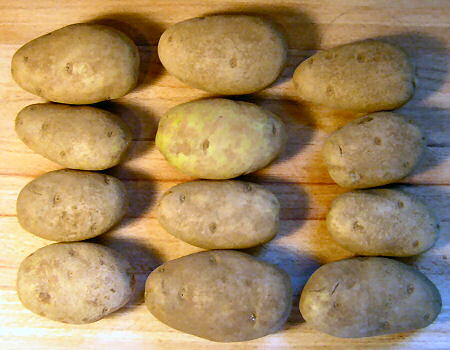 Wouldn't it be awesome if you could peel potatoes that quickly? Once they've been skinned, chop each potato into six or eight parts. You want to make them small enough to cook quickly but large enough to survive the journey. I recommend an eight-quart pot for this.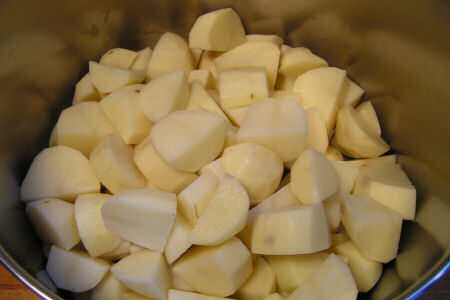 Next, the onion, celery, and garlic. Hoooo boy, I'm getting excited already just thinking about it. I recommend one medium onion, a couple stalks of celery, and as much garlic as you want. I use at least two cloves.
You can chop these up by hand or take the easy way out. Guess which one I chose.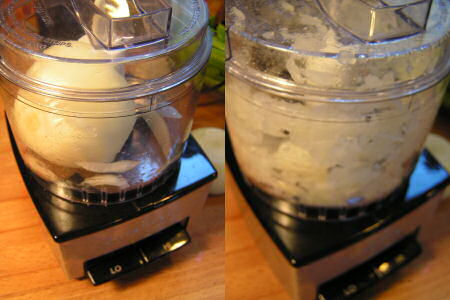 Now sauté in two tablespoons of butter. I love this step. I'd be happy just chopping up onions, celery, and garlic, throwing it in a hot pan, and sautéing all the live long day. There should be a word for this.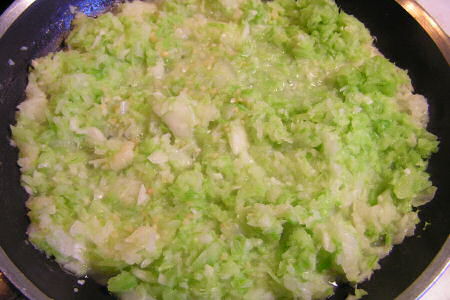 In another pan, mix five cups of skim milk with one cup of heavy cream. Or six cups of half and half. Or whole milk. Or all skim milk. It's really your choice. Heat this to around 175 degrees. Why? I have no idea, to be perfectly honest. John? Any thoughts?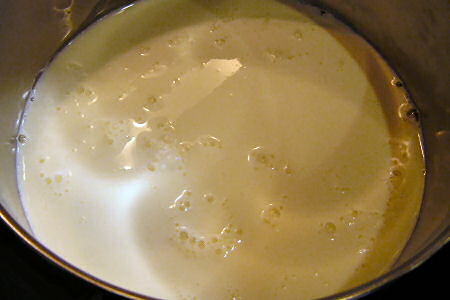 Boil four quarts of water and add to two tablespoons of ham soup base. Or, if you happen to have four quarts of prepared stock, use that. Chicken stock would work too, but heck, you use chicken stock for everything. Use a little pig juice for a change.
Pour that over the taters and add another four cups of hot water. You should now be looking at something like this: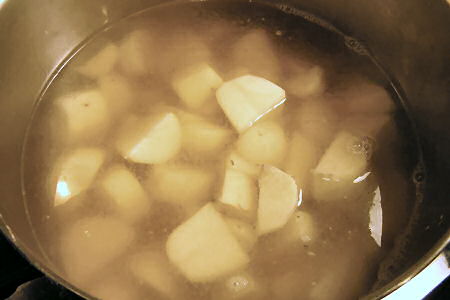 Bring to a boil and cook for thirty minutes. Oh, go ahead and add the onions and celery now too: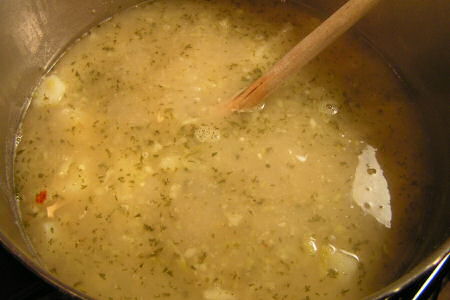 Now it's time to melt a half cup of butter then add a half cup of flour, doing the usual panic stirring to avoid lumpage. Once it's mixed and bubbly, add one tablespoon of salt and as much pepper as you can grind before the roux burns.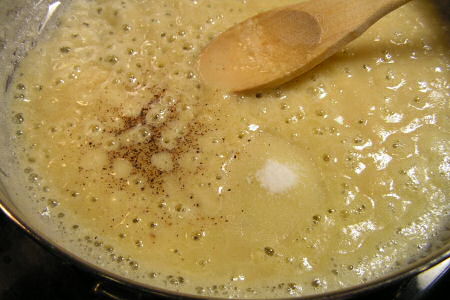 When the milk is hot and your flour hasn't burst into flames yet, add about half the milk mixture, again with the panic stirring. (Do you have any idea how hard it is to stir flour and butter, pour milk, and take a picture at the same time?)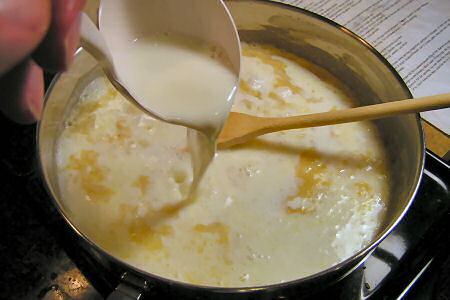 Once mixed, pour this new stuff back into the milk mixture.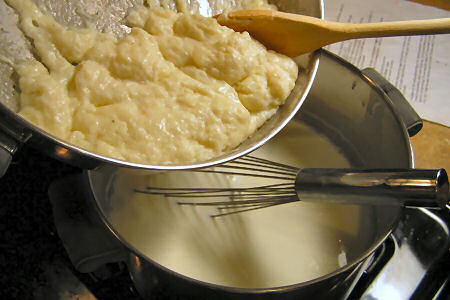 Get out your whisk and stir until: 1) no lumps and 2) it gets thick. Be patient. If you get bored during this step, take this time to ponder why my thumb looks so huge. Or why the whisk looks so tiny. This doesn't look like an eight quart pot. It looks like a teacup.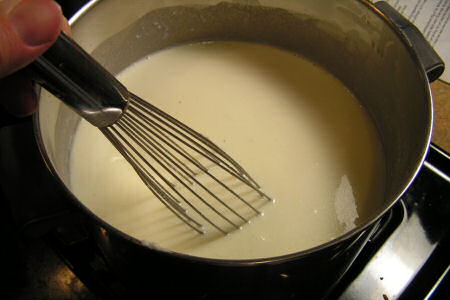 Next, add the Nestle butterscotch morsels.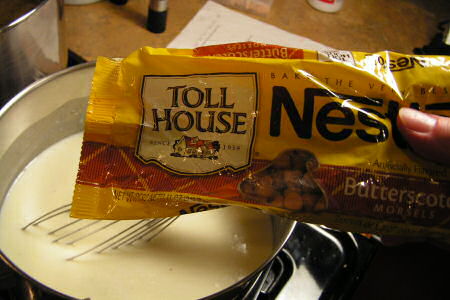 Wait a minute. What am I talking about?! Don't do that. Never add butterscotch morsels to your potato soup. I recommend the chocolate mint chips instead.
When the taters are good and cooked and the sauce is good and thick, put the two together, again taking care to not drop the camera in the pot.
Cook for another five minutes to two hours on low heat. Honestly, it's about done at this point, but I'm usually busy with other things, so it generally sits on the stove at least another half hour.
Did I say done? Not a chance. Sure, you can go ahead and pour yourself a bowl right now, but it's actually relatively bland at this point. But that's by design because what sets Charlie's Creamy Potato Soup above the rest is the stir-in. Bare minimum: grated cheddar cheese. My favorite is hot sauce and taco meat. Yes, taco meat. I also highly recommend chopped bacon. Use your imagination. Just don't use butterscotch morsels.
And the damage? Pre stir-in, not too bad, actually: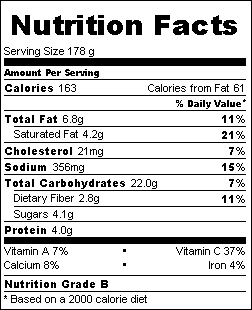 This makes about a dozen twelve-ounce servings. For me, that's three ladles: about a half cup per pour. Of course, any decent stir-in will probably double these stats, but you're still looking at a great big bowl of yummy for around 300 calories total.
Enjoy!